Thanksgiving Dipped Oreos are the perfect treat for the dessert table! They're easy to make and make a statement with their festive colors and decorations.
Isn't Thanksgiving the best? Family, a ton of food, and the dessert is especially exciting. Pies and treats galore! Apple pie is always a classic and easier to make with this Semi-Homemade Apple Pie recipe! I'm not a huge pie fan so I prefer desserts like Pumpkin Banana Cake and Pumpkin Spice Krispy Treats.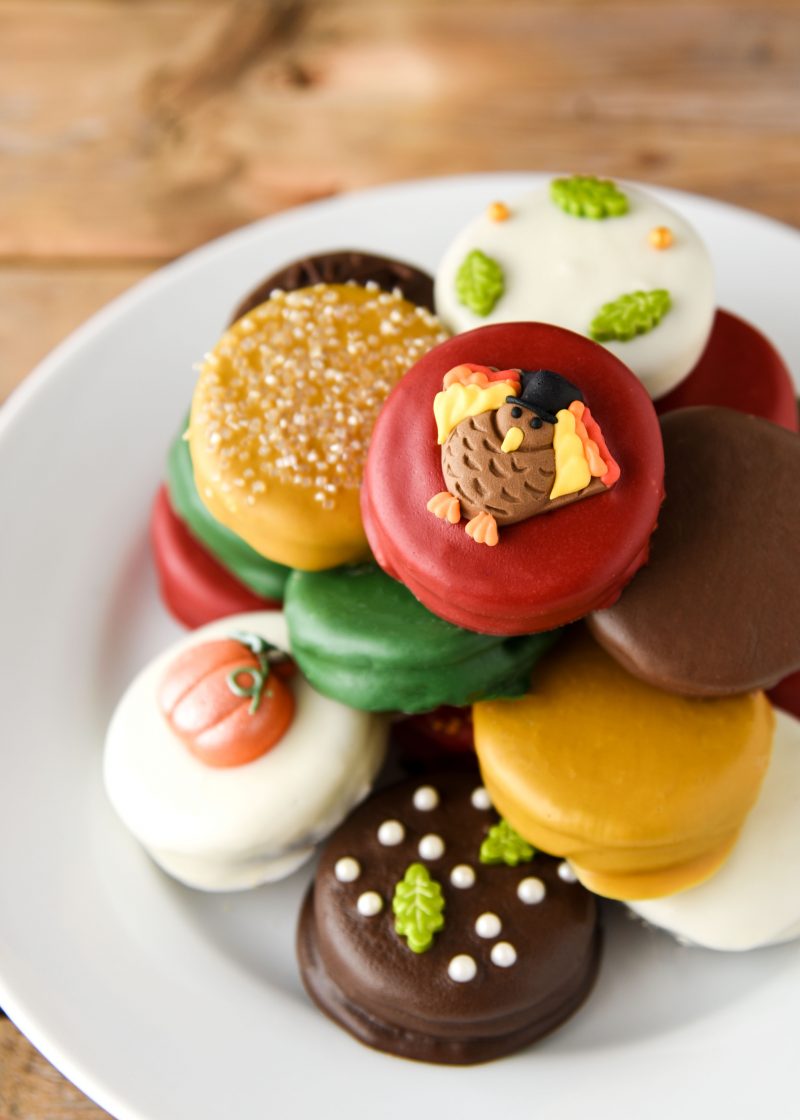 There is more than one way to dip Oreos!
Dipping Oreos has turned into a favorite hobby. I love making them for all the holidays and especially Christmas!
Ways to Dip Oreos
I prefer the simple way of dipping the Oreos into a bowl of melted candy melts and pulling them out with a fork. You'll need wax paper if you go this route.
You can place the Oreos in a silcone mold and pour the melted candy melts right over the top! Easy and they come out perfect round every time.
Your mold can also have a fun shape! I found these turkey, pumpkin, and cornucopia molds on Amazon that would be so fun for Thanksgiving.
You can use chocolate or candy melts to coat the Oreos. I mostly use candy melts but sometimes use chocolate, depending on what I'm making them for and if I need different colors!
All of these methods are basic and require little effort, which is one of the main reasons I love dipping Oreos. They're so easy and fun!
How to Make Thanksgiving Dipped Oreos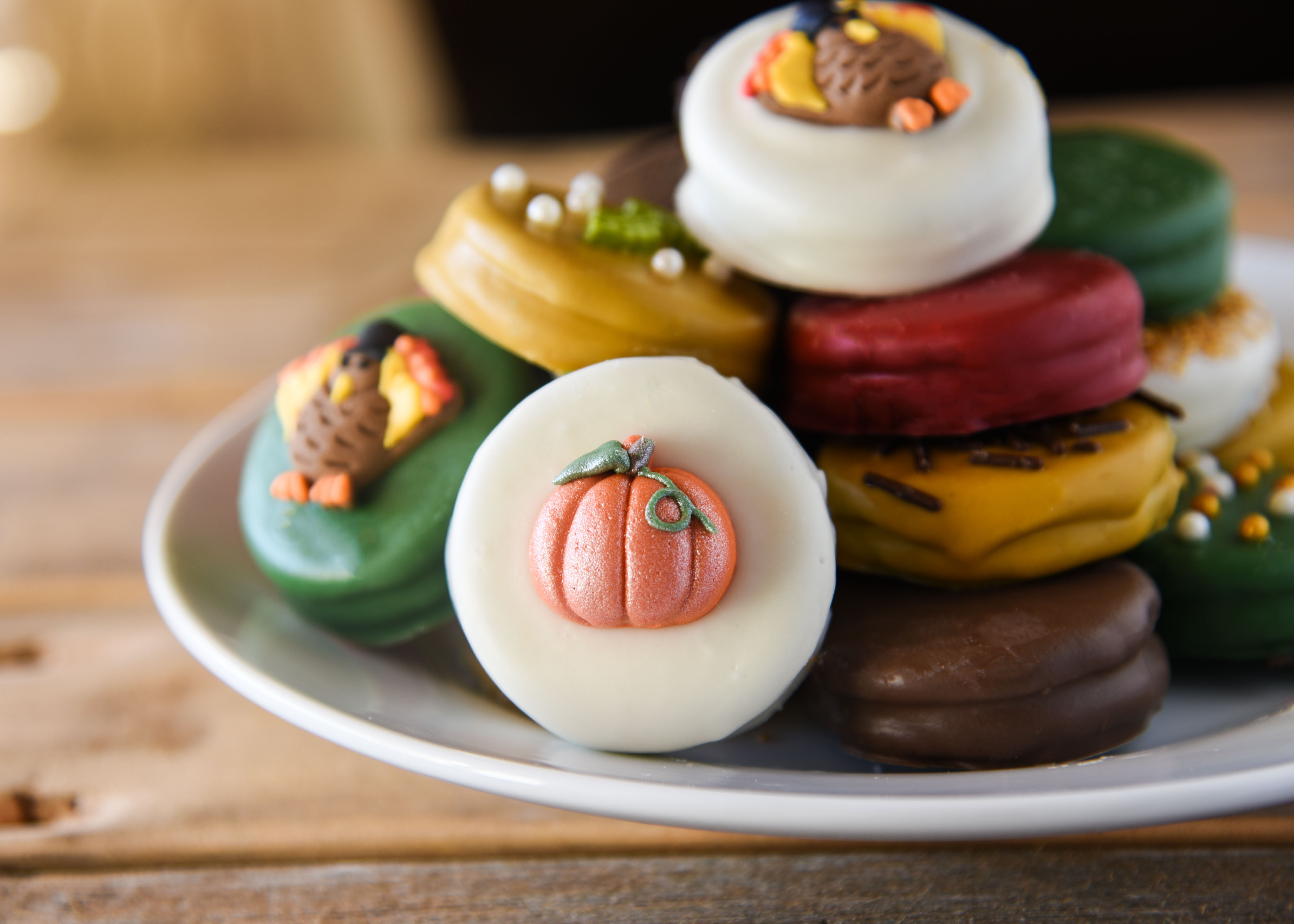 In just a few steps, you can have lovely Thanksgiving Dipped Oreos or any other holiday! Let's take a look at how it's done:
How to Dip Oreos in Chocolate or Candy Melts:
MELT your coating of choice in the microwave in a microwave-safe bowl. Start by heating for 30 seconds, stir and stir, and heat at 15 second intervals after until the coating is smooth.
–> TIP If your bowl is super hot, those candy melts or chocolate will keep melting as you stir! Stir it up until it doesn't look like anything will melt anymore. You may be able to melt it all after the first time in the microwave!
COAT your Oreos by dropping one at a time into the bowl of melted coating. Use a fork to press the Oreo into the coating and cover with even more delicious coating.
LIFT Oreo with the fork and give it a light shake to allow the excess coating to drip off. Too much coating will cause what's called a foot at the bottom of your Oreo. Kind of like a pool of caramel at the base of a caramel apple. Carefully place each Oreo on wax paper.
–> TIP You may find that the fork has left some indentions on the side of your coated cookie. In that case, grab a toothpick and smooth out the area to remove the indentions.
DECORATE each Oreo with sprinkles and other decorations immediately after dipping before the candy melts cool too much and nothing will stick. You will find with milk and dark chocolate that the coating won't cool as quickly and you can dip a few cookies before adding the decorations. However, candy melts love to cool faster!
COOL the Oreos completely before storing or packaging up. Dipped Oreos can last for two weeks in an airtight container. To store, place the Oreos in single layers with waxed paper between each so they don't scratch each other and knock decorations off. It sounds like a fight and that's exactly what it looks like if these guys touch each other. haha
And that's it! Please feel free to leave any questions in the comments if you have them. I'm more than happy to help you with your Oreo dipping needs!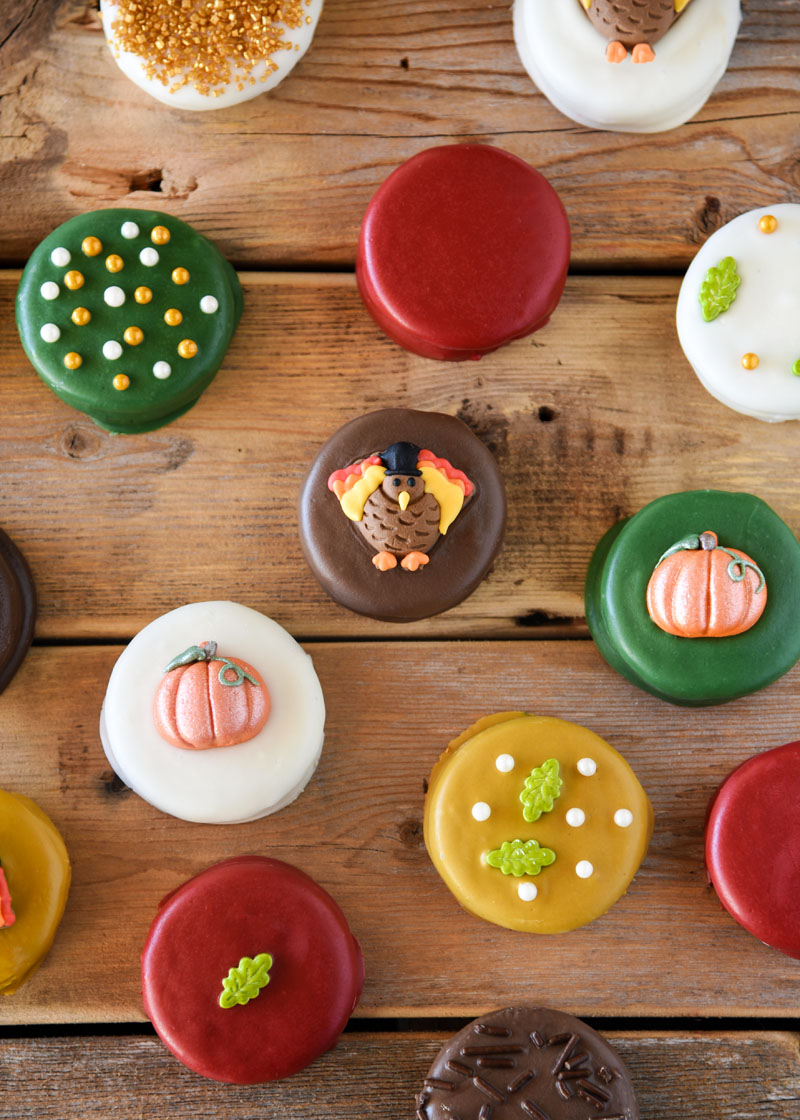 Frequently Asked Questions About Dipping Oreos
Don't forget that you can e-mail me or leave a comment below if you have questions! But for now, look below for some of the questions I receive most often.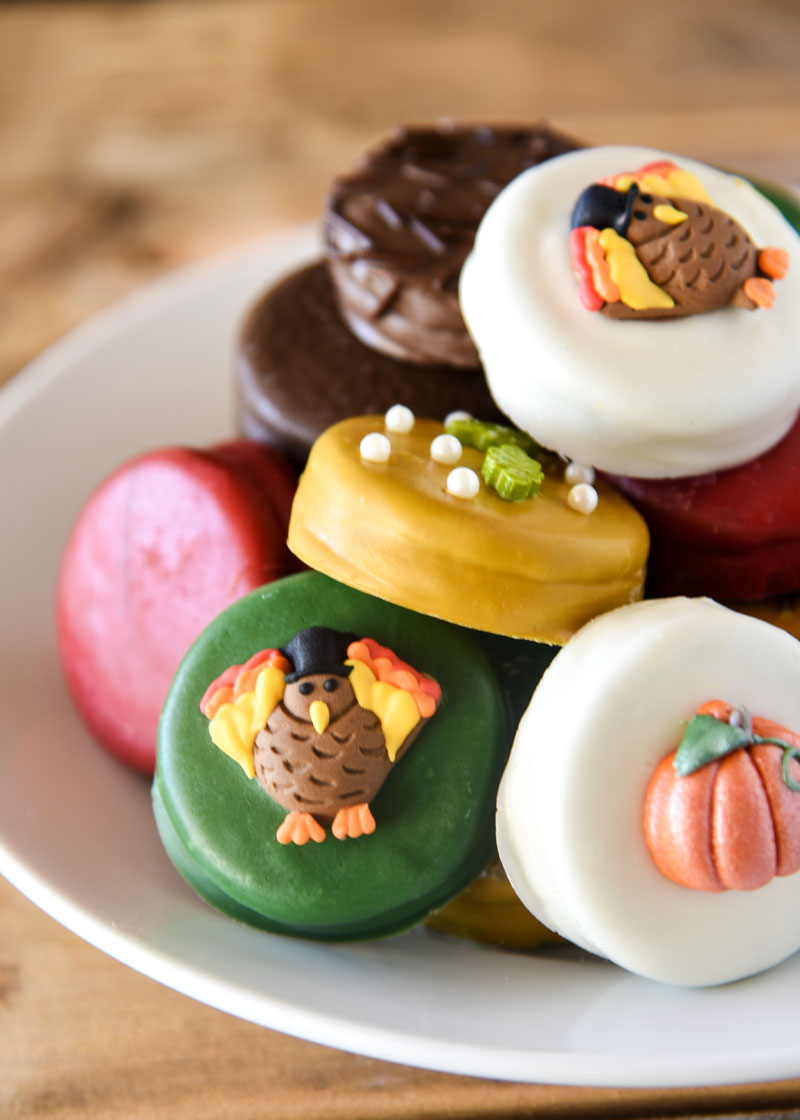 Have questions? Let's see if these answer them!
What should I use if I want to dip my Oreos in colorful coating?
You can use colored candy melts or you can use white chocolate chips and then food coloring to color them. The easiest and my favorite option is to buy candy melts in different colors!
What is the difference between white chocolate and candy melts?
Candy melts are vanilla-flavored discs made to emulate white chocolate for candy making and coating. There is an ingredient that makes the difference between these two: cocoa butter. White chocolate has it and candy melts replace it with vegetable oil, which gives the candy melts that lovely shine when the Oreos are dry. They come in multiple colors for all kinds of fun treats! You can buy them at Walmart, craft and party stores, and other grocery stores. You can also color white chocolate with food coloring if you prefer to use it over candy melts.
How long do dipped Oreos last?
You can keep a sealed container of dipped Oreos for up to two weeks. Keep them at room temperature or freeze for a delicious, cold treat!
How do I dry the Oreos after they're dipped?
The drying process for dipping Oreos is wonderfully easy. All you have to do is let them rest on the wax paper and they'll dry on their own. It usually takes about an hour for them to be completely dry.
Can I use a cupcake pan instead of a mold?
You sure can! Depending on the pan, the coating on the top might be wider on the bottom because of the shape of the slots in the pan. I recommend using a silicone cupcake pan if you decide to go this route so the Oreos come out easier.
Where can I buy sprinkles and decorations?
You can find sprinkles and other decor at just about any grocery store! You can also find really great varieties on Amazon and in various craft and party stores.
Even More Dessert Recipes for Thanksgiving!
Because you can't have enough dessert on Thanksgiving!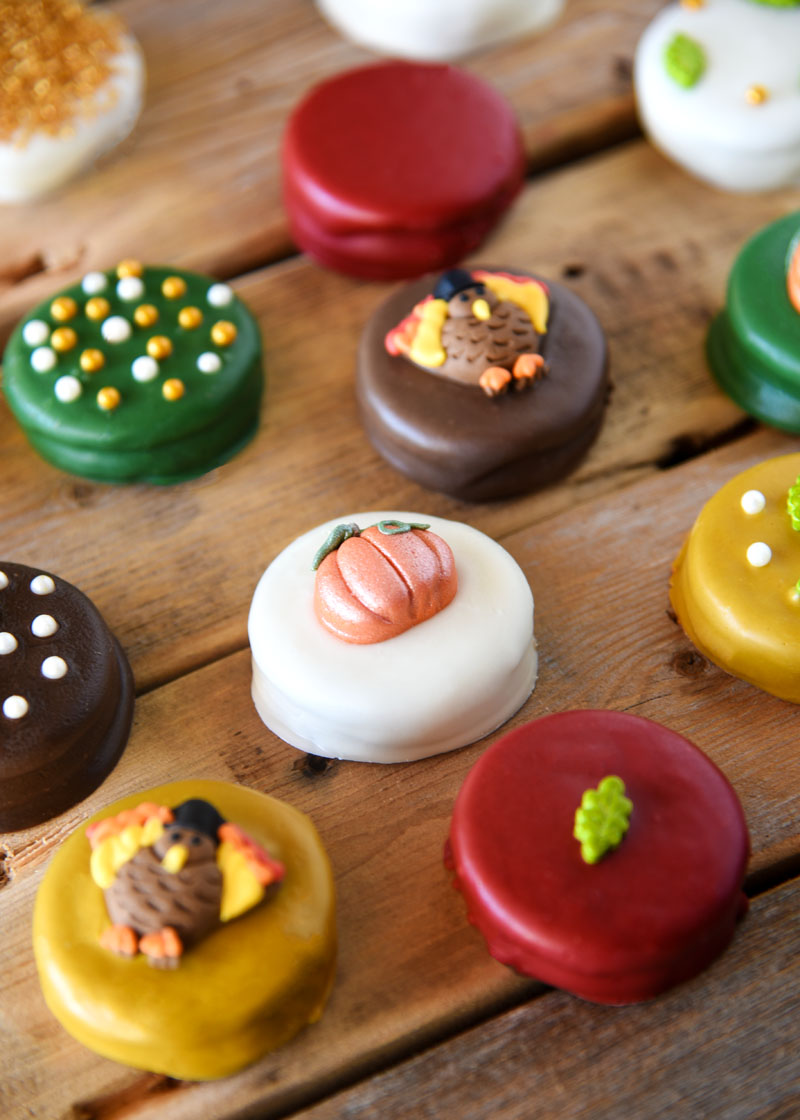 What would you say if I told you I don't love pie? I know, it's totally crazy. This is why I usually bring a non-pie dessert option on Thanksgiving. It's basically for me. haha Here are some of my other favorite non-pie Thanksgiving desserts!
The texture of these cookies alone is mind blowing. They're perfectly chewy and have a wonderful flavor with the peanut butter and pumpkin combo!
Have you ever had white chocolate and pumpkin together? They're a winning team! This is a fun fudge for Thanksgiving! Creamy and so delicious.
I won't judge you one bit if you just eat the frosting. It's divine!
This is another one of those times that pumpkin and white chocolate are just meant to be together. The treats themselves are so wonderfully chewy!
I can't even explain how much I love this cake. It's so fluffy and delightful!
This ice cream treat is just straight up fun! The kids will especially love this unique Thanksgiving dessert.
Let's Dip Some Oreos!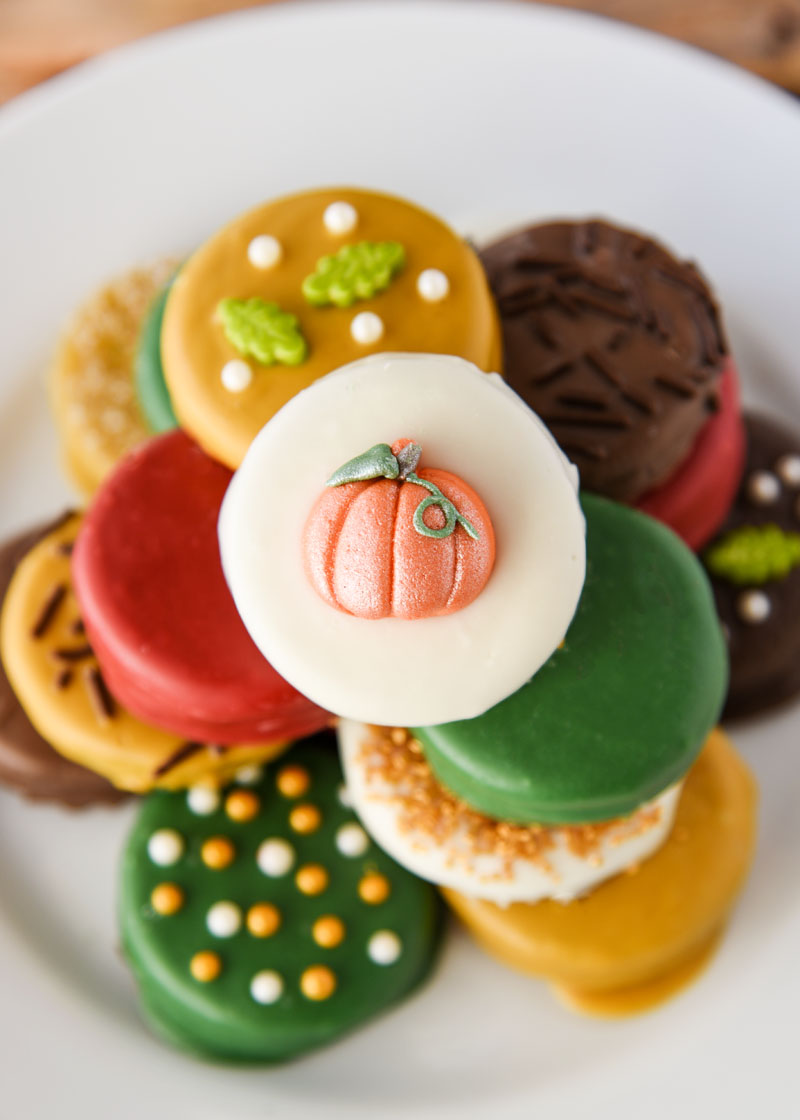 You ready to do this? They're going to turn out so pretty!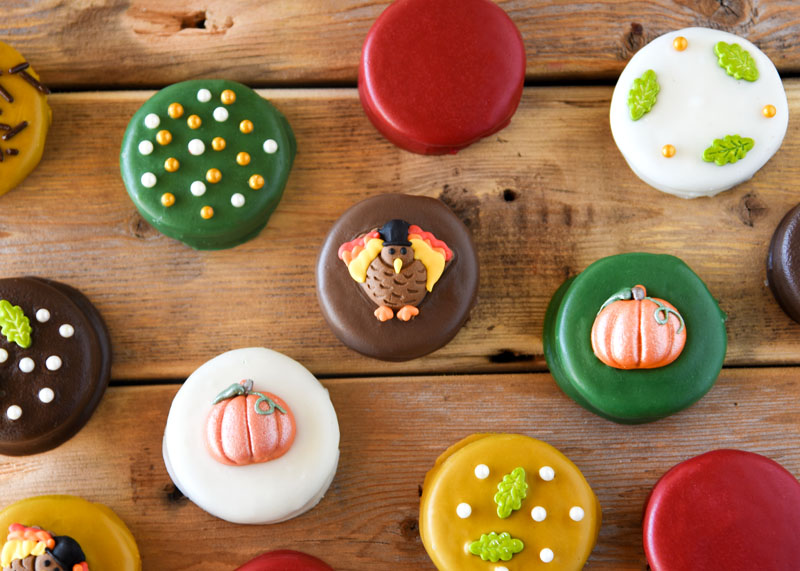 I've said it a couple times already, but I'll say it again! Feel free to leave a comment or e-mail me if you have any questions. If you make them and share them on Instagram, don't forget to tag me at @cupcakediariesblog!
Thanksgiving Dipped Oreos
Thanksgiving Dipped Oreos are the perfect treat for the dessert table! They're easy to make and make a statement with their festive colors and decorations.
Equipment
glass bowls

spoon

fork

silicone spatula

wax paper

cookie mold
Ingredients
1

package

Oreos,

family size any flavor

candy melts,

Thanksgiving colors

Thanksgiving sprinkles,

variety

other Thanksgiving candy decorations
Instructions
Melt one package of candy melts in a microwavable glass bowl, according to package directions. Use a silicone spatula to stir. ONLY MELT ONE COLOR OF CANDY MELTS.

Drop an Oreo cookie into the candy melts and use a spoon to cover completely with coating. Use a fork to pick up the cookie from the bottom and lightly shake to remove excess coating.

Place on wax paper and immediately and sprinkles and other decorations. Repeat step 2 until color is gone. Repeat steps 1 and 2 with other colors of candy melts.
Notes
I used red, green, white (not bright white), yellow, and milk chocolate candy melts. For the mustard yellow color, I added some milk chocolate candy melts to the yellow ones. For the dark red, I added milk chocolate to the red. I also added some white to some of the milk chocolate to make a lighter brown. Start with a few of the second color in the bowl to heat, mix, and add more of the second color as needed.
Tools and Gadgets I Used to Make Thanksgiving Dipped Oreos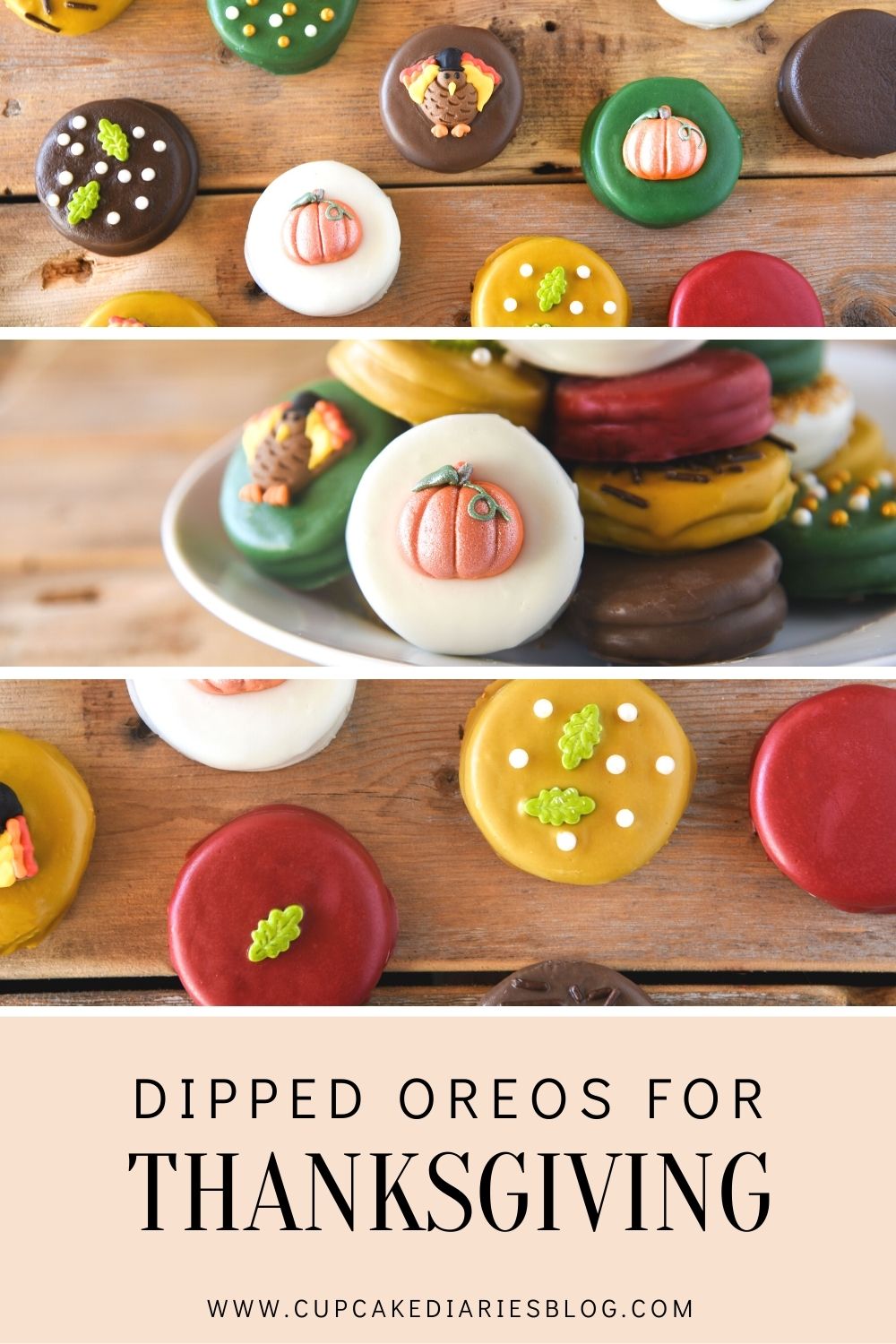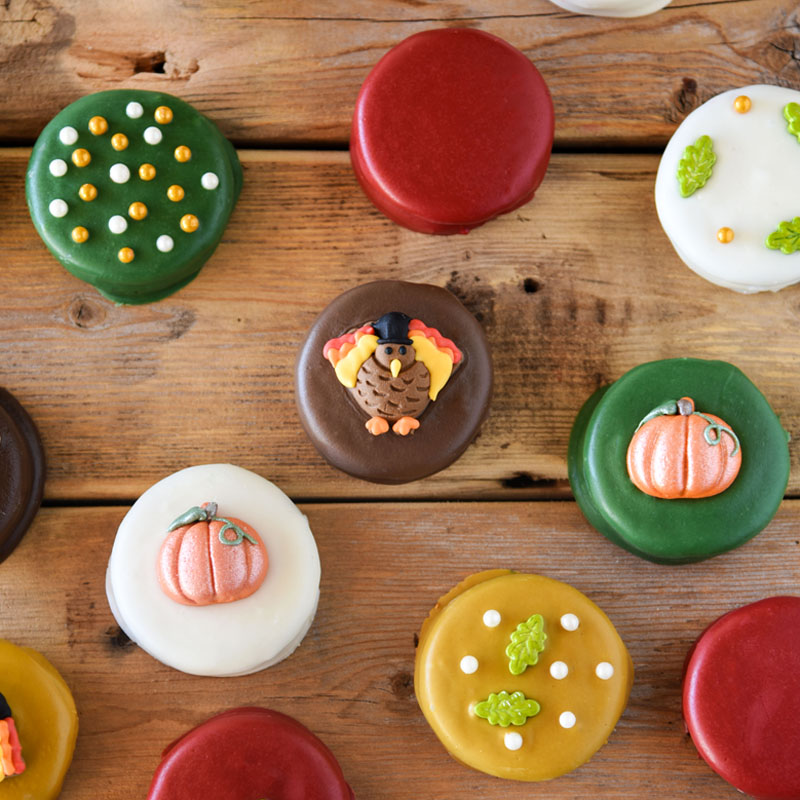 This post contains affiliate links. I include these links to help you find the products that I used in the recipe. If you purchase an item from the link, I will receive a small commission helping keep my recipes free for you. Thank you for your support!