Can you believe it's time to start talking Thanksgiving and Christmas? The holidays creep up on me every year. I can tell you one thing and that's how excited I am for holiday baking! It's not good for my waistline, but it sure is fun!
I'm going to be really honest when I say that pies scare me. It's mostly the crust part that freaks me out. I tried to avoid ever having to make a pie…until I learned up pre-made crusts you can buy at the grocery store. Say whaaa?! I am now a HUGE fan of making pies!
This pie is super yummy and has a pretty amazing filling. I think my favorite part of making this pie is making the filling. The smell of that cinnamon and nutmeg coming together with the rest of the sugary, apple goodness is pretty close to euphoric. Talk about making your kitchen smell like fall!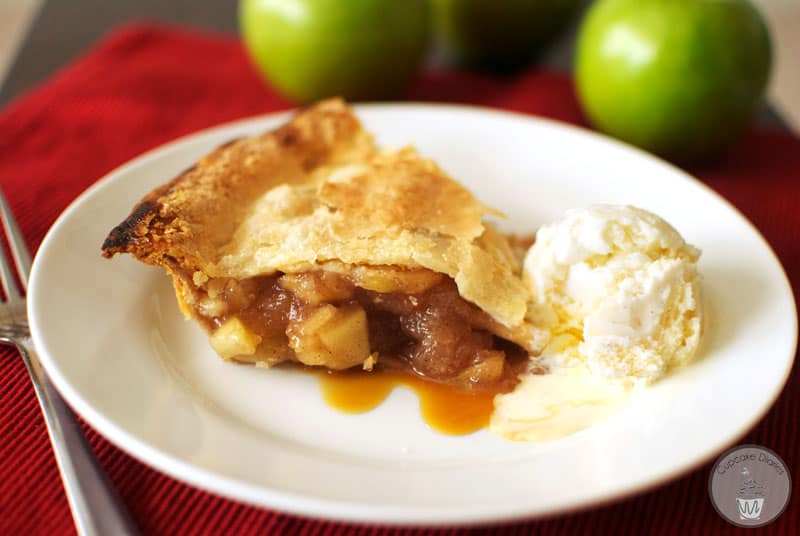 I am a firm believer that delicious meals and desserts don't have to take hours and hours to prepare and cost a ton of money. Even an apple pie on Thanksgiving! You're going to love this pie and how quickly it comes together.
Semi-Homemade Apple PIe
Ingredients
1

Pillsbury pie crust

5

c.

Granny Smith apples

peeled and chopped

2

c.

water

3/4

c.

sugar

plus 2-3 Tbsp

3/4

c.

brown sugar

1/4

c.

cornstarch

1

Tbsp

lemon juice

1 1/4

tsp.

cinnamon

1/4

tsp.

nutmeg

1/4

tsp.

salt

1

egg white
Instructions
Place apples in a bowl and toss with lemon juice.

Place 3/4 c. sugar, 3/4 c. brown sugar, cornstarch, cinnamon, nutmeg, and salt in a pot. Stir in the water; bring to a boil. Boil for 2 minutes and keep stirring so it doesn't scald.

Add the apples to the pot and stir till it comes to a boil. Reduce the heat to medium-low and simmer for 10 minutes; allow to cool completely.

Store apples in an airtight container and place in the refrigerator for at least 3 hours. (I like to make it the night before and store overnight to use the next day.)

Preheat oven to 400°.

Unroll one of the pie crusts and place in the bottom of a 9-inch pie pan. Cut off any excess dough.

Fill pie pan with pie filling and cover with the other pie crust. Press dough to the top of the pan to seal.

Cut five or six slits in the top of the dough. Brush with egg white and sprinkle 2-3 Tbsp sugar over the dough.

Bake for 15 minutes, then remove from oven and cover edges of the pie with strips of tinfoil 2-3 inches wide so it doesn't brown too much. Bake 25-30 more minutes. Cool at least 2 hours before serving.

Serve with caramel topping and vanilla ice cream.
Here are two more of my favorite Thanksgiving treats…