Dipped Oreo Cookies for Christmas! Bright, lovely, and perfect for any holiday gathering or for packaging up for the neighbors!
This recipe was originally published November 2013 and revamped in December 2019!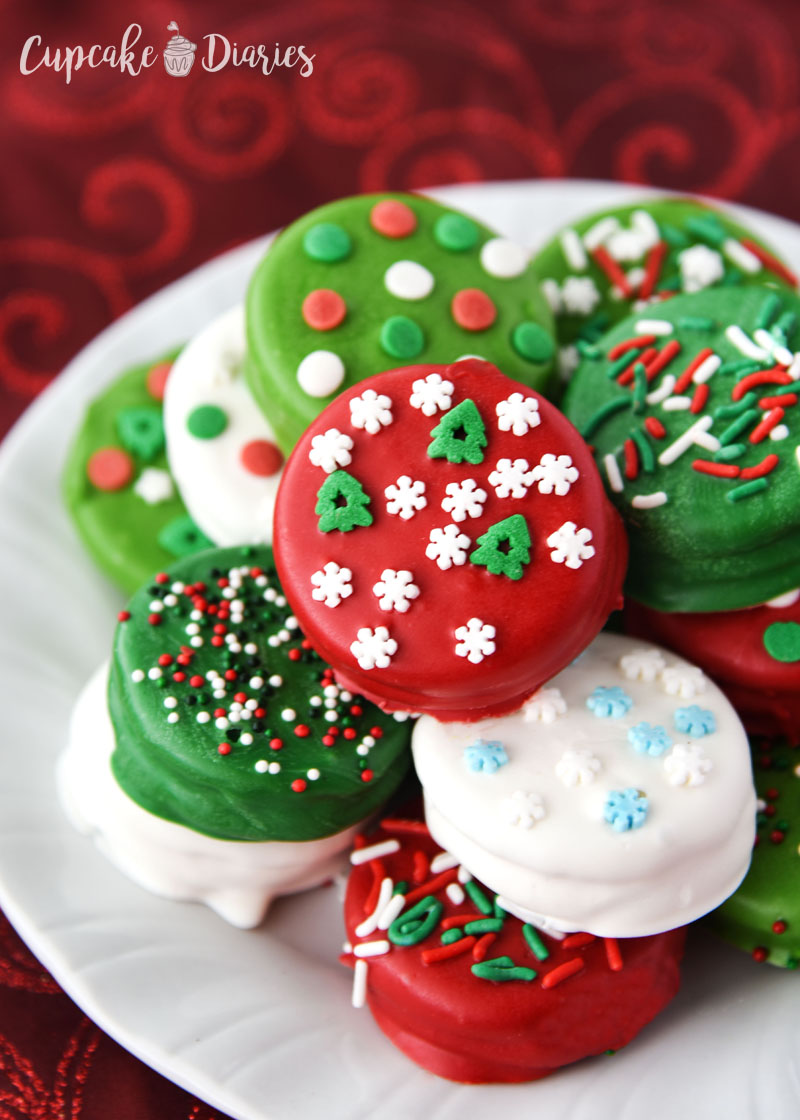 Dipped Oreos Are Easy to Make!
Everybody needs a hobby that involves treat making, I say! That's how I feel about dipping Oreos. I love making them for all the holidays! For the first time, I made some for Thanksgiving for the first time and I love how they turned out.
WAYS TO DIP OREOS
I prefer the simple way of dipping the Oreos into a bowl of melted candy melts and pulling them out with a fork. You'll need wax paper if you go this route.
You can place the Oreos in a silcone mold and pour the melted candy melts right over the top! Easy and they come out perfect round every time.
Your mold can also have a fun shape! found these Christmas tree, reindeer, and snowflake molds on Amazon that would be perfect for Christmas.
You can use chocolate or candy melts to coat the Oreos. I mostly use candy melts but sometimes use chocolate, depending on what I'm making them for and if I need different colors!
All of these methods are basic and require little effort, which is one of the main reasons I love dipping Oreos. They're so easy and fun!
How to Make Christmas Dipped Oreos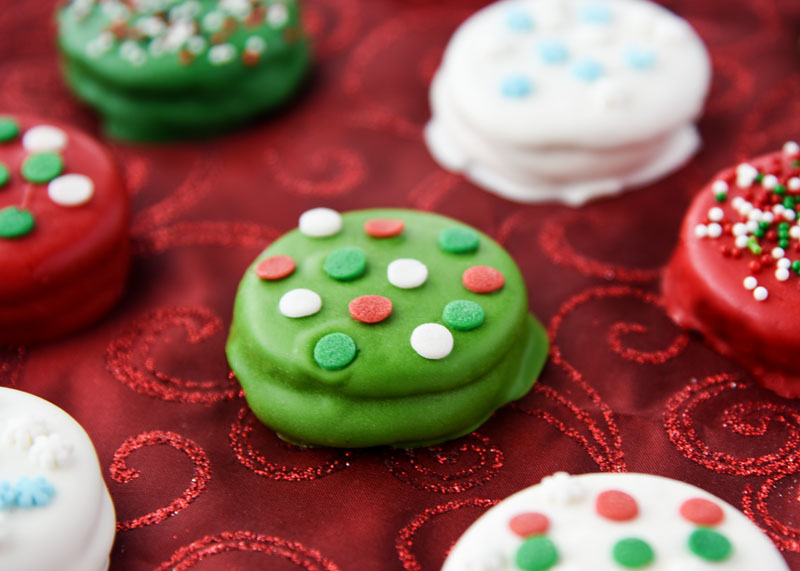 In just a few steps, you can have lovely dipped Oreos for Christmas and any other occasion! Here are the steps for how it's done:
HOW TO DIP OREOS IN CHOCOLATE OR CANDY MELTS:
MELT your coating of choice in the microwave in a microwave-safe bowl. Start by heating for 30 seconds, stir and stir, and heat at 15 second intervals after until the coating is smooth.
–> TIP If your bowl is super hot, those candy melts or chocolate will keep melting as you stir! Stir it up until it doesn't look like anything will melt anymore. You may be able to melt it all after the first time in the microwave!
COAT your Oreos by dropping one at a time into the bowl of melted coating. Use a fork to press the Oreo into the coating and cover with even more delicious coating.
LIFT Oreo with the fork and give it a light shake to allow the excess coating to drip off. Too much coating will cause what's called a foot at the bottom of your Oreo. Kind of like a pool of caramel at the base of a caramel apple. Carefully place each Oreo on wax paper.
–> TIP You may find that the fork has left some indentions on the side of your coated cookie. In that case, grab a toothpick and smooth out the area to remove the indentions.
DECORATE each Oreo with sprinkles and other decorations immediately after dipping before the candy melts cool too much and nothing will stick. You will find with milk and dark chocolate that the coating won't cool as quickly and you can dip a few cookies before adding the decorations. However, candy melts love to cool faster!
COOL the Oreos completely before storing or packaging up. Dipped Oreos can last for two weeks in an airtight container. To store, place the Oreos in single layers with waxed paper between each so they don't scratch each other and knock decorations off. It sounds like a fight and that's exactly what it looks like if these guys touch each other. haha
And that's it! Please feel free to leave any questions in the comments if you have them. I'm more than happy to help you with your Oreo dipping needs!
FREQUENTLY ASKED QUESTIONS ABOUT DIPPING OREOS
Don't forget that you can e-mail, leave a comment below, or message me on social media if you have questions! But for now, look below for some of the questions I receive most often.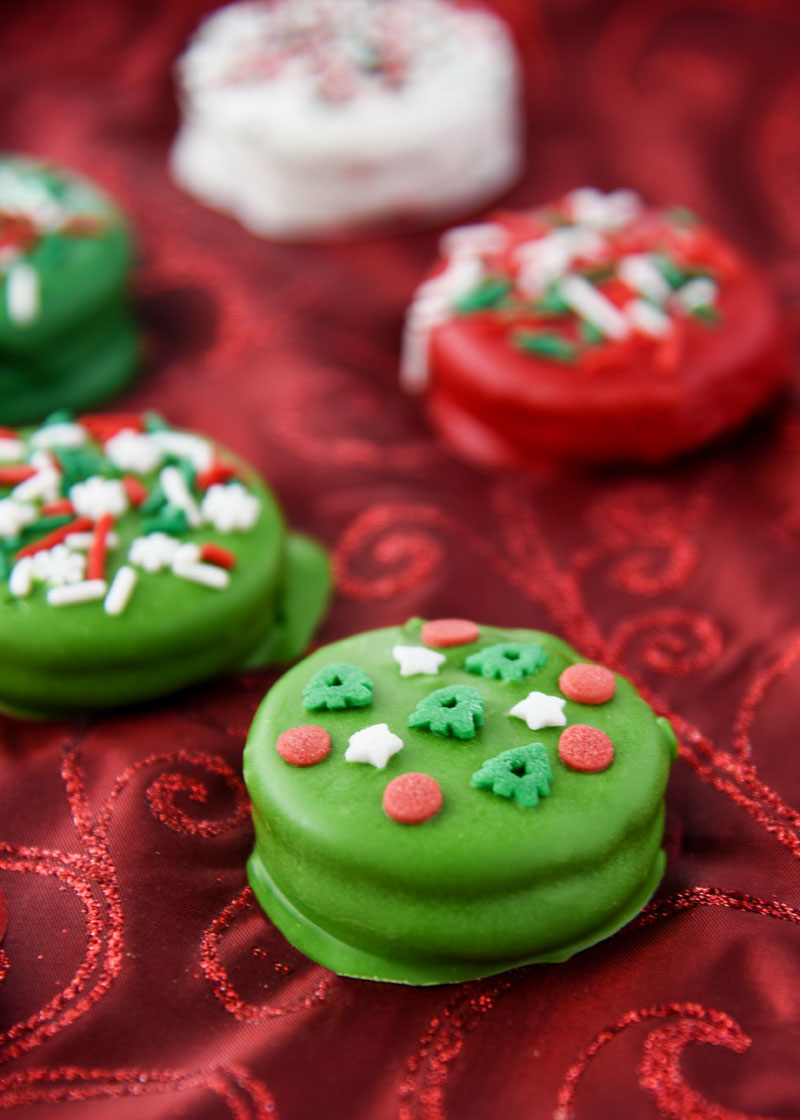 Have questions? Let's see if these answer them!
WHAT SHOULD I USE IF I WANT TO DIP MY OREOS IN COLORFUL COATING?
You can use colored candy melts or you can use white chocolate chips and then food coloring to color them. The easiest and my favorite option is to buy candy melts in different colors!
WHAT IS THE DIFFERENCE BETWEEN USING WHITE CHOCOLATE AND CANDY MELTS?
Candy melts are vanilla-flavored discs made to emulate white chocolate for candy making and coating. There is an ingredient that makes the difference between these two: cocoa butter. White chocolate has it and candy melts replace it with vegetable oil, which gives the candy melts that lovely shine when the Oreos are dry. They come in multiple colors for all kinds of fun treats! You can buy them at Walmart, craft and party stores, and other grocery stores. You can also color white chocolate with food coloring if you prefer to use it over candy melts.
HOW LONG DO DIPPED OREOS LAST?
You can keep a sealed container of dipped Oreos for up to two weeks. Keep them at room temperature or freeze for a delicious, cold treat!
HOW DO I DRY THE OREOS AFTER THEY'RE DIPPED?
The drying process for dipping Oreos is wonderfully easy. All you have to do is let them rest on the wax paper and they'll dry on their own. It usually takes about an hour for them to be completely dry.
CAN I USE A CUPCAKE PAN INSTEAD OF A MOLD?
You sure can! Depending on the pan, the coating on the top might be wider on the bottom because of the shape of the slots in the pan. I recommend using a silicone cupcake pan if you decide to go this route so the Oreos come out easier.
WHERE CAN I BUY SPRINKLES AND DECORATIONS?
You can find sprinkles and other decor at just about any grocery store! You can also find really great varieties on Amazon and in various craft and party stores.
EVEN MORE DESSERT RECIPES FOR Christmas!
Because you can't have enough treats during the holidays!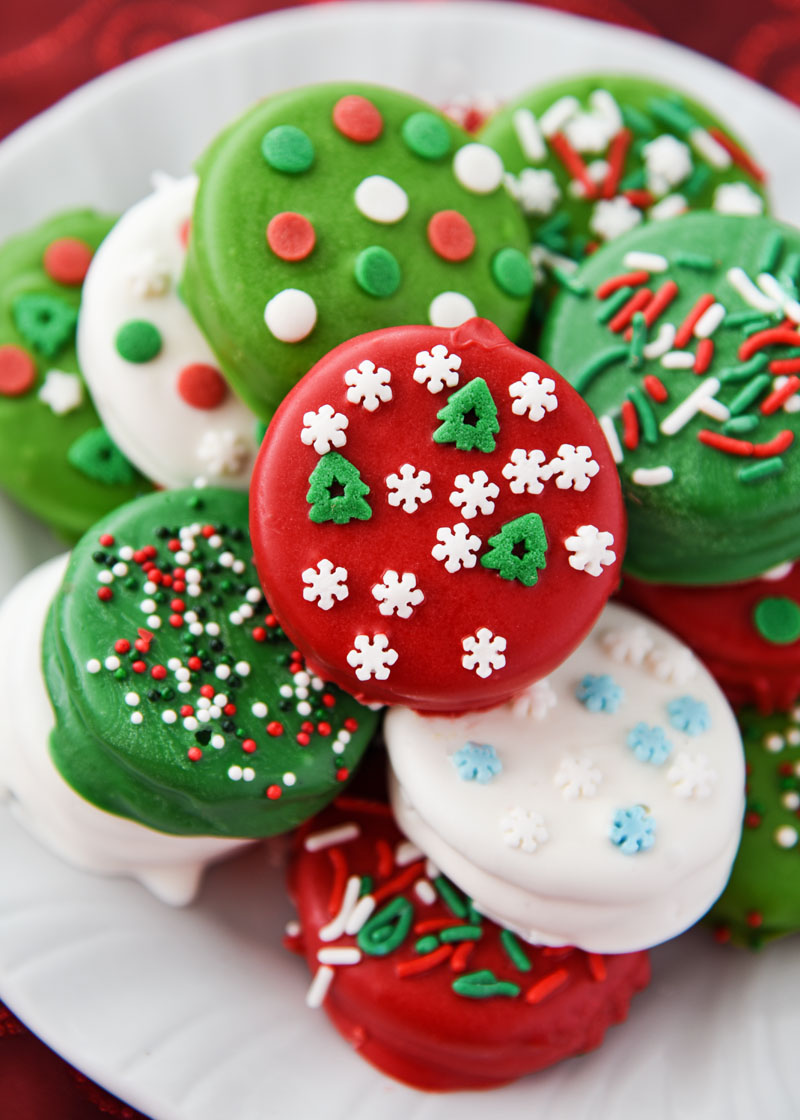 There's always at least one person who hovers around the dessert table at a party and that person is me. I can't even explain how much I love Christmas treats! And I love them so much that I put a list together of some of my favorites. Enjoy!
You'll be around the giant bowl of this treat so much you might as well fill up a bowl of your own and walk away. It's so dang good!
I was first introduced to these little guys in college and immediately asked for the recipe. I've been making them for Christmas (and everything in between) ever since!
Fudge is one of my holiday treat WEAKNESSES. I cannot get enough fudge! This recipe is divine and so easy.
Take rice krispies treats to a whole new level with these delightful treats!
My mother-in-law made these no-bake treats when my husband and I were engaged and I fell in love with them! I like to add holiday M&M's for texture and color.
These cookies are some of the first Christmas treats we made with our kids. You take the dough, roll it into balls, and roll the balls in sprinkles. The rest is just a delicious bonus!
Another treat that I cannot get enough of! Peanut butter and chocolate are the stars of this treat and they're just so wonderfully chewy and yummy.
My brother is usually the one stealing the giant bowl of Muddy Buddies at a Christmas party. I could sit down and eat these with a spoon like a bowl of cereal.
Nothing says Christmastime like homemade caramels! These caramels are so smooth and soft.
Another fun and colorful cookie recipe! The cookie itself is perfectly soft and chewy then topped with a lovely cream cheese frosting.
Time to Dip Some Oreos!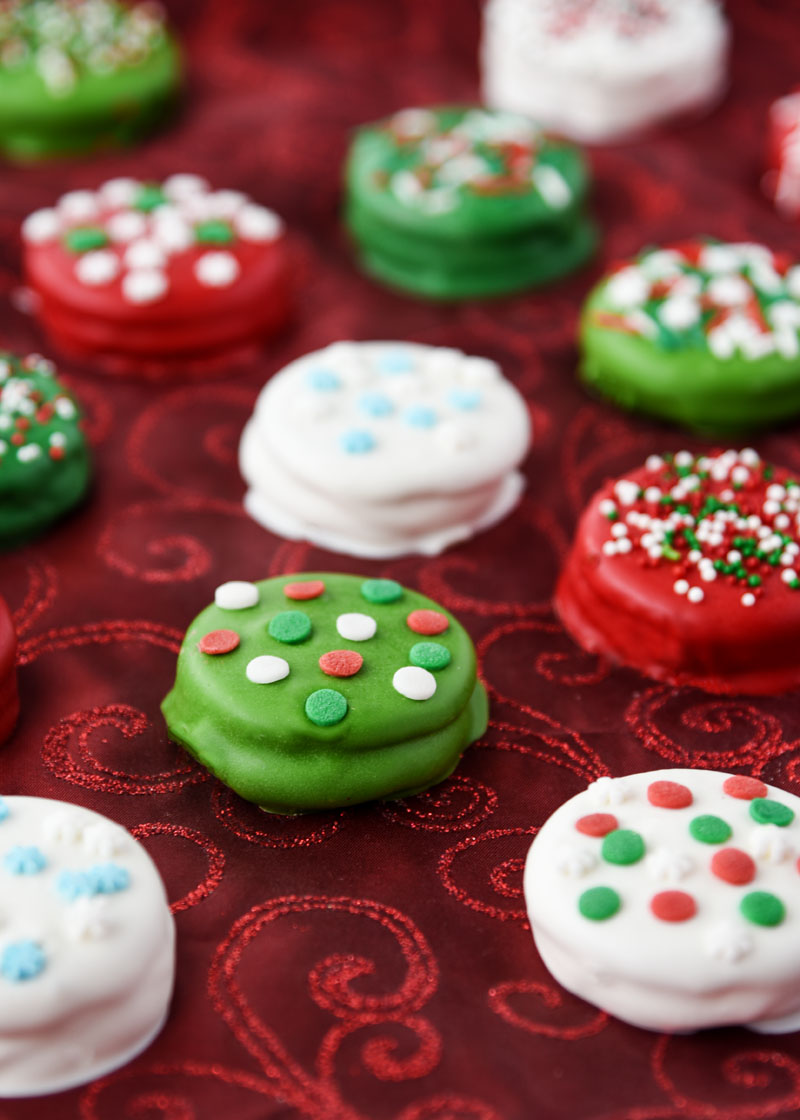 Are you ready to start dipping? They're going to turn out so pretty!
Don't forget to e-mail me, comment on this post, or message me on social media if you have any questions! I would love to see your Oreos when they're all done. If you share the on Instagram, don't forget to tag me! @cupcakediariesblog
Dipped Oreo Cookies for Christmas
Chocolate Dipped Oreo Cookies for Christmas! Bright, lovely, and perfect for any holiday gathering or for packaging up for the neighbors!
Equipment
glass bowls

wax paper

fork

spoon

silicone spatula

cookie mold
Ingredients
1

package Oreo cookies, family size

(mint or double stuf are my favorite)

candy melts,

Christmas colors

Christmas sprinkles
Instructions
Melt one package of candy melts in a microwavable glass bowl, according to package directions. Use a silicone spatula to stir. ONLY MELT ONE COLOR OF CANDY MELTS TO AVOID HARDENING.

Drop a cookie into the candy melts and use a spoon to cover completely with coating. Use a fork to lift the cookie from the bowl and lightly shake to remove excess coating.

Place cookie on wax paper and immediately add sprinkles and decorations.

Repeat steps 2 and 3 until color is gone. Repeat steps 1-3 with other colors of candy melts.

If using a cookie mold, coat cookies as directed in the instructions for the mold.
Notes
I used red, two different colors of green, and bright white candy melts. 
Tools and Gadgets I Used to Make Christmas Dipped Oreos
This recipe is part of
Crafty Night Owls
"30 Days of Christmas" series! Check out Carrie's blog for other fun Christmas recipes, crafts, DIY, and more!
Out with the old, in with the new! This post was rephotographed on December 3, 2019. If you're looking for the recipe matching the photo below, you've come to the right place!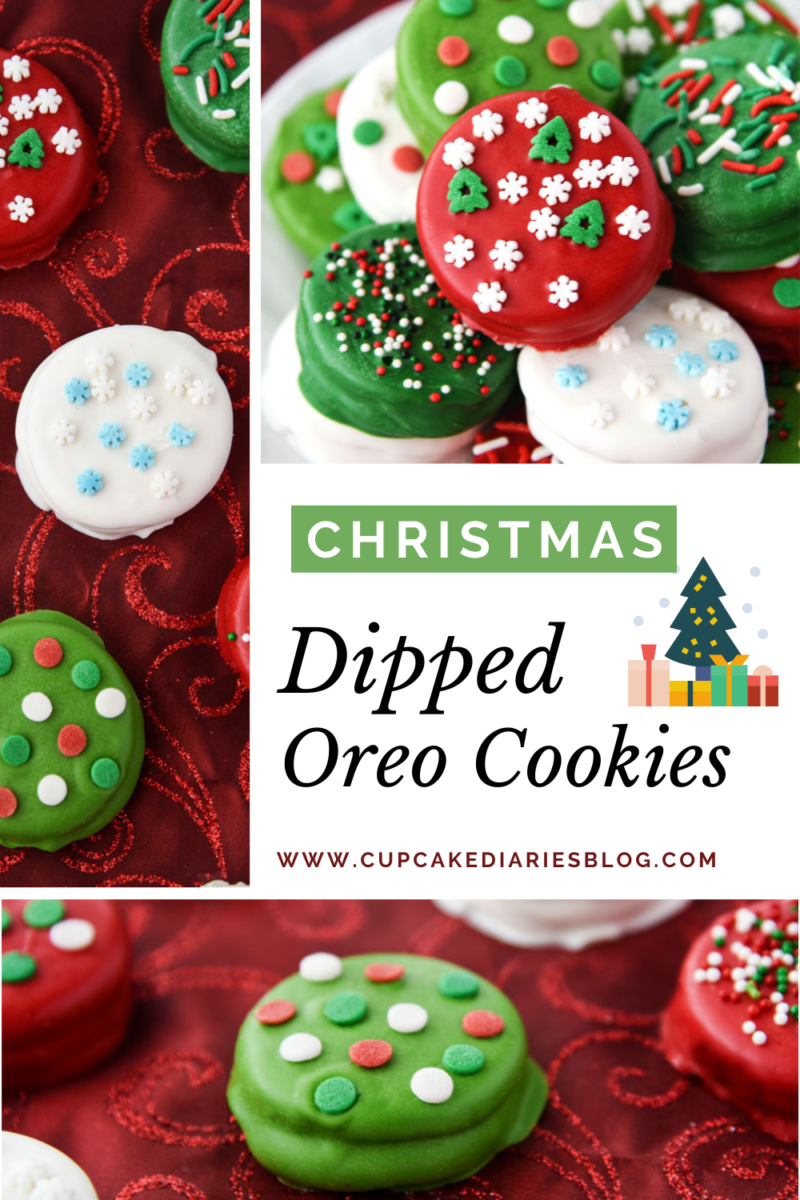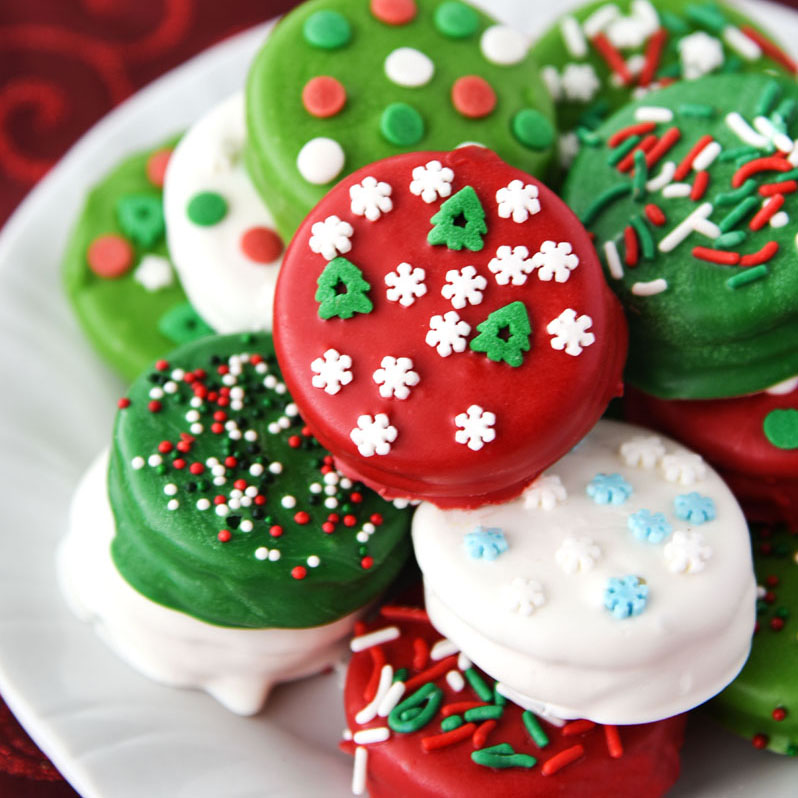 This post contains affiliate links. I include these links to help you find the products that I used in the recipe. If you purchase an item from the link, I will receive a small commission helping keep my recipes free for you. Thank you for your support!