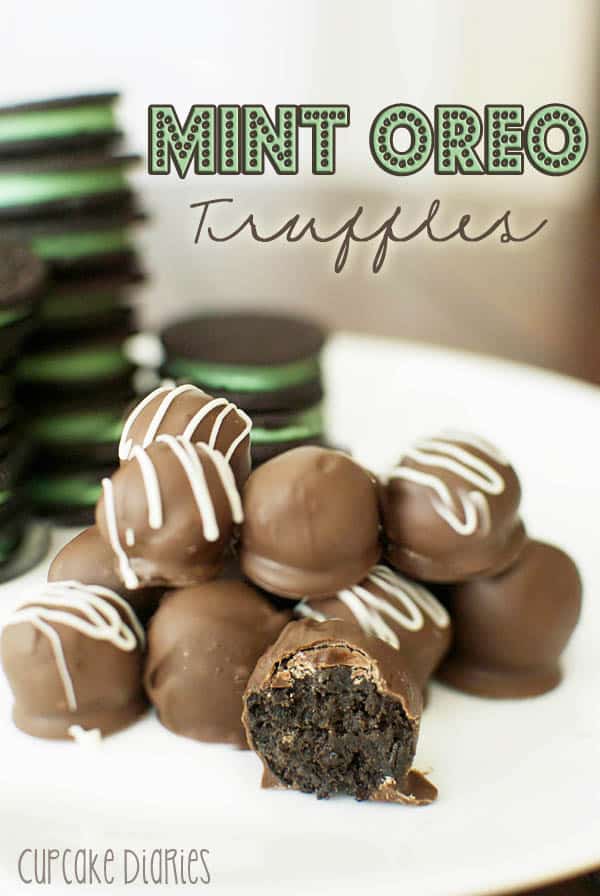 Have you ever been to a party or event where you try a dessert and say, "I have GOT to get this recipe!"? Every time I make these Mint Oreo Truffles there are always two or three people who say that very thing! My cousin, Jena, introduced me to these magical little treats a few years ago and I've been making them for people and changing lives ever since.
These truffles work great to serve at a party, as neighbor gifts, as church handouts, or to consume all by yourself when no one else is looking. I have done all of the above with these truffles!
makes about 70-75 truffles
1 package Mint Oreo Cookies
1 package cream cheese, at room temperature
1 package chocolate flavored Almond Bark
Remove cookies from the package and finely chop. (The best way is to put them in a chopper or food processor, but a blender works well, too.) Place the now cookie crumbs in a large bowl.
Remove room-temperature cream cheese from the foil and microwave for 20 seconds to make it extra creamy and easier to work with. Combine the cream cheese with the cookie crumbs and stir till well combined. Cover the bowl with plastic wrap and place in the fridge for 30 minutes.
Remove the bowl from the fridge and cover a cookie sheet with wax paper. Form the mixture into small balls (a little smaller than a gum ball) and place on the wax paper. Fill the cookie sheet with the balls and place in the freezer for 10 minutes to become firm.
While the pan is in the freezer, fill a saucepan about 1/3 full of water and heat on the stove top on medium-high. As the water begins to boil, place a glass bowl over the sauce pan and place three squares of Almond bark in the bowl to melt. (This process is called double boiling and works great to melt chocolate!)
Once the chocolate is melted, begin adding the little balls to the chocolate and coating each one all around. Place the balls back on the wax paper to cool and dry. A spoon becomes very helpful for this part! When you run out of melted chocolate, rinse out the bowl and wipe it dry, then add more chocolate and begin the double boiler melting process again for the rest of the balls. Drizzle with melted white chocolate, add sprinkles or chopped pecans, or leave them as they are!
Place the prepared truffles in the fridge to keep them cool. Keep the truffles refrigerated till you need them. These little guys are going to make you very popular. 🙂 Enjoy!