S'more Cookies are the campfire treat you can make all year round! They're chewy, crunchy, and loaded with the flavors of a classic s'more.
I could choose a classic s'more over just about any dessert. Put a pan of S'more Bars or Indoor S'mores in front of me and it's game over. In other words, those are two of my favorite desserts in the world right there!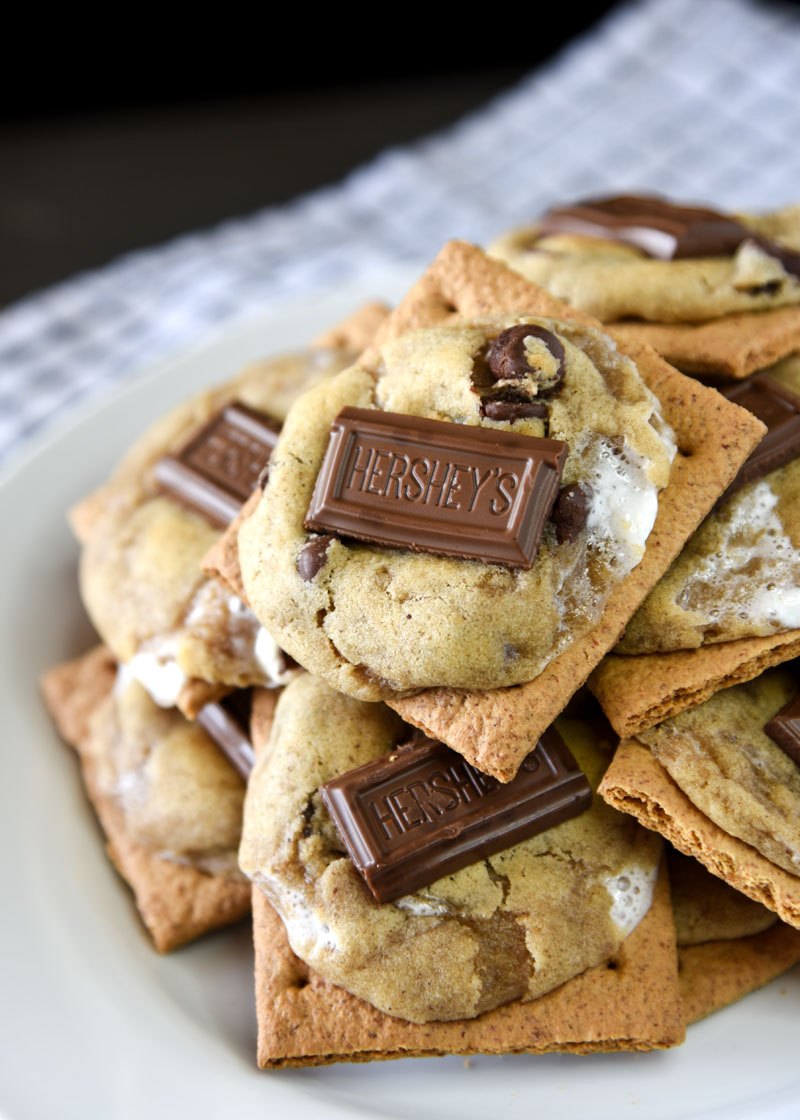 This recipe features the classic flavors of a s'more. Therefore, it is necessary that I add the following dialogue from that totally awesome movie from the 90's, The Sandlot:
Ham Porter: Hey Smalls, you wanna s'more?
Smalls: Some more of what?
Ham Porter: No, do you wanna s'more?
Smalls: I haven't had anything yet, so how can I have some more of nothing?
Ham Porter: You're killing me, Smalls! These are s'more's stuff! Alright now pay attention. First you take the graham. You stick the chocolate on the graham. Then you roast the 'mallow. When the 'mallows flaming…you stick it on the chocolate. Then cover with the other end. Then you scarf. Kind of messy, but good!
Chocolate chip cookies and s'mores were meant to be together. As a result of that thinking, this cookie recipe was born!
S'more Cookies Ingredients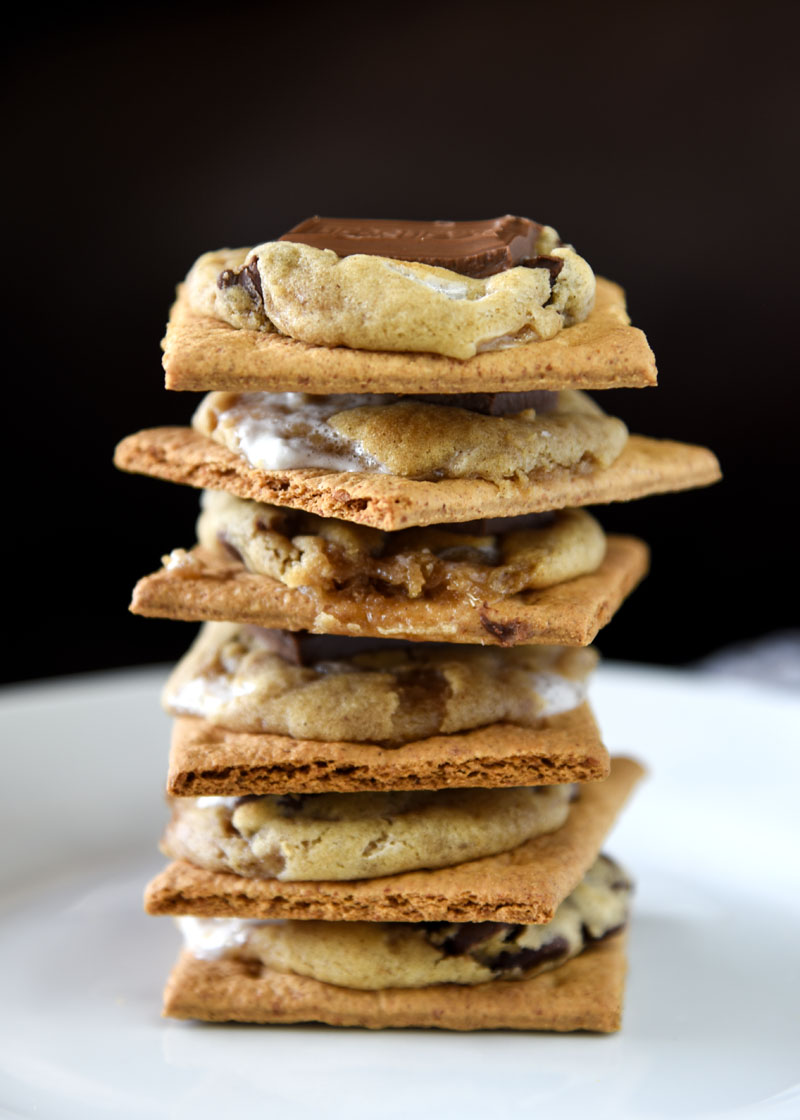 Thanks to Ice Cream Before Dinner for introducing me to this addicting new treat to bring to all those summer parties!
Making these cookies will result in multiple people asking you for the recipe. In other words, they're delicious!
S'more Cookies require your basic cookie baking ingredients, as well as a few extra goodies! That is to say, you likely have all of the ingredients in your pantry!
Ingredients
unsalted butter
brown sugar
granulated sugar
eggs
vanilla
baking soda
salt
cinnamon
flour
semisweet chocolate chips
mini marshmallows
Hershey bars
graham crackers
WARNING: Once you make that dough you might end up eating it all before you bake it. In other words, proceed with caution!
How to Make S'more Cookies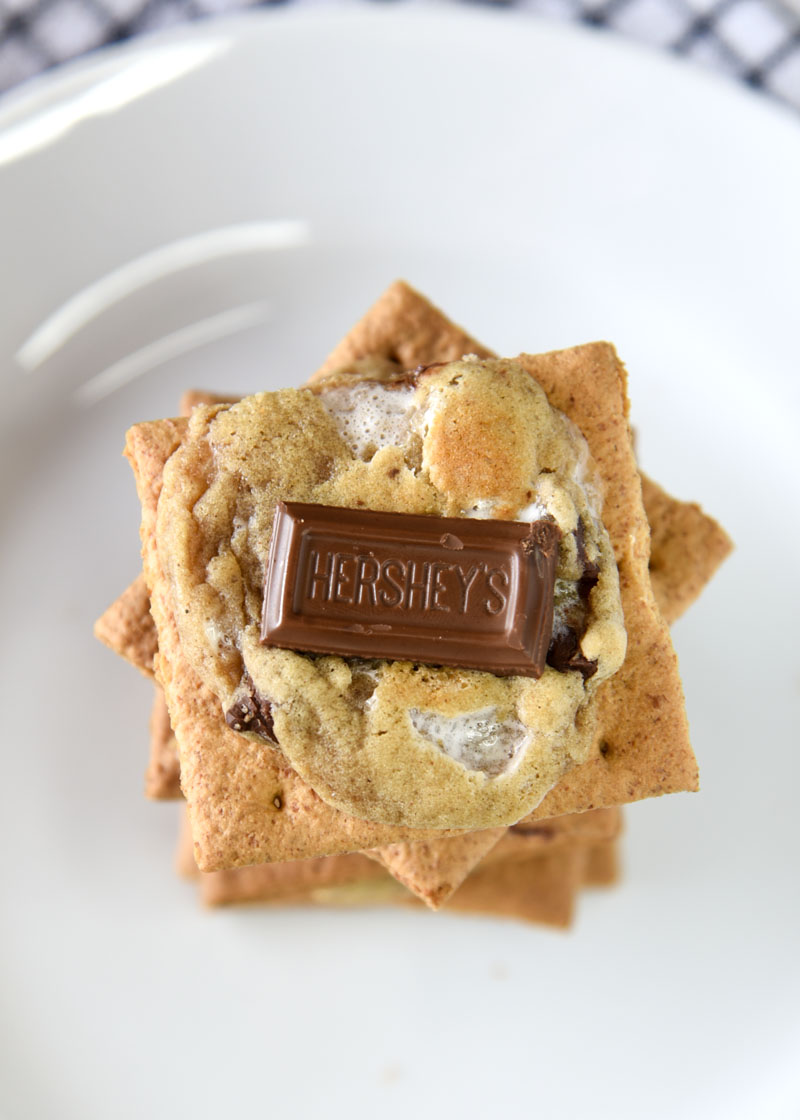 If you've ever baked chocolate chip cookies before, you'll be able to bake S'more Cookies!
First, line a cookie sheet with parchment paper.
Second, make the cookie dough by combining butter and both sugars. Then, add the eggs and vanilla. I like to use an electric mixer for this step!
Next, use a separate to whisk flour, baking soda, cinnamon, and salt together.
Then, slowly add the flour mixture to the butter mixture. Next, mix together until combined.
Use a spatula to fold the chocolate chips and marshmallows into the dough.
Next, put a lid on your dough and place it in the fridge to chill for at least an hour.
While the dough is chilling, place 24 of the graham cracker squares onto a cookie sheet.
Now, roll the dough into balls and place one onto each of the cracker squares.
Then, pop the pan in the oven and bake, then top each cookie with a piece of chocolate.
Finally, enjoy the heck out of those cookies!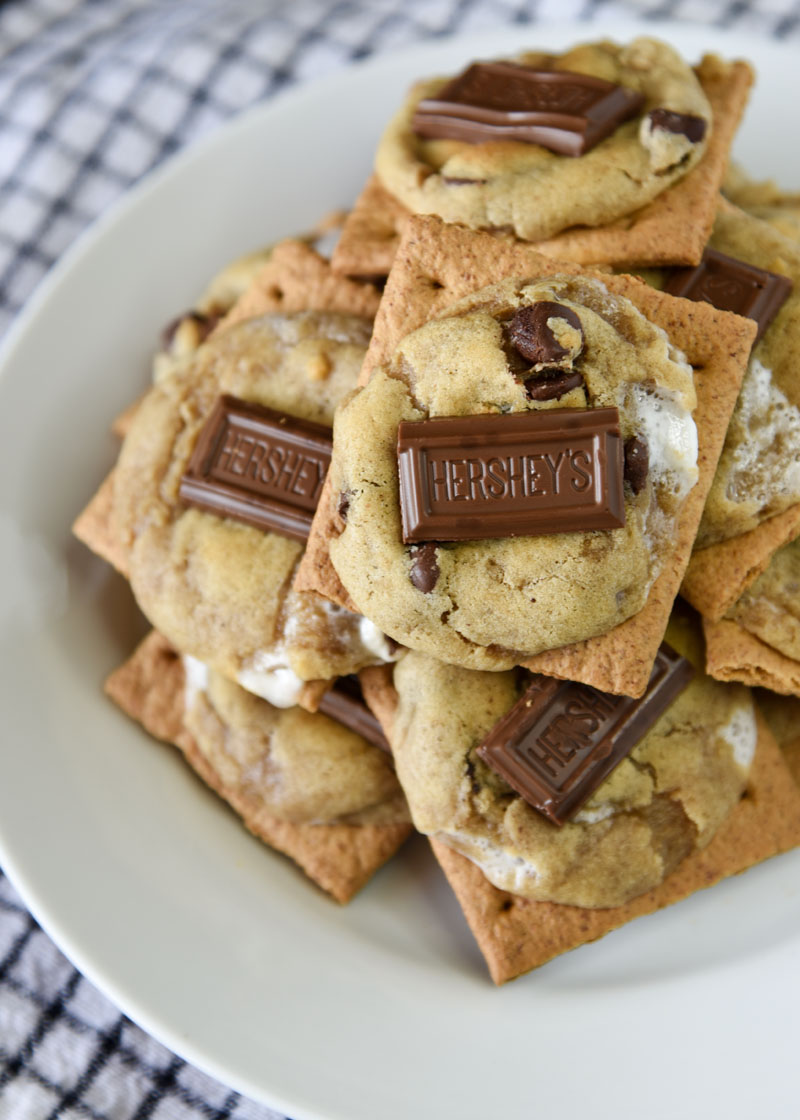 So, do you have questions about baking chocolate chip cookies? The answer just might be below!
How do I keep my chocolate chip cookies from going flat?
It can be really frustrating when you're baking chocolate chip cookies and they go flat. However, there are things you can do to keep those cookies from going flat! Here are some of my favorites:
First, make sure your butter is still slightly cold – You want to be able to work with it, but it needs to be stiff enough to give your cookies some shape. For example, if you can press your finger into the butter and it is soft but keeps its shape, it's good to go!
Also, chill your dough – It wouldn't hurt to even chill it twice! After you've made the dough, place it in the fridge to chill. You can also make dough into balls and put back into the fridge to chill again before using. As a result, you will have fuller, thicker cookies!
Then, measure your ingredients precisely – Baking is like chemistry and the wrong measurements can lead to trouble. Consequently, your cookies will be flat if you don't measure correctly. I like doing this with the flour because it's so satisfying to measure!
Use fresh baking soda – Speaking of chemistry, this is an important one! Baking soda is what makes your cookies rise. So if your baking soda is expired, it isn't going to do its job correctly. Consequently, expired baking soda could make your cookies flat.
Bake cookies on a pan lined with a silicone mat or parchment paper – Greasing a pan adds more fat to the cookies and there's already plenty of it in the dough. If there's extra grease and fat, the cookies will spread too much. Using parchment paper or a silicone mat will keep cookies from spreading and make them nice and plump.
Only bake cookies on cooled pans – If your pan is warm when you put it in the oven, the cookies are already starting to spread. As a result, a cooled pan will allow the dough to start spreading at the right time during the baking process.
Finally, bulk up those cookies with add-ins – The more chunks the better when it comes to chocolate chip cookies! In other words, you'll get thicker cookies if you add an extra cup of chocolate chips.
So, what if you don't want to add more chocolate chips? – Add an extra tablespoon of flour instead to help firm up the dough! Therefore, you will have thick cookies without extra chocolate chips.
To sum up, there is more than one way to get thicker cookies!
Should my refrigerated ingredients be warm when baking chocolate chip cookies?
Eggs, butter, and other dairy products produce fluffy baked goods, including cookies. Above all, it's all about that chemistry!
What should I do if I like my chocolate chip cookies more thin and crispy?
Switch out some of that brown sugar for white sugar! As a result, adding more of the white sugar will make the cookies spread more and not rise more.
How can I make sure my chocolate chip cookies are the same size?
Use a cookie scoop! Above all, a cookie scoop will give you uniformed cookie dough balls and the same size of cookie throughout your batch.
More s'more recipes you can make all year round!
Meanwhile, I've made more s'more recipes!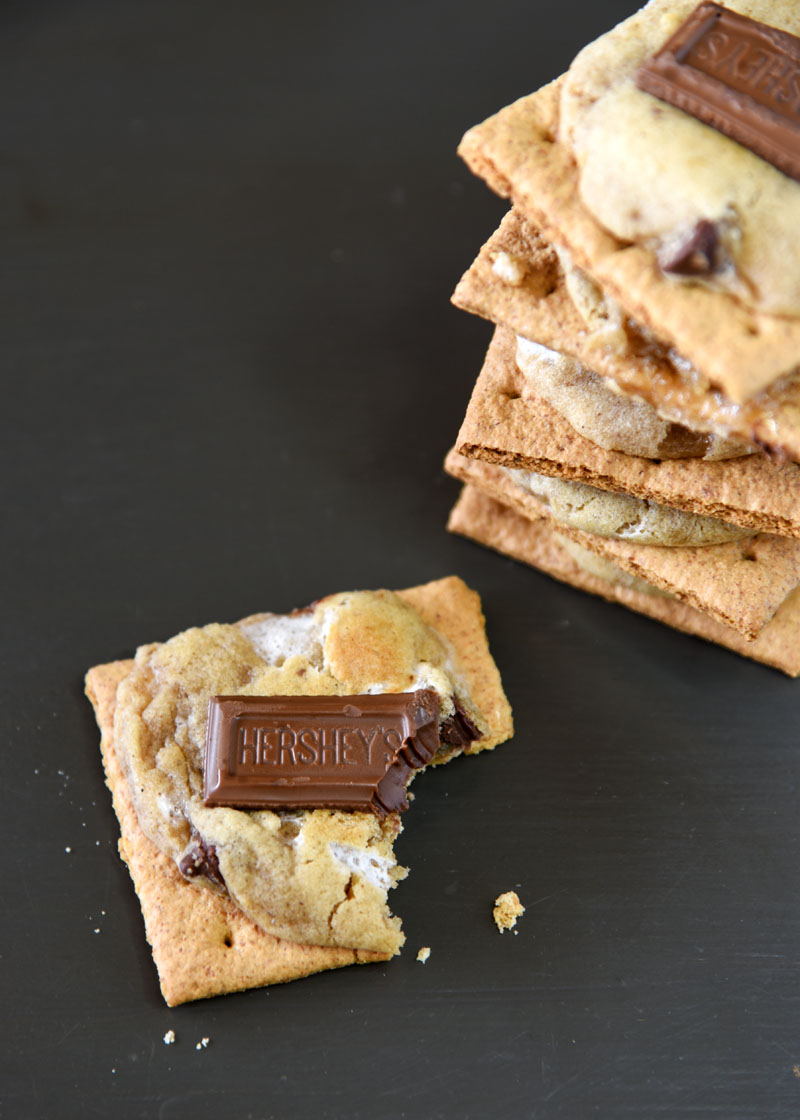 Here are some of my other favorite s'more recipes to make at home without the campfire! That is to say, you can make them all year round!
One of my favorite desserts ever. To clarify, I will choose these over most desserts. They're so gooey with just the right amount of crunch. In other words, you should make then ASAP!
A chocolate cupcake dipped in even more chocolate, then topped with the best marshmallow buttercream you'll ever have in your life. Basically, enough said!
My favorite part of these bars is the texture. For example, the chocolate is wonderfully crunchy when you let it cool.
These whoopie pies are so yummy and really fun to make. Most importantly, they also feature that delicious marshmallow buttercream!
Classic Chex Muddy Buddies with a s'more twist! They're so tasty. In addition, they're really easy to make!
These little treats are kind of a game changer. Consequently, I make them all of the time during Easter! Not that that's a bad thing.
Everything I said about the Peeps S'mores, but with Halloween Peeps! Likewise, Halloween S'mores are fun and flavorful!
I love a good milkshake. So, I needed to make a s'more version! We love making this recipe as a family.
My favorite brownie recipe topped with s'mores goodness! For example, crushed up graham cracker pieces and mini marshmallow!
Let's make some S'mores Cookies!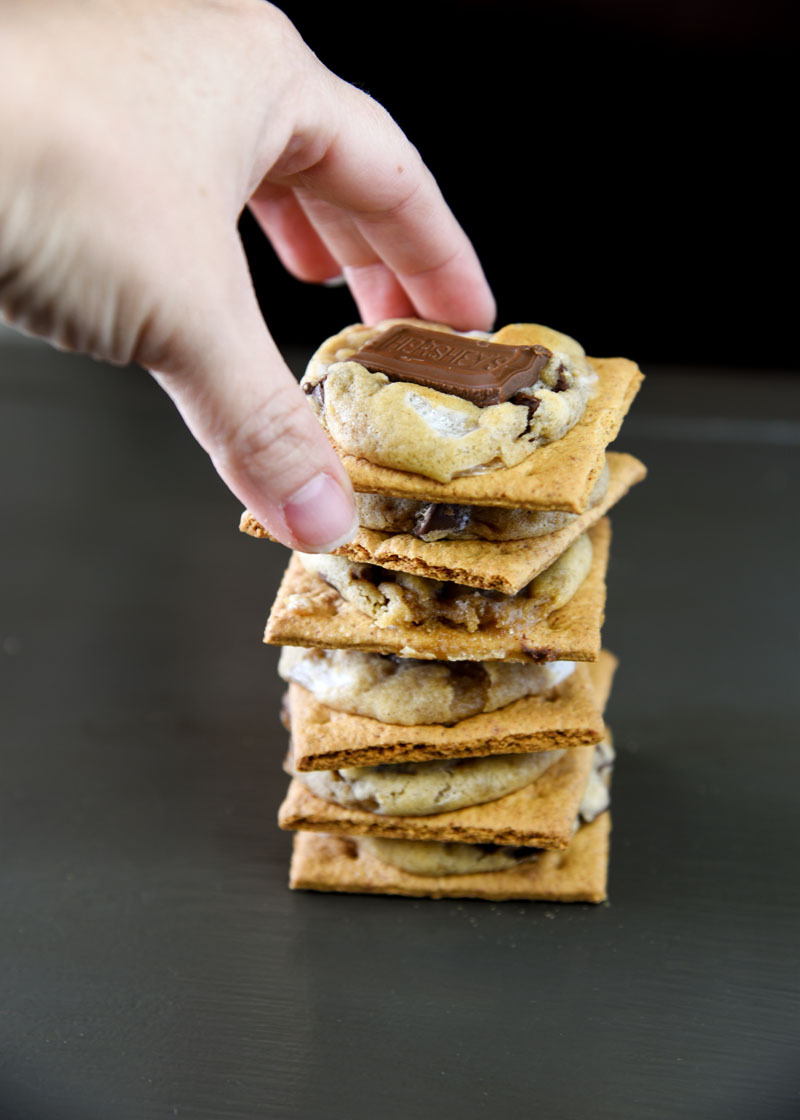 Now, it's time to make the cookies!
This post has been updated with new photos and additional information to make your cookie baking experience a better one! Updated August 2021
Most importantly, don't forget to e-mail me, comment on this post, or message me on social media if you have any questions!
Also, don't forget to tag me if you share these on Instagram! @cupcakediariesblog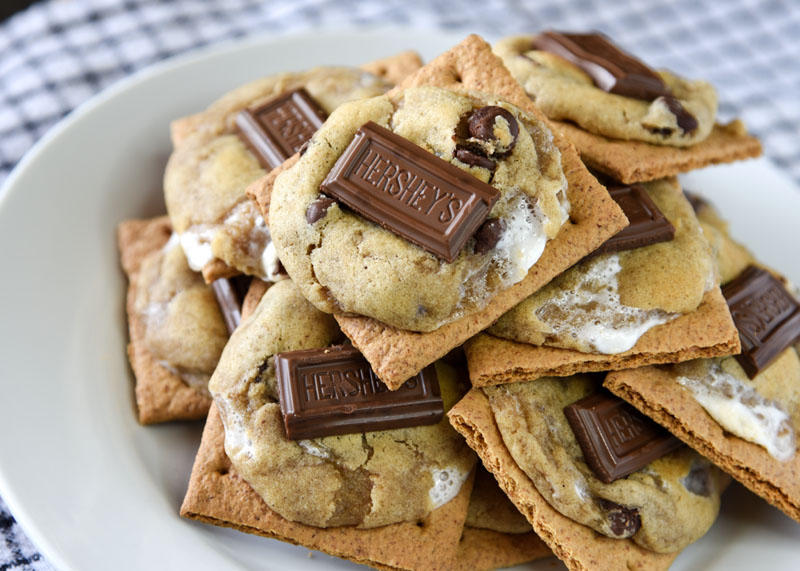 Yield: 4 dozen
S'more Cookies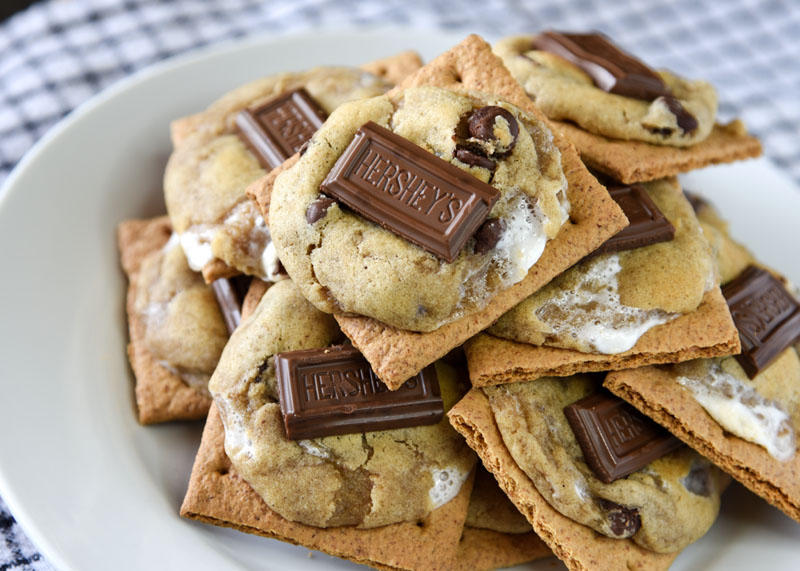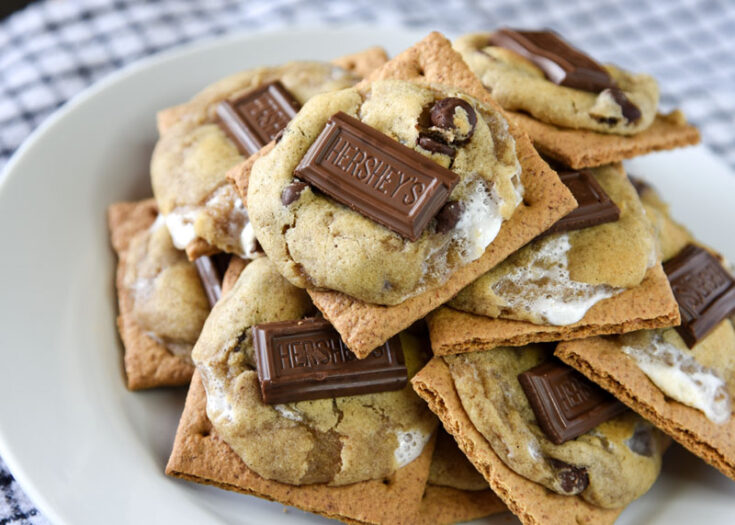 S'more Cookies are the campfire treat you can make all year round! They're chewy, crunchy, and full of delicious s'more flavors!
Ingredients
11 Tablespoon unsalted butter, softened
1 cup brown sugar, packed
1/2 cups granulated sugar
2 large eggs
1 teaspoon vanilla
1 teaspoon baking soda
1/2 teaspoon salt
1 teaspoon cinnamon
2 1/2 cups flour
1/2 cup semisweet chocolate chips
1 cup miniature marshmallows
4 standard sized Hershey bars, broken into pieces
24 graham cracker sheets, broken into squares
Instructions
Preheat oven to 375° F. Line a cookie sheet with parchment paper and set aside.
In the bowl of an electric mixer, combine butter, and both sugars until smooth.
Add eggs and vanilla; mix until well combined.
In a separate medium bowl, whisk together baking soda, salt, cinnamon, and flour.
Slowly add the flour mixture to the butter mixture and mix on low speed until combined.
Use a spatula to fold in chocolate chips and marshmallows. Cover the dough and place in the fridge for at least 1 hour to chill.
Place 24 graham cracker squares onto the pan lined with parchment paper.
Roll chilled dough into balls about the size of a heaping Tablespoon (or 1 1/2 Tablespoons). Place a dough ball on each graham cracker square.
Place in the oven and bake fo 8-10 minutes, or until cookies are a light golden brown on top. Remove from oven and immediately add a piece of chocolate bar to the top of each cookie.
Notes
The dough will likely run onto neighboring crackers during baking, but that is expected. Use a knife or spatula to separate crackers for serving.
For more melted chocolate on top, remove the cookies from the oven after 5 minutes, place a piece of chocolate bar on top, and then place back in the oven for the remaining bake time.
If you don't want to bake immediately and want to be able to quickly bake them later, prepare the dough, chill for 30-60 minutes, roll into balls, and place in a container with a lid and into the fridge until ready to use.
Nutrition Information:
Yield:
4 dozen
Serving Size:
1
Amount Per Serving:
Calories:

1237
Total Fat:

48g
Saturated Fat:

26g
Trans Fat:

0g
Unsaturated Fat:

18g
Cholesterol:

179mg
Sodium:

844mg
Carbohydrates:

191g
Fiber:

5g
Sugar:

103g
Protein:

16g
Nutrition information can vary for a recipe based on factors such as precision of measurements, brands, ingredient freshness, or the source of nutrition data. I strive to keep the information as accurate as possible, but make no warranties regarding its accuracy. I encourage readers to make their own calculations based on the actual ingredients used in your recipe, using your preferred nutrition calculator.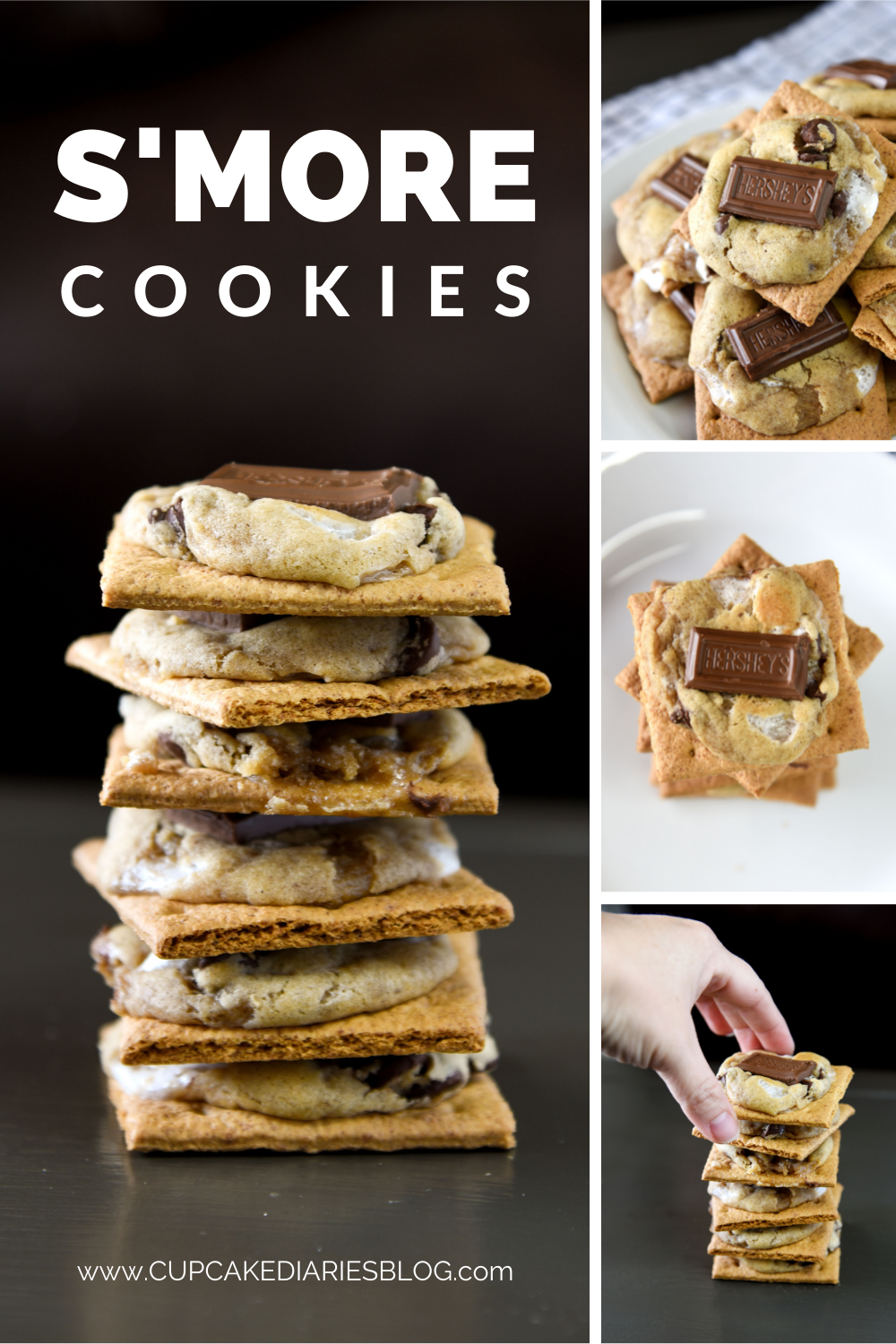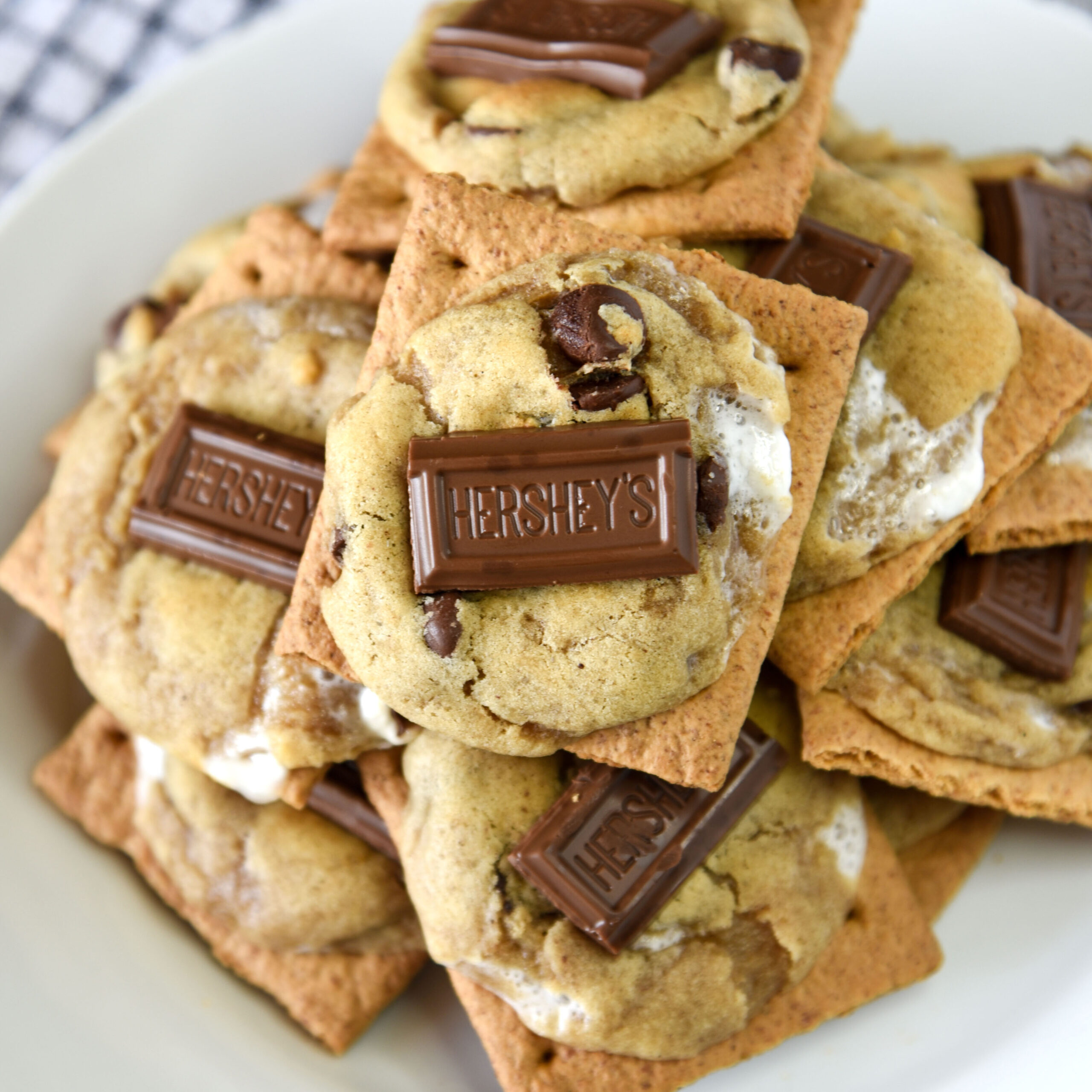 So, what did you think of the recipe? Leave a review and let me know! As a result, I can create more recipes with you in mind!
This post contains affiliate links. I include these links to help you find the products that I used in the recipe. In other words, if you purchase an item from the link, I will receive a small commission helping keep my recipes free for you. Thank you for your support!