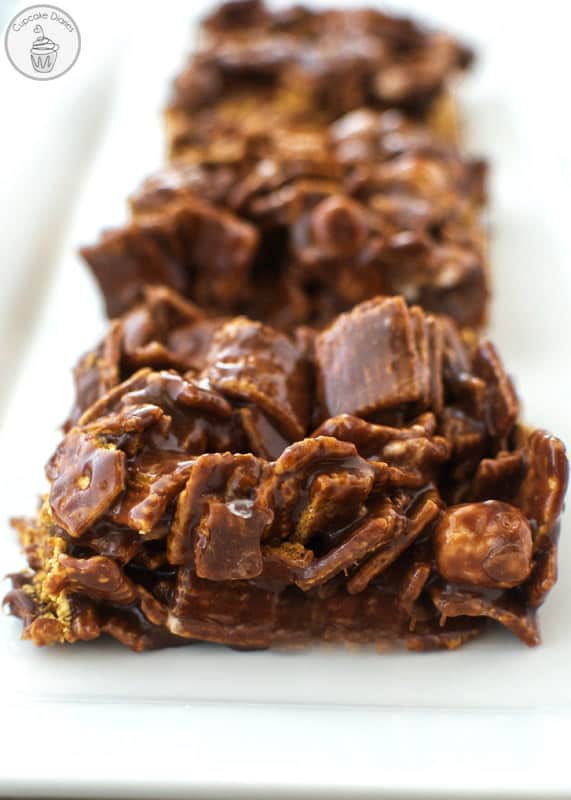 I love a good s'more in the summer time. And if I ever make friends with someone who has a fire pit in their backyard, I'll one day be able to enjoy a s'more sometime other than just the summer. And other than by use of my microwave. In the meantime, I'll just make Indoor S'mores! These puppies are GOOD. My mother-in-law is a pro at making these things and they show up at every other family party. I made my very first batch on Friday and they were splendid.
We went to dinner with my dad, brother, and grandma in Sandy, UT, on Saturday night and I brought a plate of these for dessert afterward. She said she liked these more than her peach cobbler she had at the restaurant. I'm going to take that as a huge compliment, Grandma! Thanks and love you!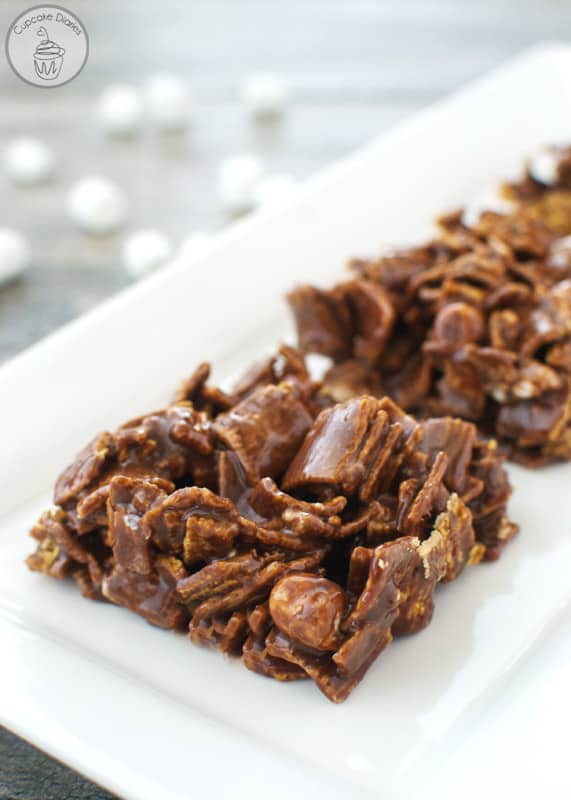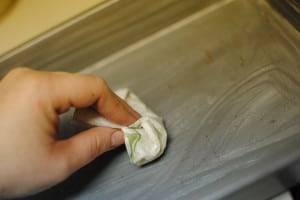 Begin by greasing a 9×13 pan with butter.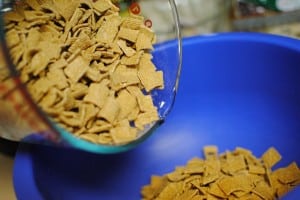 Then pour the Golden Grahams into a large bowl.
Add 1 cup of the marshmallows to the Golden Grahams.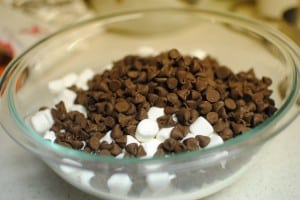 Place the other 5 cups of marshmallows in a microwave safe bowl with the chocolate chips.
We could stop here and I would be fine. Mallows and chocolate chips is a nice little snack for me. Just sayin'. But the end result is pretty amazing too so keep going!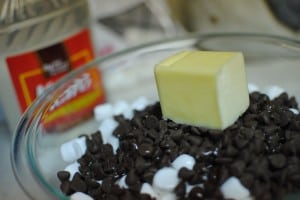 To the top of the mallow and chocolate chip combo, pour the corn syrup over and place the butter right on top. I know, that butter looks scary. But it's part of what makes this goodness come together. Make sure your butter is at least at room temperature because next you're going to microwave this combination together. If it's cold, make sure to microwave the butter a bit before putting it with the mallows and chocolate chips so it will melt together nicely.
Next, microwave the mixture in the bowl for 45 seconds, stir, then microwave for another 45 seconds. You want the mixture to be smooth and creamy. Remember to stir!
After you have that creamy goodness all mixed together, add the vanilla.
Then pour the chocolate mixture over the bowl of Golden Grahams and marshmallows. Mix all of that together. It's tempting at this point not to taste what you've just created. Go ahead, taste away. You'll be glad you did.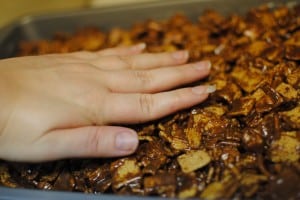 When the cereal and chocolate are well combined, press the mixture into the greased 9×13 pan. You'll want to let it sit in the fridge, loosely covered with plastic wrap, for about an hour so the bars will be firm. It takes quite a while for them to firm up if you leave them out at room temperature. They'll seem hard when you get them out of the fridge, but once they get back to room temperature they're perfect to cut into bars. Enjoy!!
Indoor S'mores
Ingredients
8

c.

Golden Grahams cereal

almost an entire box

7

c.

miniature marshmallows

almost an entire bag, divided

1 1/2

c.

milk chocolate chips

1/4

c.

light corn syrup

6

Tbsp

margarine

softened

1

tsp.

vanilla
Instructions
Grease a 9x13 pan with butter; set aside.

Pour Golden Grahams into a large bowl. Pour 1 cup marshmallows right over top.

In a microwave safe bowl, place remaining 6 cups marshmallows and chocolate chips. Stir together and add margarine and corn syrup on top. Microwave for 45 seconds, stir, another 45 seconds, and stir again till it's nice and creamy. Then add vanilla and stir

Pour chocolate mixture over Golden Grahams mixture. Mix together and press into the greased 9x13 pan. Cover with plastic wrap and place in the fridge to firm.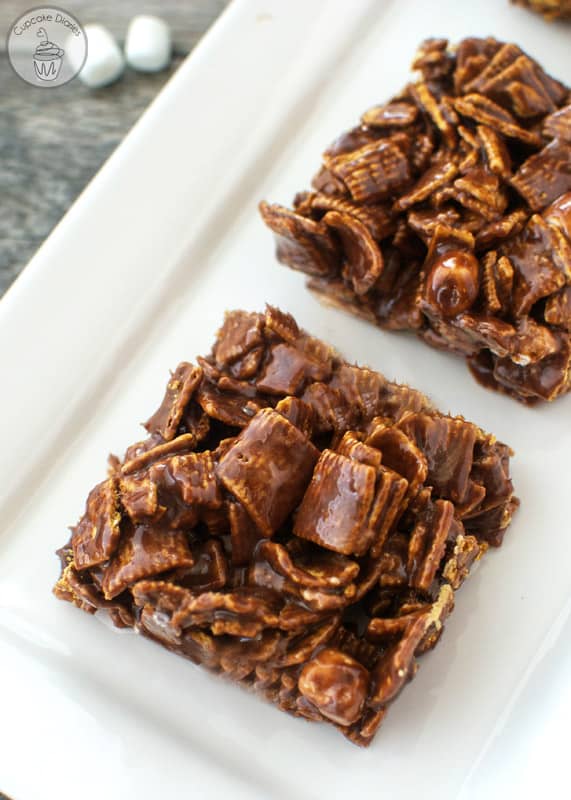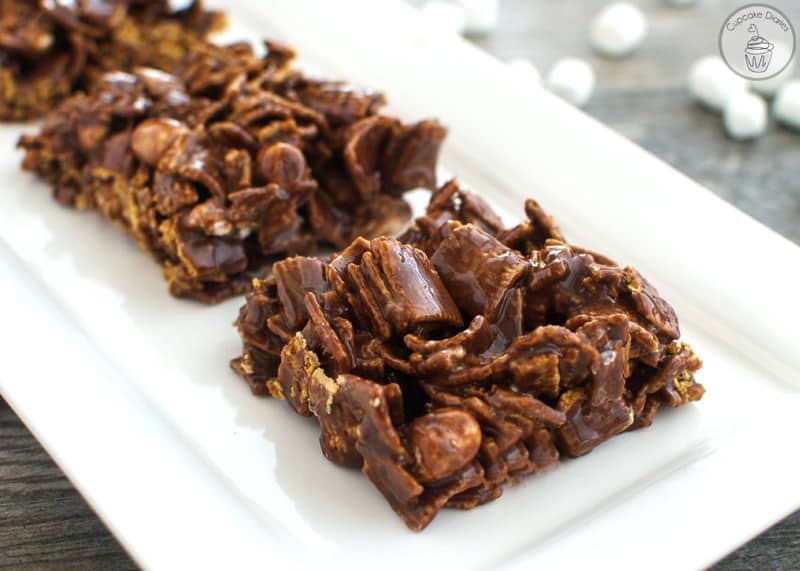 Looking for more no-bake recipes? Here are some of my favorites