This show-stopping jello salad is the perfect side dish for a patriotic celebration! The red, white, and blue layers are bright, fun, and just what your food table needs!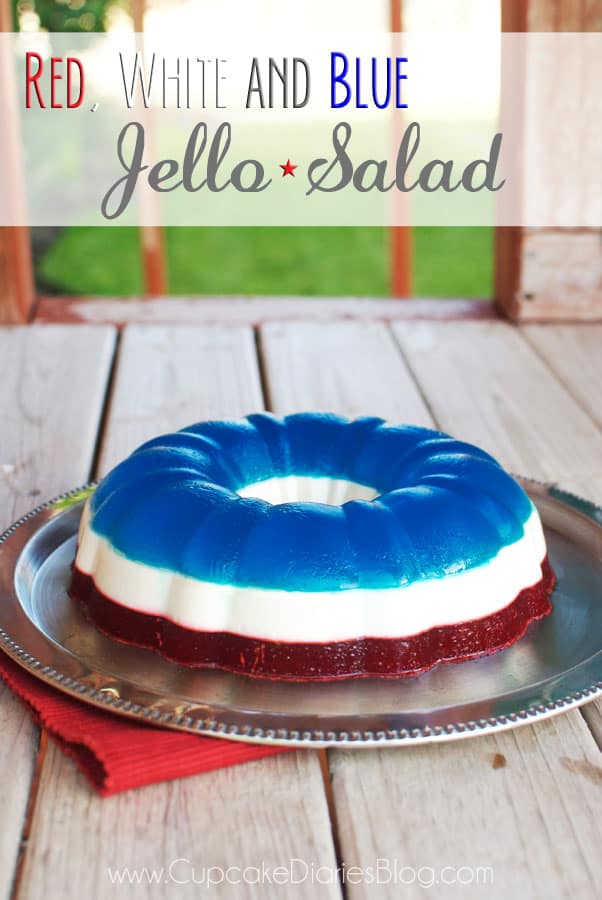 It's a miracle! I'm actually posting a recipe! I apologize for being so absent the last couple of weeks. I've been back and forth to the NICU all day every day and it's been super busy. My toddler is back in town after a week long vacation in Idaho with all of his grandparents so my life is semi getting back to normal. Now all I need is my three-week-old baby home with us and we'll be set! But for now, having my oldest home is good enough for me.
The Fourth of July is coming up and I am SO excited. It is one of my favorite holidays for all kinds of reasons. The parades, fireworks, food, family, friends…you can't get much better than that! I've always loved spending the Fourth in my hometown of Idaho Falls, Idaho. If you live nearby I recommend that you go there for the big firework show: the Meleleuca Freedom Celebration. It's one of the top shows in the nation and it is just awesome. Picture this: a beautiful river setting in the middle of the city, lined with vendors and people anxiously waiting for the fireworks to start right on the docks. So awesome! I look forward to it every year. Unfortunately, this year I will not be spending the Fourth of July in Idaho Falls. It bums me out big time, but I'm hoping instead that I will be taking care of my tiny baby boy at home. Keeping my fingers crossed!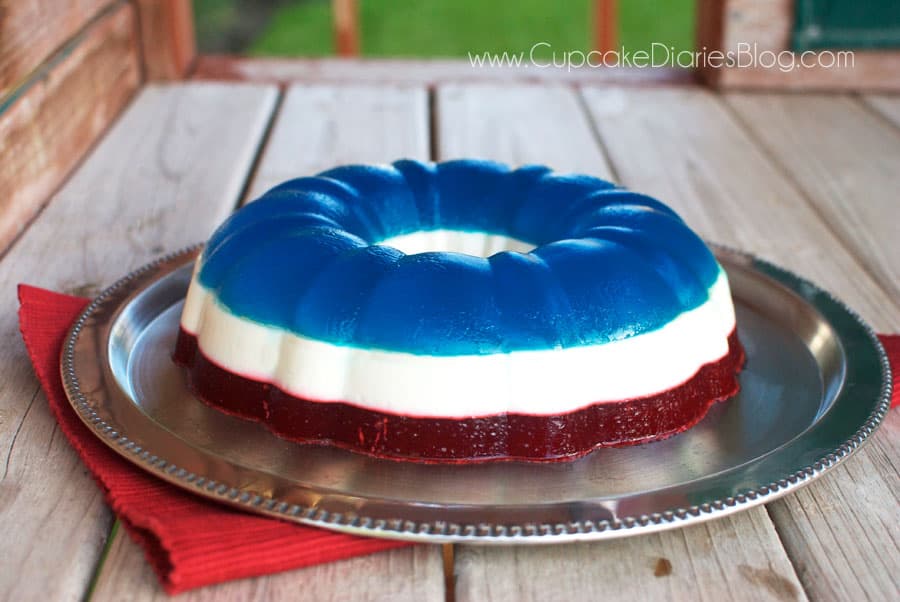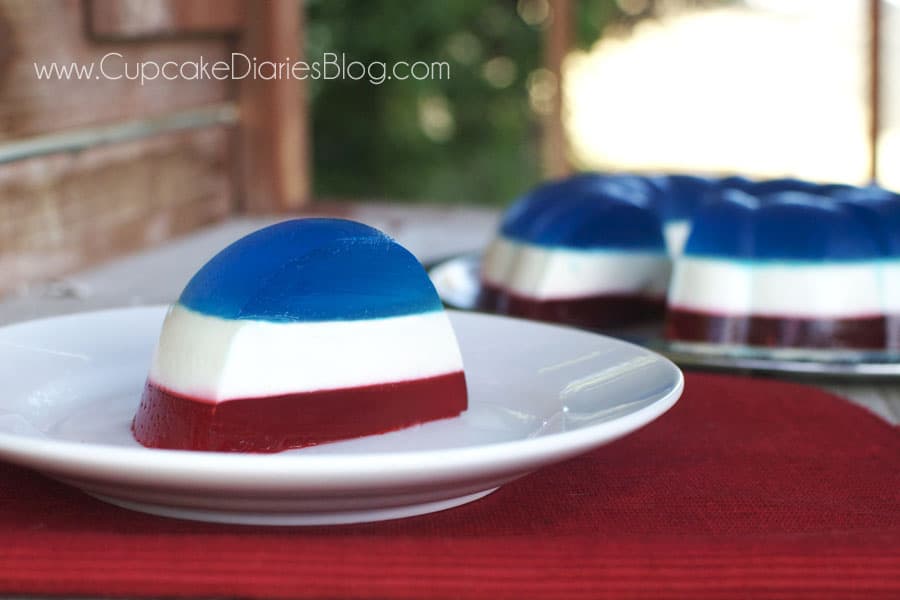 Last year our sister-in-law, Erika, and her husband hosted a family Fourth of July bbq at their house. This girl LOVES the Fourth of July and her party made that very clear! There were all kinds of fun and festive foods, homemade root beer, a cute craft for the kids, patriotic stories, and games at the party and it was a blast. Days before she called me to give me a food assignment. She wanted me to bring a jello that was red, white, and blue. She explained how much she loves having a patriotic jello present at Fourth of July bbq's and wanted me to be in charge of making one. And I was up for the challenge! I found this Red, White and Blue Jello over at Jamie Cooks It Up! and I was so excited to give it a try. It turned out so cute and fun and everyone really liked it. Many were going back for second and thirds. I was so flattered! The layers set up really well and the colors were just so bright. It's a perfect dish for a Fourth of July bbq!
I'll be sharing more Fourth of July recipes up until the big day so stay tuned!
Red, White and Blue Jello Salad
Ingredients
2

3 oz boxes berry blue jello

2

3 oz boxes raspberry jello

2

envelopes unflavored gelatin

4

c.

boiling water

2

c.

crushed ice

1/2

c.

cold water

2

c.

milk

1 1/2

c.

sugar

2

c.

sour cream

2

tsp.

vanilla

one 10-inch bundt pan

If you use any smaller you'll end up having to pour some of each color out or it will be too much for the pan. I recommend using at least a 10-inch pan.
Instructions
In a glass measuring bowl, pour out both of the berry blue jello powder packages and add 2 cups of boiling water. Stir together till all the granules are dissolved. Then add 1 cup of ice and stir till it's all melted.

Spray the bundt pan generously with cooking spray. Pour the blue jello into the bundt pan and place it in the freezer for 20 minutes or until the jello is set.

Rinse out your glass measuring bowl (Or grab another one, up to you!) and combine the 2 packages of unflavored gelatin with 1/2 c. cold water. Stir it well to combine. Let it sit for about 5 minutes to thicken.

Pour the milk in a medium sauce pan. Heat till it starts to simmer. Then add sugar and the set gelatin. Stir well to combine.

Remove the pan from heat and stir in the sour cream and the vanilla. Stir well to combine. Let the mixture come to room temperature. If you need to hurry it along, go ahead and place it in the fridge. But be careful not to leave it in too long or it will start to set up.

Take the bundt pan out of the freezer and test it to make sure it is set. Using a large spoon, carefully pour the cooled white mixture onto the blue layer of jello. Put the pan back in the freezer so the white layer can set. This should only take another 20 minutes.

Pour 2 cups of boiling water over the raspberry jello packages, as in step 1. Stir well till all of the jello has dissolved. Pour 1 cup of ice into the mixture. Stir until the ice has melted.

When the white layer has set up, carefully pour the red mixture over top. Cover the pan and chill for at least 3 hours. (I recommend making this the night before you need it to ensure it is nice and set up.)

Time to take it out of the pan! Place a large plate or serving tray over top of the opening of the pan. Then invert the pan and the jello will slide right out.
recipe adapted from Jamie Cooks it Up!
Kitchen tools and gadgets needed for this recipe:
For more Fourth of July party food ideas, check out this round up of 10 more idea!