St. Patrick's Day Caramel Pretzel Bites Treats are pinch-proof treats that take minutes to make! These little guys are super festive and delicious.
Aren't holiday treats just the best? You can't go wrong with a batch of Mint Brownies or Lucky Charms Treats for St. Patrick's Day! My kids especially love these dipped Oreos. So many pinch-proof desserts that we love!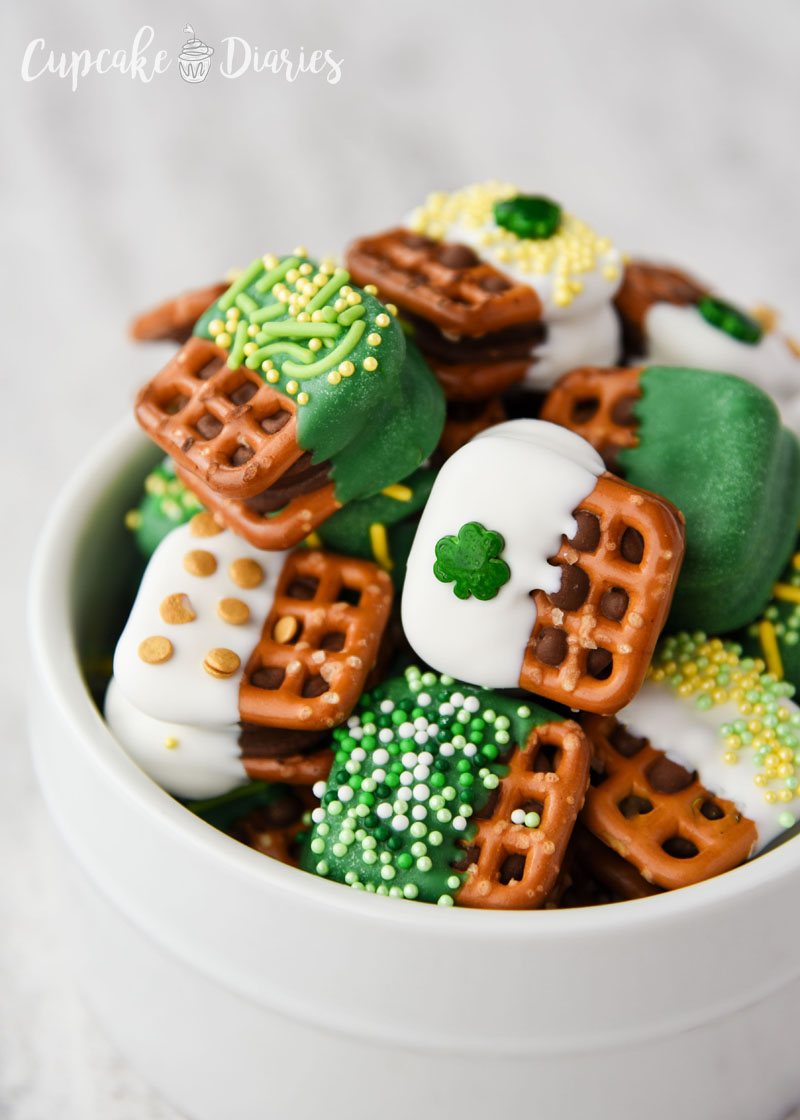 I love a good sweet and salty treat like this. They're the perfect size for grabbing a handful, which can be a good thing or a bad thing. Ha! These St. Patrick's Day Caramel Pretzel Bites are especially great because they're so darn easy to make and also super cute.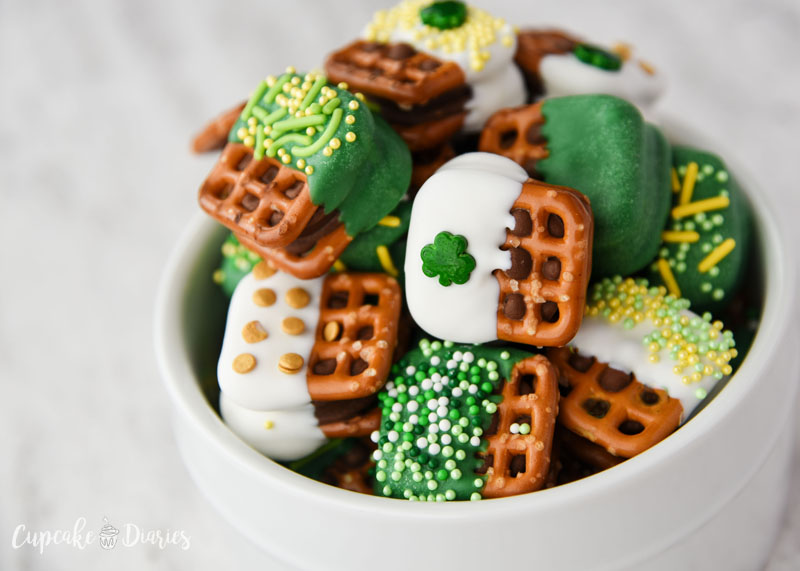 Cellophane bags are my favorite way to package up these pretty little things. You can see all the fun colors and sprinkles and the bags are really inexpensive!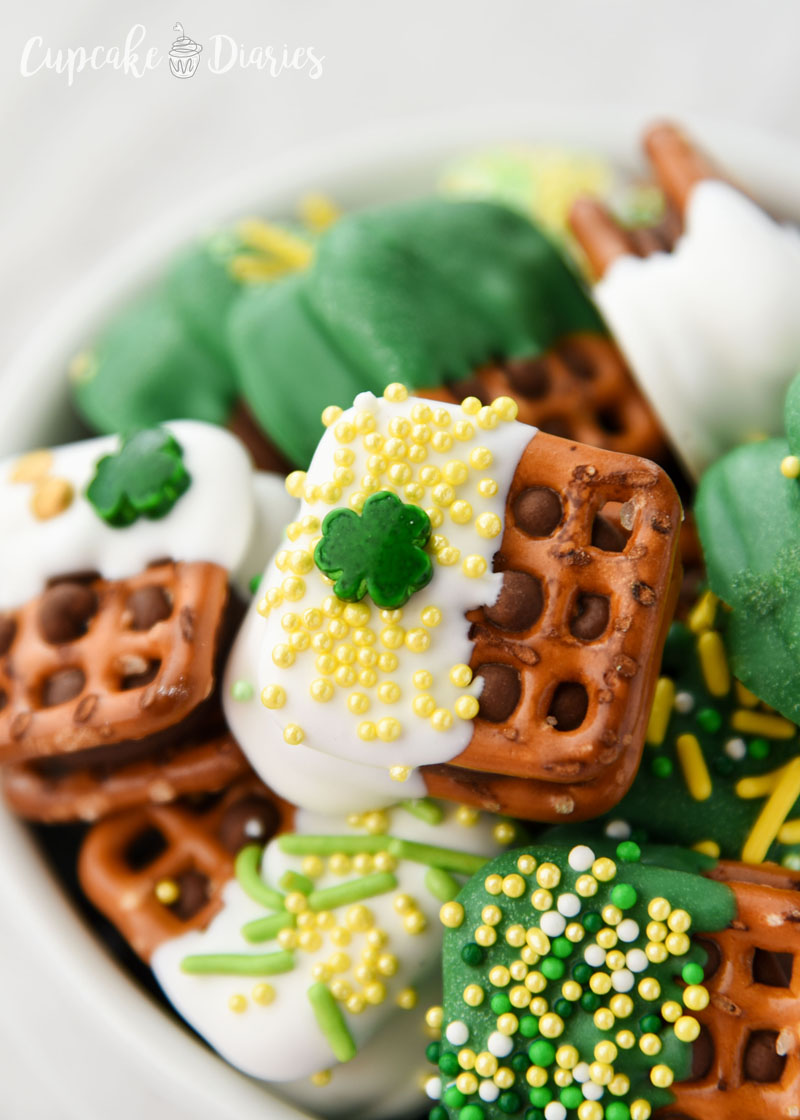 What Do You Dip Caramel Pretzel Bites In?
You can use colored candy melts or you can use white chocolate chips and use food coloring to color them. The easiest option is to buy candy melts in different colors.
How Do You Make Caramel Pretzel Bites?
Heat the caramels on one pretzel in the oven then immediately cover with the other half. After they cool, melt the candy melts one color at a time and dip the pretzels halfway. You can dip three or four before adding the sprinkles and candy decorations!
WHAT ARE CANDY MELTS?
Candy melts are vanilla-flavored discs for candy making and coating. They come in multiple colors for all kinds of fun treats! You can buy them at Walmart, craft and party stores, and other grocery stores.
How Far in Advance Can I Make Caramel Pretzel Bites?
Keep your pretzels stored in an airtight container and they'll stay good for 2-3 weeks!
How Long Do Caramel Pretzel Bites Last?
You can store dipped pretzels in an airtight container for 2-3 weeks.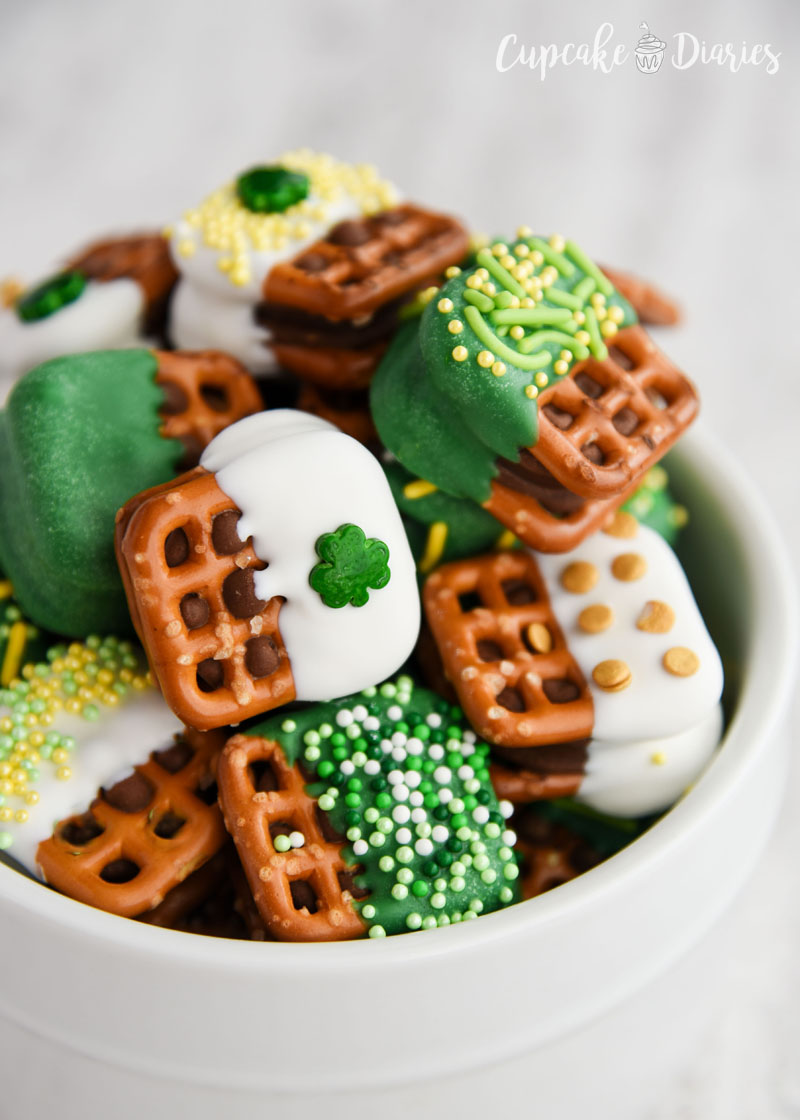 How Do You Make Caramel Pretzel Bites?
All you'll need is a cookie sheet and some parchment paper then cover with pretzels! Add a Rolo candy to each one of your pretzels and put them in the oven to soften, although you don't want them to completely melt so be careful not to heat for too long. (You can see photos of these steps on my blog post for Halloween Caramel Pretzel Bites!)
Pull the pan out of the oven and carefully cover each Rolo with another pretzel. You'll want the candies to completely cool before you start dipping so put the pan in the fridge at this point.
Now it's time to dip! Melt one of the colors and dip the chilled pretzel bites halfway in. Place right back on the pan covered in parchment paper and add sprinkles and candy decor, or you can dip a few more before adding the sprinkles.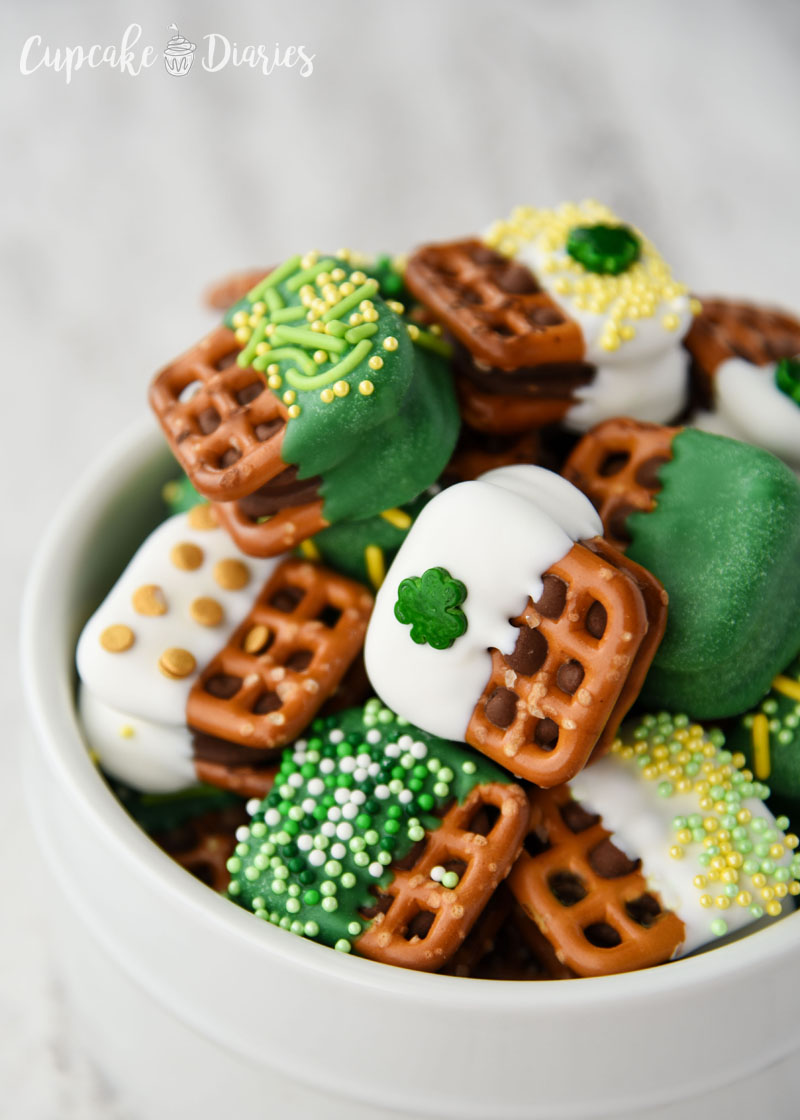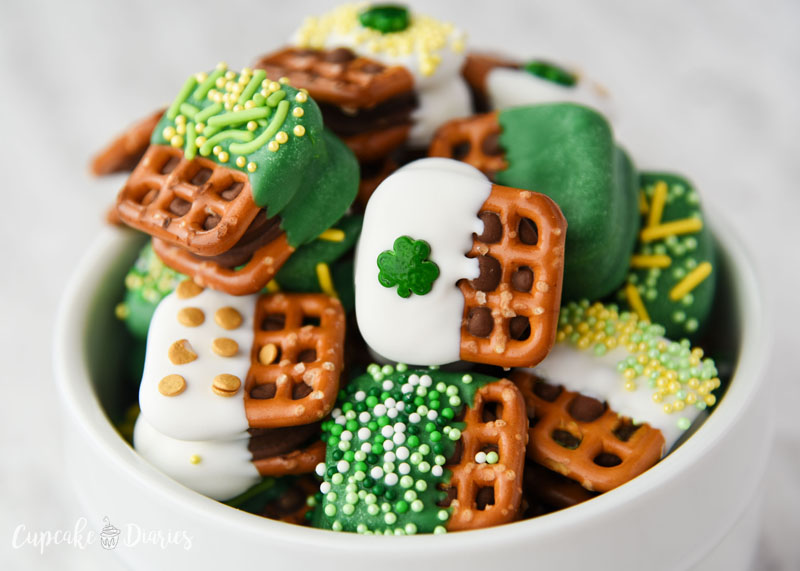 Aren't these little guys just so fun? You can even add some rainbows for more festive St. Patrick's Day colors!
More Treats for St. Patrick's Day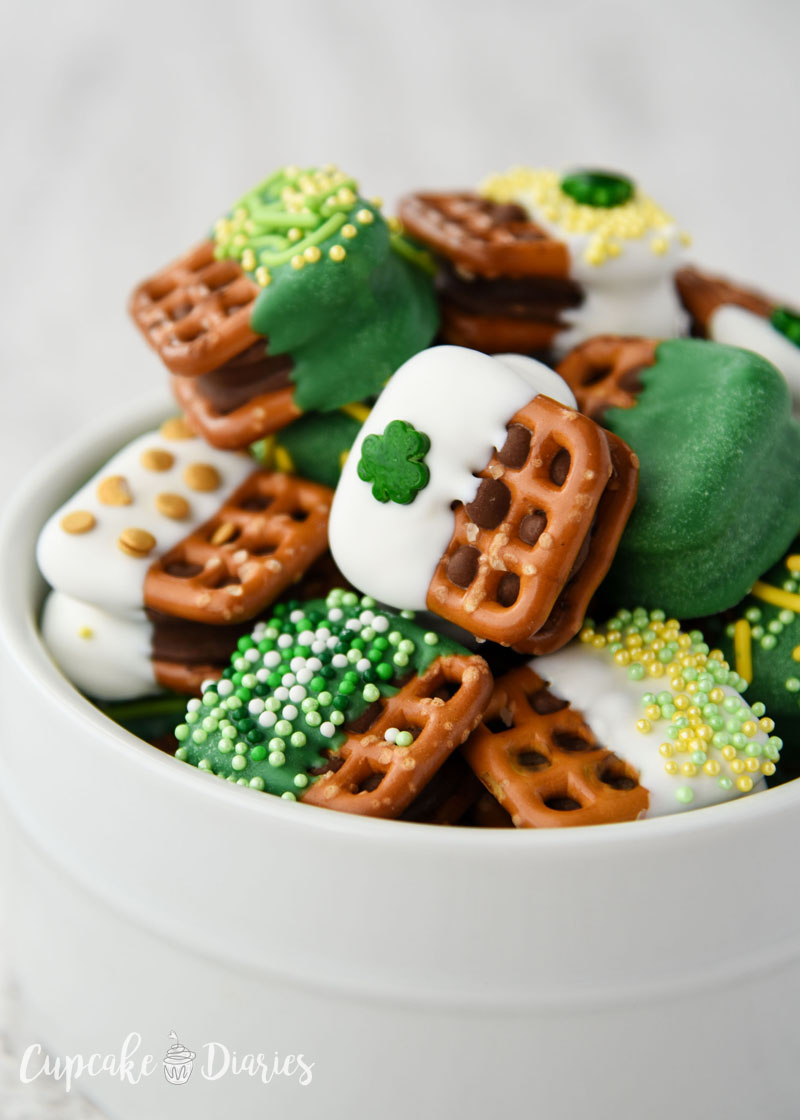 St. Patrick's Day Caramel Pretzel Bites
St. Patrick's Day Caramel Pretzel Bites are pinch-proof treats that take minutes to make! These little guys are super festive and delicious.

Servings:
40
pretzel bites
Equipment
small mixing bowl

cookie sheet

parchment paper

silicone spatula
Ingredients
80

butter snap or snap pretzels

40

Rolo candies

12

oz

white candy melts

12

oz

green candy melts

St. Patrick's Day sprinkles
Instructions
Place a sheet of parchment paper over a cookie sheet. Place 40 pretzels on top of the cookie sheet. Cover each pretzel with a Rolo candy.

Preheat the oven to 250° F. Place cookie sheet in the oven for 3 minutes to soften Rolos. Remove from the oven and cover each Rolo with another pretzel, like a sandwich. Place in the fridge to cool completely.

Heat some of the white candy melts in a microwave safe bowl, according to package directions, until melted. Dip a pretzel bite halfway into the bowl, place on the parchment paper, and top with sprinkles. Do this for 20 of the pretzel bites, or however many you want to be white. Heat green candy melts and repeat the dunking and sprinkle process with remaining pretzel bites. Cool completely and serve.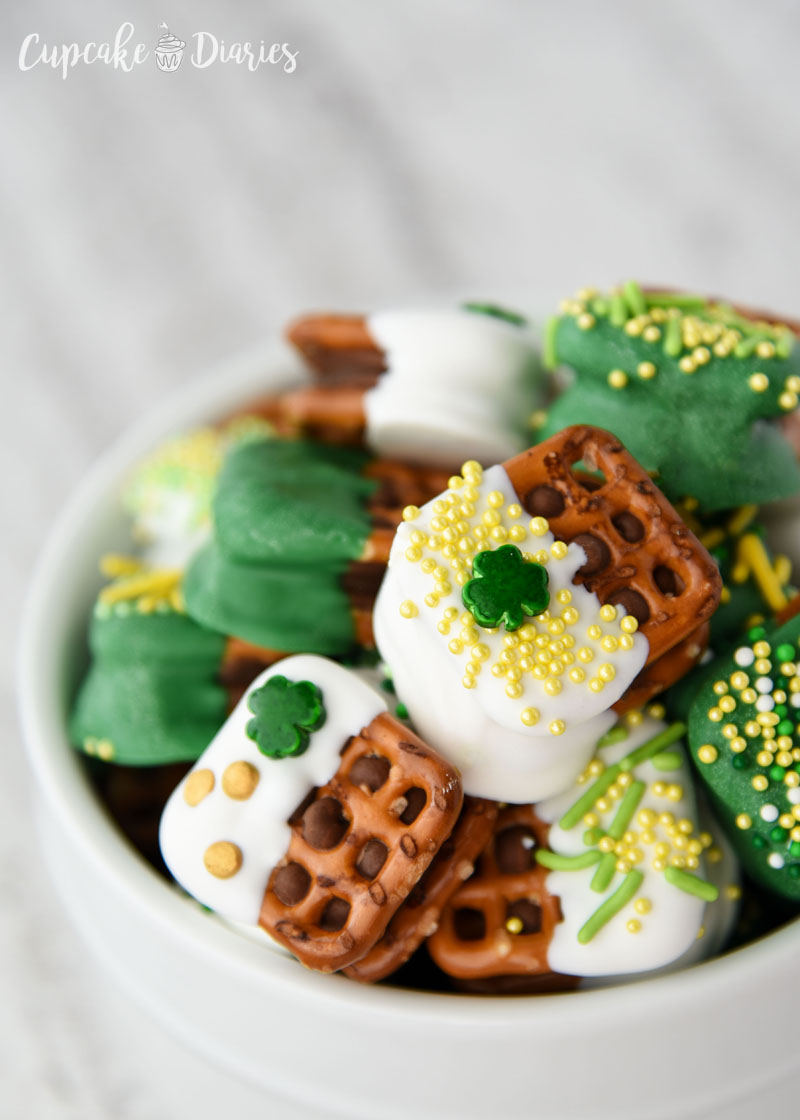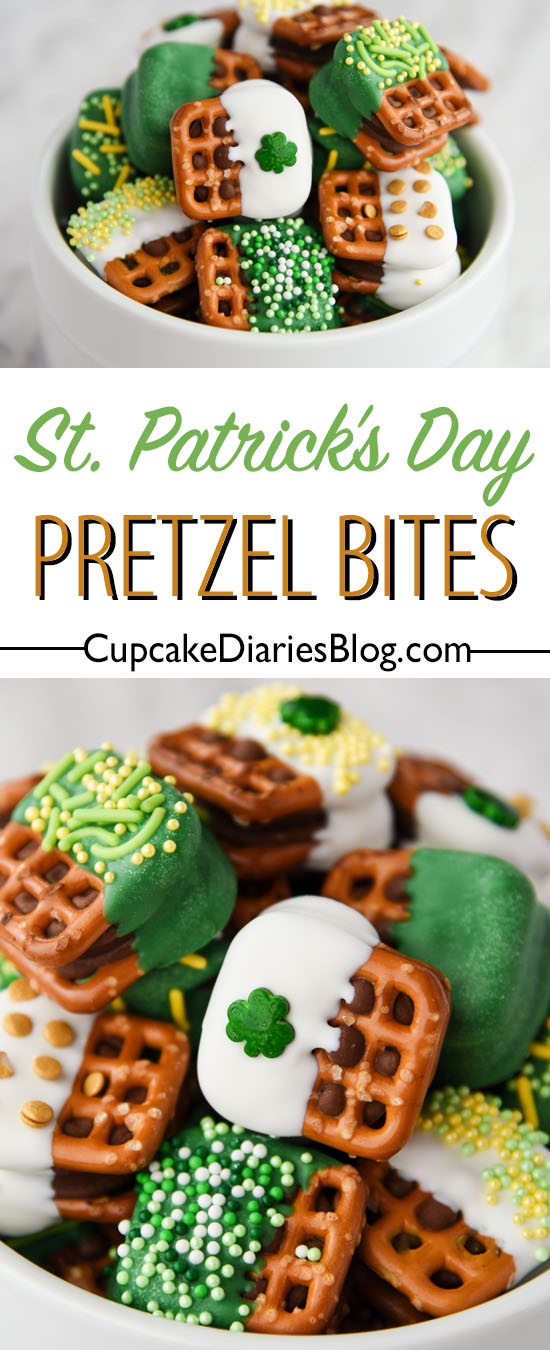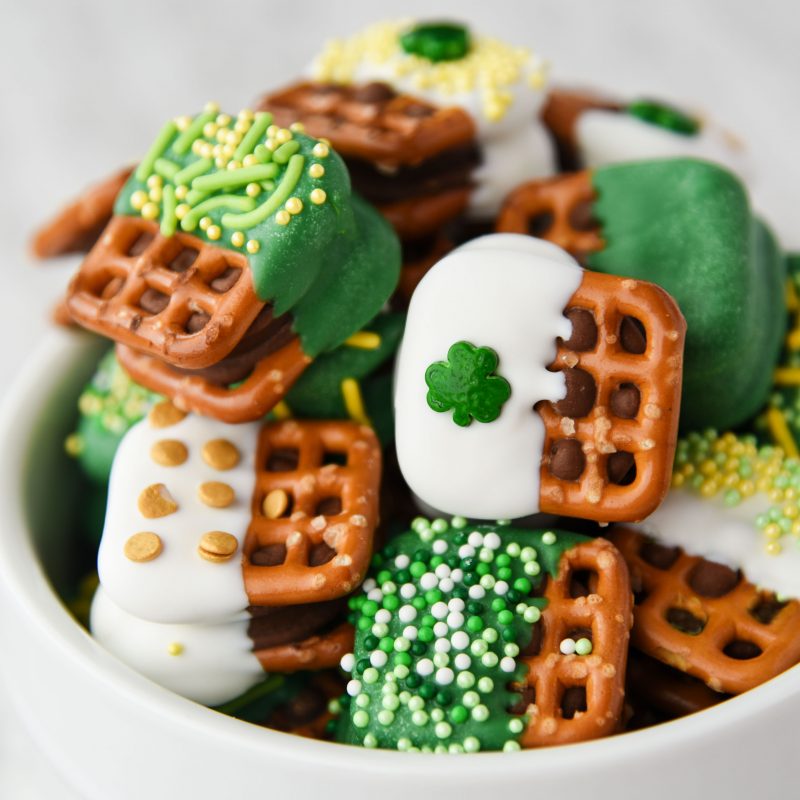 I hope you love these pretzel bites! Easy desserts are my jam and these are in my top favorites for sure. If you like this recipe, you'll love St. Patrick's Day Dipped Oreos!
This post contains affiliate links. I include these links to help you find the products that I used in the recipe. If you purchase an item from the link, I will receive a small commission helping keep my recipes free for you. Thank you for your support!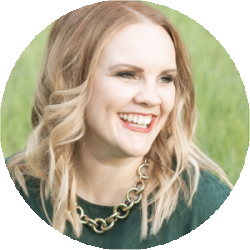 Alli is the food blogger and photographer behind Cupcake Diaries. Nestled in Northern Utah with her four young boys, hubby, and a full pantry, she loves baking all kinds of treats as well as quick and easy meals for her family. What started out as sharing a few recipes with family members here and there soon turned into a full-functioning recipe blog with readers from all around the world! Alli is a full-time mom who enjoys music, holidays, and spending time with her family.