St. Patrick's Day Oreos dipped in candy melts never looked so cute! You can make these festive, colorful, and fun no-bake treats in just minutes.
I come from an Irish family and we love a good St. Patrick's Day celebration! We especially love making Lucky Charms Treats and Green Candied Popcorn. My mom and sisters were with me when I first made both of those recipes! Keeping it all in the family. The kids especially love playing a round or two of St. Patrick's Day Candy Dice Game!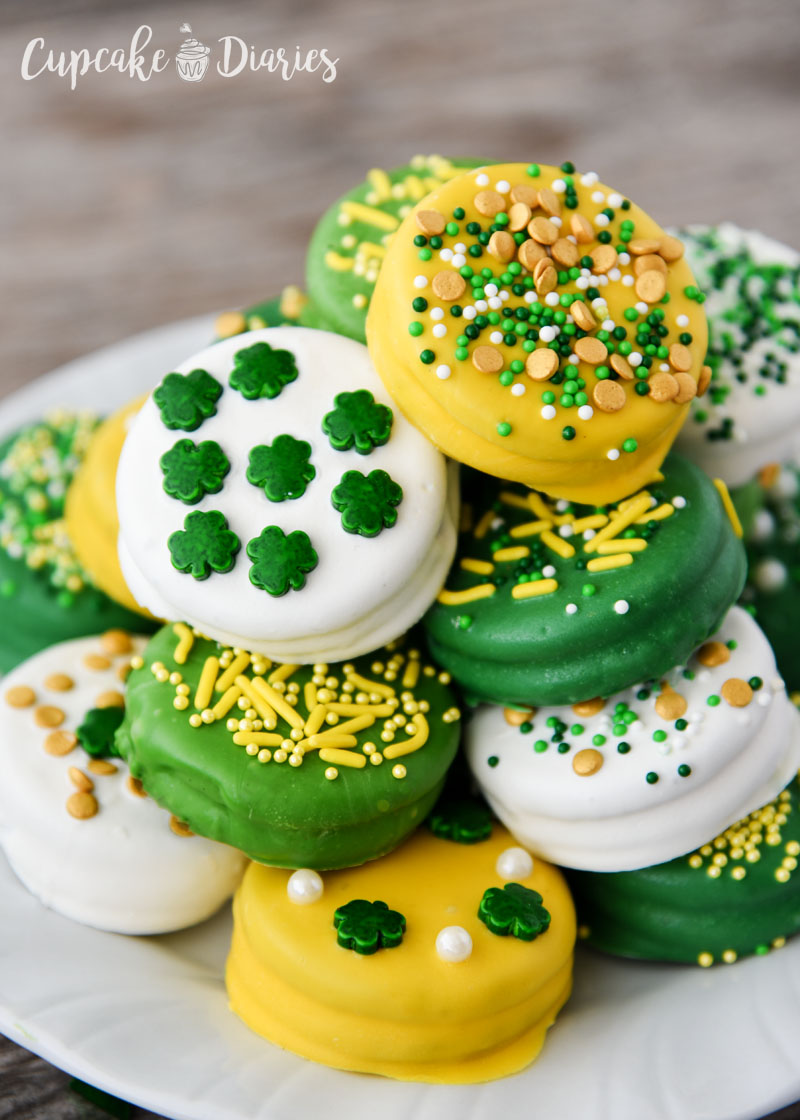 I find a whole lot of joy in dipping Oreo cookies! I'm not sure if it's the different colors of candy melts or the varieties of sprinkles, but I just really have a lot of fun with this treat. These Oreos are especially fun because they remind me of my Irish family and my high school colors!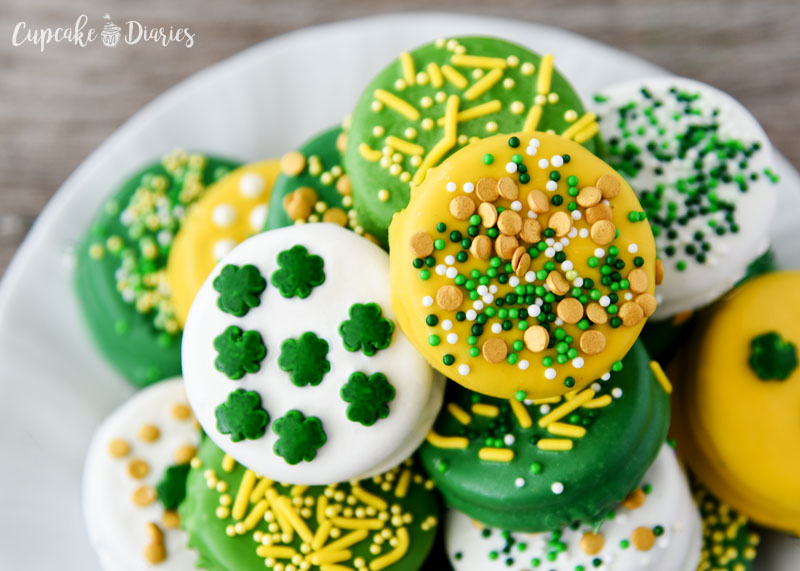 There are silicone molds you can use to make your dipped cookies, but they aren't required. I drop mine into a bowl of smooth candy melts, cover, and lift out with a fork!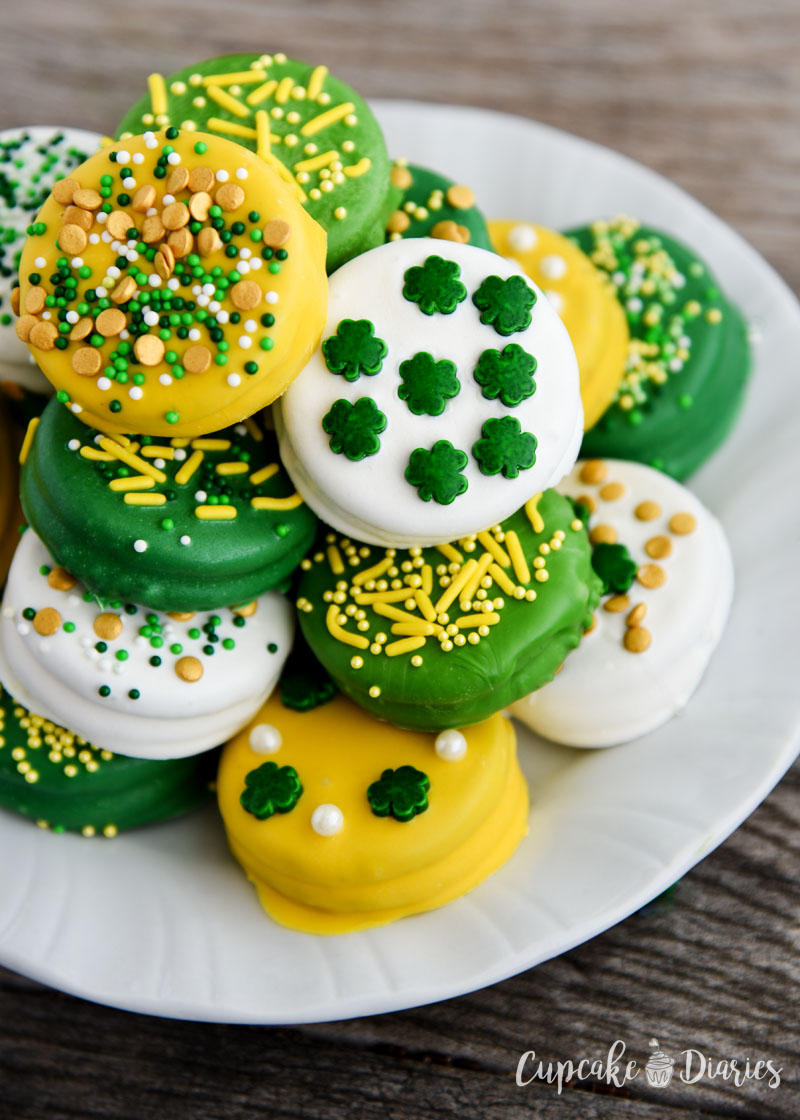 WHAT DO YOU USE TO DIP OREOS?
You can use colored candy melts or you can use white chocolate chips and use food coloring to color them. The easiest option is to buy candy melts in different colors.
HOW DO YOU MAKE St. Patrick's DAY DIPPED OREOS?
Simply melt the candy melts one color at a time and dip the Oreos. You want to decorate each individual Oreo after it has been dipped or the coating will cool too much.
WHAT ARE CANDY MELTS?
Candy melts are vanilla-flavored discs for candy making and coating. They come in multiple colors for all kinds of fun treats! You can buy them at Walmart, craft and party stores, and other grocery stores.
HOW LONG DO DIPPED OREOS LAST?
You can keep a sealed container of dipped Oreos for up to two weeks. Keep them at room temperature.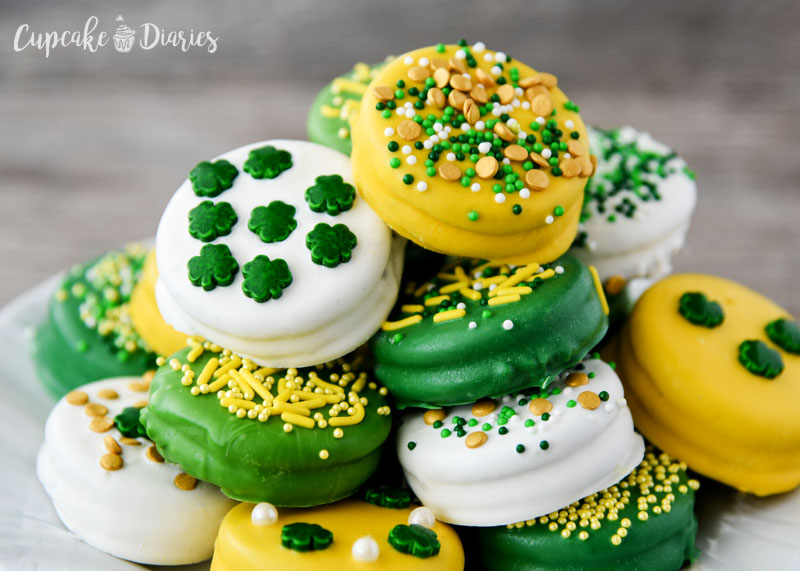 HOW DO YOU MAKE CANDY MELT OREOS?
Heat the candy melts one color at a time so they don't all get too cool. Dip the Oreos in your chosen color then continue on to melt and dip with the next color. (See my post for Halloween Dipped Oreos for photo instructions!)
There are two ways to dip these cookies: with candy melts or white chocolate. Candy melts do not take food coloring so if you need to color your coating, use white chocolate or almond bark and add food coloring. The easiest option is to buy individual colors of candy melts, which is what I did.
After you melt one of the colors of candy melts or chocolate, drop an Oreo in and cover it completely. Use a fork to lift out and give it a little shake to remove the excess drips coming off the bottom.
Place the covered Oreos on a sheet of wax paper and immediately add the decorations you're using. If you wait to top them with your decorations the coating can cool and the decorations won't stick. I love using a variety of sprinkles and candy pearls!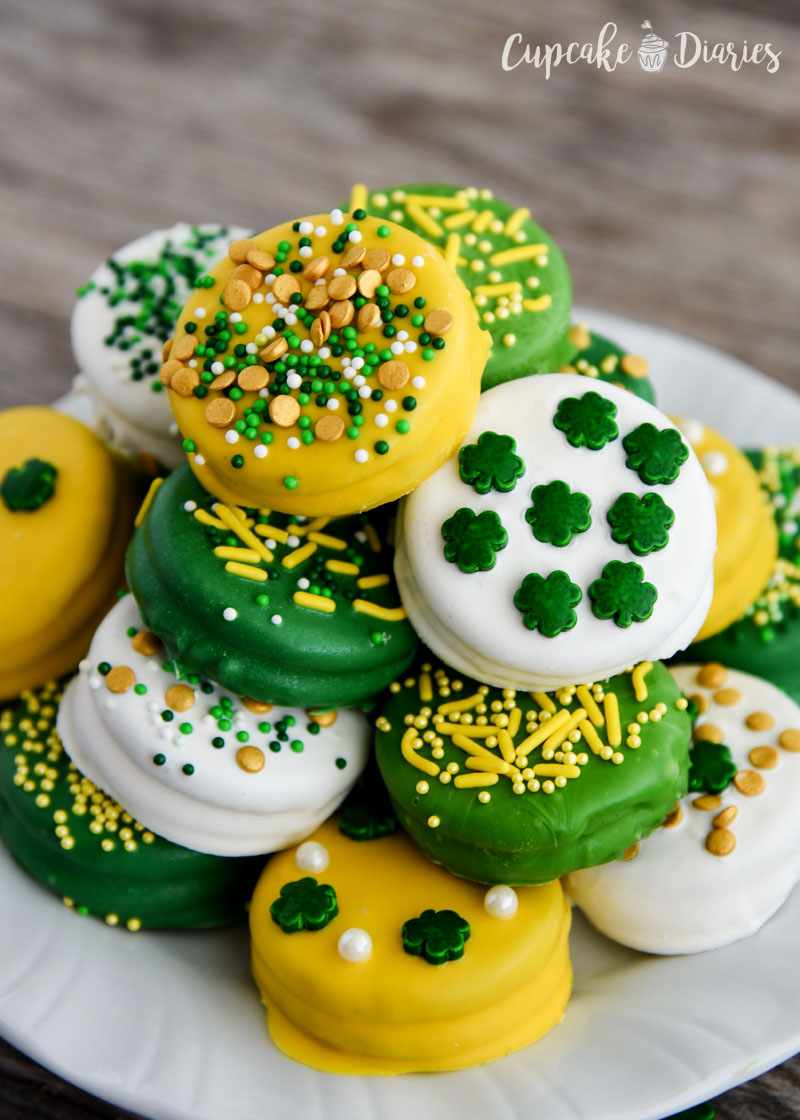 Aren't those a ton of fun? I packaged this batch up for a few girls in Idaho who won state in high school basketball just two weeks ago! Congratulations, Bonneville Bees!
MORE COLORFUL AND FESTIVE St. Patrick's DAY TREAT RECIPES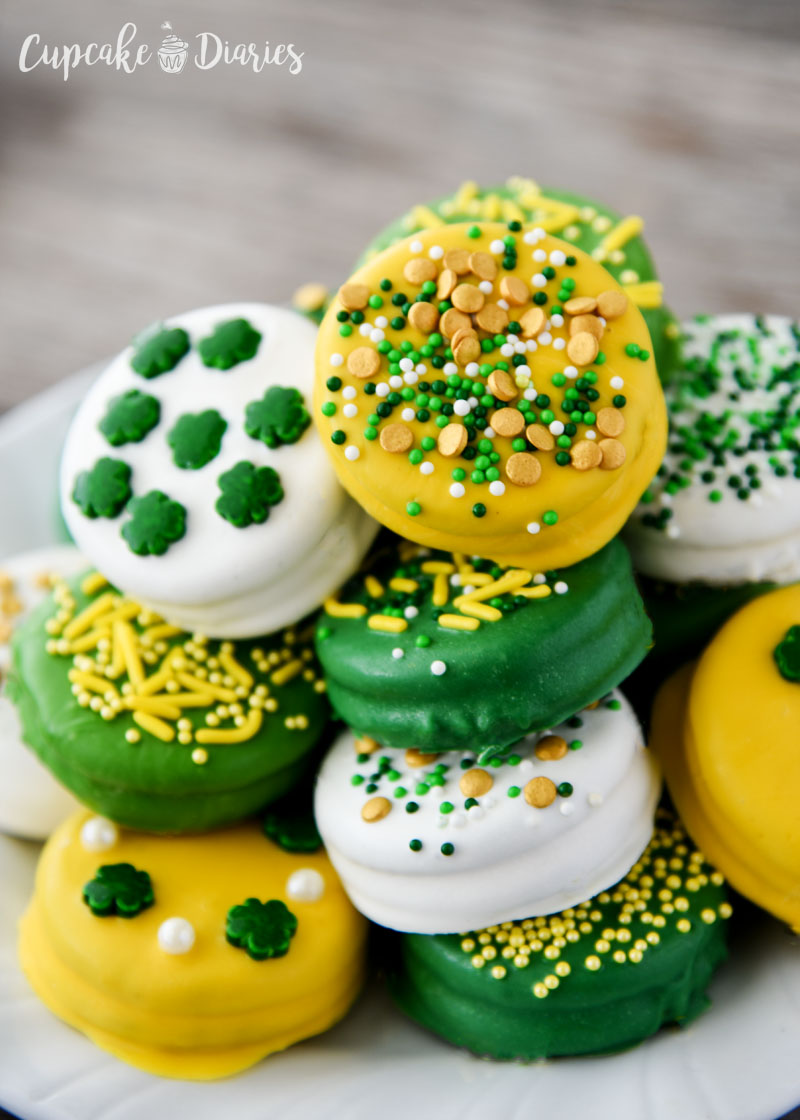 Yield: 3 dozen
St. Patrick's Day Dipped Oreos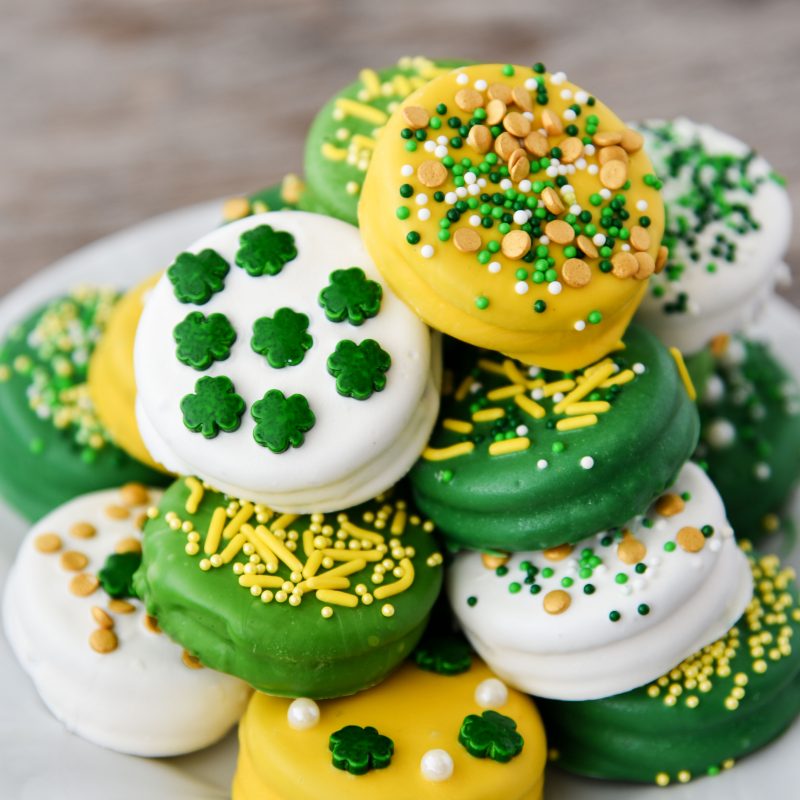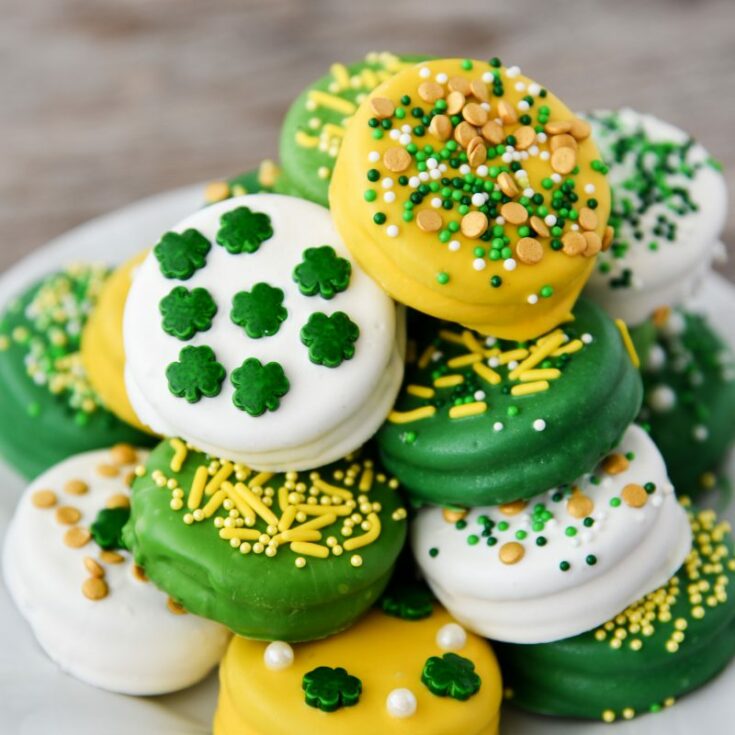 St. Patrick's Day Oreos dipped in candy melts never looked so cute! You can make these festive, colorful, and fun no-bake treats in just minutes.
Total Time
1 hour
10 minutes
Ingredients
1 Family Size package Oreo cookies
Wilton candy melts (I used yellow, bright white, bright green, green)
St. Patrick's Day sprinkles
other edible St. Patrick's Day decorations
Instructions
Melt one package of candy melts in a microwavable glass bowl, according to package directions. Use a silicone spatula to stir. ONLY MELT ONE COLOR OF CANDY MELTS.
Drop an Oreo cookie into the candy melts and use a spoon to cover completely with coating. Use a fork to pick up the cookie from the bottom and lightly shake to remove excess coating.
Place on wax paper and immediately and sprinkles and other decorations. Repeat step 2 until color is gone. Repeat steps 1 and 2 with additional colors of candy melts.
Notes
Combine candy melts to make different shades of colors! Adding white to the yellow will make it light yellow, white with green will lighten up the green, etc. Start with a small amount of the extra color and add more as needed.
Nutrition Information:
Serving Size:
1 cookie
Amount Per Serving:
Calories:

105
Total Fat:

4g
Saturated Fat:

2g
Cholesterol:

2mg
Sodium:

63mg
Carbohydrates:

16g
Fiber:

1g
Sugar:

12g
Protein:

1g
Nutrition information is estimated and not always accurate.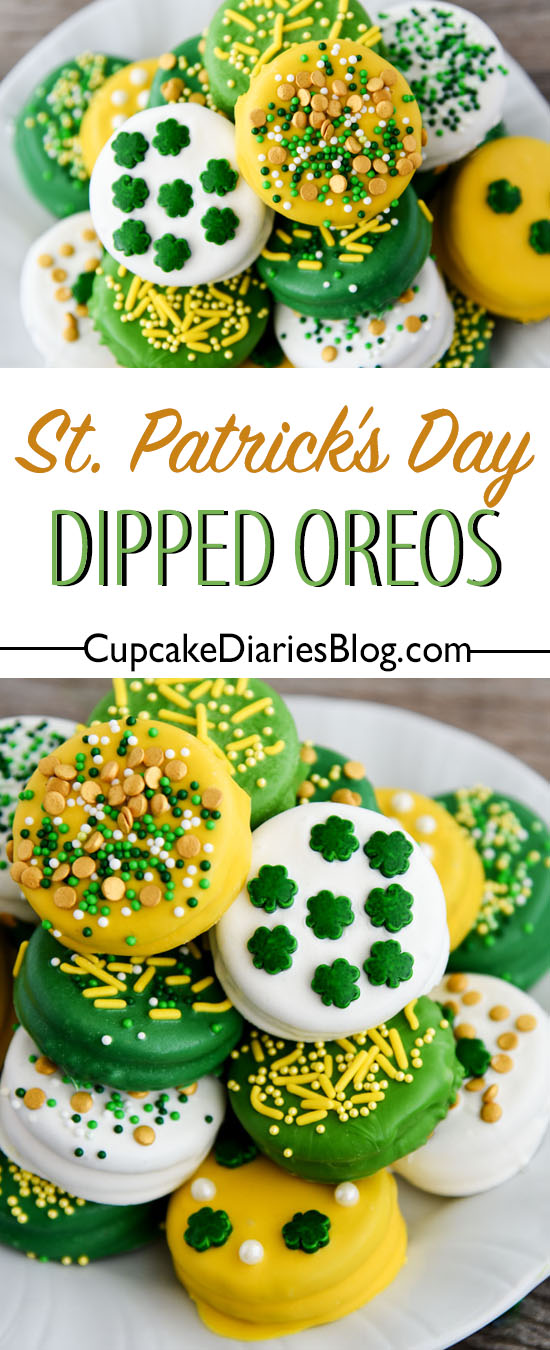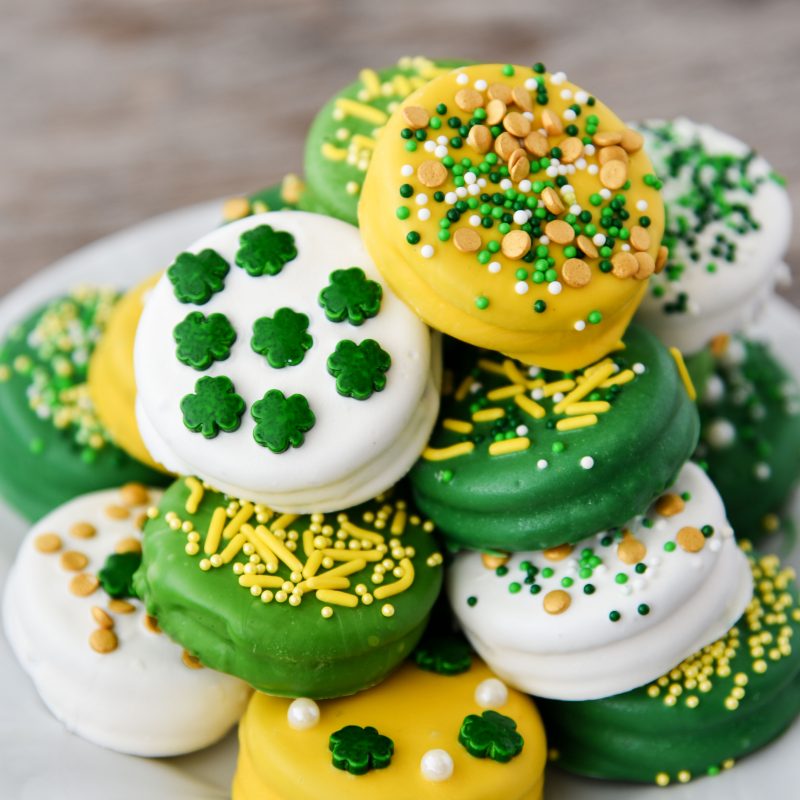 I hope you love these Oreos! Easy desserts are my jam and these fellas are super easy and so yummy. If you like this recipe, you'll love St. Patrick's Day Caramel Pretzel Bites!
This post contains affiliate links. I include these links to help you find the products that I used in the recipe. If you purchase an item from the link, I will receive a small commission helping keep my recipes free for you. Thank you for your support!