Tasty Nutter Butter cookies are dunked into creamy white chocolate and decorated to look like adorable snowmen. These little guys are perfect for holiday neighbor plates!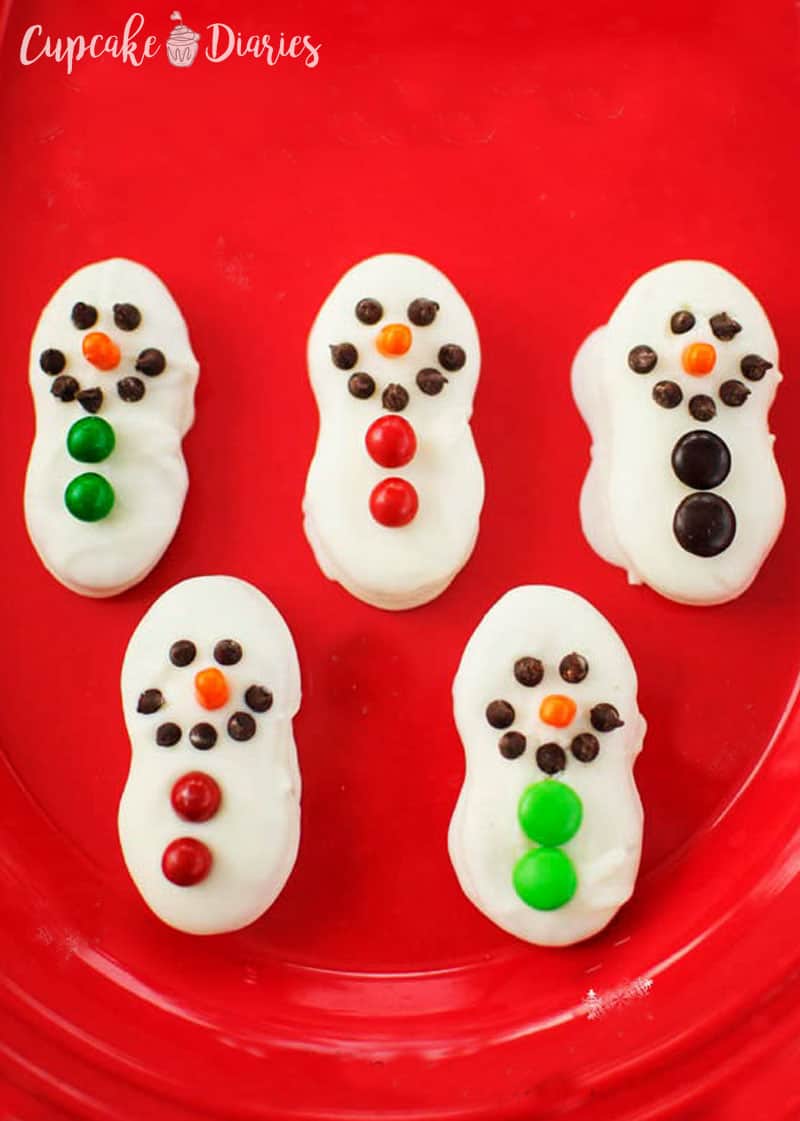 I'm so excited to be participating in "A Crafty Christmas" from
Nap-Time Creations
! This series features recipes, crafts, sewing projects, and more! It's such a fun series with lots of ideas for Christmas fun. Head over to Nap-Time Creations for more ideas!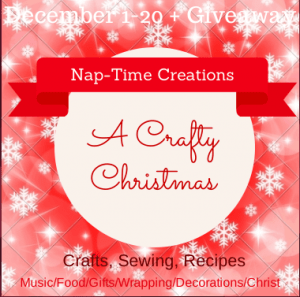 I'm talking Christmas treats on the blog AGAIN today! Let's just say I'm showing you some of what's going on our neighbor treat plates this year.
My oldest was so excited when I told him we were going to be making Nutter Butter Snowmen. He loves helping dip the cookies in the almond bark and especially loves putting the "buttons" on the front. I've seen these cookies floating around Pinterest, but today I'm going to show you how WE make them. And you can be the judge of what you like better!
Nutter Butter Snowmen
Ingredients
1

package Nutter Butter cookies

1

package Almond Bark

found in the baking aisle by the chocolate chips

mini chocolate chips

orange tic tacs

red and green Sixlets candies or M&M's candies
Instructions
Place Almond Bark in a microwave safe bowl. (It is best to start out using half the Almond Bark so it doesn't harden while you're making all the snowmen.)

Place Almond Bark in the microwave and heat for one minute. Remove the Almond Bark and stir, smashing the big chunks down as you go. Place in the microwave for 30 more seconds and stir again. By now your Almond Bark, after stirring, should be nice and smooth to use.

Begin making the snowmen by dipping a couple cookies in the bowl. Use a fork or spoon to cover completely in Almond Bark.

Place covered cookies on a sheet of wax paper. Continue this step till you've used all the chocolate.

Time to make the faces of the snowmen! Use two mini chocolate chips for the eyes. Then place an orange tic tac below the eyes to make the nose. Shape 5 mini chocolate chips under the nose to form a mouth. Finally, add to of the same color of Sixlets down the tummy of the snowmen to make its buttons.
Now take a look at these two snowmen: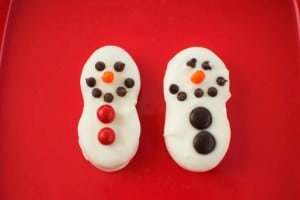 The snowman on the RIGHT was put together right after being coated. It was too soon to put it together and everything started sliding off. Almond Bark doesn't cook as fast as white chocolate chips so you have to wait till the Almond Bark starts to dry.
The snowman on the LEFT was put together after cooling and drying for a bit. If you coat all your cookies then go back to start putting their faces together, the cookies will have started drying and be ready to decorate without everything sliding off. Start right back decorating the cookie you dipped first.
After you're finished decorating the snowmen, it's just about time for them to all be dry! Isn't it crazy how fast Almond Bark dries? You'll soon have a yummy holiday treat or something to munch on during these cold days!
Looking for more fun holiday treats? Here are a couple more of my favorites!