Harry Potter Cupcakes with Printable Toppers are the perfect dessert for a Harry Potter party! The characters on the toppers bring these cupcakes to life.
Oh heavens, do I love me some Harry Potter. I could read those books and watch those movies over and over and never get sick of them. (Have you been to The Wizarding World of Harry Potter at Universal Studios? It's AWESOME.) I have some Harry Potter recipes that we've made for different Harry Potter occasions, like when the different movies have hit theaters. Butterbeer Cookies are probably my favorite Harry Potter recipe. But I also really love Butterbeer Krispy Treats and the refreshing Butterbeer Freeze. I'm sensing a flavor trend. ha!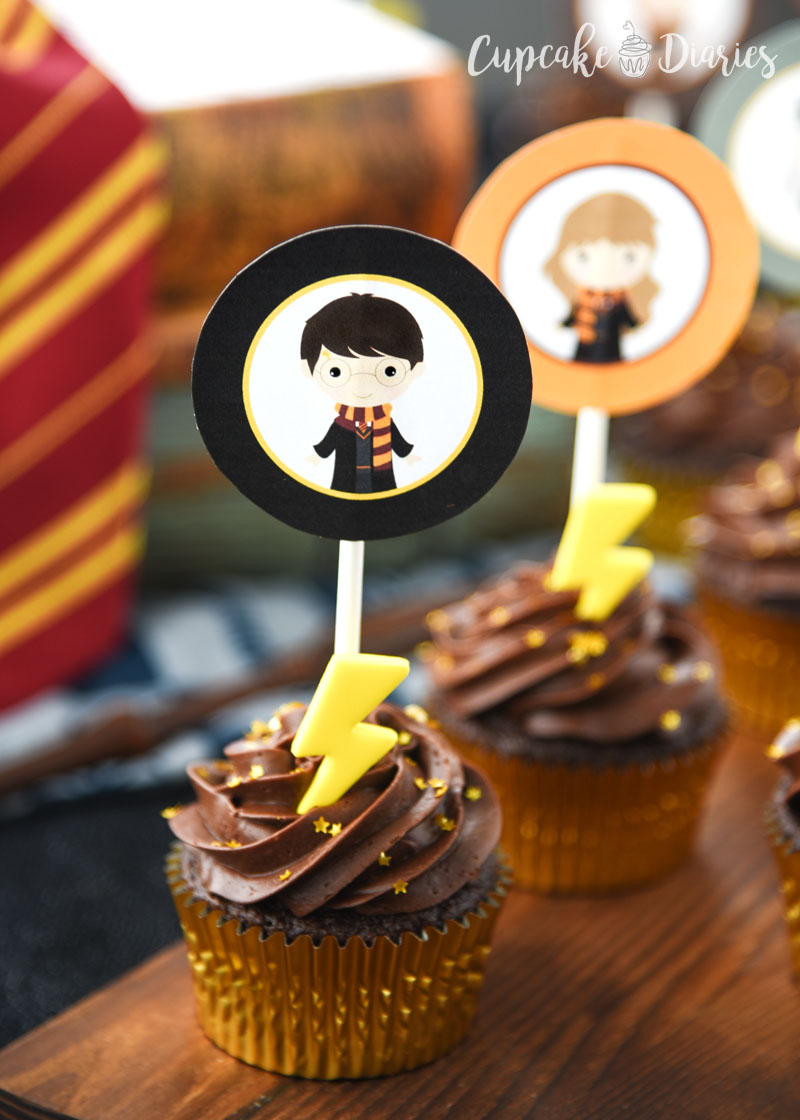 We made these Harry Potter Cupcakes with Printable Toppers for Max's first birthday and they were pretty perfect. I didn't want the recipe to be complicated so I made a simple cake and bought the cupcake liners, sucker sticks, cardstock, candy lightning bolts, and star sprinkles on Amazon.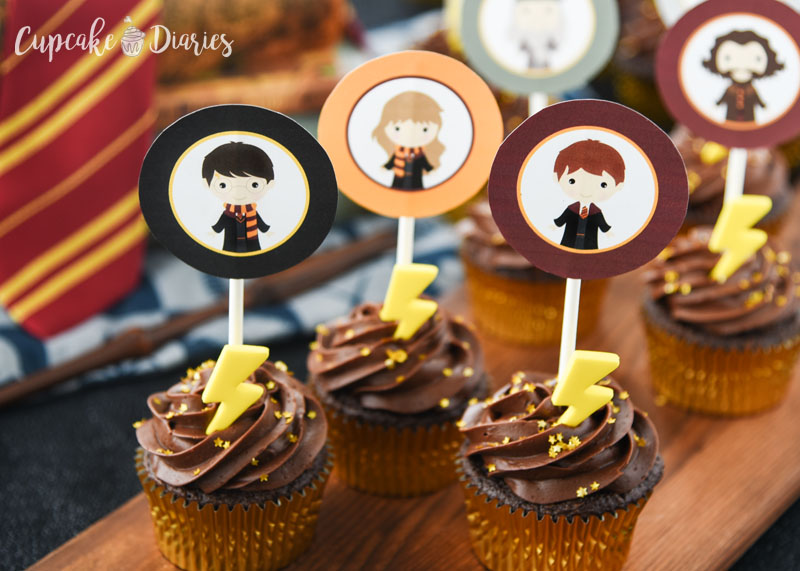 Where Do I Find the Cupcake Toppers?
Right here! You can also download the toppers by clicking the download image at the bottom of the post.
How Many Characters and Graphics are On the Toppers?
Each sheet has 12 toppers and nine characters and graphics:
Harry
Ron
Hermione
Professor Dumbledore
Hagrid
Hedwig
Sorting Hat
Nimbus 2000
Potions
What Do I Need to Build These Cupcakes?
Besides the cupcakes and frosting (recipe below!) and printable toppers PDF file, you'll need the following items for these cupcakes:
How Do I Cut Out the Toppers?
You can either hand cut each topper or use a 2-inch paper punch.
Do These Cupcakes Taste Like Butterbeer?
No. This cupcake recipe is chocolate on chocolate. Not butterbeer in this one, but if you're looking for butterbeer recipes you might like these Harry Potter recipes that feature the flavor of butterbeer!
What is the Best Pan for Baking Cupcakes?
USA Pan is my favorite pan for cupcakes and muffins. The bakes are always even and the pan doesn't take a beating after each use. And it's affordable!
What I Love About Harry Potter
I love talking about Harry Potter and that people think go me when they see Harry Potter things online. There are so many things I love about this book series!
The close relationship between Harry, Ron, and Hermione
Halloween and Christmas both remind me of Harry Potter, which adds even more magic to those wonderful holidays.
You can get away with having a Harry Potter party any time of the year.
The books and movies are family-friendly so everyone can enjoy them.
The storyline is so well thought out. From beginning to end, the story comes together without any plot holes.
In the end, happiness means having people around you who love you.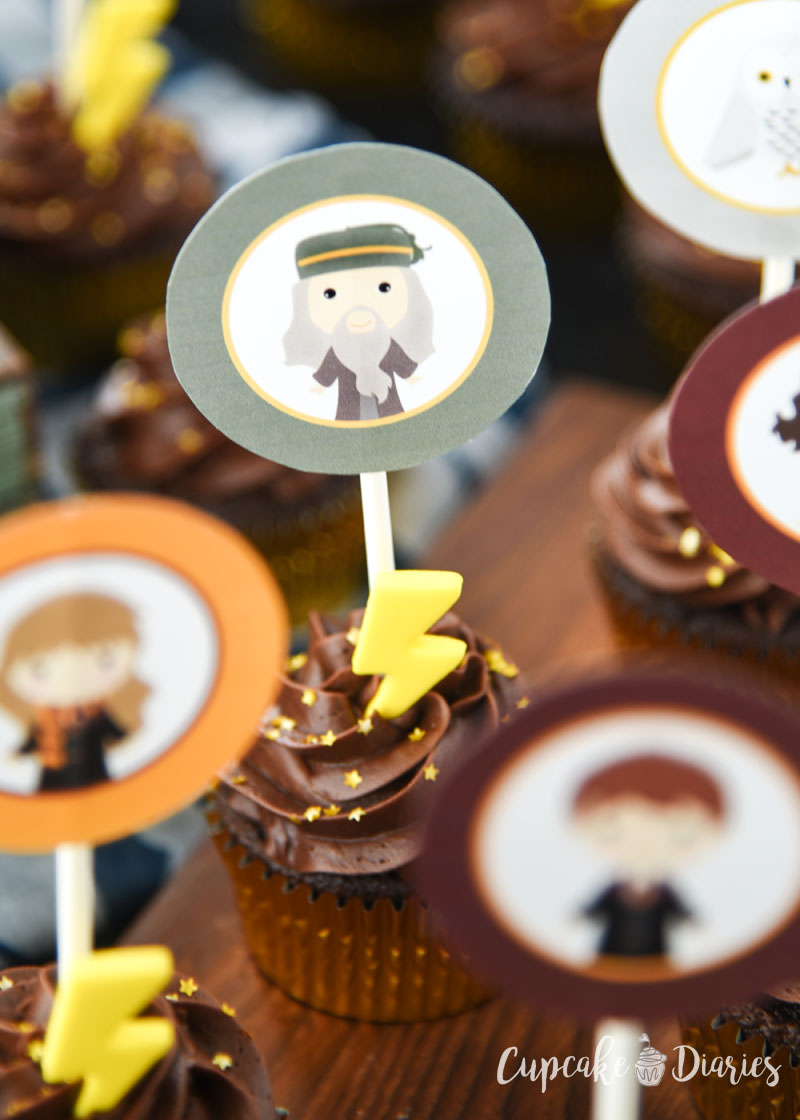 Because these cupcakes were for a first birthday, I wanted the graphics on the toppers to be a little more juvenile. Likewise, I love the whimsical, childlike features on the characters.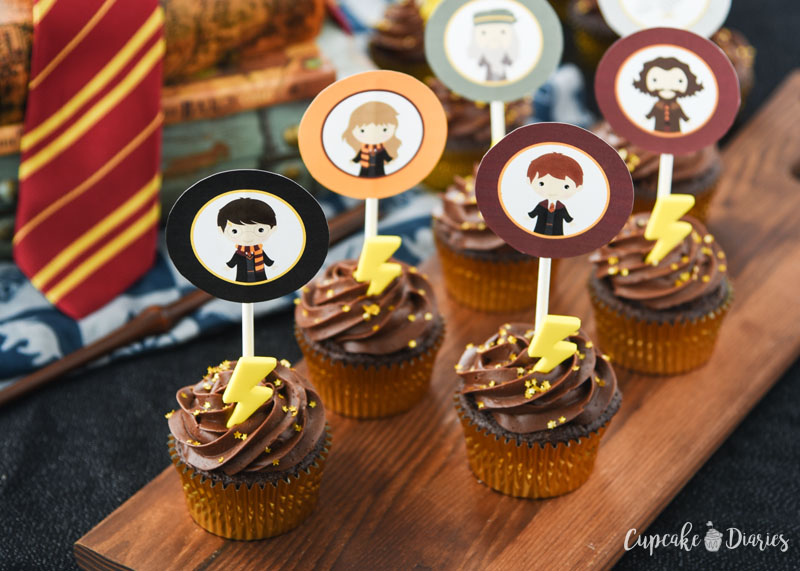 Harry Potter just makes me so happy. I love opening a book or watching a movie where I can be transported to Hogwarts and forget about all the crazy in my life.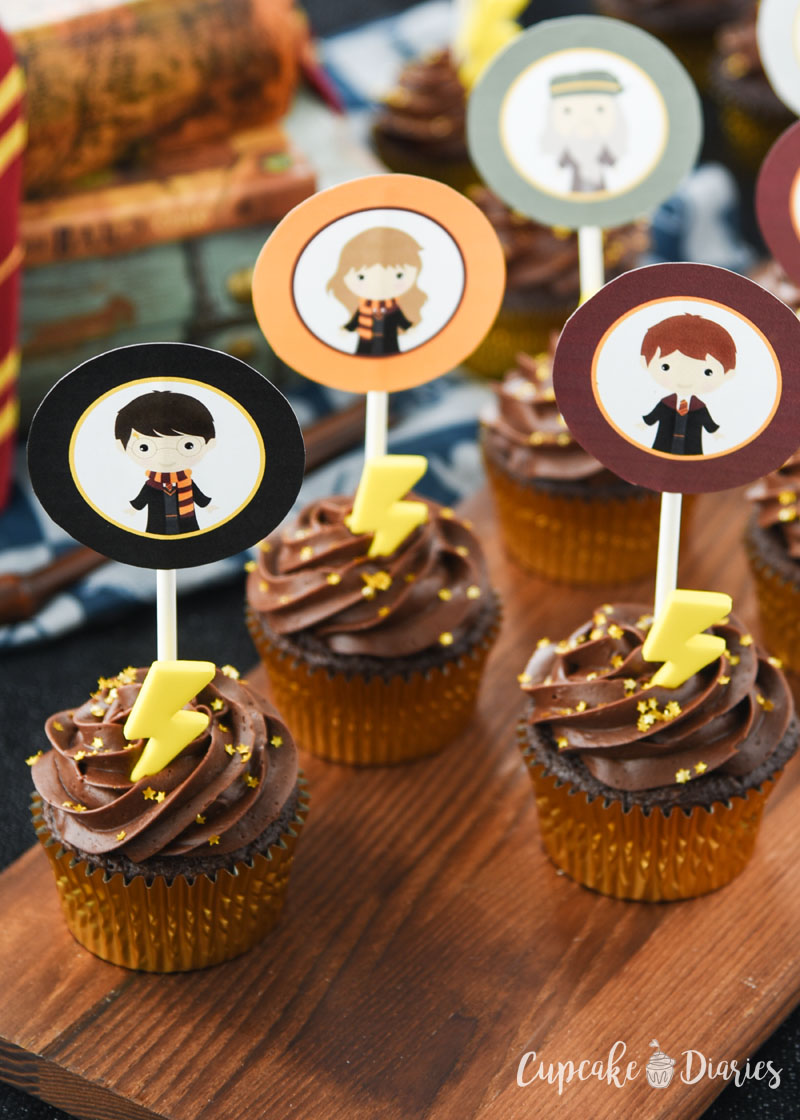 Love Harry Potter? Check Out These Other Harry Potter Recipes!
Butterbeer Cookies
Butterbeer Krispy Treats
Butterbeer Freeze
Gryffindor Popcorn
Food Ideas for a Harry Potter Party
Butterbeer Cupcakes
Golden Snitch Cupcakes
How to Make Harry Potter Cupcakes
Harry Potter Cupcakes with Printable Toppers
Harry Potter Cupcakes with Printable Toppers are the perfect dessert for a Harry Potter party! The characters on the toppers bring these cupcakes to life.
Ingredients
1

box

chocolate cake mix

1

c

buttermilk

1/2

c

vegetable oil

3

large

eggs

24

gold

cupcake liners

2

cans

chocolate frosting

24

candy

lightning bolts

gold

star sprinkles

24

sucker sticks,

4 inches

24

Harry Potter cupcake toppers,

printed and cut out
Instructions
Preheat oven to 350°F. Line two muffin tins with 24 cupcake liners.

Combine cake mix, buttermilk, vegetable oil, and eggs in an electric mixer. Use an ice cream scoop to distribute cake mix evenly amongst the 24 cupcake liners, about 2/3 full. Bake 15-17 minutes, or until toothpick inserted comes out clean. Carefully remove from pans and place on a wire rack to cool.

Affix a frosting bag with 1M star tip. Add frosting and pipe onto each cupcake. Immediately add star sprinkles.

Tape a sucker stick to the back of each cupcake topper. Insert into the center of each cupcake, then insert a candy lightning bolt into all (or some) cupcakes. Serve and enjoy!
Kitchen Tools and Gadgets Used for This Recipe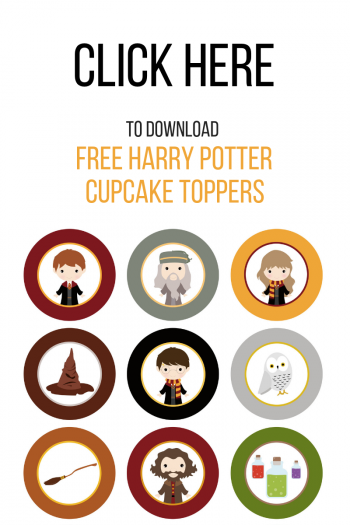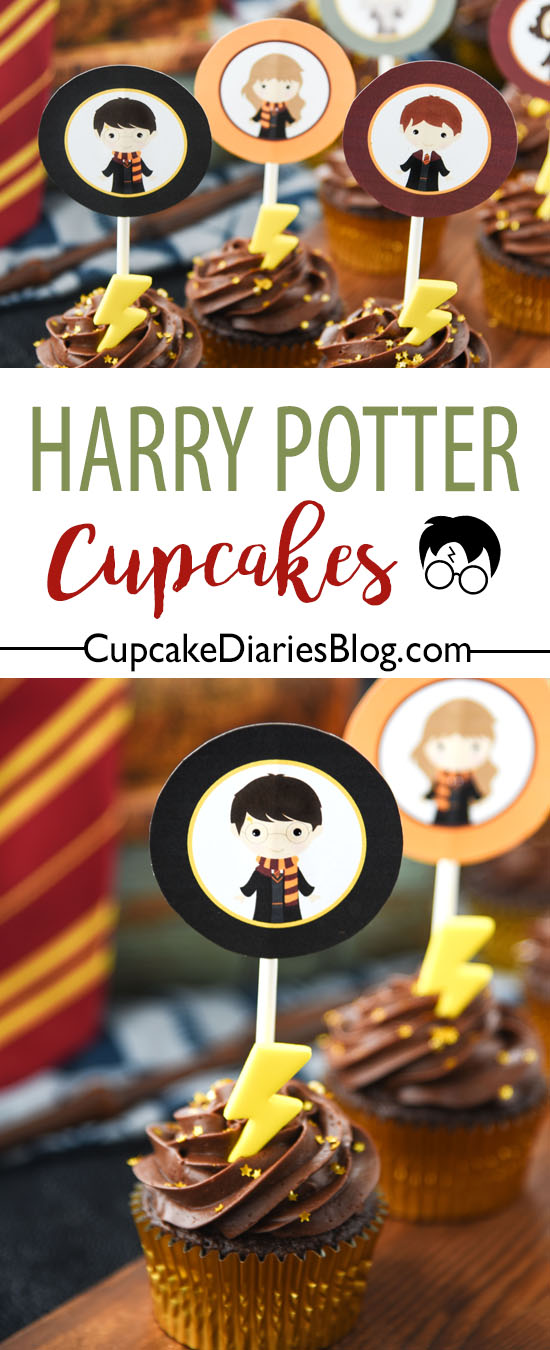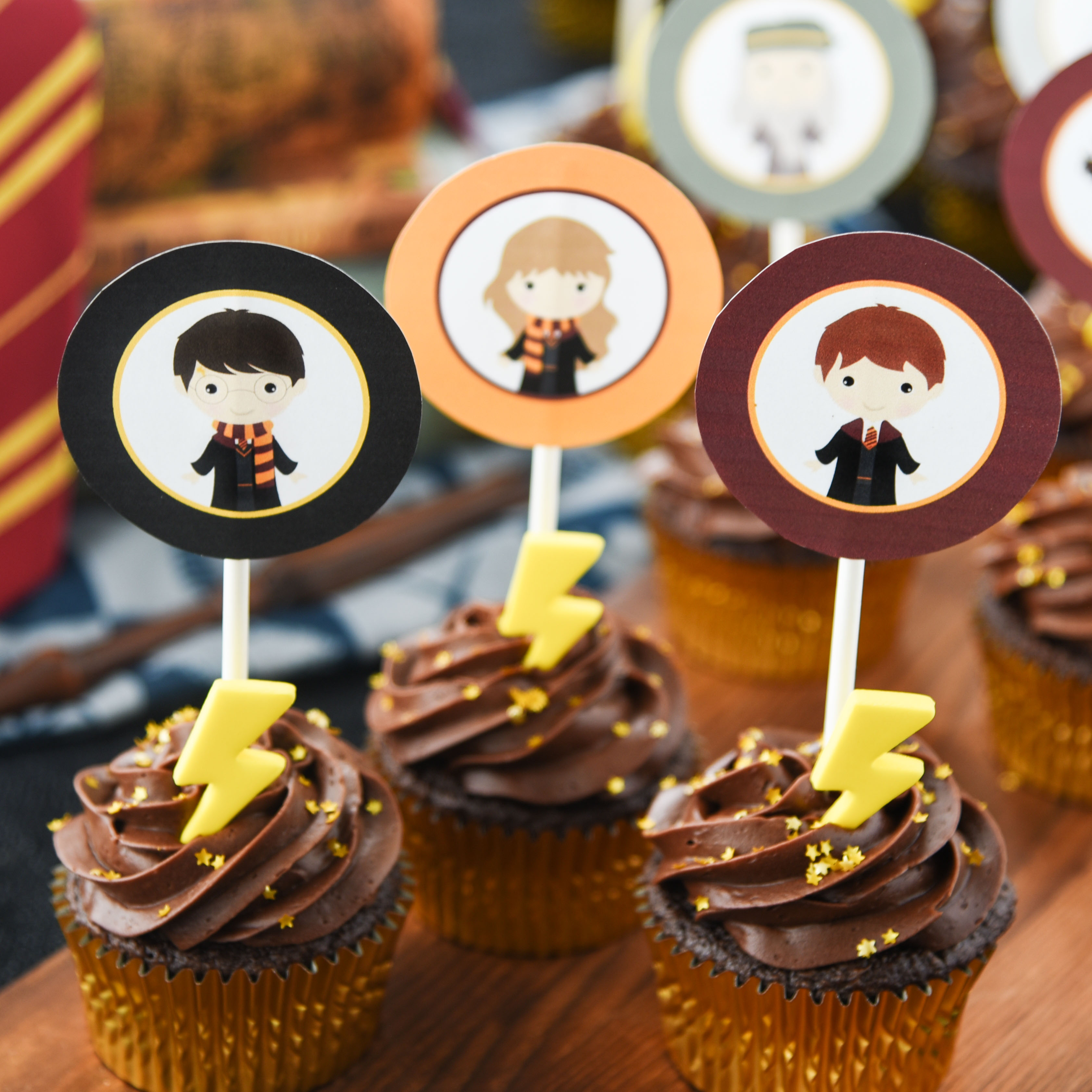 I hope you love these cupcakes! Butterbeer Krispy Treats would be another great recipe to serve at a Harry Potter party, or any of these other great Harry Potter recipes!
If you make this recipe, I want to see it! Take a picture of it and tag me on Instagram! @alli_cupcakediaries
This post contains affiliate links. I include these links to help you find the products that I used in the recipe. If you purchase an item from the link, I will receive a small commission helping keep my recipes free for you. Thank you for your support!