If you've ever wanted to make your own Forky from Toy Story 4, this is the tutorial for you! Easily make this cute craft with step-by-step instructions.
Forky quickly became one of my favorite Pixar characters after we took the kids to see Toy Story 4. So much so that I even made Forky Cupcakes! I love a good Toy Story birthday party and this craft would be the perfect activity for one. Wouldn't it be great if Disneyland built some kind of Forky attraction? haha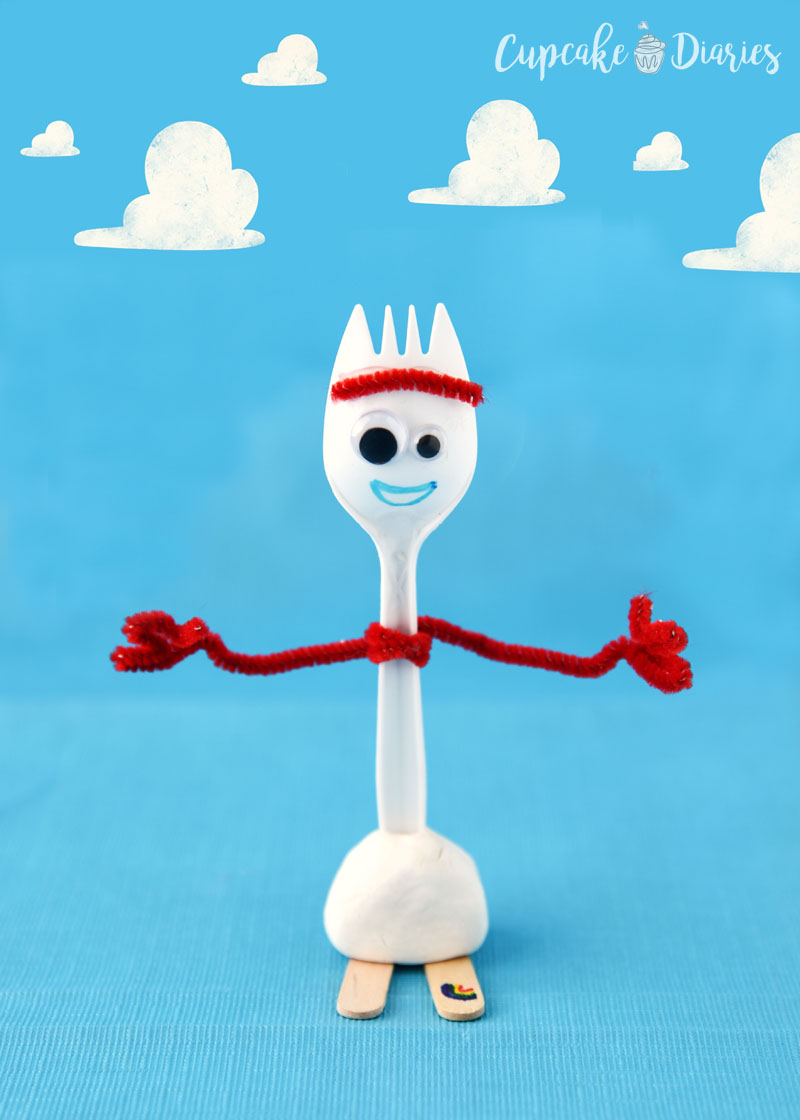 Who is Forky?
Forky is the newest member of Bonnie's group of toys in the new Toy Story 4 movie. A nervous Bonnie heads to her first day of school and finds comfort in a new creation: her pencil holder, Forky. But everything gets a little crazy when Bonnie wants to take Forky on a road trip and he thinks he's trash. Woody takes it upon himself to show Forky how to embrace being a toy. The movie is so cute and we left with a few life lessons from these cute toys.
Why should I make Forky instead of buying one?
Because you can make 100 Forkies for the amount it costs to buy one. Save your money and make one! Or 100. Plus, they're way fun to make.
What supplies do I need to make Forky?
How many Forkies can I make with these supplies?
You can get 100 Forkies from these supplies. Yes, you read that right. For a maximum of $65 (and that's if you have to buy a hot glue gun and scissors), you can make 100 Forkies for the price of four Forkies you can buy online. Seriously, save your money and make Forky!
Do I need to bake the modeling clay?
No! If you use an air dry modeling clay you don't have to do any baking. Simply create your Forky and let him dry.
How to make Forky
Before you begin creating Forky, remember that he doesn't have to be perfect. In fact, you can't get him wrong! He's so quirky and was made by a child in the movie.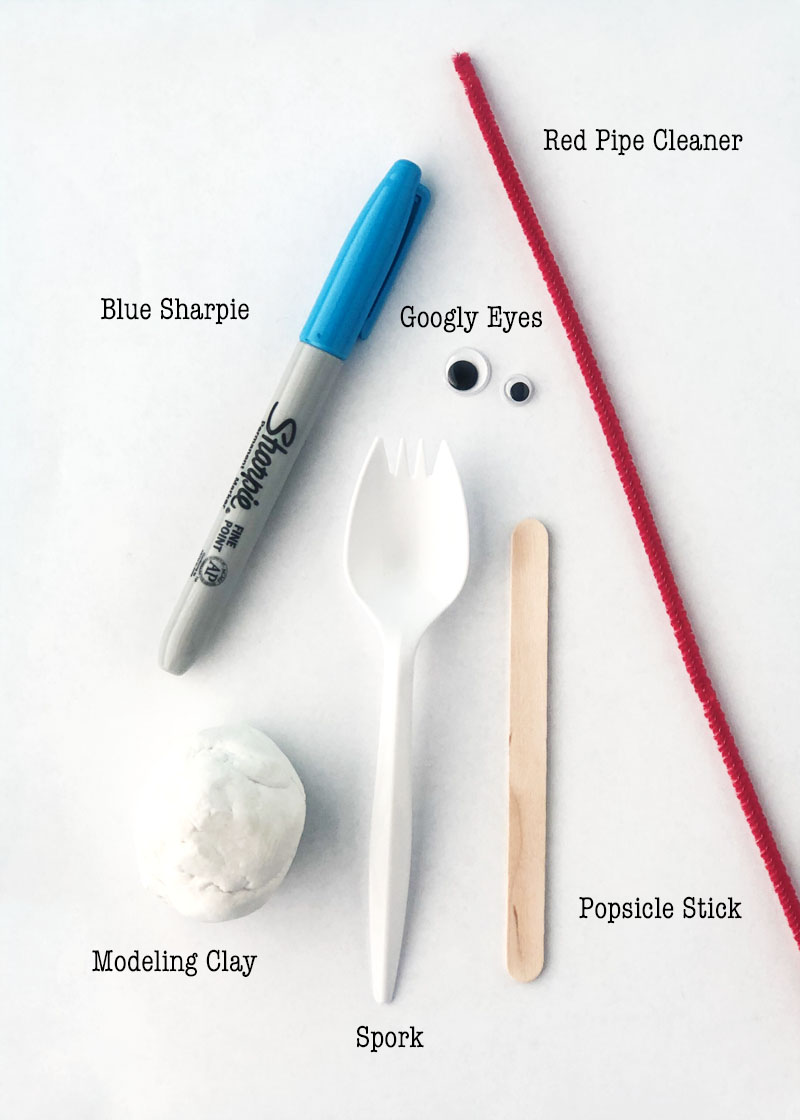 Begin by assembling the following supplies: a spork, red pipe cleaner, two googly eyes (one bigger than the other), a small glob of white modeling clay, a popsicle stick, and a blue Sharpie.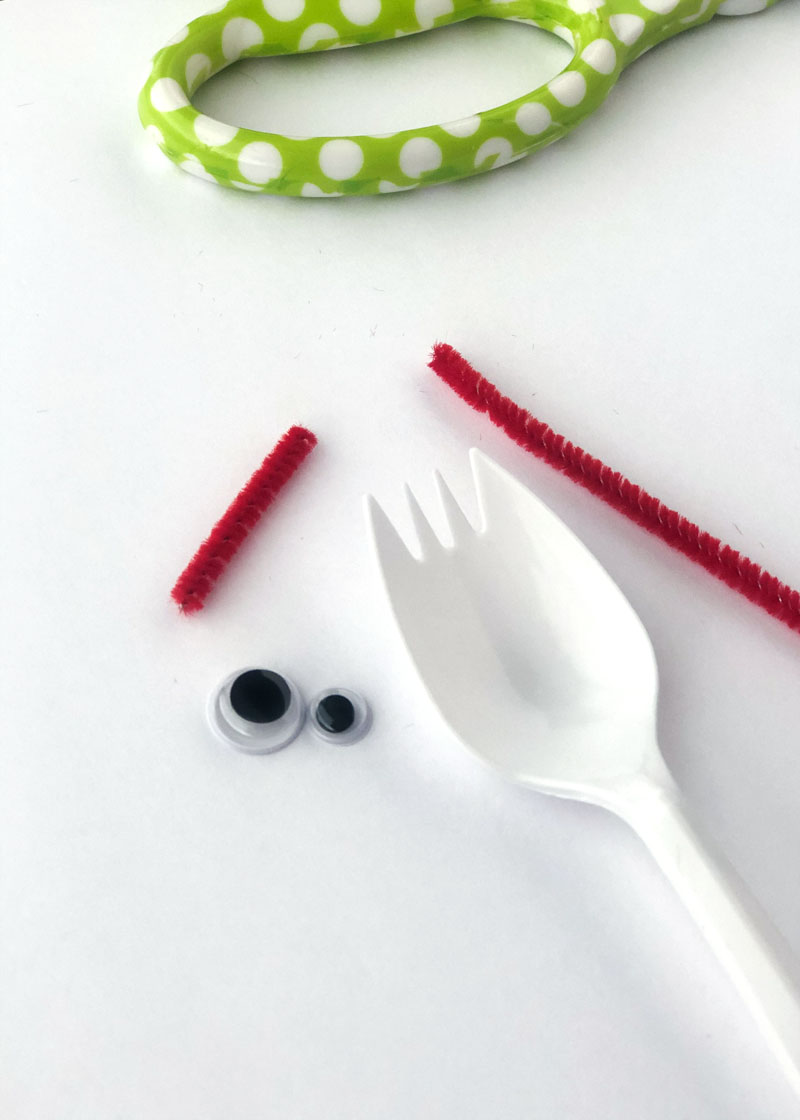 Firstly, use scissors to cut about an inch off the end of one pipe cleaner.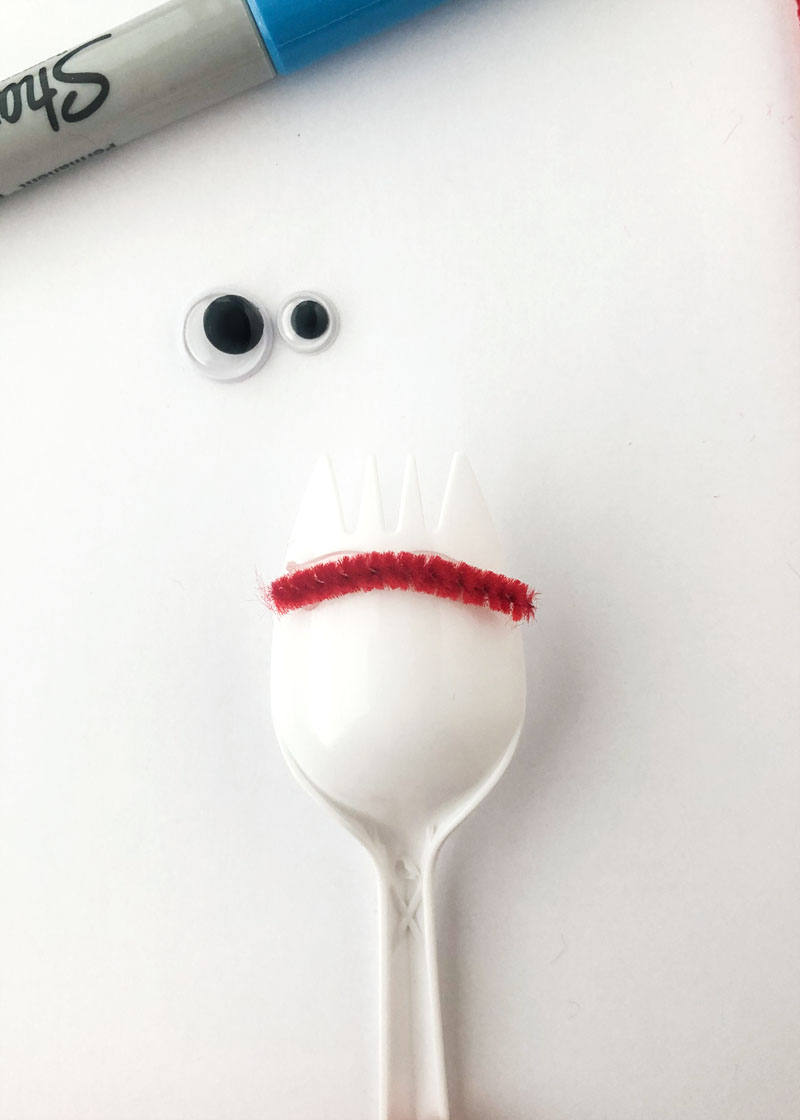 Secondly, use a hot glue gun to glue the small piece of pipe cleaner underneath the prongs of the spork to make a unibrow.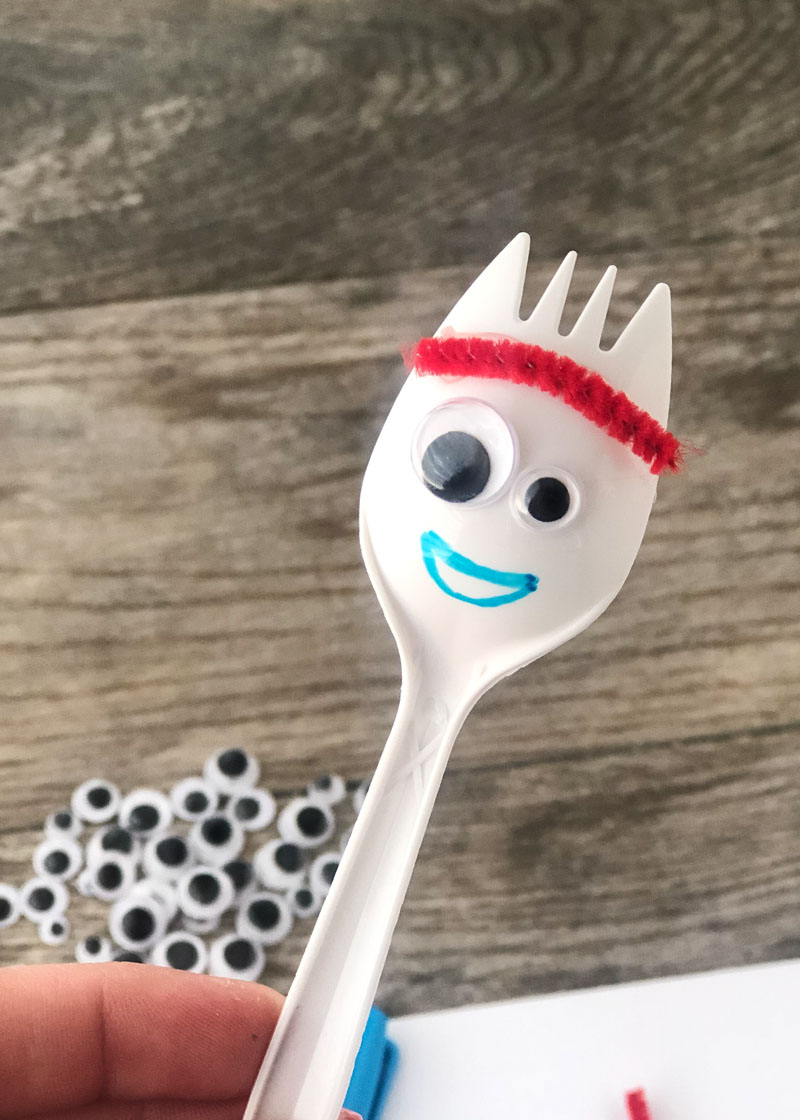 Glue eyes onto the spork below the eyebrow. You will need two different sizes with the larger eye on the left. (This is where the multipack of googly eyes comes in handy!) Then use the blue sharpie to draw on a mouth.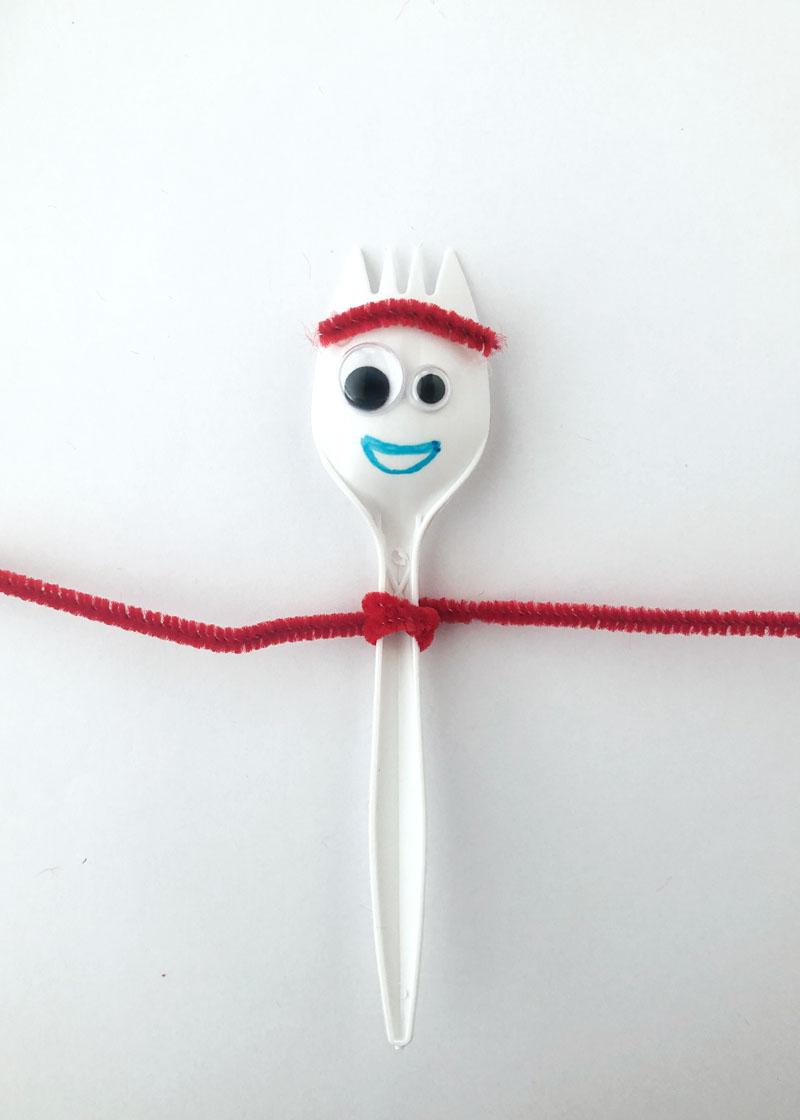 Take the rest of the pipe cleaner and wrap around the handle of the spork to create arms.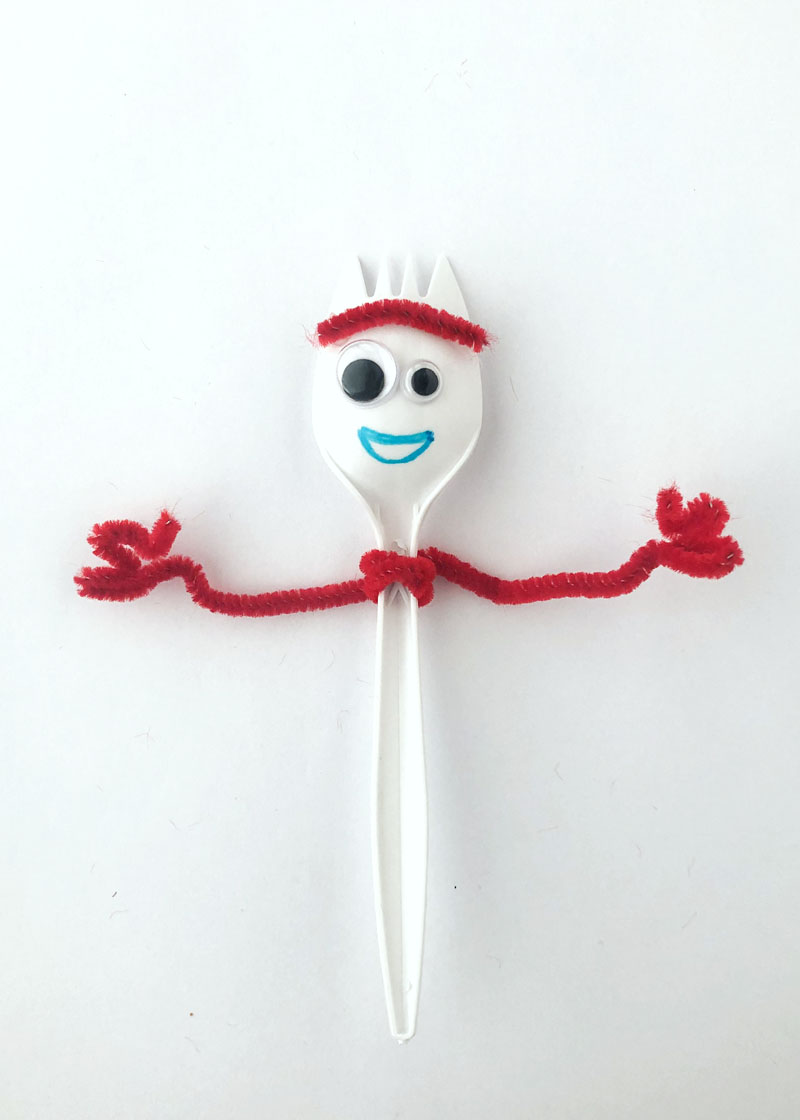 Bend the ends of each arm to create fingers and hands. Again, you can't mess this up. Just bend away and you'll get it right.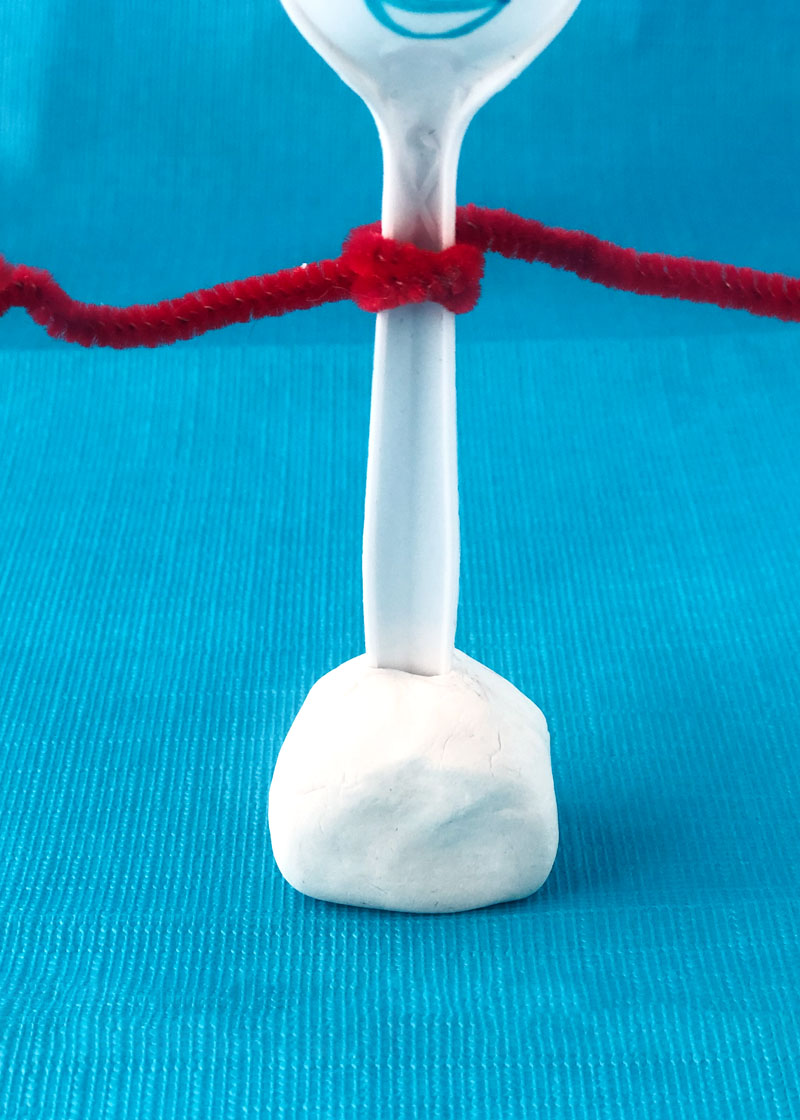 Time to make the feet! Use a small glob of clay to create a volcano-like mold. Press the spork directly into the center of the volcano for Forky to stand alone.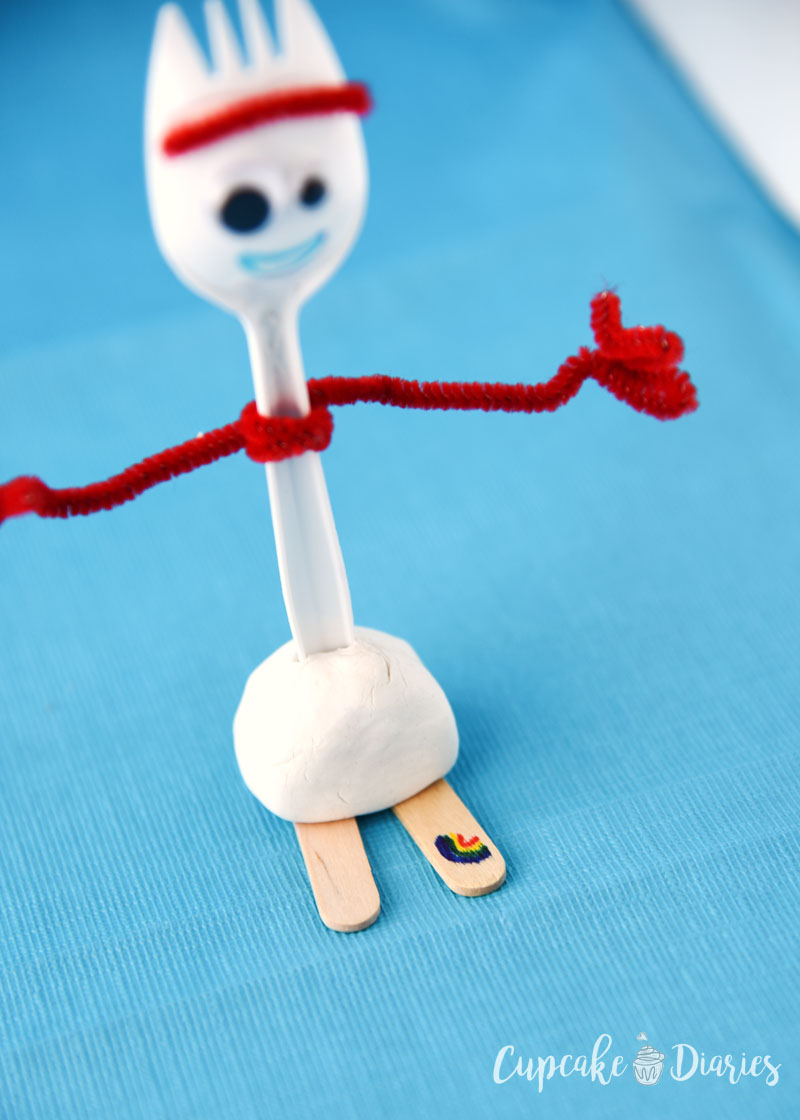 Break a popsicle stick in half and use the markers to draw a rainbow on one of the halves. Press the popsicle sticks on the bottom of the clay blob, placing the rainbow stick on the left. After the clay dries, you may want to glue the popsicle sticks to the bottom.
And he's done! Because he's fragile, you'll want to allow the clay to dry completely before playing with him.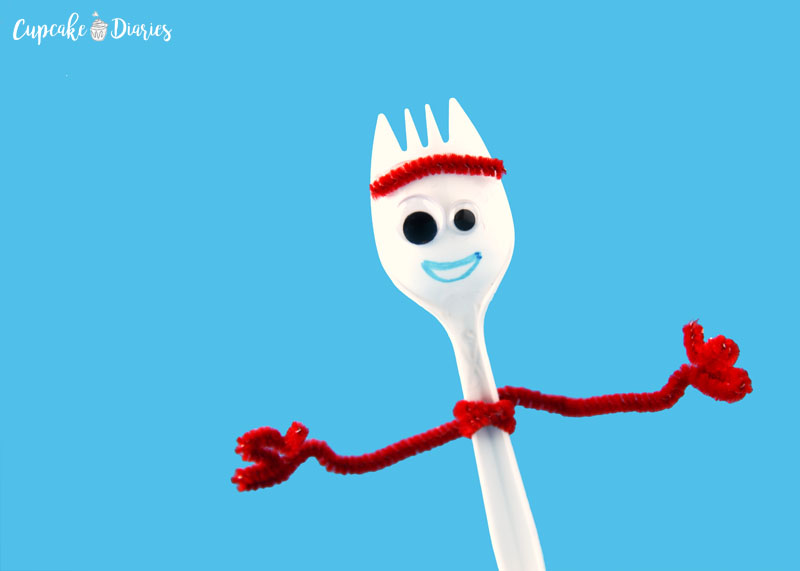 Isn't he the best? I like this craft because it's really easy for kids. However, they may need help with the gluing part.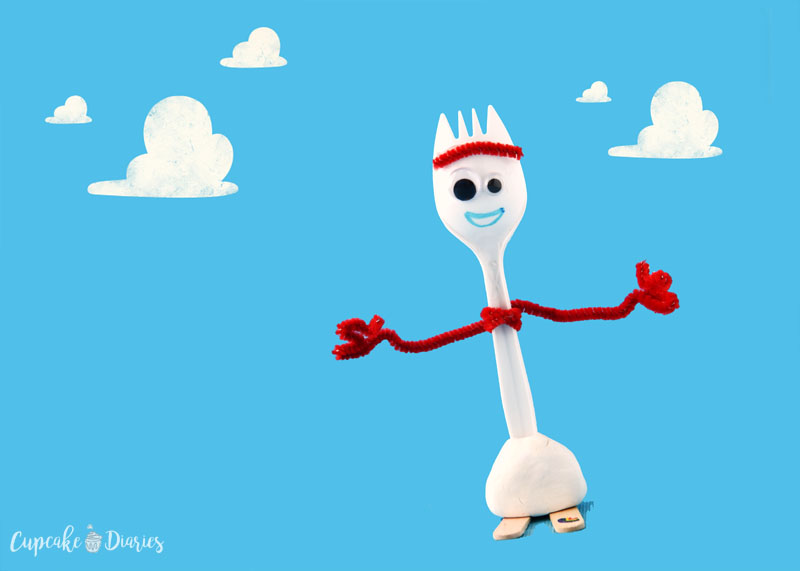 Love this craft? Check out these other Toy Story ideas!
Alien Jello Cups
Toy Story 3 Birthday Party
Forky Cupcakes
Forky Supplies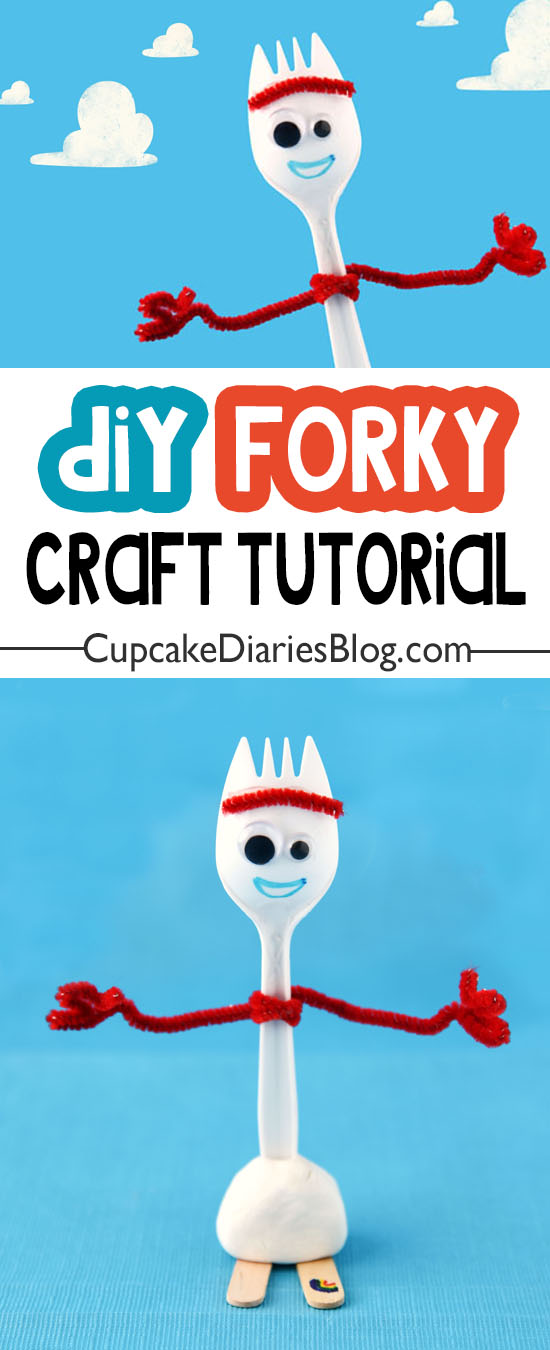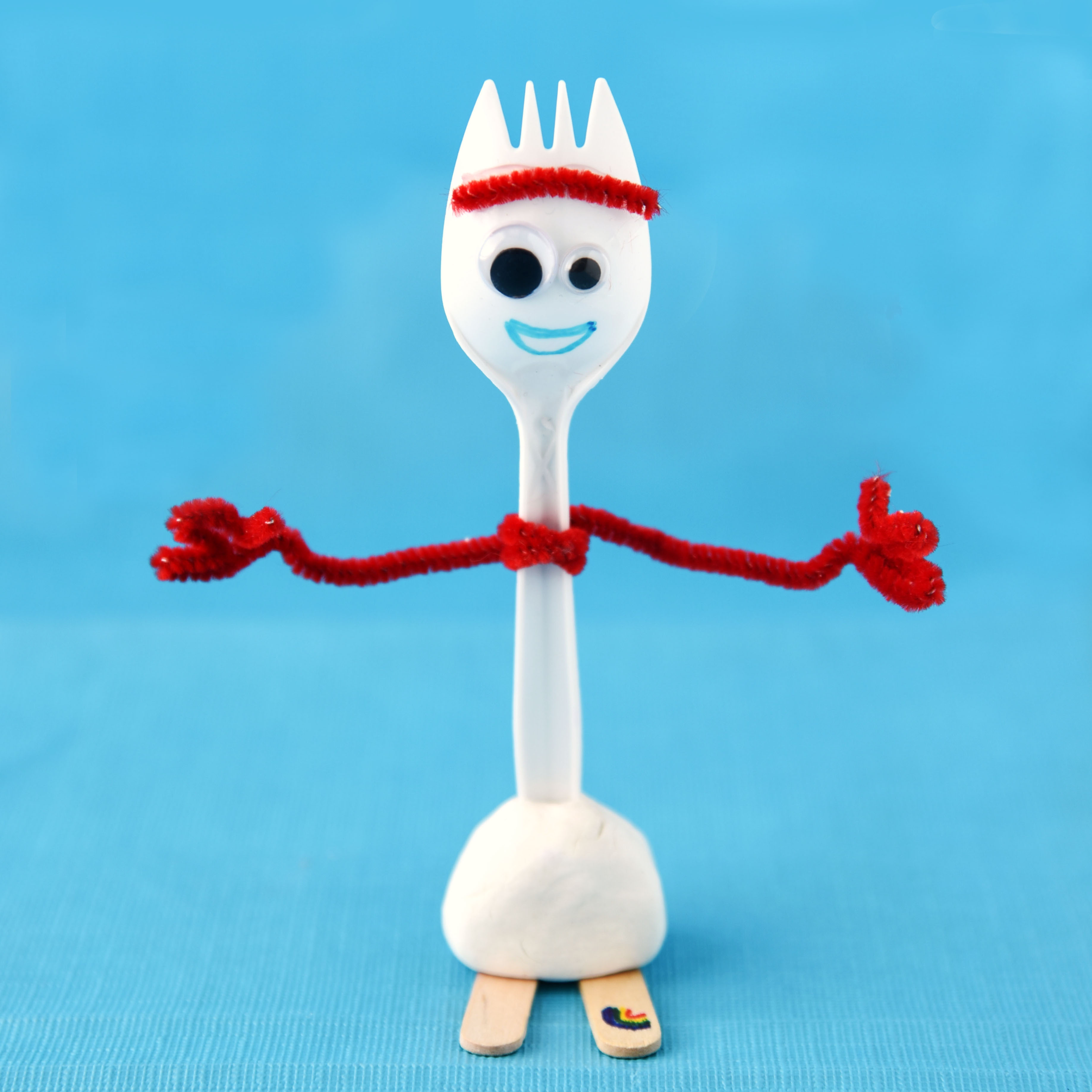 Looking for more Toy Story party ideas? You'll love these Forky Cupcakes and Alien Jello Cups!
I hope you love this craft! If you have any questions, don't hesitate to leave a comment or email me. Most importantly, take a picture when you make your own Forky and tag me on Instagram! @alli_cupcakediaries
This post contains affiliate links. I include these links to help you find the products that I used in the recipe. If you purchase an item from the link, I will receive a small commission helping keep my recipes free for you. Thank you for your support!