Forky Cupcakes are the perfect dessert for a Toy Story 4 birthday party! They're so easy and a great way to bring that funny little spork to the party.
I saw Toy Story 4 with my whole family and it was one of my favorite activities we've ever done together. (We're headed to Disneyland with them next year, which I'm sure will be another favorite activity we do together! Can't wait to check out that new Inside Out ride.) I threw Brycen a Toy Story 3 birthday party back when it first came out and I'm hoping Dylan asks for a Toy Story 4 party when he has a birthday this fall.
As soon as Forky came hobbling out of Bonnie's backpack in the new movie, we all fell in love with him. I knew I had to make a dessert dedicated to him and his quirkiness as soon as possible! The kids even made their own Forky at a family reunion this summer. We can't get enough of the little guy! I didn't want the tutorial to be complicated so I bought the sporks, googly eyes, hot glue gun, blue marker, and pipe cleaners on Amazon. The marker, sprinkles, cupcake liners, frosting, and ingredients for the cupcakes came from Walmart. (There are also these cupcake liners on Amazon!)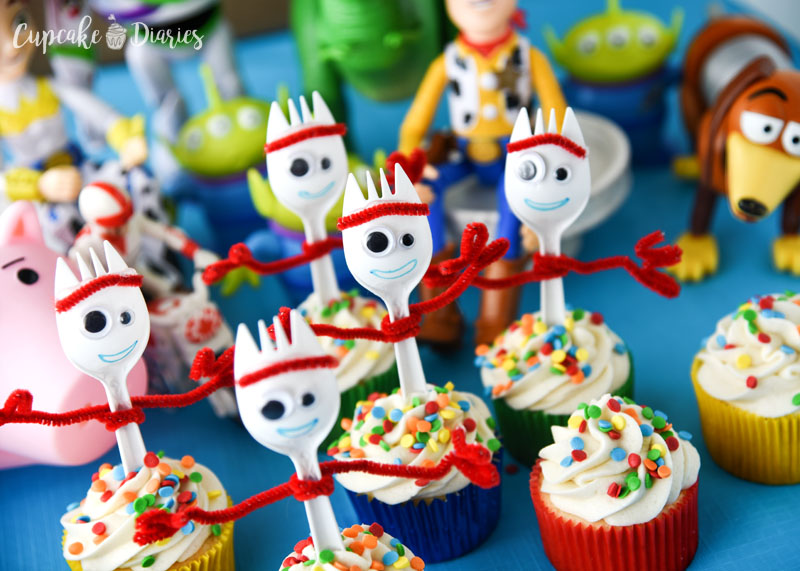 How do you make Forky?
To make a full Forky from head to popsicle stick toes, click here! See below for the version used in these cupcakes.
Where can I buy supplies to make Forky?
Amazon and Walmart! You can also buy them at craft stores, but it was really easy and inexpensive to get everything on Amazon.
How do the Forkies stay in the cupcakes?
Simply insert the end of each Forky into the cupcakes and they will stay right where you need them. Nothing else needed to hold them there!
How many Forky Cupcakes can I make with this recipe?
You can get 24 Forky Cupcakes with this recipe. The supplies for the Forkies will make well over 100 Forkies.
What is the best pan for baking cupcakes?
USA Pan is my favorite pan for cupcakes and muffins. The bakes are always even and the pan doesn't take a beating after each use. And it's affordable!
What is the best frosting tip to use for cupcakes?
My favorite frosting tip is the 1M star tip from Wilton. I use it for almost all of my cupcakes! I also use 16-inch Wilton disposable frosting bags.
How to make Forky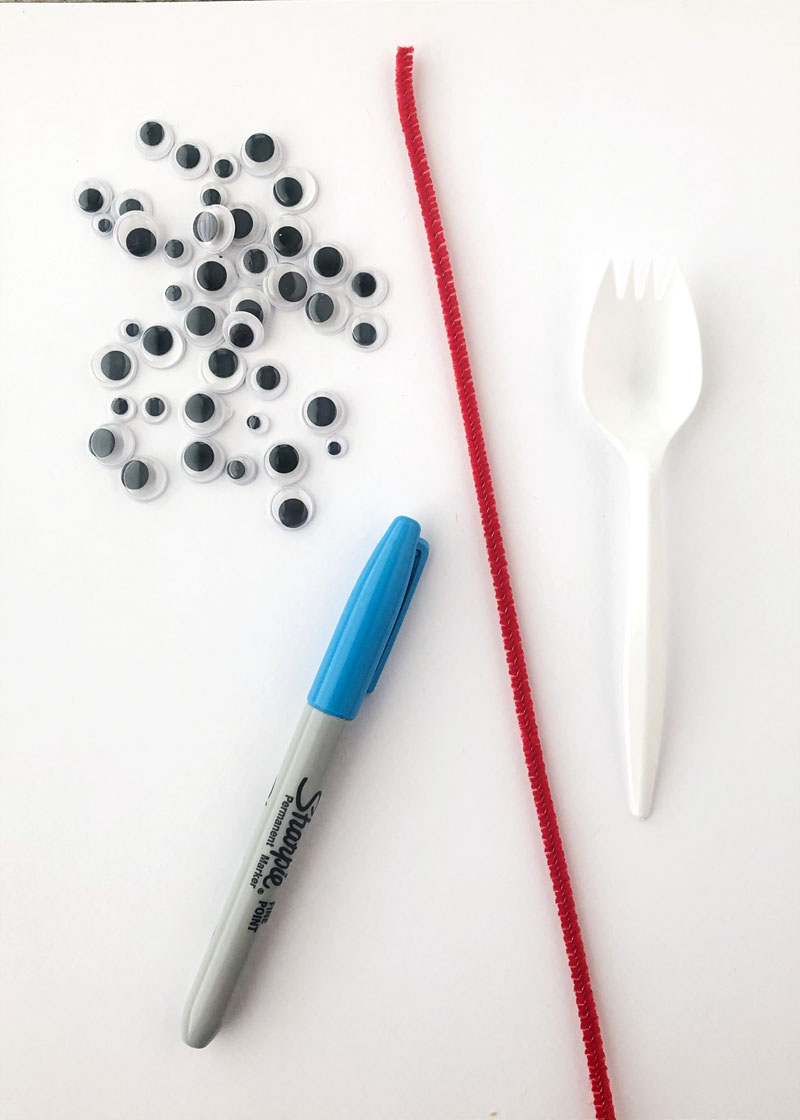 Begin by gathering the supplies to make Forky: sporks, red pipe cleaners, googly eyes of different sizes, a hot glue gun, and a blue Sharpie.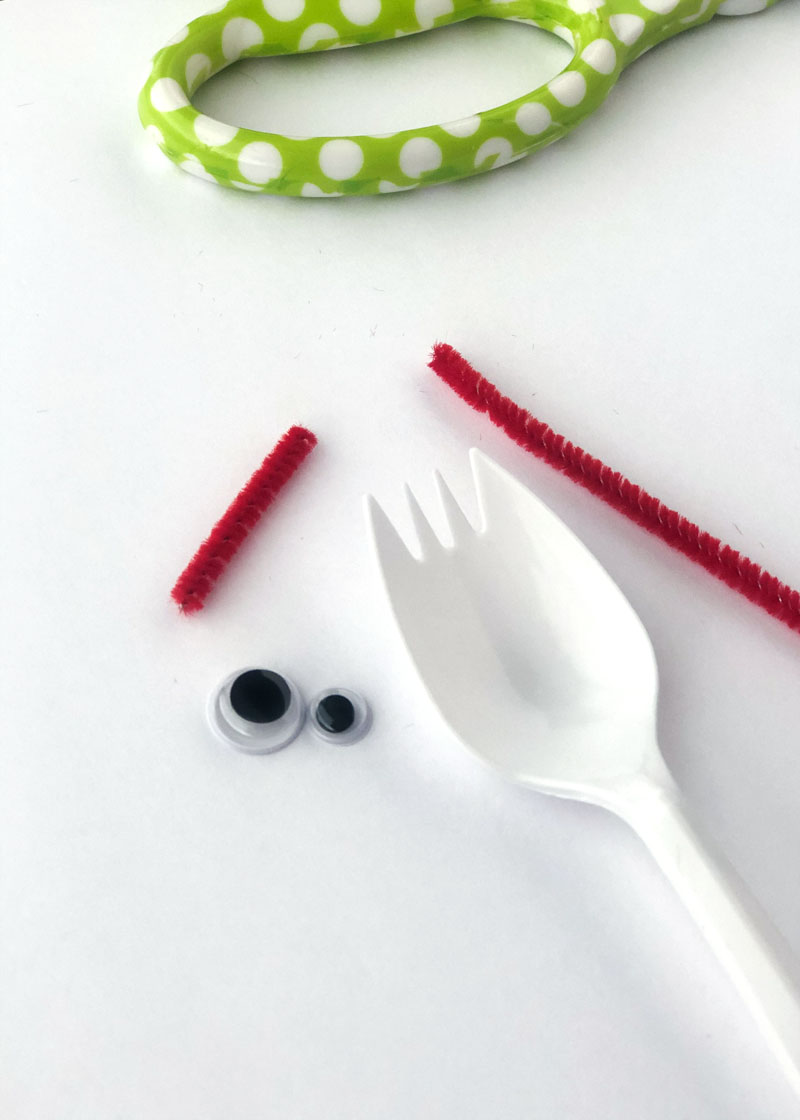 Cut one inch off the end of the pipe cleaner and set aside.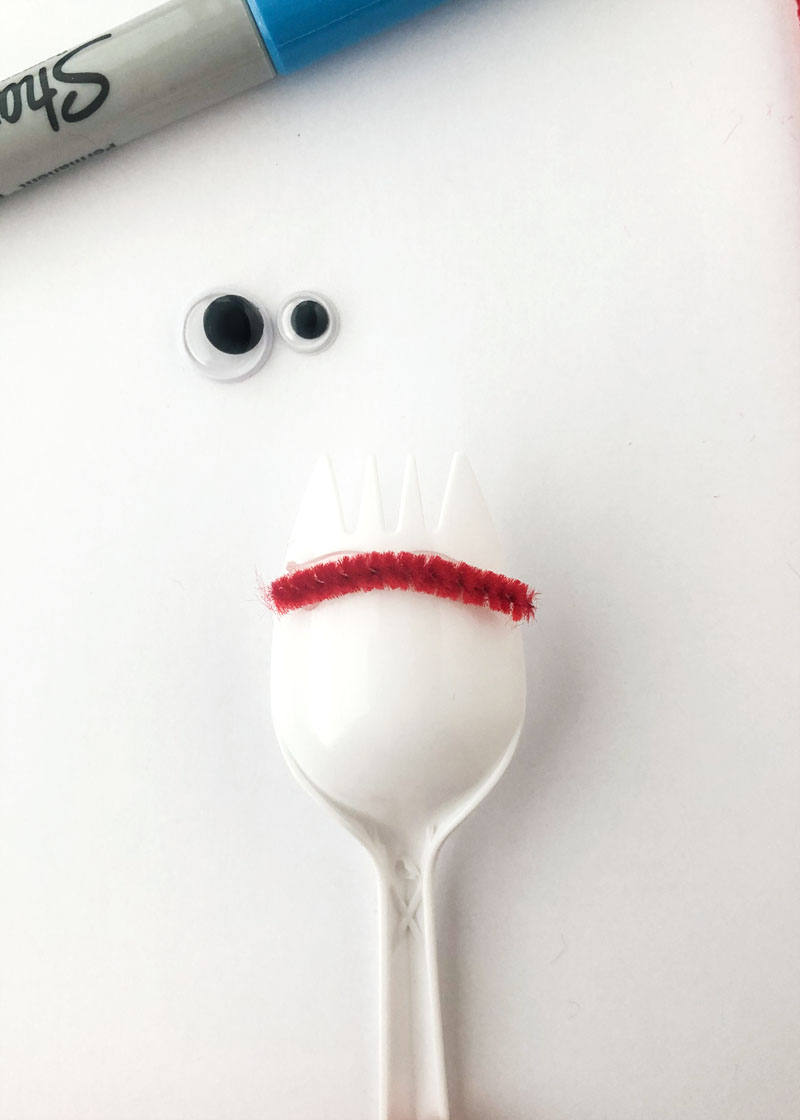 Use a hot glue gun to glue the small piece (the eyebrow) onto a spork right below the prongs.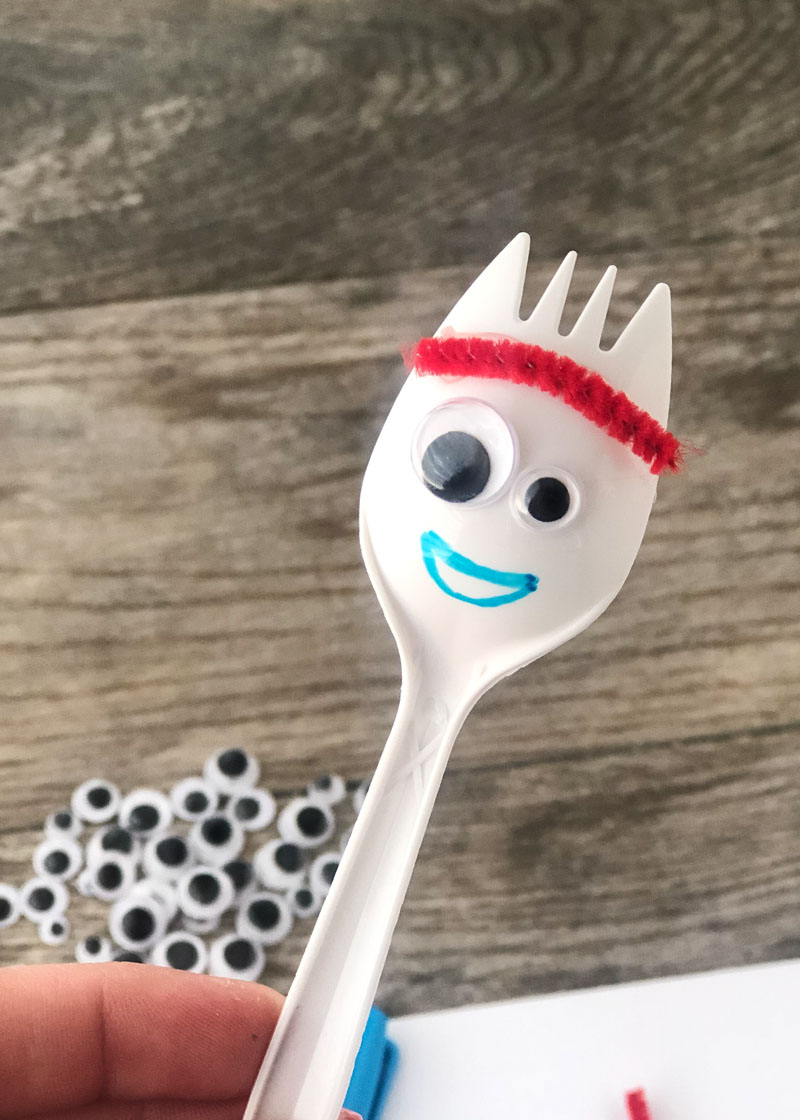 Glue eyes onto the spork below the eyebrow. You will need two different sizes with the larger eye on the left. (This is where the multipack of googly eyes comes in handy!) Then use the blue sharpie to draw on a mouth.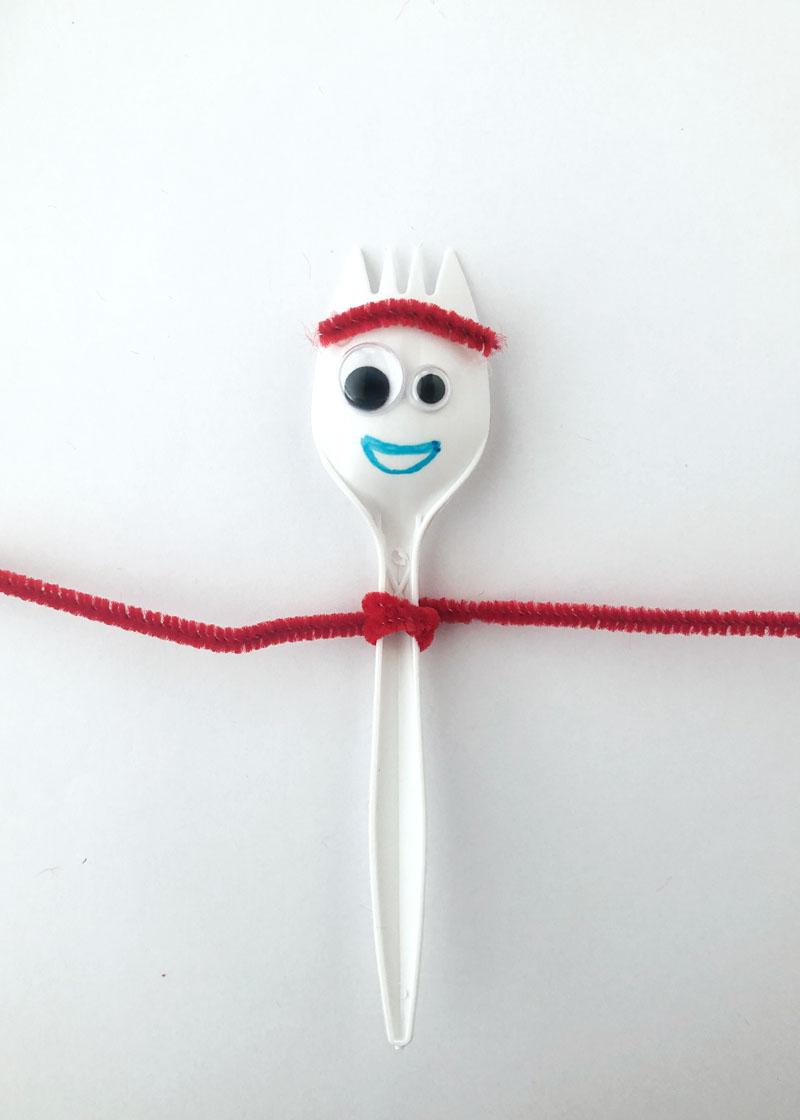 Take the rest of the pipe cleaner and wrap around the handle of the spork to create arms.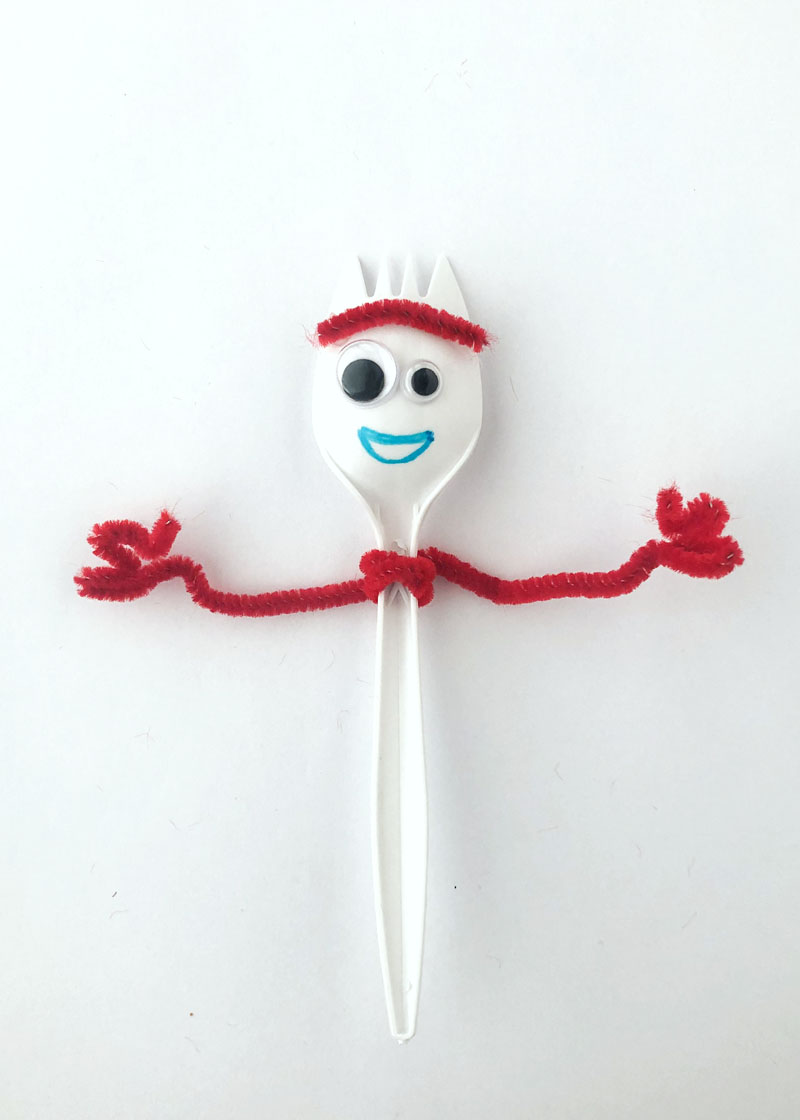 Bend the ends of each arm to create fingers and hands. The beauty of these little guys is that you cant mess them up! Isn't he cute?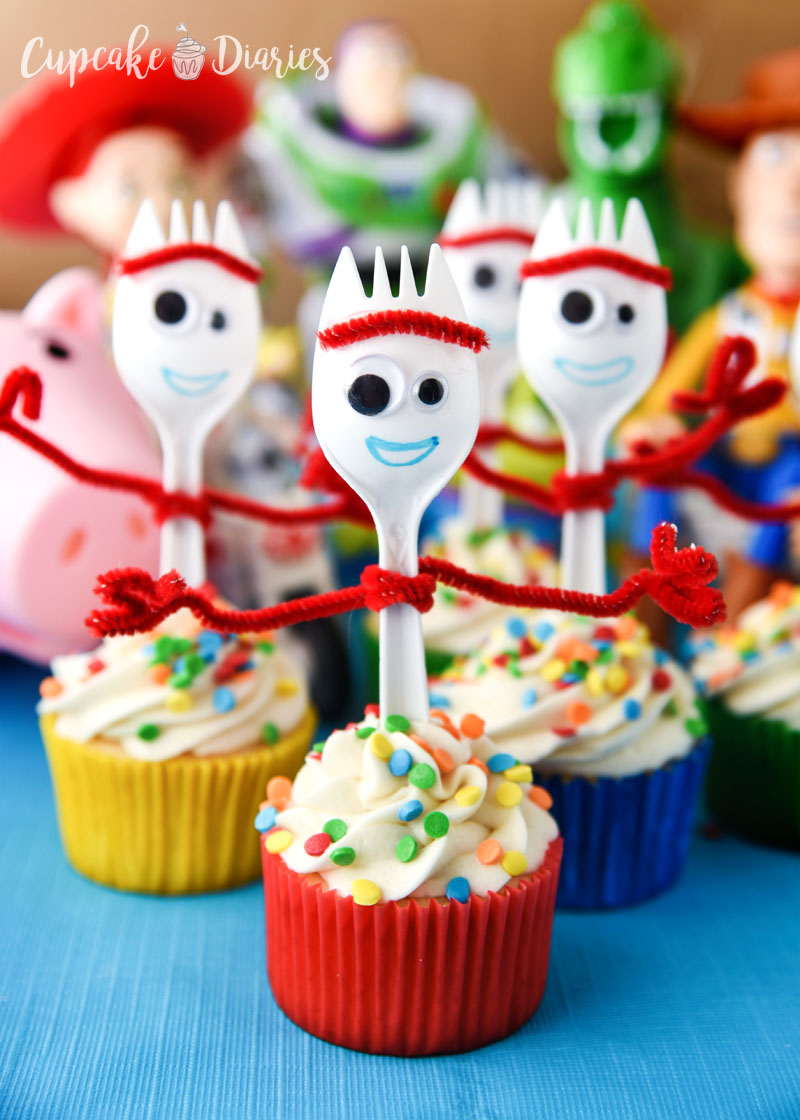 After making one Forky, you'll find that the process to make the rest goes really fast. I love that none of the Forkies look the same.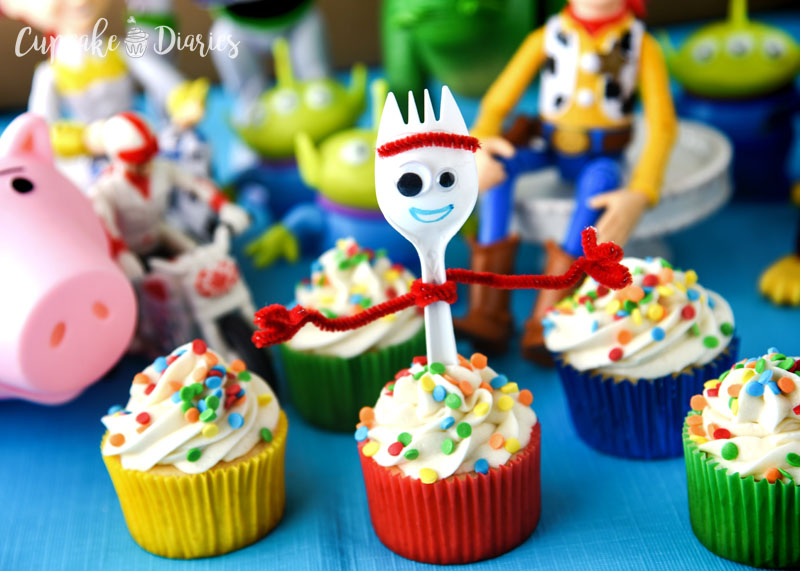 These cupcakes are just so much fun to make. I love the simplicity of the bright colors and a Forky placed in the center.
Love Forky Cupcakes? Check out these other Toy Story favorites!
Alien Jello Cups
Toy Story 3 Birthday Party
How to Make Forky Step by Step (craft tutorial)
Forky Cupcakes
Forky Cupcakes are the perfect dessert for a Toy Story 4 birthday party! They're so easy and a great way to bring that funny little spork to the party.
Ingredients
1

box

white cake mix

1

c

buttermilk

1/2

c

vegetable oil

4

egg whites

24

rainbow

cupcake liners

2

cans

vanilla frosting

rainbow

sequin sprinkles

24

prepared

Forkies
Instructions
Preheat oven to 350°F. Line two muffin tins with 24 cupcake liners.

Combine cake mix, buttermilk, vegetable oil, and egg whites in an electric mixer; blend until combined. Use an ice cream scoop to distribute cake mix evenly amongst the 24 cupcake liners, about 2/3 full. Bake 15-17 minutes, or until toothpick inserted comes out clean. Carefully remove from pans and place on a wire rack to cool.

Affix a frosting bag with 1M star tip. Add frosting and pipe onto each cupcake. Immediately add sprinkles.

Insert Forky into the center of each cupcake. Serve and enjoy!
Kitchen Tools and Gadgets I Used for This Recipe
Amazon Links for Forky Supplies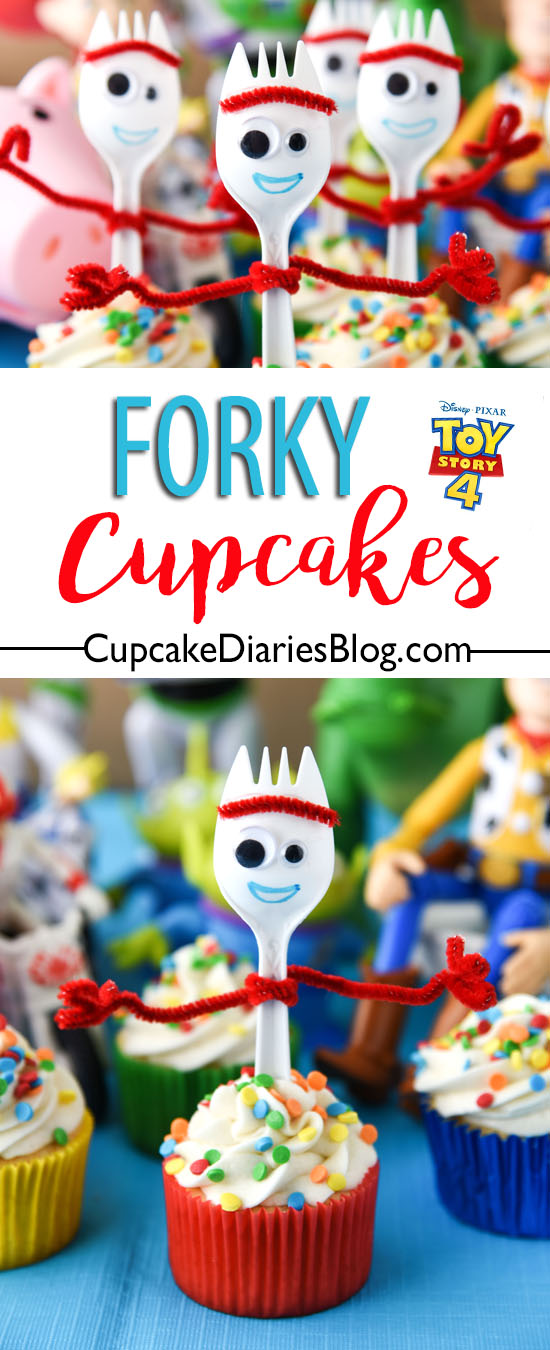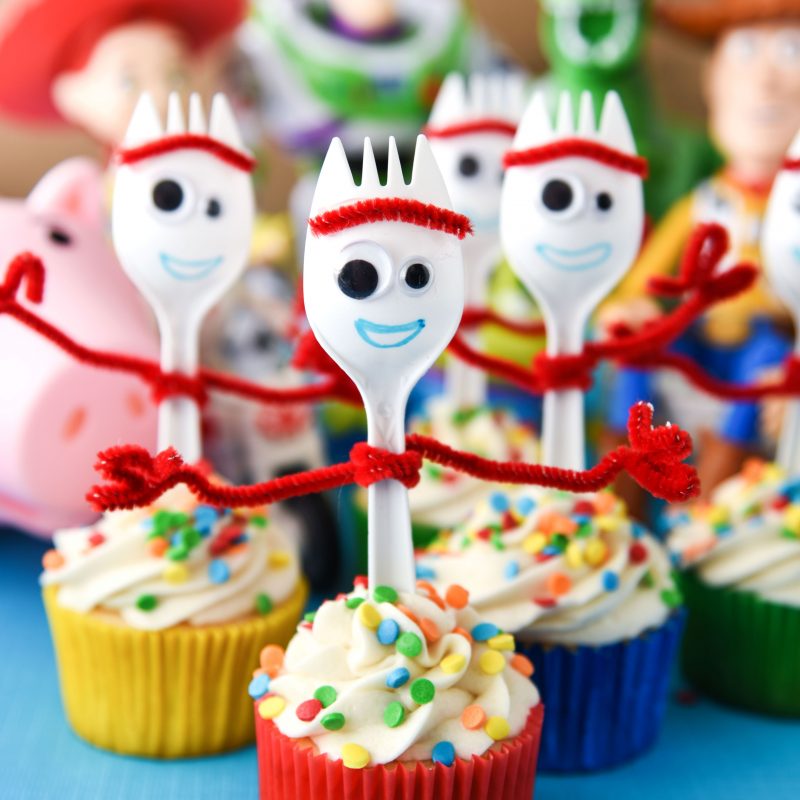 I hope you love these cupcakes! Don't hesitate to comment or email me if you have any questions. Alien Jello Cups will also be great for a Toy Story birthday party, if you're looking for another idea!
If you make this recipe, I want to see it! Take a picture of it and tag me on Instagram! @alli_cupcakediaries
This post contains affiliate links. I include these links to help you find the products that I used in the recipe. If you purchase an item from the link, I will receive a small commission helping keep my recipes free for you. Thank you for your support!