Halloween Dipped Oreos are just about as fun as you can get when it comes to cute and creepy treats! The bright colors are so fun and festive.
Isn't Halloween just the best? I love making Halloween treats and these Oreos are one of my new favorites. Just look at those colors! Monster Bundt Cake and Monster Cupcakes are also a fun way to put Halloween colors in desserts. I'm so happy with how these cookies turned out!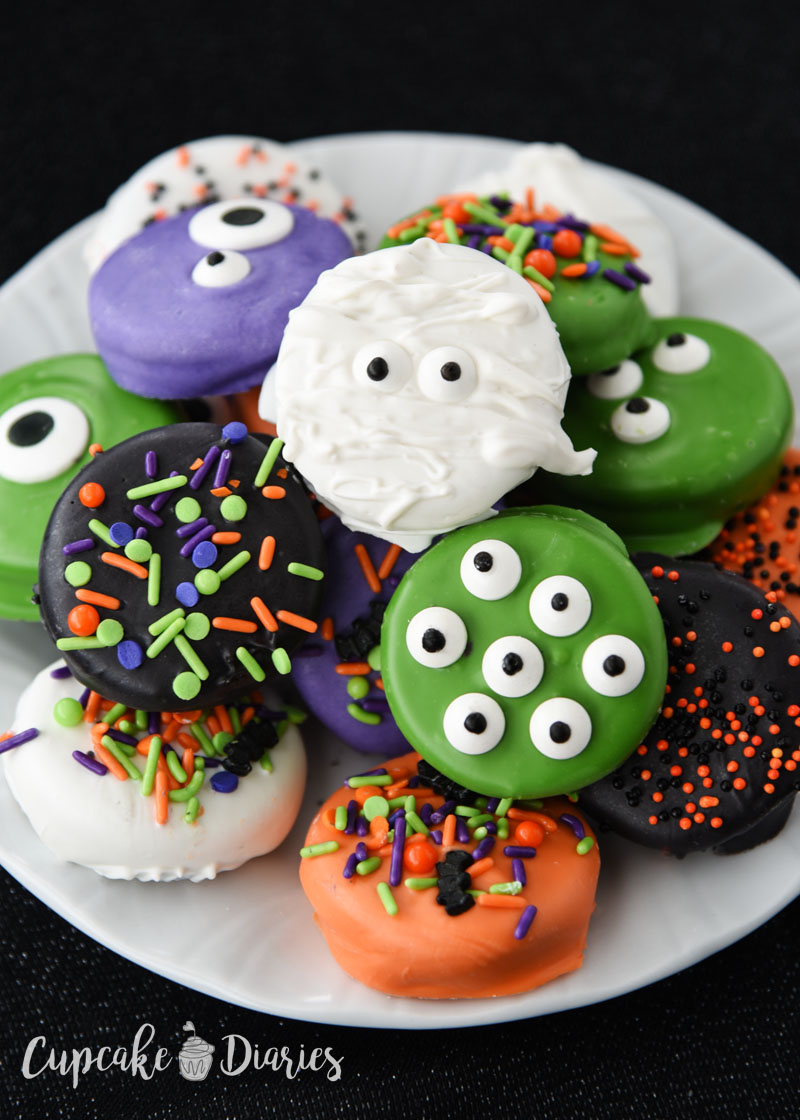 There's nothing better than making a Halloween treat, especially when that treat is so colorful and fun like these dipped Oreos. You're going to love how easy these little guys are to make and with so few ingredients. And my Halloween-loving twin sister approves!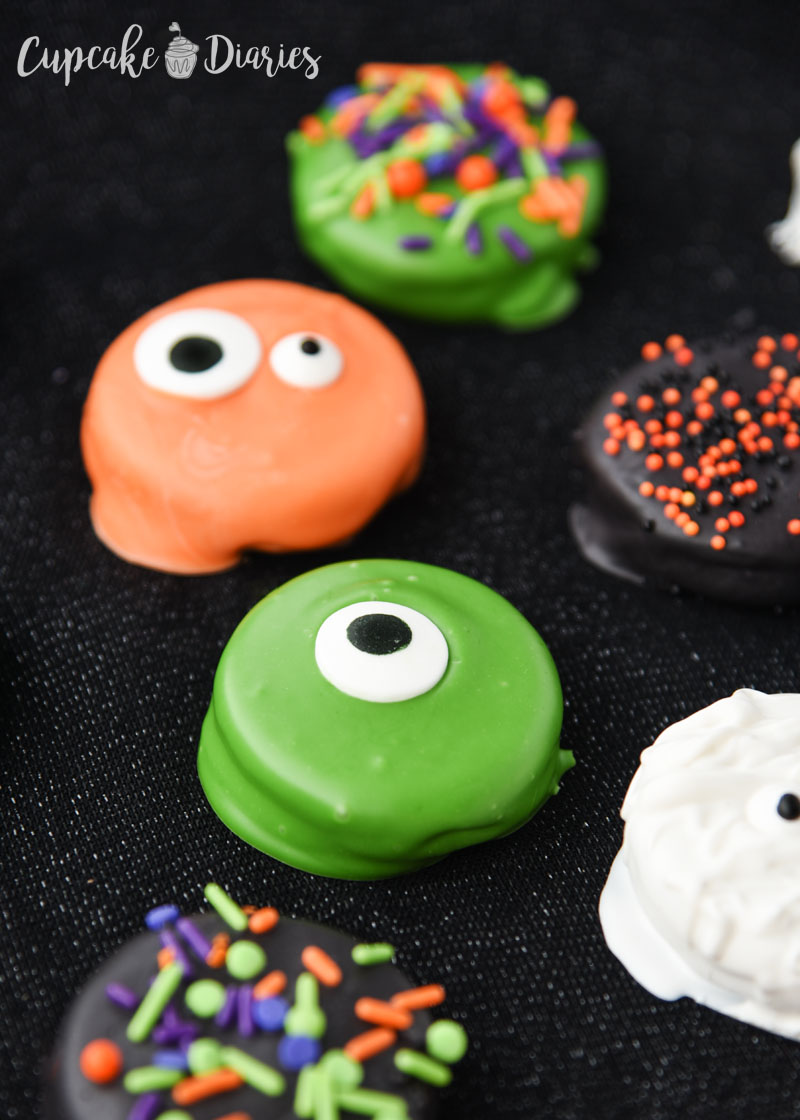 Doesn't the green cookie with one candy eyeball look like Mike Wazowski from Monsters, Inc.?
I love these cookies because you just can't mess them up. The decoration possibilities are endless!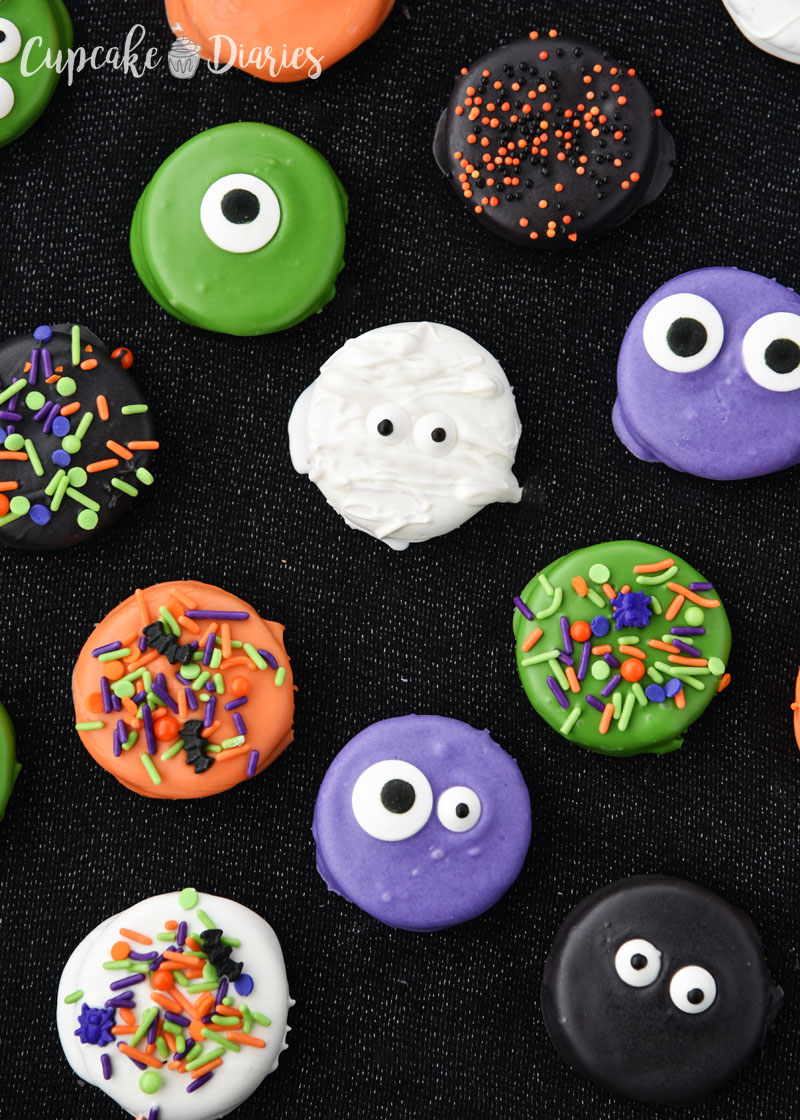 What do you use to dip Oreos?
You can use colored candy melts or you can use white chocolate chips and use food coloring to color them. The easiest option is to buy candy melts in different colors.
How do you make Halloween Dipped Oreos?
Simply melt the candy melts one color at a time and dip the Oreos. You want to decorate each individual Oreo after it has been dipped or the coating will cool too much.
What are candy melts?
Candy melts are vanilla-flavored discs for candy making and coating. They come in multiple colors for all kinds of fun treats! You can buy them at Walmart, craft and party stores, and other grocery stores.
How do you make dipped Oreos into mummies?
You can turn any white cookies into mummies, especially ones that don't look as nice and smooth. After dipping the Oreos into the white candy melts and letting them cool a minute, I drizzled more white over the top to make the wrap look. You can also make dipped mummies out of Nutter Butter cookies like these Nutter Butter Snowmen!
How long do dipped Oreos last?
You can keep a sealed container of dipped Oreos for up to two weeks. Keep them at room temperature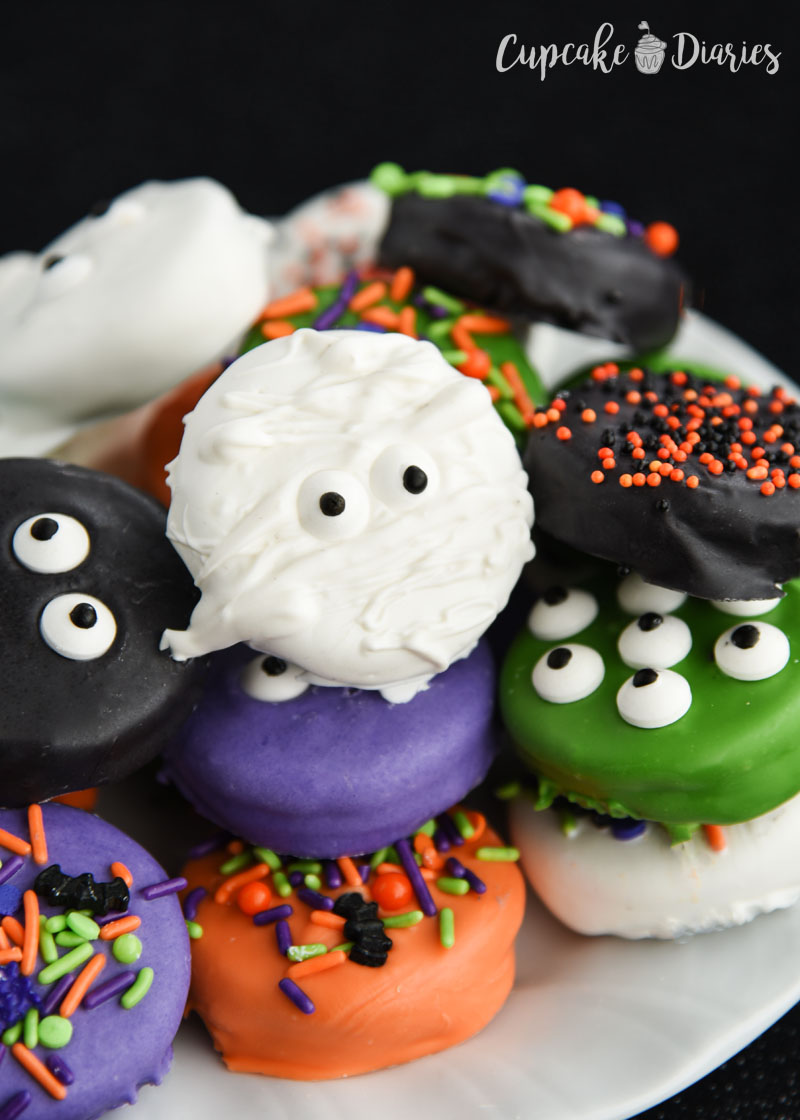 How do you make candy melt Oreos?
Heat the candy melts one color at a time so they don't all get too cool. Dip the Oreos in your chosen color then continue on to melt and dip with the next color.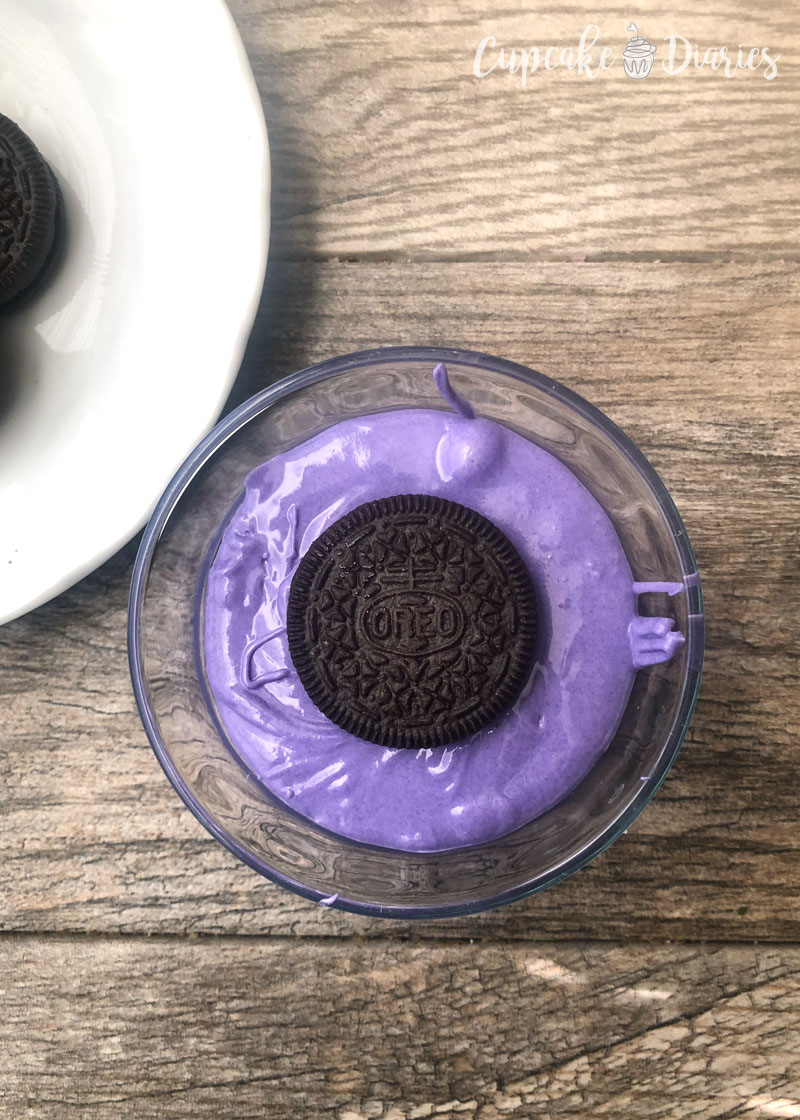 There are two ways to dip these cookies: with candy melts or white chocolate. Candy melts do not take food coloring so if you need to color your coating, use white chocolate or almond bark and add food coloring. The easiest option is to buy individual colors of candy melts, which is what I did.
After you melt one of the colors of candy melts or chocolate, drop an Oreo in and cover it completely. Use a fork to lift out and give it a little shake to remove the excess drips coming off the bottom.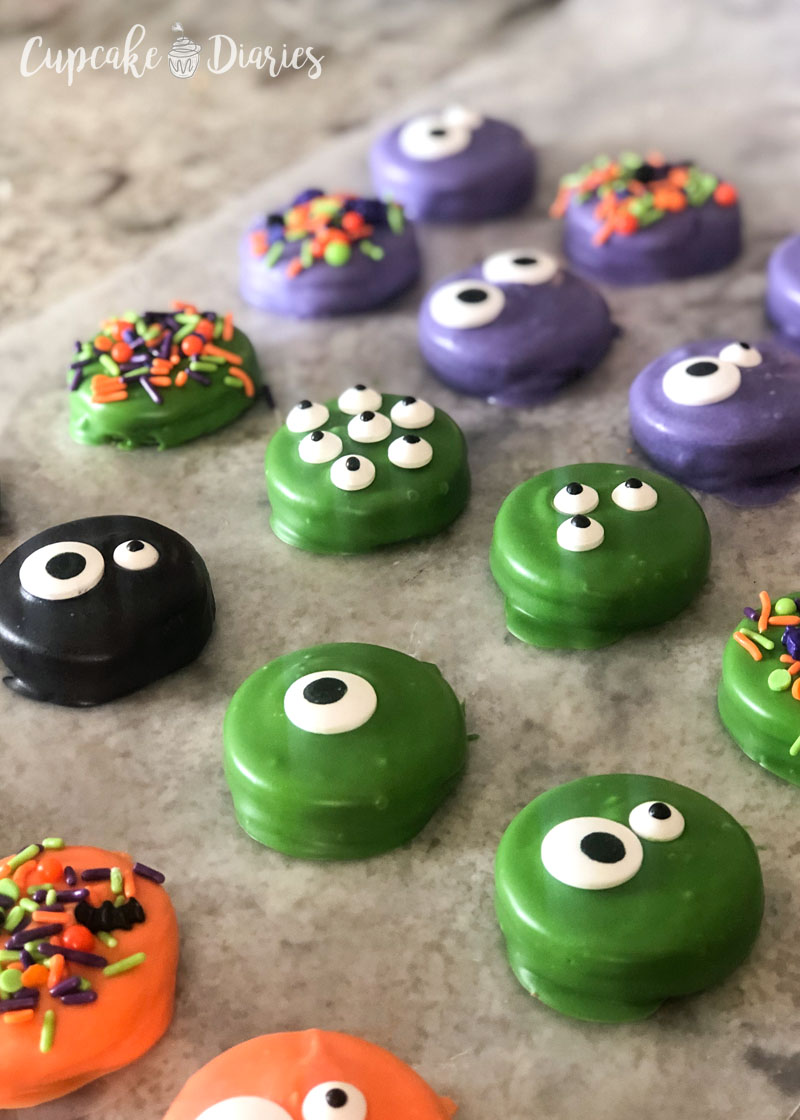 Place the covered Oreos on a sheet of wax paper and immediately add the decorations you're using. If you wait to top them with your decorations the coating can cool and the decorations won't stick. I love using sprinkles and candy eyeballs!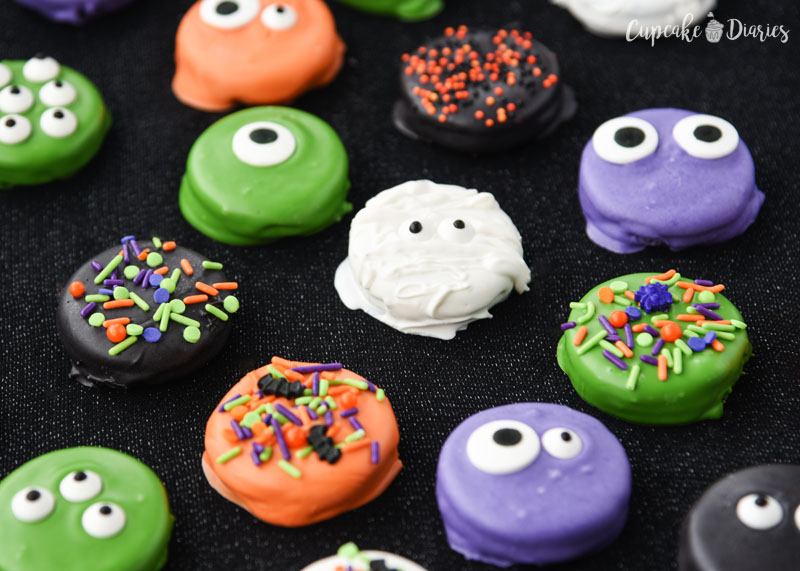 Want to know something really great? If some of your cookies end up with little bubbles and other flaws it totally works because they're supposed to look like little monsters and aliens, both of which have all kinds of gnarly bumps and bubbles.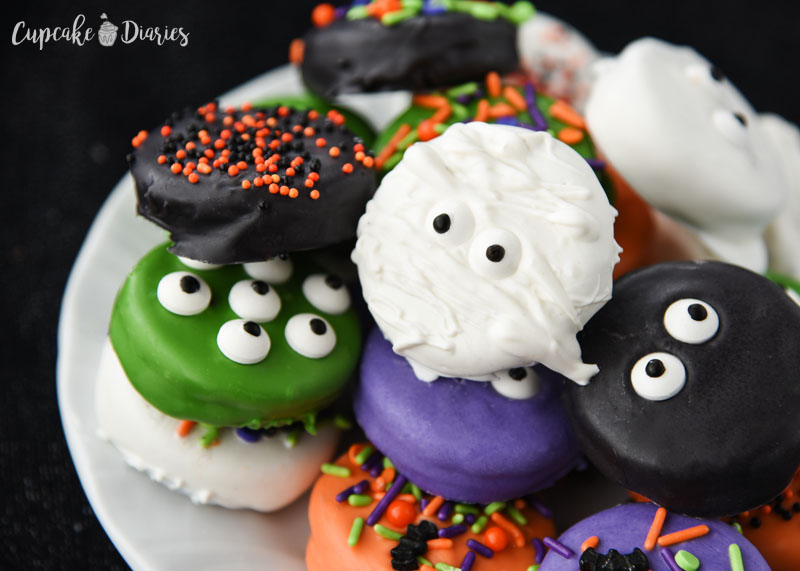 Aren't those so fun? I loved making these cookies and especially loved packaging them up for some of our friends!
More Colorful and Festive Halloween Recipes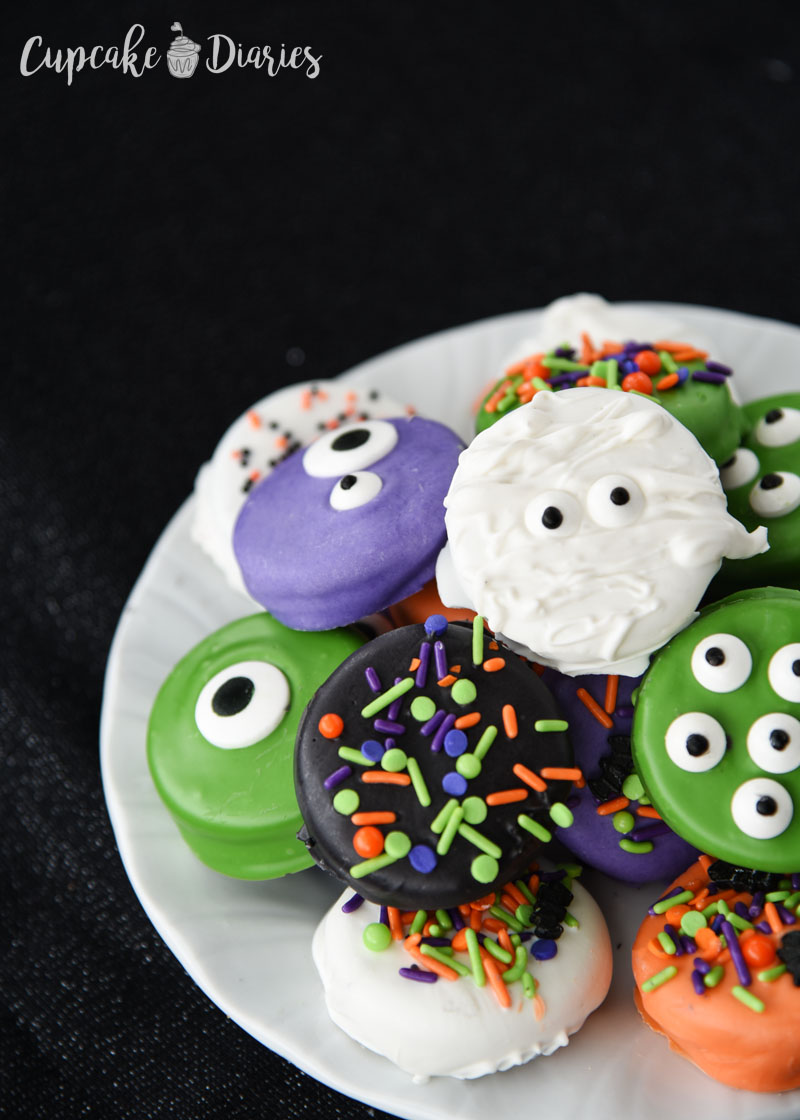 Halloween Dipped Oreos
Halloween Dipped Oreos are just about as fun as you can get when it comes to cute and creepy treats! The bright colors are so fun and festive.
Equipment
glass bowls

spoon

fork

wax paper
Ingredients
1

package

Oreos,

regular or family size

candy melts,

Halloween colors

Halloween sprinkles

candy eyeballs

other edible decorations
Instructions
Melt one package of candy melts in a microwavable glass bowl, according to package directions.

Drop an Oreo cookie into the candy melts and use a spoon to cover completely with coating. Use a fork to pick up the cookie from the bottom and lightly shake to remove excess coating.

Place on wax paper and immediately and sprinkles and other decorations. Repeat step 2 until color is gone. Repeat steps 1 and 2 with other colors of candy melts.
Notes
I used black, bright white, purple, orange, and bright green candy melts.
Kitchen Tools and Gadgets Used to Make This Recipe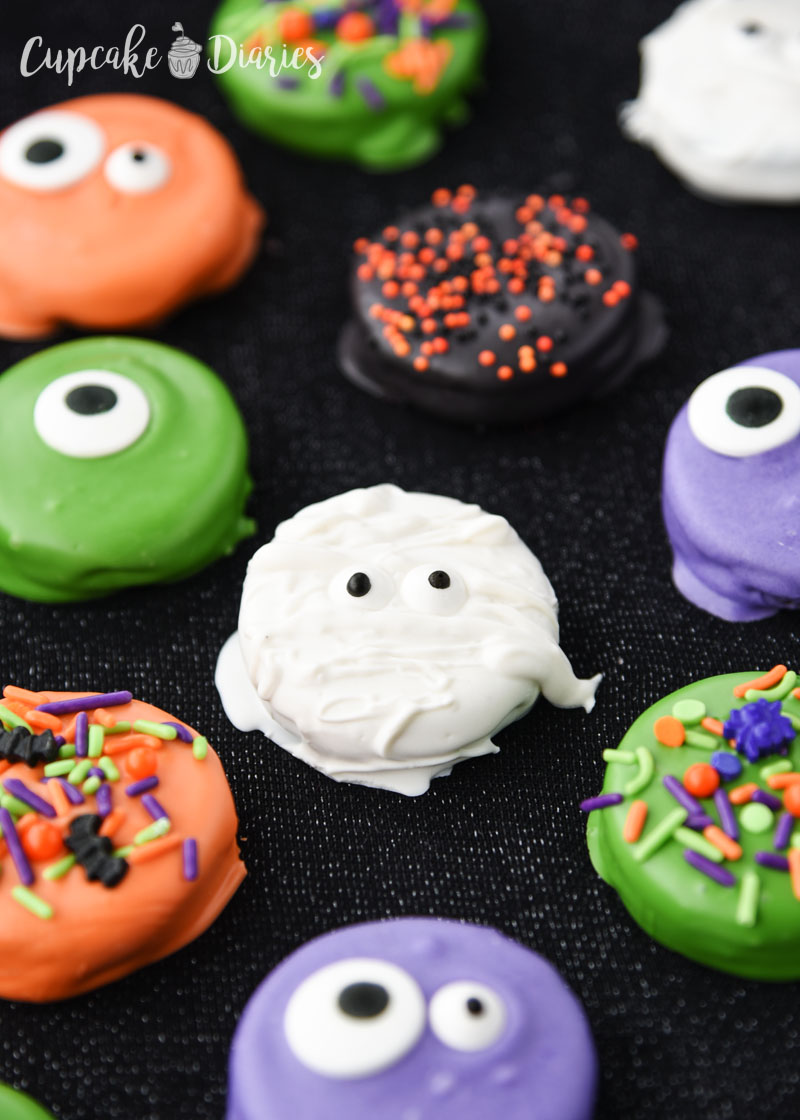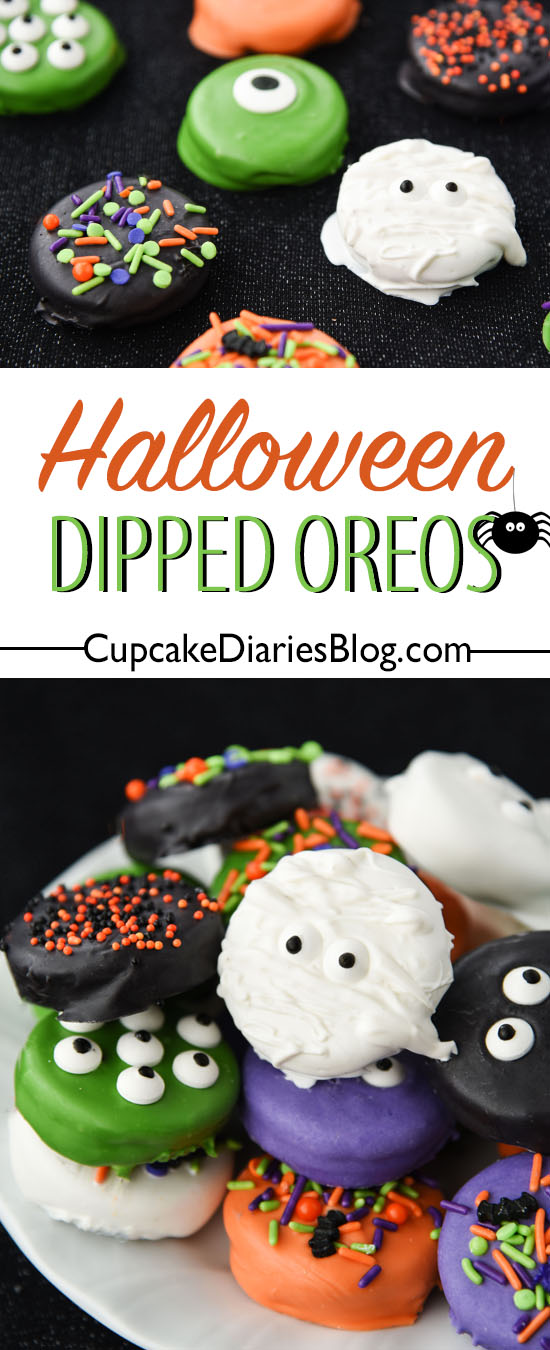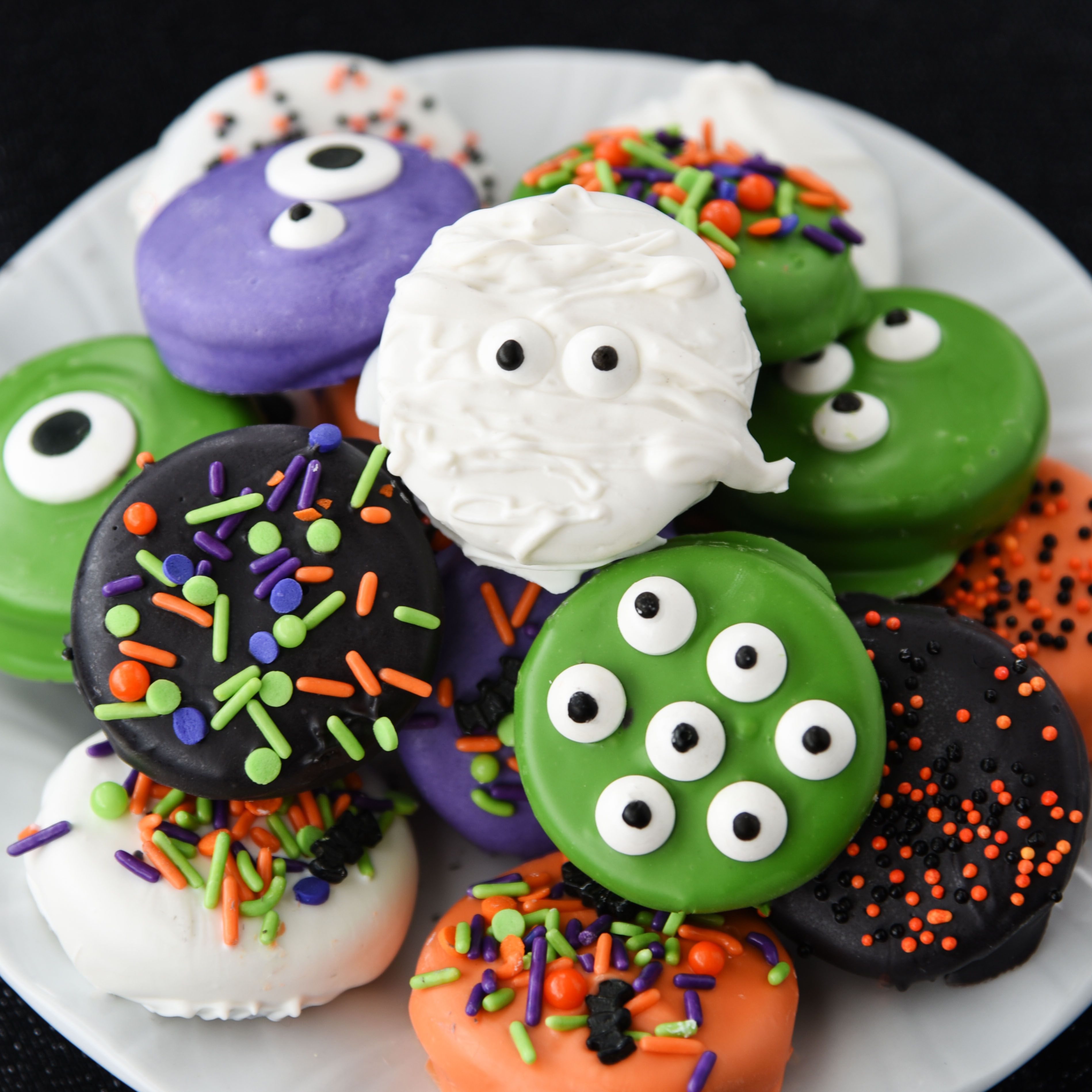 I hope you love these funny little cookies! I'm all all about those candy eyeballs for my Halloween recipes. If you like them too, you'll love my Colorful Halloween Popcorn and Monster Bundt Cake!
This post contains affiliate links. I include these links to help you find the products that I used in the recipe. If you purchase an item from the link, I will receive a small commission helping keep my recipes free for you. Thank you for your support!