This shop has been compensated by Collective Bias, Inc. and its advertiser. All opinions are mine alone. #BakeBetterCookies #CollectiveBias #ChocolateChipCookies
Chewy Chocolate Chocolate Chip Cookies are so wonderfully tasty and decadent. They're so perfectly chewy it's almost like having a piece of fudge!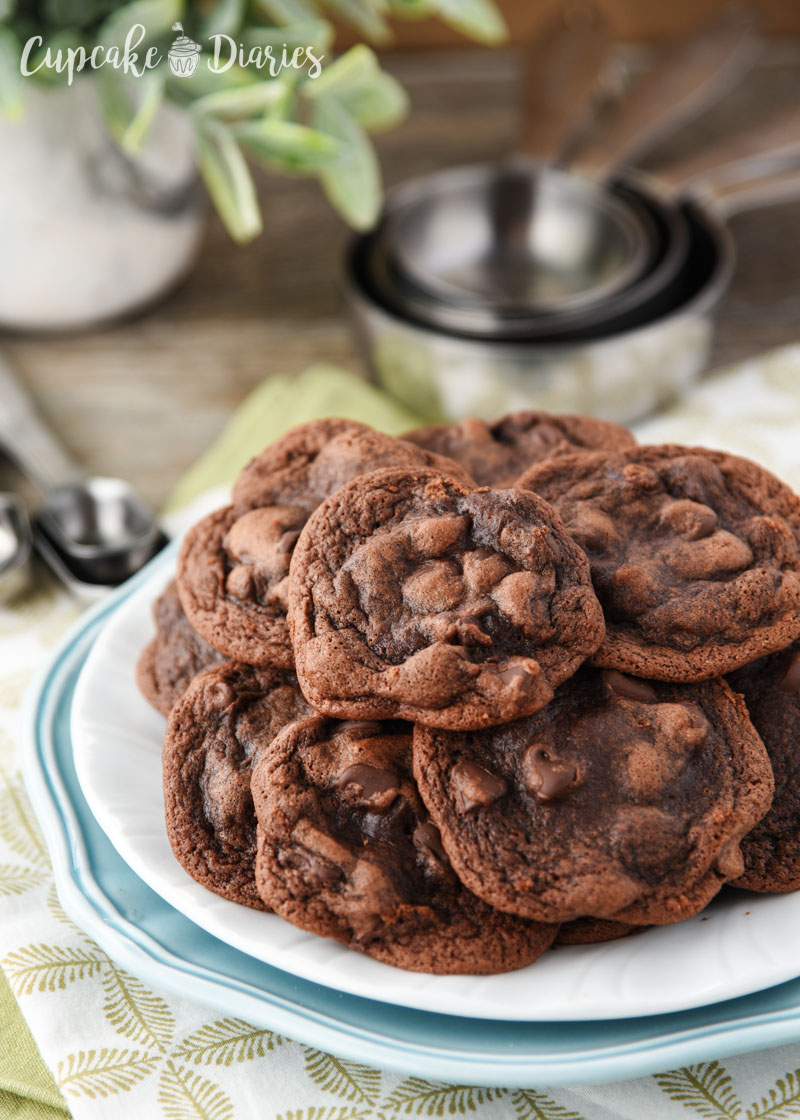 Recently, I made a batch of cookies that would change my cookie world. I've made plenty of chocolate chip cookies in my day, but this particular recipe really changed things for me. Scroll a little further and you'll see exactly why!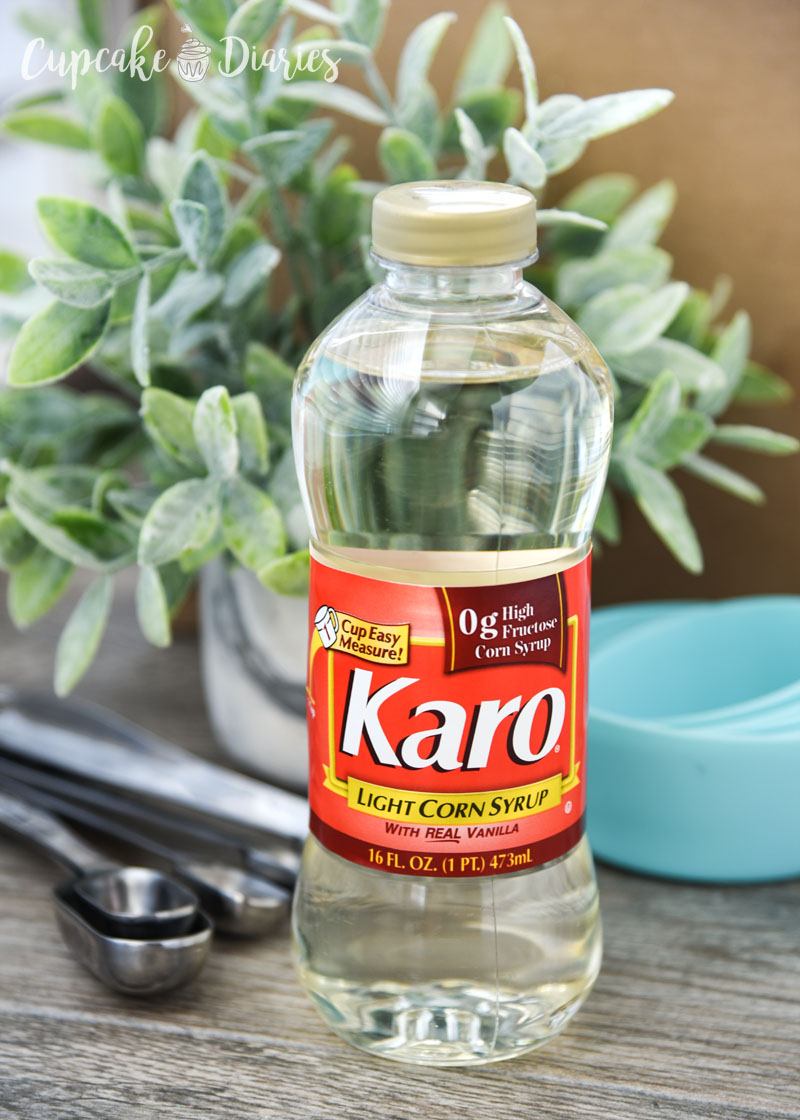 The secret to these perfectly chewy cookies? Karo® Corn Syrup! I always have it in my pantry for baking, and this recipe in particular really shines with this special ingredient. I'll be honest when I say that this was my first time adding Karo® Corn Syrup to a chocolate chip cookie recipe. I do not know what I was thinking by not doing so before now. The Karo® Corn Syrup is a game changer! I couldn't believe the chewy, fudgy texture it gave these cookies.
What is corn syrup?
Corn syrup is traditionally used for baking during the holiday season, with Thanksgiving pecan pie being the main way its used. Karo® Corn Syrup is a staple of Southern cuisine, where it is used often in baked goods and a sweet topping for pancakes. It is the perfect ingredient that makes cookies chewier on the outside and still soft in the middle. It really is quite delightful how chewy it makes cookies. You're guaranteed an "Mmm!" when someone bites into your cookies when you put Karo® Corn Syrup into the recipe!
Why use Karo® Corn Syrup in cookies?
Using Karo® Corn Syrup makes cookies so wonderfully chewy and tasty. It somehow manages to make cookies super chewy on the outside yet still soft in the middle. You can even add Karo® Corn Syrup to your existing cookie recipes and it will only enhance them!
Why is Karo® Corn Syrup the leading corn syrup brand?
I've been using Karo® Corn Syrup since I was a kid baking with my mom and grandma, so it's basically part of our family. We've used it for holidays and everyday baking for as long as I can remember. When our family gets together, we make new traditions that bring us so much joy. It's the same when Karo® Corn Syrup combines with ingredients to make a delicious recipe. I can't help but feel nostalgic when I think about enjoying these recipes with family! Recipes are simply better when made with Karo® Corn Syrup. It's the leading corn syrup brand with over 100 years of quality and trust over multiple generations.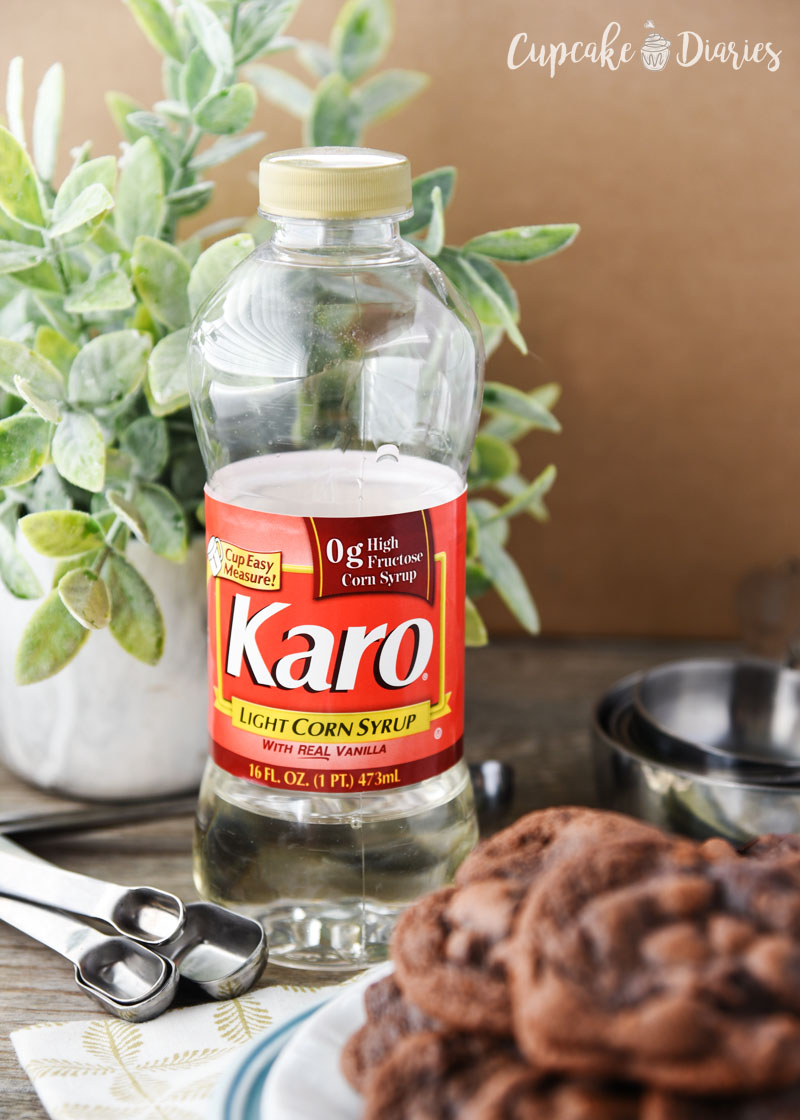 Blown away would be a perfect term to describe how I felt about these cookies! Karo® Corn Syrup really does take chocolate chip cookies to the next level, and this recipe was no different. I was able to plate up three dozen cookies for neighbors and each household showered me with compliments. One person even asked me how I got the cookies to be so fudgy and chewy. Who knew Karo® Corn Syrup could be such a game changer for my chocolate chip cookies?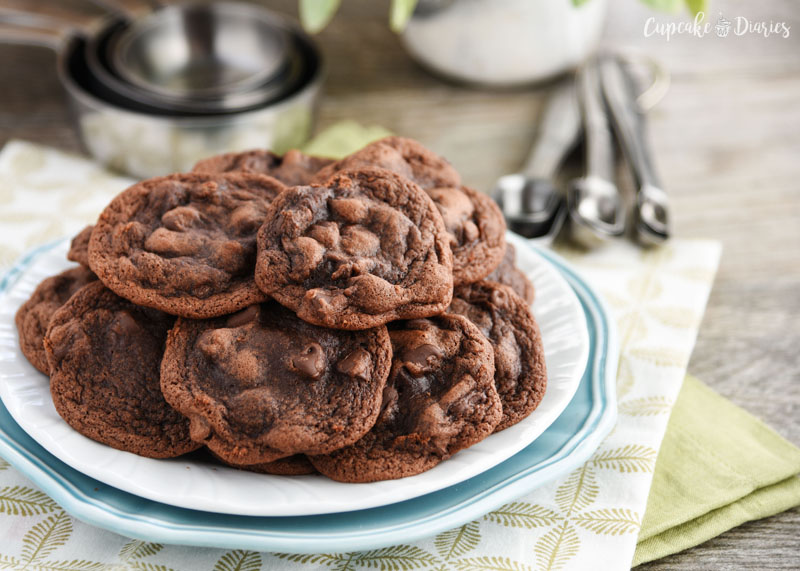 I added less than a cup of Karo® Corn Syrup to this recipe and was able to achieve a level of chewiness that I've never seen in my cookies. I couldn't stop eating them!

You can add Karo® Corn Syrup to your chocolate chip cookie recipes in place of sugar or in addition to some sugar. It's so easy!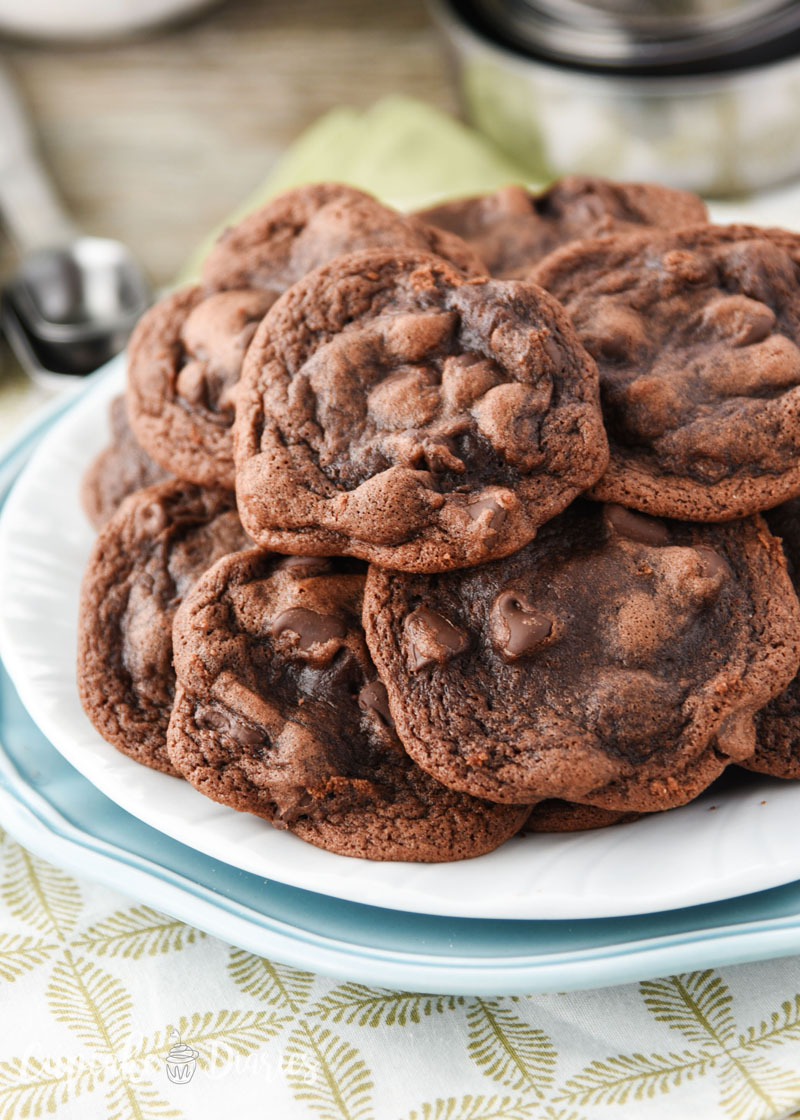 I mean, just look at those beauties. You can see the the soft and chewy combo all over these guys. They're just little beauties!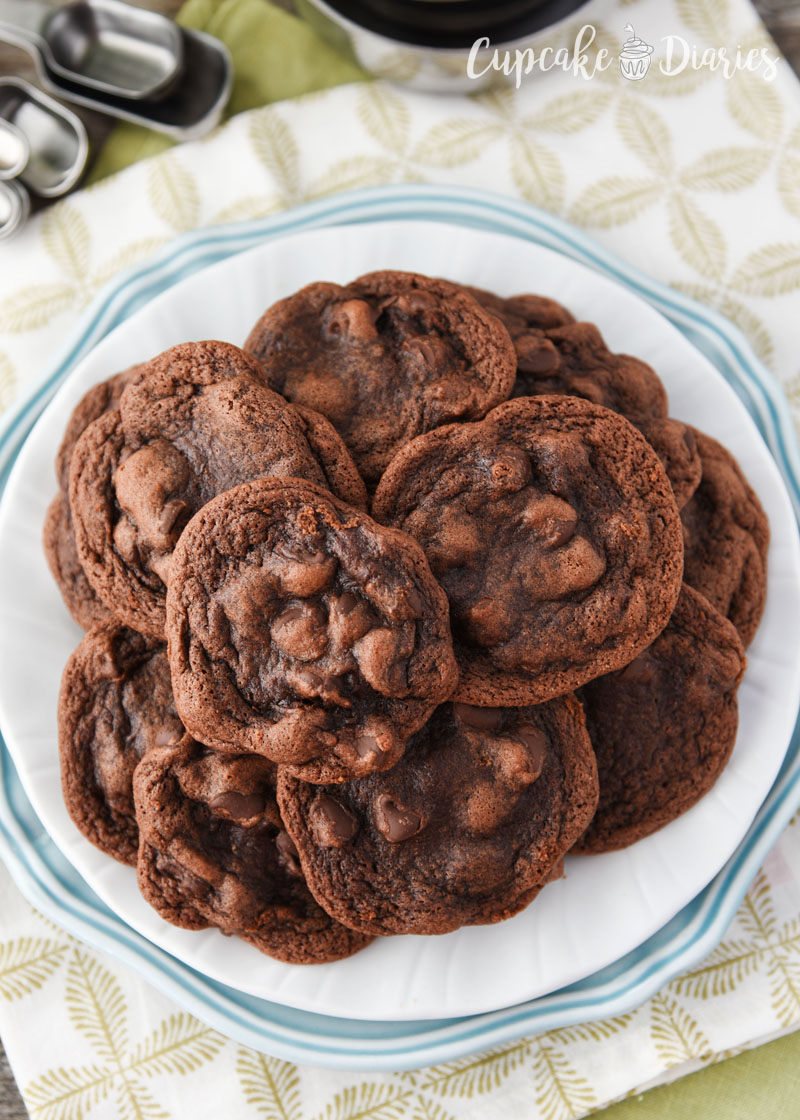 Let's take an aerial view of these cookies. I'm so happy with how this recipe turned out! The results are my favorite of any chocolate chip cookie I've ever made and I know it's because of the addition of Karo® Corn Syrup.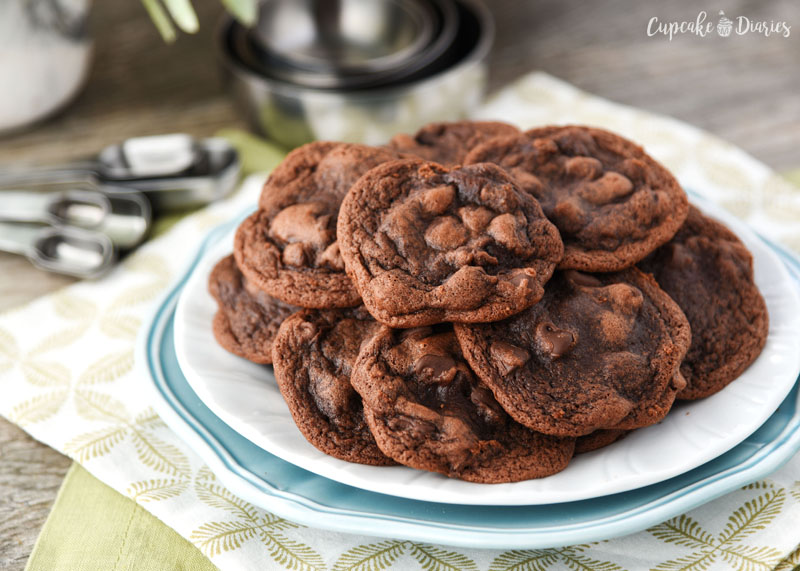 Chewy Chocolate Chocolate Chip Cookies
makes 4 dozen cookies
Ingredients
1 c butter, softened
1/2 c sugar
1 c brown sugar
3/4 c Karo® Corn Syrup
2 large eggs
1 tsp. vanilla
1 tsp. salt
1 tsp. baking soda
1/4 c cocoa powder
1 (3.9oz) box chocolate instant pudding
2 3/4 c flour
2 c semi-sweet chocolate chips
Directions
Preheat the oven to 375° F. In a stand mixer fixed with a paddle attachment, combine butter and both sugars; add Karo® Corn Syrup, eggs, and vanilla and mix until smooth.
Whisk salt, baking soda, cocoa powder, and pudding powder together in a separate bowl. Add to the wet mixture then slowly add flour.
Add chocolate chips with a wooden spoon and mix in well. Cover dough and place in the fridge for 15-20 minutes to chill.
Bake on a greased baking sheet for 7-9 minutes, or until edges become crispy. Move to a cooling rack to cool.
There are so many sweet possibilities when baking with Karo® Corn Syrup! It is so yummy in desserts all year round and not just Thanksgiving pecan pie. Try using Karo® Corn Syrup the next time you make your favorite cookie recipe! You're going to get chewier, great-tasting cookies when you do. Then come back here and tell me all about it! Head over to the Karo® Corn Syrup recipe page for even more delicious bar and cookie recipes!