It's Day 21 of "30 Days of Halloween" 2016 and I'm sharing a super fun and easy Halloween cake! All you need is a cake mix and few other ingredients to make this frightfully fun Monster Bundt Cake. Everything is better with candy eyeballs!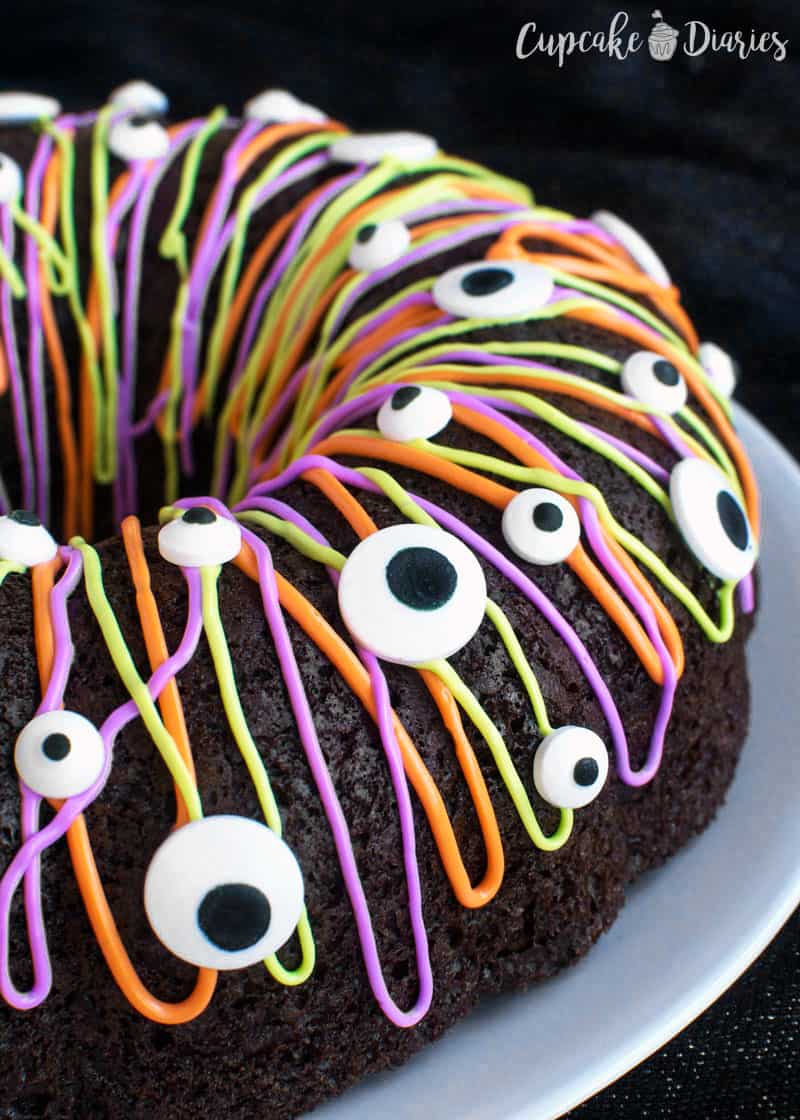 Halloween desserts are hands down my favorite. I love the colors and the personality you can put into them! As I'm sure you can tell, I had a blast with this Monster Bundt Cake. I think the most exciting part was listening to the cake fall out of the bundt pan and onto the plate. Then everything after that was just a party! There's nothing worse than a cake sticking to the pan.
You're going to absolutely love how easy this cake is to make. All you need is a cake mix, a few things to add to the cake mix, one can of frosting, and then food coloring and candy eyeballs. It's pretty darn fantastic. My kids had so much fun watching me decorate it! (We'll make another one that I don't have to photograph that they can decorate.) 🙂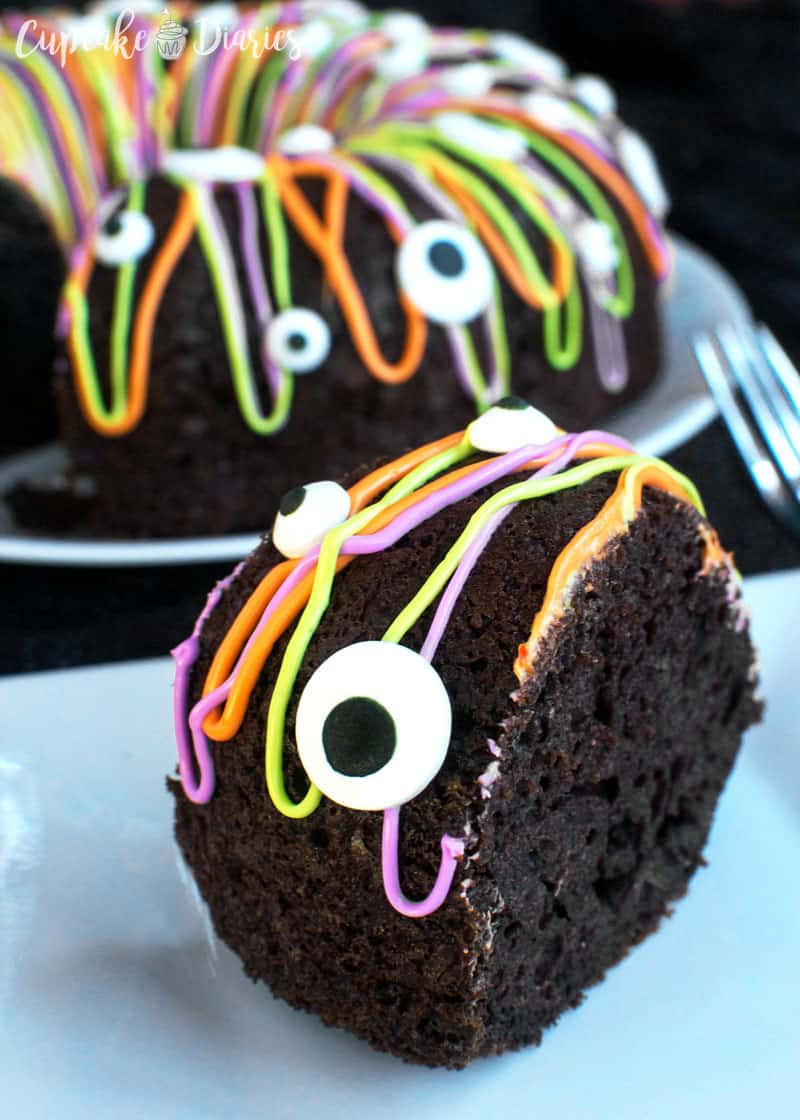 Ingredients
1 chocolate cake mix
1 c. buttermilk
1/2 c. vegetable oil
3 eggs
1 (16oz) can vanilla frosting
neon food coloring (orange, green, purple)
1 package large candy eyeballs
1 package small candy eyeballs
Instructions
Preheat the oven to 350°. Place cake mix in the bowl of a stand mixer. Add buttermilk, vegetable oil, and eggs and mix for two minutes on medium speed. Pour batter into a well greased bundt pan and bake 35-40 minutes, or until toothpick inserted comes out clean. Allow to cool then invert onto a serving plate.
Divide the frosting evenly into three small mixing bowls. Color each bowl of frosting a different neon color. Heat frosting one at a time in the microwave for 10 seconds and stir to make smooth. And frosting to a plastic sandwich bag and cut one of the corners to make a small hole. Drizzle frosting all over cake; repeat with remaining colors. Add candy eyeballs after the frosting is on. Serve and enjoy!
https://www.cupcakediariesblog.com/2016/09/monster-bundt-cake.html
Kitchen tools and gadgets needed for this recipe: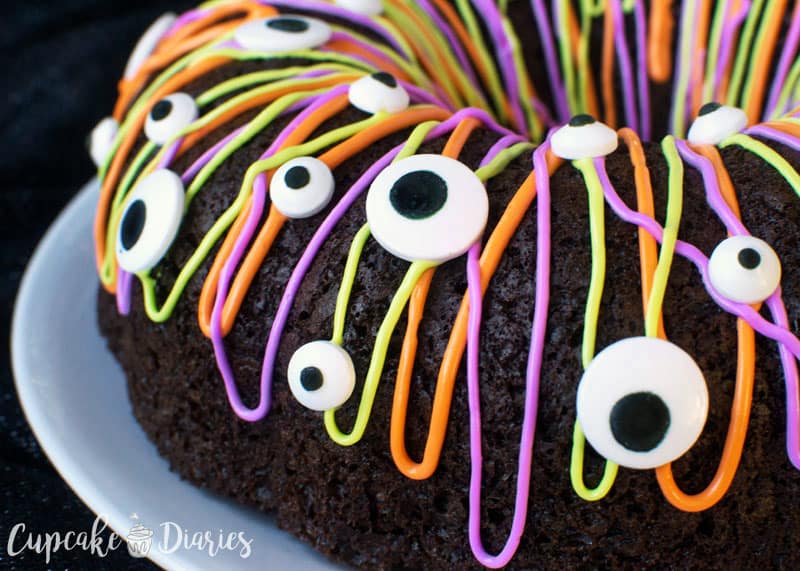 I hope you enjoy this recipe! It's so fun and easy for dessert on Halloween.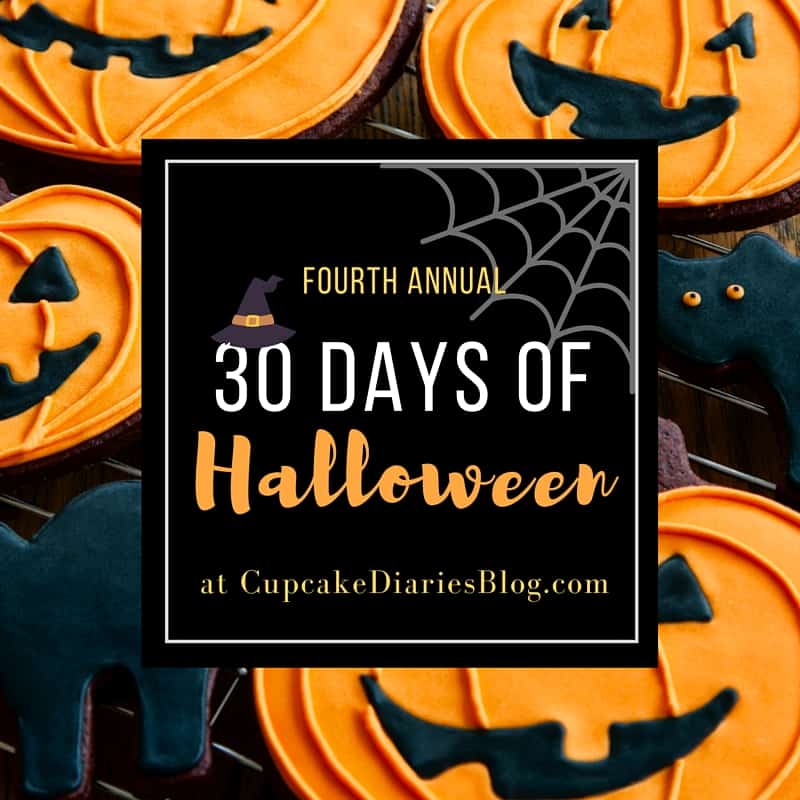 This recipe is part of "30 Days of Halloween" 2016 here at Cupcake Diaries.
Take a look below at the other spooktacular recipes and printables featured in this year's series!