Colorful Halloween Popcorn is a perfect party treat! Crunchy, sweet, and loaded with yummy flavors and textures. It's so easy and fun!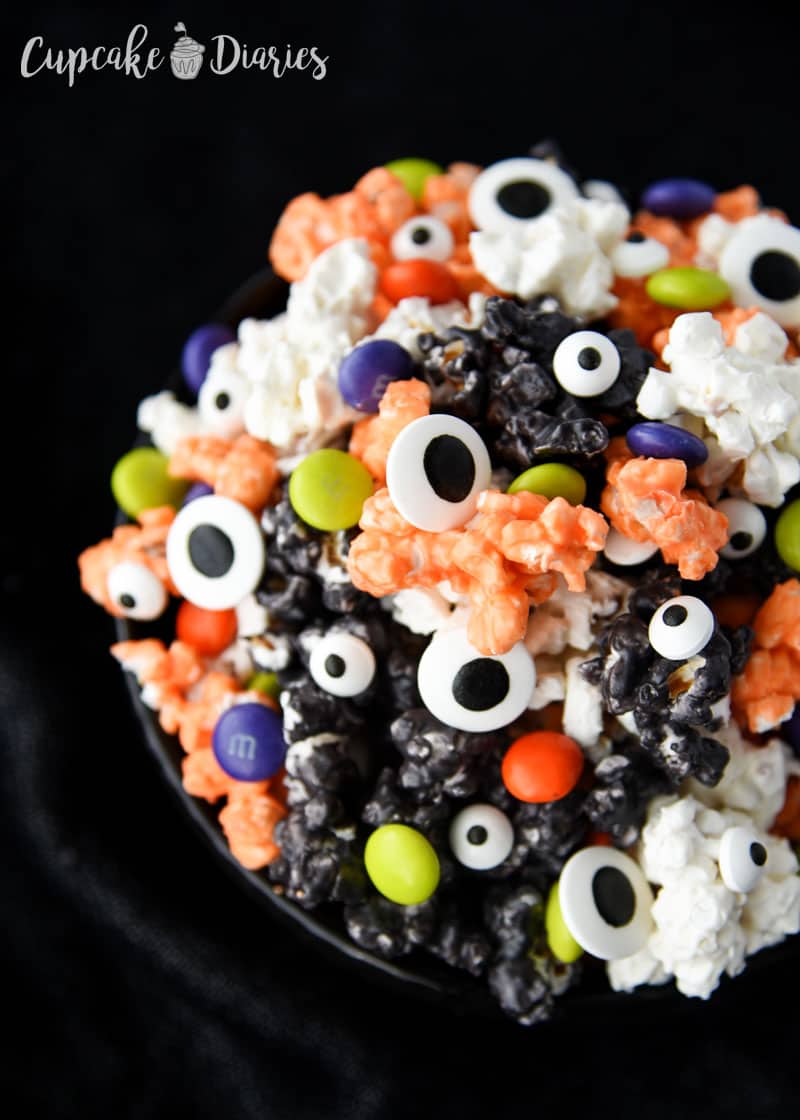 I can't stay away from the treats starting the second the Halloween candy comes out until New Year's Day when I'm all of a sudden eating well again. Ha! Probably because of my minor addiction to chocolate and candy. It's no different with this Colorful Halloween Popcorn recipe. I love being able to bring a treat to a party that everyone can try. This recipe is great for parties, as well as handing out in smaller portions to the neighbors.
How Do I Make the Different Colors?
You're going to love how easy it is to make this popcorn! Seems like it's a little tricky, but check it out. First of all, no need to feel intimidated by the different colors. All you need is orange, black, and bright white candy melts. I love using candy melts because you don't have to try adding food coloring to white chocolate. Since white chocolate isn't pure white, adding food color to it tends to affect the color. But not with candy melts! I always get great color.
Above all, you can make this recipe your own by adding any sprinkles and candies you'd like. It's such a fun recipe!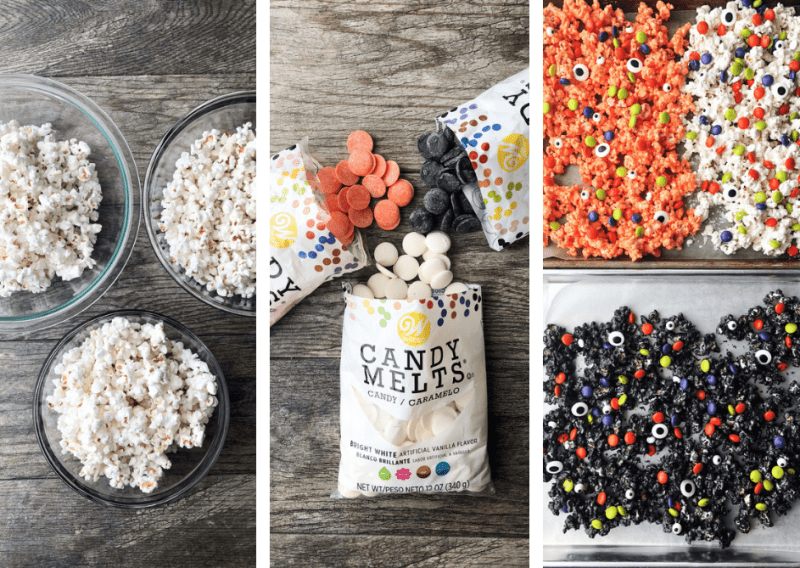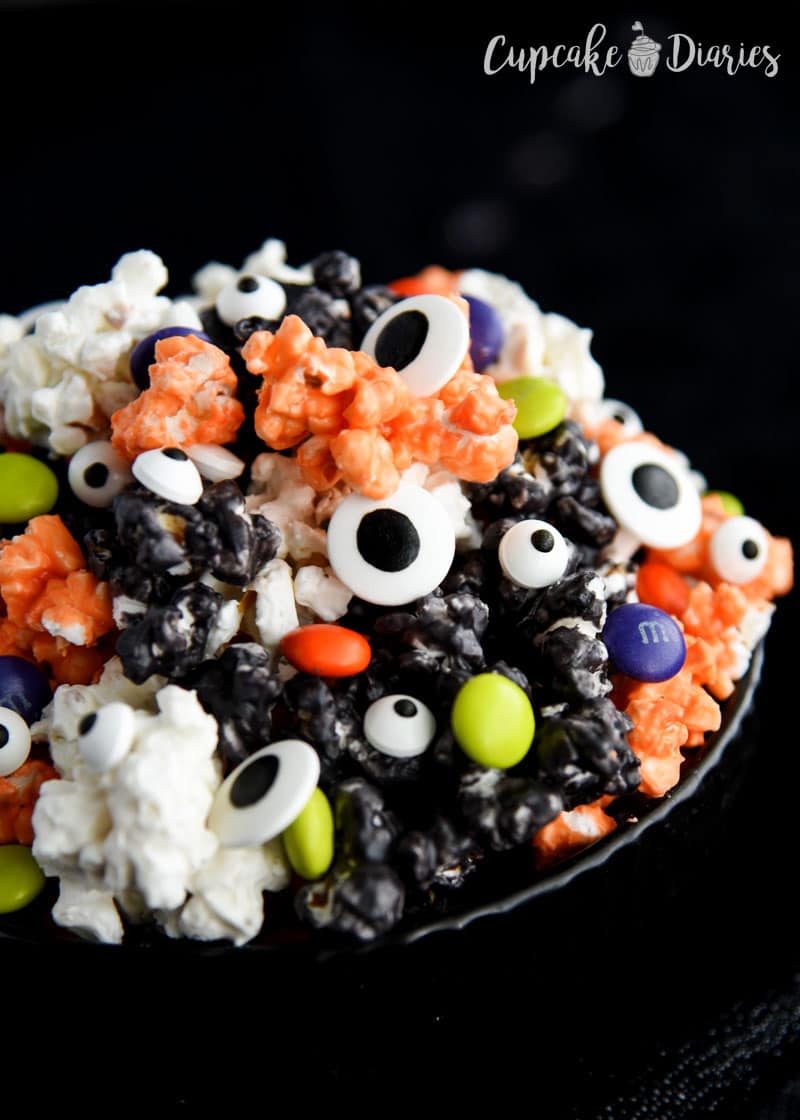 Where in the World Do I Find Candy Eyeballs?
One of the most common questions I get is where to find candy eyeballs. I've used them on all kinds of recipes, like Cookie Monster Cupcakes and Minions Popcorn. They're so fun to use for Halloween recipes! I like to get them on Amazon and at Walmart. (Links to small eyeballs: Amazon, Walmart)
Other Recipes Using Candy Eyeballs
I feel like I put candy eyeballs on everything this time of year! haha They're such a fun way to add a spooky factor to your Halloween treats. One of my most popular Halloween treats is Monster Bundt Cake. It's nice and easy to make and really fun with all those candy eyeballs. Ghost Krispy Treats are so flavorful and use a special cookie cutter to get that ghost shape.
Spooky Cookies were in part of my Halloween series in 2016 and they were the most popular recipe in the series, hands down! There's something pretty great about the two sizes of candy eyeballs against the black cookie. Another really fun candy eyeball treat is Monster Cupcakes! You can use any frosting tip, any color, and just go for it with the eyes. The kids absolutely love Colorful Halloween Pancakes for Halloween breakfast. We added the candy eyeballs to the top with sprinkles and whipped cream!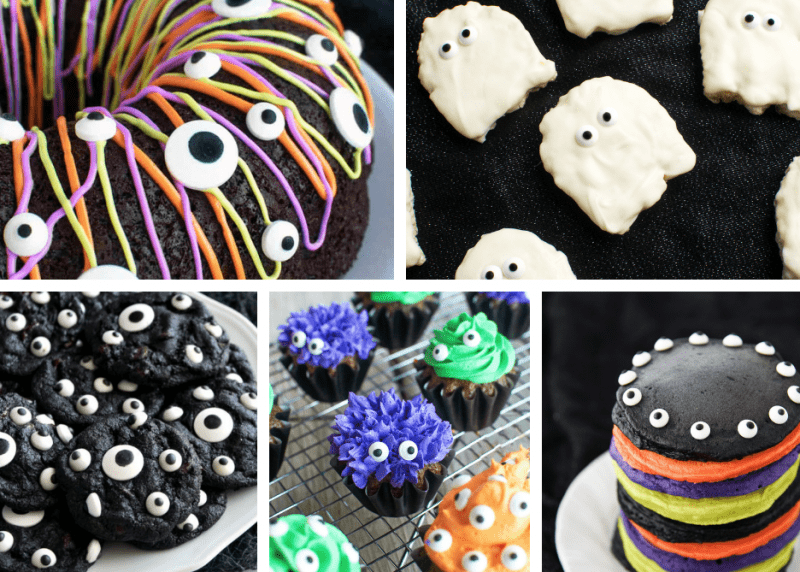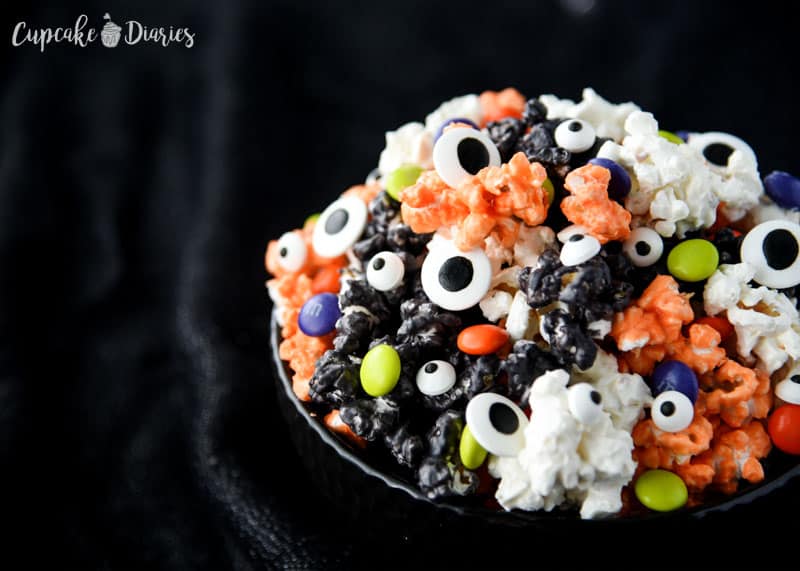 Colorful Halloween Popcorn
Colorful Halloween Popcorn is a perfect party treat! Crunchy, sweet, and loaded with yummy flavors and textures!

Ingredients
2

bags (3.28oz each)

butterless microwave popcorn,

popped

1

bag (10-12oz)

Wilton black candy melts

1

bag (10-12oz)

Wilton orange candy melts

1

bag (10-12oz)

Wilton bright white candy melts

1

package (0.88oz)

small candy eyeballs

1

package (1oz)

large candy eyeballs

1

c

M&M's Ghoul's Mix,

plain

1

container

Halloween sprinkles
Instructions
Divide popped popcorn evenly amongst three bowls; set aside. Cover a large cookie sheet with wax paper; set aside.

Pour half of each bag of candy melts into three separate cereal bowls. Place one of the bowls in the microwave and melt according to package directions. Pour over one of the bowls of popcorn and carefully stir to coat.

Spread covered popcorn onto prepared cookie sheet, leaving room for the remaining two colors. Add sprinkles, 1/3 c. M&Ms, and 1/3 of each of the candy eyeballs. Repeat with remaining colors and popcorn.

Allow popcorn to cool completely so the candy melt colors don't mix together. Once cooled, place chunks of popcorn into a serving bowl one color at a time to mix them all together. You can make these chunks as large or small as you like. Serve and enjoy! Store in a covered container at room temperature
Kitchen Tools and Gadgets Used in This Recipe
Food Items Used in This Recipe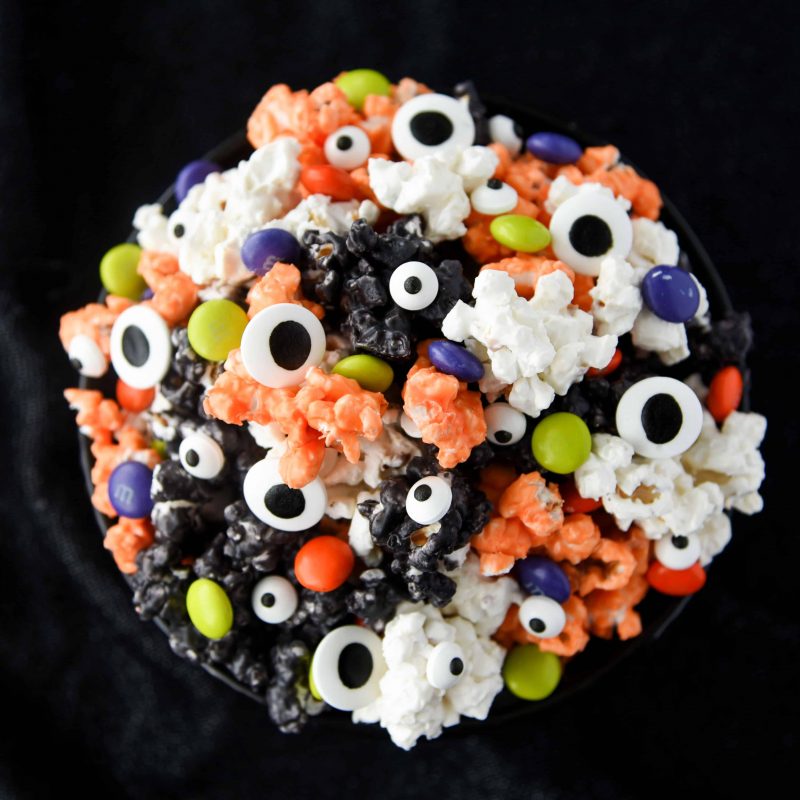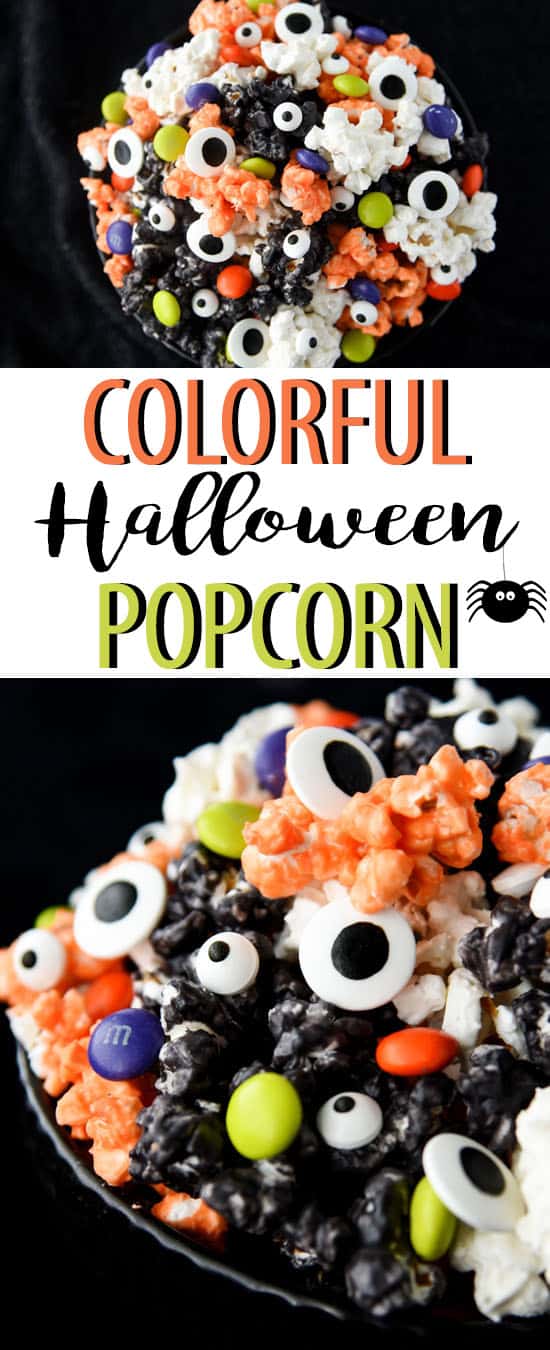 This post contains affiliate links. I include these links to help you find the products that I used in the recipe. If you purchase an item from the link, I will receive a small commission helping keep my recipes free for you. Thank you for your support!