This post is sponsored by Prego®. All opinions are my own.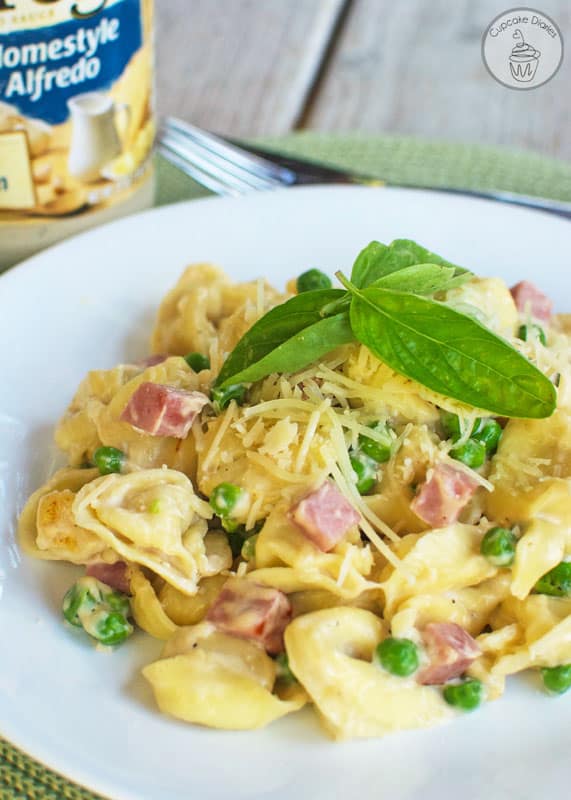 I have a feeling I'm not alone when I say, that the beginning of a new school year is busy at our house! There seems to be something going on almost every night. For that reason, I don't have time to make dinners that take a long time to prepare.
I used Prego® Homestyle Alfredo sauce to make this super easy and yummy Tortellini Alfredo dish that took 15 minutes. I knew it was going to be a home run with my kids. They loved everything in this meal! They don't usually eat peas, but they loved them mixed with the sauce and other ingredients.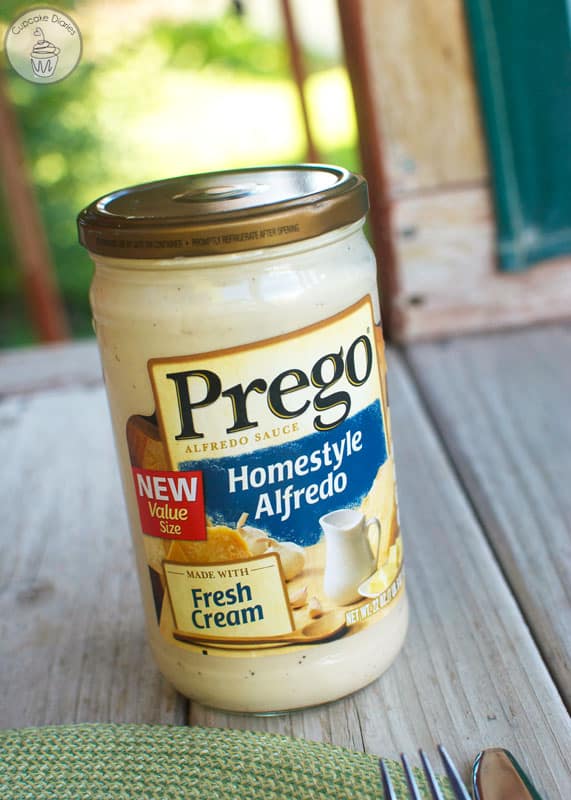 Take a good hard look at this jar because you aren't going to want to leave the grocery store without it next time. This jar will change your life. Ok, maybe not change your life. But it will make a weeknight meal tons easier! You get all the fabulous flavors of Alfredo sauce in one jar. You don't have to do anything but open it up and pour it in what you're making.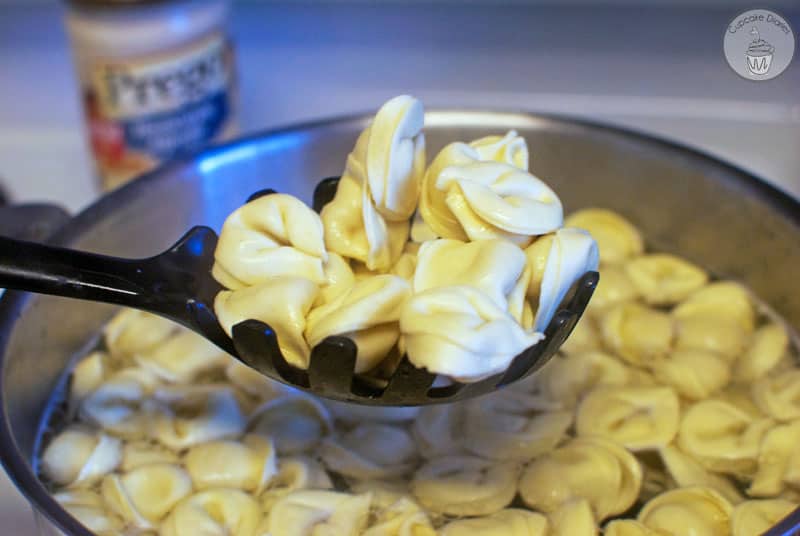 Begin by cooking the tortellinis. They only take about 7-9 minutes to cook. It's a beautiful thing.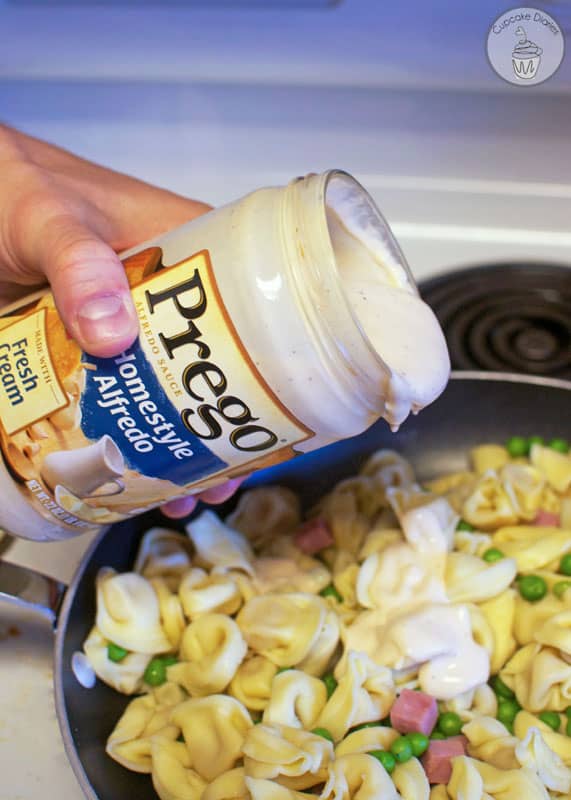 Place a large saute pan right on the hot burner you just used for the tortellinis. You can then put the ham, peas, and cooked tortellinis right into the same pan. Then pour Prego Homestyle Alfredo sauce right over everything in the saute pan. Mix together and heat everything through. And that's it!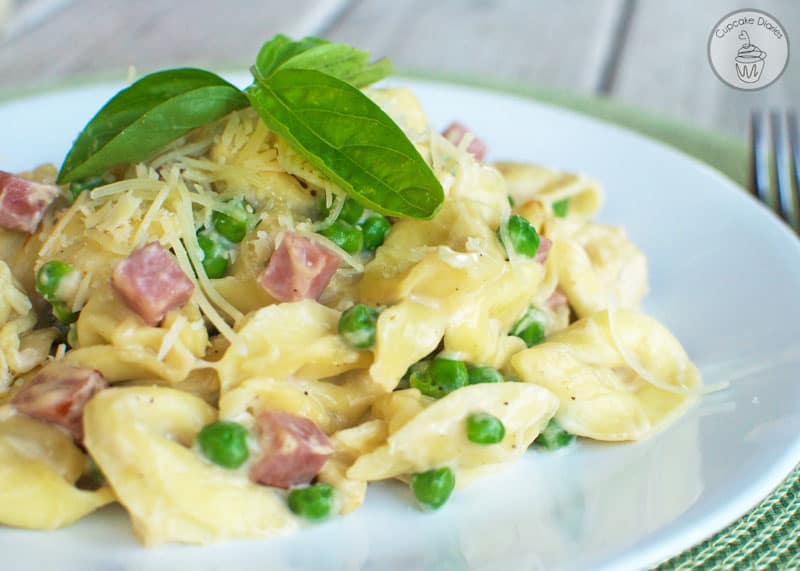 Tortellini Alfredo with Ham and Peas
Ingredients
1

20oz package cheese tortellini

1 1/2

– 2 c. Prego Homestyle Alfredo sauce

1

c.

frozen peas

heated

3/4

c.

diced ham

1

c.

parmesan cheese

grated
Instructions
Cook the tortellini according to the package directions; drain and set aside. Do not rinse.

Place a large saute pan on the burner used to cook the tortellini. Place the heat on medium and add ham. Move around with a wooden spoon to heat through; add peas.

Carefully place tortellini in the saute pan. Pour sauce over the tortellini and carefully mix everything together to heat through.

Top with parmesan cheese and serve.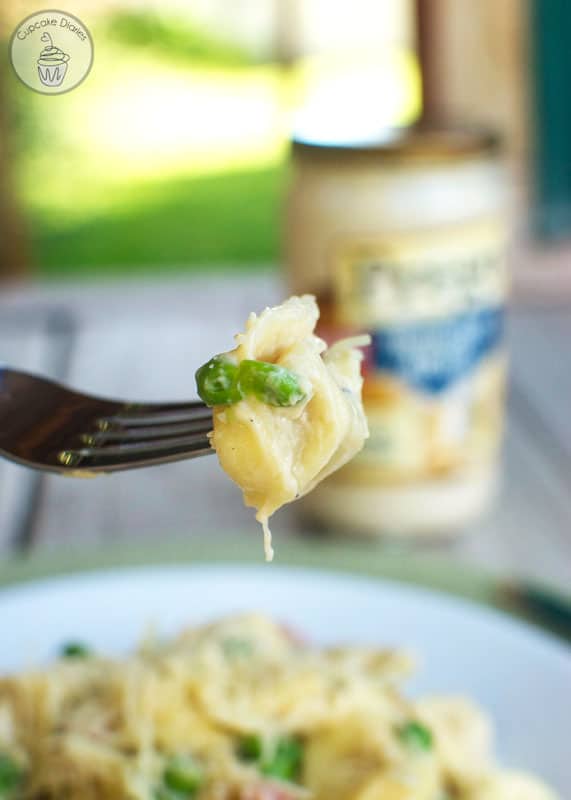 You're going to love how quickly this meal comes together! This is a perfect family meal for any night of the week.
Join Prego on Facebook for more easy family recipe ideas!
Thank you Prego for sponsoring this post. All opinions are my own.