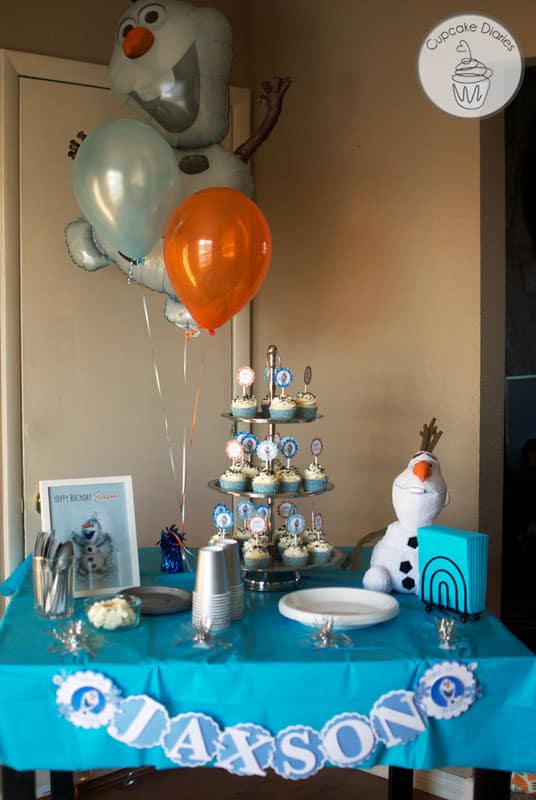 My sweet nephew, Jaxson, turned one in January and his mom wanted to throw him an Olaf birthday party. I was thrilled when she asked me to help her with it! She didn't want anything over the top, but she also wanted to make it special with a few different elements. It ended up being a darling party.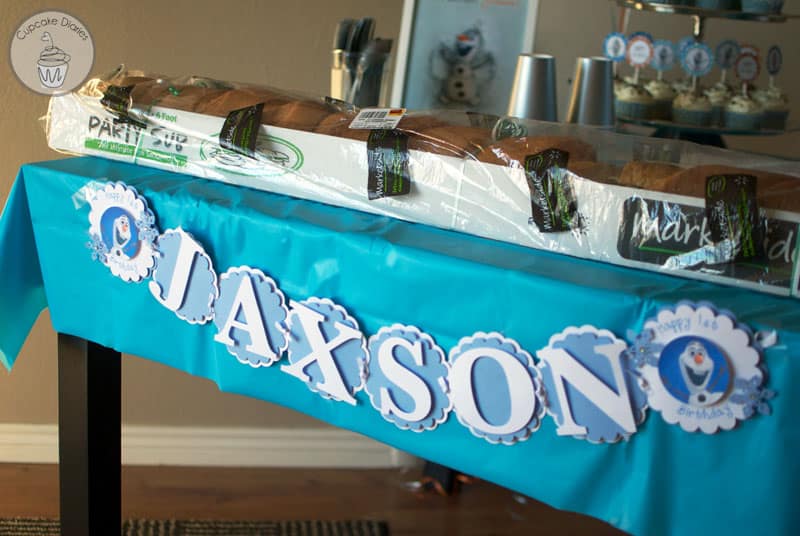 Because of the reference to sandwiches in the Frozen movie, she thought it would be fun and easy to serve sandwiches. She ordered a four foot party sub from Walmart and cut it into individual sandwiches right before guests came.
Now let's talk about the cuteness that is this banner. Isn't it adorable?! I was dying when I saw it on Etsy. Cindy from Tree Little Birdz made this banner for the party and everyone loved it! It was made so well and looked great on the table. It was perfect! Check out her shop on Etsy for more name banners, cake toppers, and more! You can also find her on Facebook.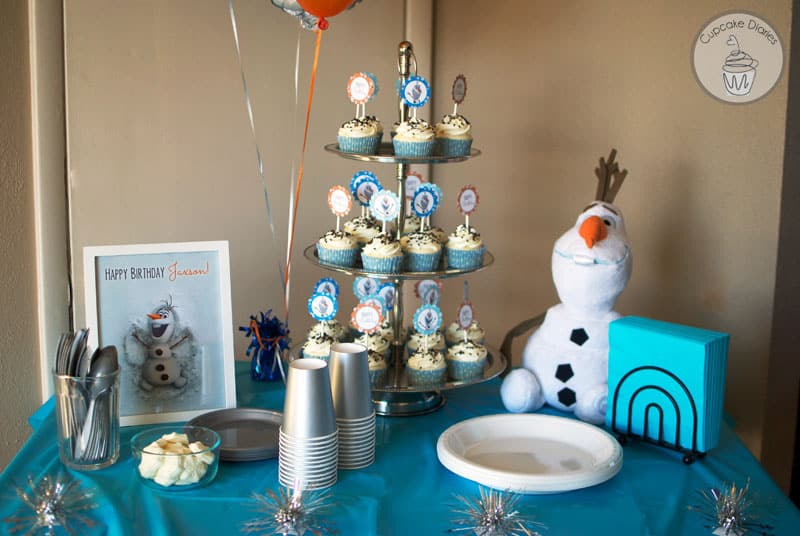 It's true what they say that sometimes less is more. You don't always have to go over the top to make a birthday party cute and fun. This was the main table at the party and featured a few elements that made it pop.
I have a snowflake candy mold that I used to make white chocolate snowflakes (in the glass bowl). Simply melt white chocolate chips and pour it in the mold. Wait for it to cool and harden, pop them out, and put in a bowl as a little treat for the party!
The table cloth, plates, cups, cutlery, and napkins call came from PartyPail.com and tied the table together perfectly. Party Pail is THE place to get your party supplies. You can find every color under the sun, as well as themed goodies. We liked the idea of bringing in colors for this party instead of using character supplies. And the colors we chose looked so good together! The napkins and tablecloth are in fabulous Bermuda Blue, the cups, dessert plates, and cutlery are in Shimmering Silver, and the dinner plates are White. Perfect for this Olaf party! Party Pail is the way to go. Follow them on Facebook for exclusive deals and party ideas!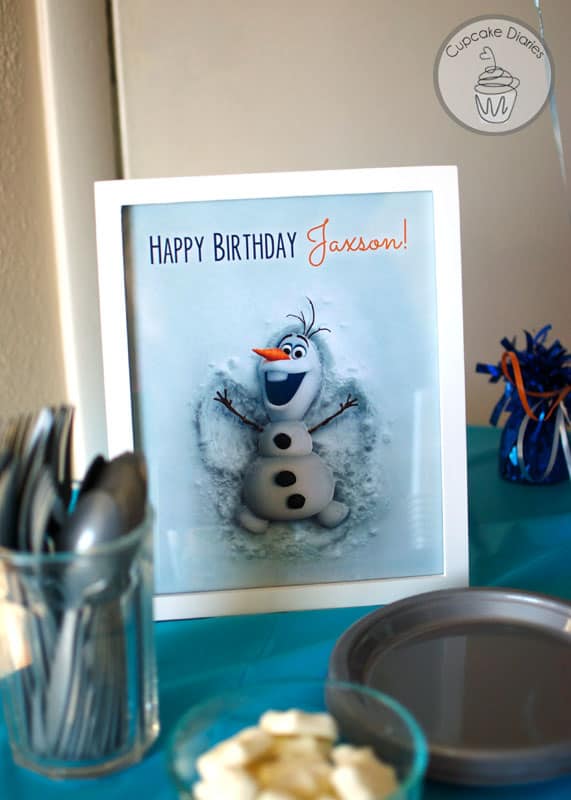 A framed printable is a great way to add a pop of character to a birthday party. This 8×10 Olaf printable I made personally for my nephew. But I've adjusted it so you can use it, too! Scroll down to the Free Printables section of this post to download this Olaf "Happy Birthday" printable for free! Simply send it in to your favorite photo printing service, print it as an 8×10, and put it in a frame.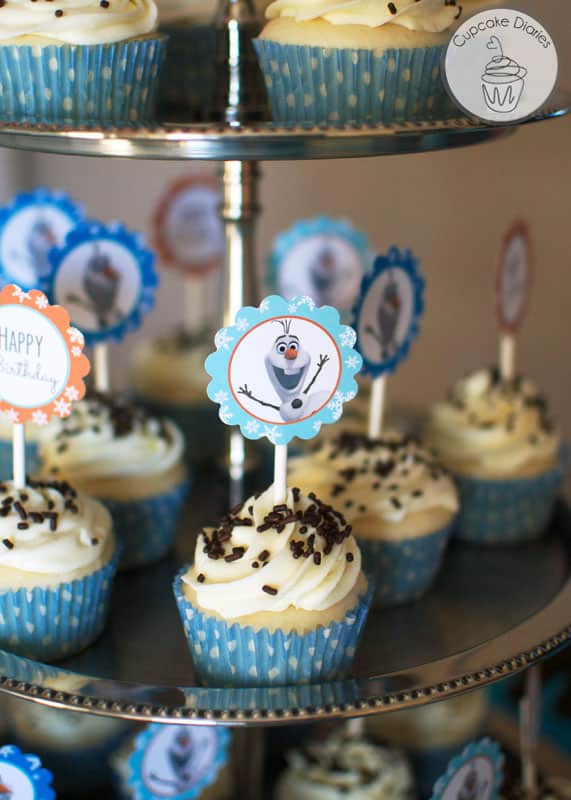 And it wouldn't be one of my parties without a cupcake topper! I love how these Olaf toppers turned out.
I made three different toppers for these cupcakes, each in a different color. The cupcakes are vanilla with vanilla frosting piped with a 1M star tip from Wilton with chocolate sprinkles on top. These particular cupcake toppers came from Amazon. We loved the look of light blue with polka dots for a first birthday party. These chocolate sprinkles can be found in the baking aisle at Walmart.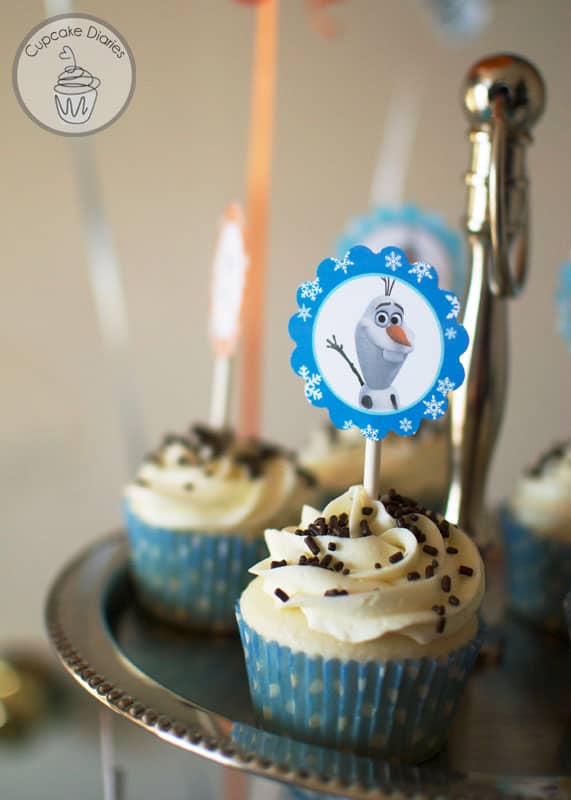 And, of course, you can download these toppers for free!! Just scroll down to the Free Printables section for that download link.
Print the toppers and punch or cut them out. Then tape sucker sticks on the back and insert into each cupcake. And that's it!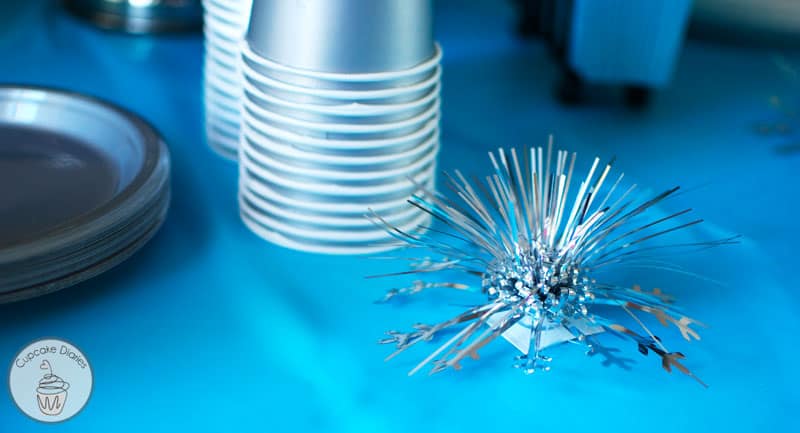 Decorations don't have to be complicated at all. You can find these cute gift bows in the gift wrap section at Walmart for super cheap. Place them all over the table for a pop of shimmery, snowflakey, wintery loveliness! So easy and so great.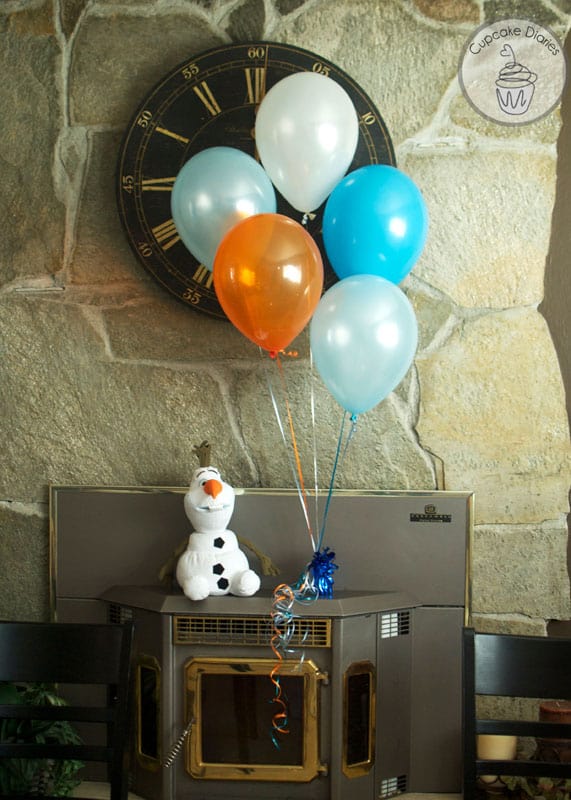 Balloons are also an inexpensive and easy way to add to your party decor. You can choose colors based on your party theme and bunch them in odd numbers around the room. We did this set of five balloons then a set of three in the kitchen with the food table. That group of balloons included one Olaf balloon and two latex balloons.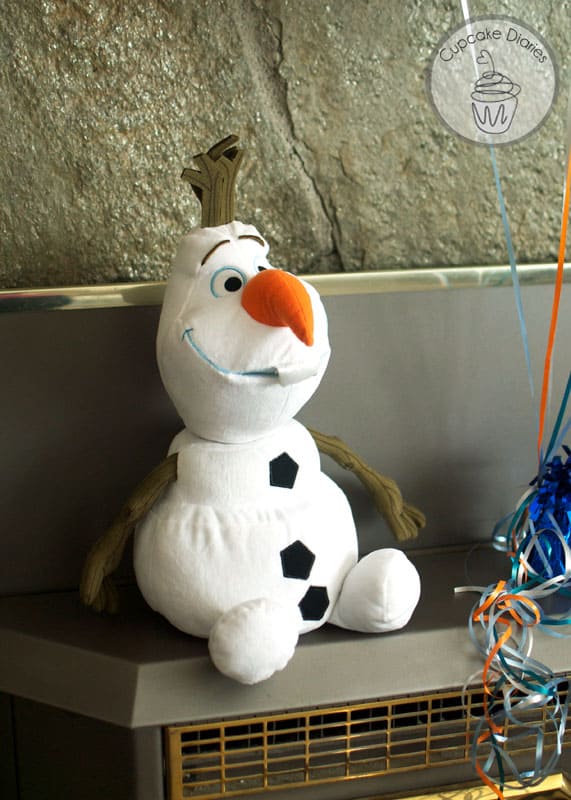 And it wouldn't be an Olaf party without Olaf himself! My son got a stuffed Olaf from Santa this year so I brought him over to put on the food table as a decoration. My sister gave this Olaf to the birthday boy as a gift, but also used him as a party decoration. That's a good way to cover a gift and a decoration at the same time! This particular Olaf was purchased at JCPenney. My son's Olaf on the food table was purchased at the Disney Store.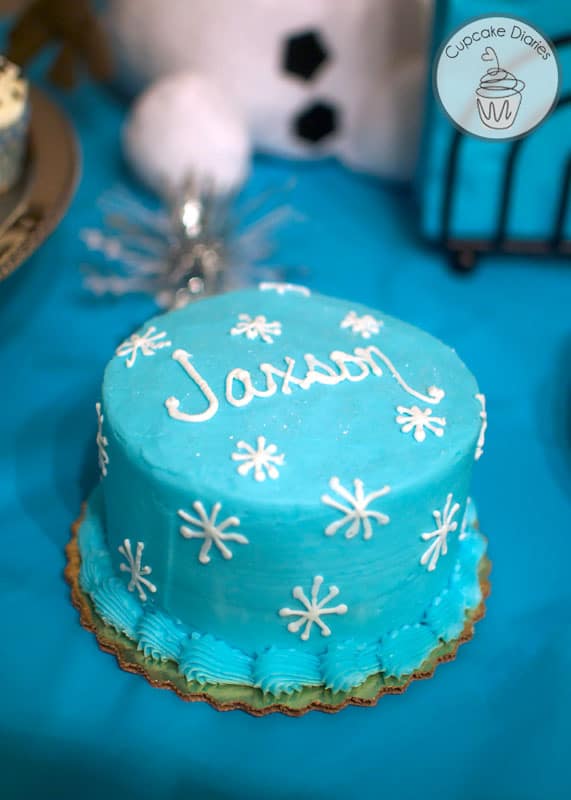 And finally, the smash cake! My sister ordered this adorable and totally perfect cake from Walmart. She told them what she wanted and they delivered. Darling!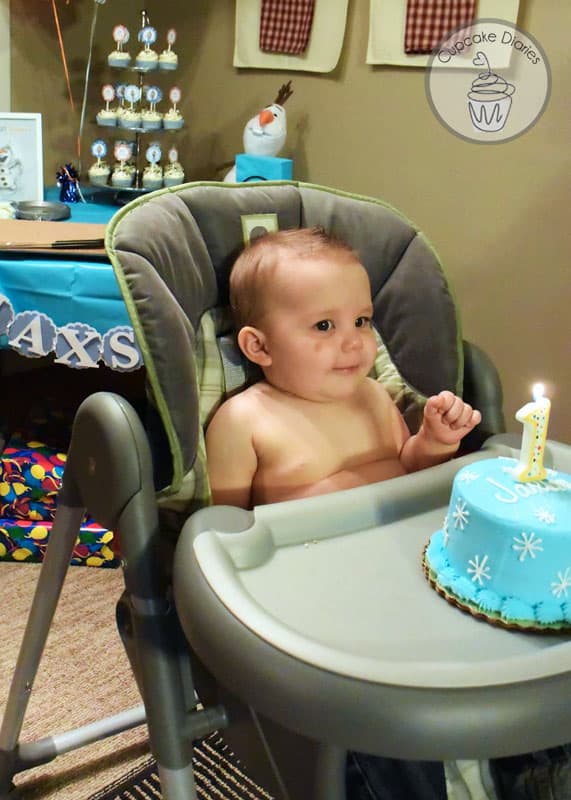 I think it's safe to say that this boy enjoyed his party! No tears = success. And he loved his cake! I appreciate the sponsors who contributed to this party and made it such a success. Thank you thank you thank you!!!

Birthday banner – c/o Tree Little Birdz
tablecloth, napkins, cutlery, cups, plates – c/o PartyPail
stuffed Olaf – Disney Store, JCPenney
silver table accents – Walmart
balloons – Zurchers
smash cake – Walmart
cupcake liners – Amazon
cupcakes – my sister and I
all printables – me
photo of my cute nephew – my sister's father-in-law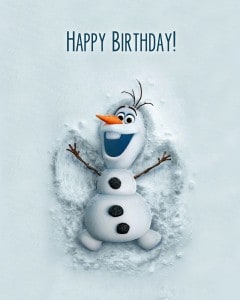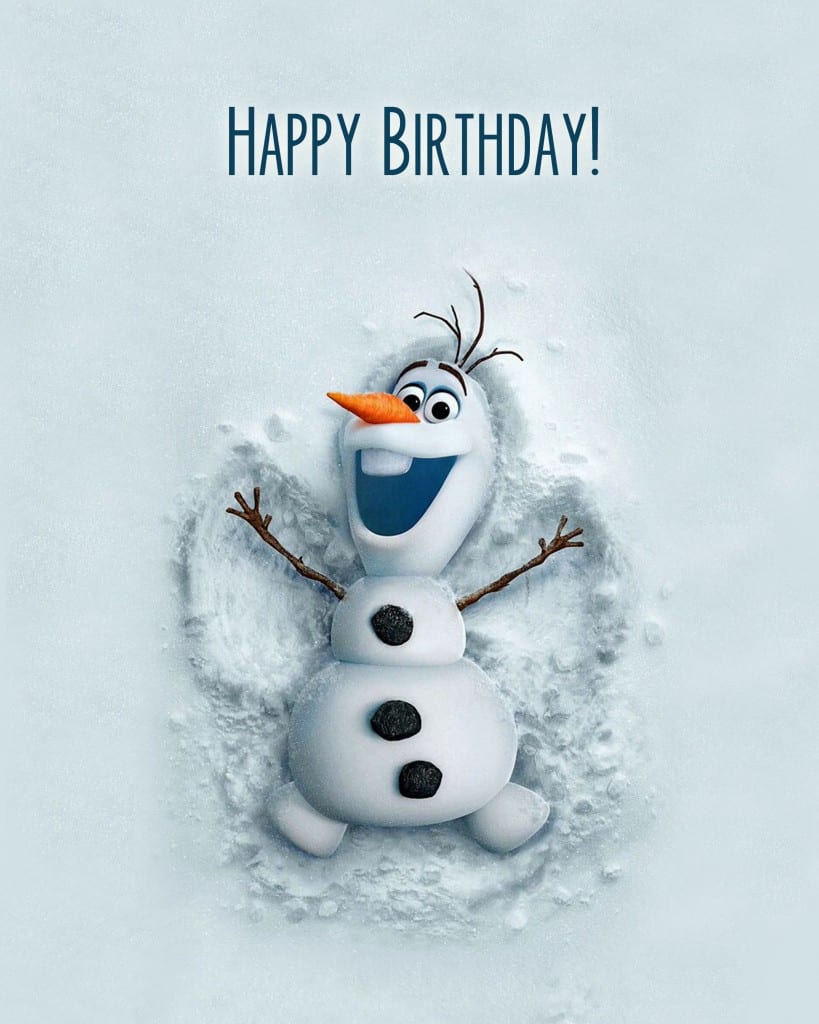 Click HERE to download this Olaf printable (sized as an 8×10)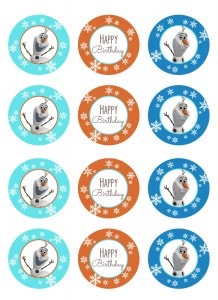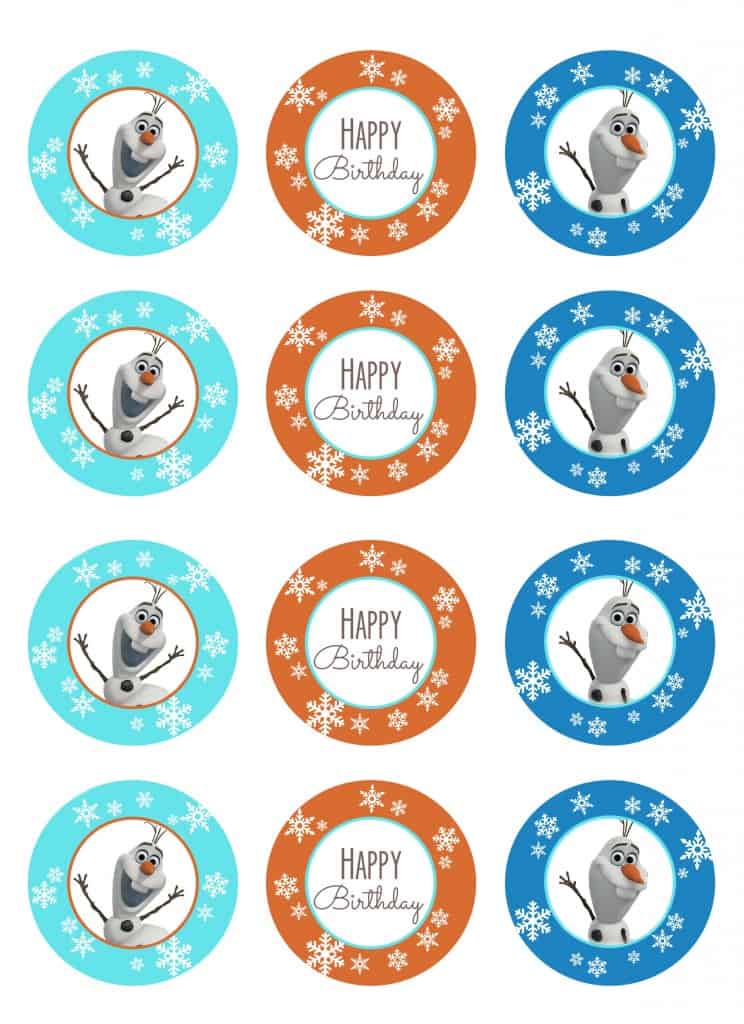 Click HERE to download Olaf cupcake toppers (12 on a sheet)
**Print cupcake toppers on cardstock for best quality and finish. Punch out with 2-inch scallop punch (as used for this party) or 1 3/4-inch round punch.**
I hope you find some inspiration for this party! It sure was a fun one. (And easy!!)
For more party ideas, check out these favorites!