I don't know what it is about a good spinach and artichoke dip. It's one of my favorite things to order as an appetizer at restaurants. I found this recipe from Knorr and realized it's not only delicious, but I can make it at home when I want it instead of heading across town to get some at a restaurant. Can't beat that! I served this dip at my family's Christmas party on Sunday and everyone really liked it.
I wanted to serve this dip with a large baguette that I would slice, but my husband found one better at Albertson's. They had bags of already sliced baguette and they were the perfect size. I didn't even have to go through the effort to slice it! It was so soft and perfect for the dip. Talk about a time saver!
This recipe makes four cups of dip.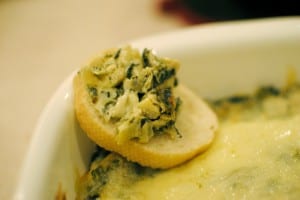 from the kitchen of
Ingredients
1 package (10 oz) frozen chopped spinach, thawed and squeezed dry

1 package (8 oz) cream cheese, softened

3/4 c. mayo

1 1/2 c. Monterey jack cheese

1 package Knorr vegetable recipe mix

1 can (14 oz) artichoke hearts, drained and chopped

2 cloves garlic, finely chopped
Directions
Combine all ingredients except 1/2 c. of cheese. Spoon dip into a 2-quart casserole dish, then top it with remaining 1/2 c. cheese.

Bake for 35 minutes (or until dip is hot) at 350 degrees.