from the kitchen of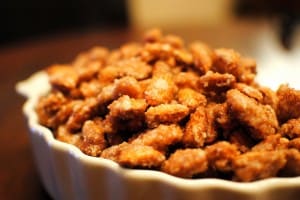 You know the ones! These almonds are about the only thing worth going to a super busy mall during the holidays. There are other recipes for these almonds that call for beaten egg whites. However, I prefer to take the less maintenance approach where I don't have to turn on my oven. I wanted to cry when I saw this recipe!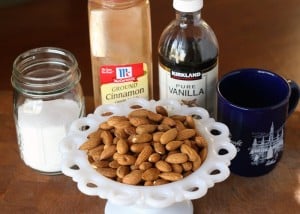 All you need are five ingredients: sugar, cinnamon, vanilla, raw almonds, and water. I know, right? Awesome. (Thank you to the Pioneer Woman for the picture of the ingredients!)
Here's what you'll need:
1/3 c. and 2 Tbsp of water

1 c. and 1/3 c. sugar, divided

1 tsp ground cinnamon

1 tsp vanilla extract

2 c. raw almonds
Lets get started! Now I have to tell you that this is not the simplest recipe. This is probably one of the tougher things I've made, but they are possible to make! It's all about timing. It took two tries before I got them right. And here is a tip: get everything all portioned out before you start making these. That way you'll be all ready and you can just grab for everything without trying to measure as you go. This is good to do anytime you're making something that is all about timing. Ready? Here we go!
Start by getting a medium-sized pot. I used my pot that doesn't have the long handle, usually used for pasta or a big batch of soup at our house. You will also need a big wooden spoon. Add all the water, cinnamon, and one cup of the sugar. Bring all of this to a boil over medium heat.

Next add the almonds and crank up the heat to high. And stir and stir and stir! For about 4 minutes you will want to keep stirring. Don't stop stirring!

After about 4 minutes the water will have begun to noticeably evaporate. The liquid will start to look like a syrup. If you can drag your spoon across the bottom of the pot and see the pot, you're there. The first time I did this I waited too long and the rest of the steps didn't work, so make sure you have that syrupy liquid in the bottom of the pot.

When you get to this point, lower the heat back to medium and add the vanilla and the rest of the sugar. Stir it around to get it incorporated. Yep, more stirring.

In about a minute the almonds will be coated with the mixture and the pot will start looking very dry. This is the time to remove them from the pot. After the first batch I made I realized this the hard way. The sugar will start to fall off if you don't take them out soon enough and there may be tears involved.

Pour them out onto a cookie sheet and spread them out so they can cool. And you're done! You'll soon be surrounded by children and/or your spouse begging to have some.
If you happen to have any leftover, wrap some up and give them away. You'll be sure to make some new friends, or maybe even a few besties.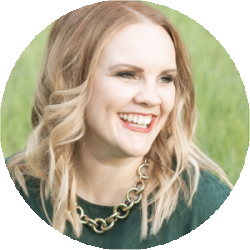 Alli is the food blogger and photographer behind Cupcake Diaries. Nestled in Northern Utah with her four young boys, hubby, and a full pantry, she loves baking all kinds of treats as well as quick and easy meals for her family. What started out as sharing a few recipes with family members here and there soon turned into a full-functioning recipe blog with readers from all around the world! Alli is a full-time mom who enjoys music, holidays, and spending time with her family.