I hope everyone had a wonderful Christmas! We sure did. Lots of family, food, and fun. I can imagine all the yummy treats that were made by all of you and all the happy people who got to eat them!
We had a party on Christmas Eve with my husband's family. The entree for the meal was pulled pork sandwiches, so I brought this pasta salad. This recipe is from my sister-in-law and it is really yummy!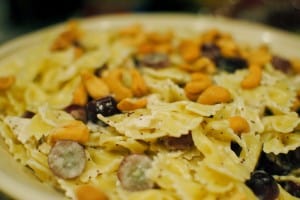 from the kitchen of
Ingredients
12 oz. bag bowtie pasta, cooked and drained

(I used a standard box of pasta – 16 oz – and it worked just fine for this recipe.)

4 c. grapes, sliced in half

2 chicken breasts, cooked and cubed

1/2 can cashews

1 bottle of your favorite poppy seed salad dressing (Our favorite is Brianna's – it is awesome! You can find it with the other salad dressings at any grocery store.)

Directions
Make sure all your ingredients are prepped and ready to go.

(Pasta cooked and drained, chicken cooked and cubed, and grapes sliced in half.)

Toss the pasta with the chicken, grapes, and the poppy seed dressing. Chill for at least an hour.

Add cashews right before serving so they don't get soggy.
If you would rather make your poppy seed dressing from scratch and not use a bottled dressing, here is a good recipe for that:
1 red onion, quartered

3/4 c. sugar

1 1/2 Tbsp poppy seeds

1 1/2 tsp salt

3/4 c. vinegar

3/4 tsp ground mustard

1 1/2 c. oil
In a blender combine a quarter of the red onion and all other ingredients. Blend well and add the rest of the onion. Don't blend this onion in, it will just sit in the dressing to give it extra flavor. Chill the dressing overnight. Before you use it, remove the 3/4 of the onion you added at the end. And that's it!