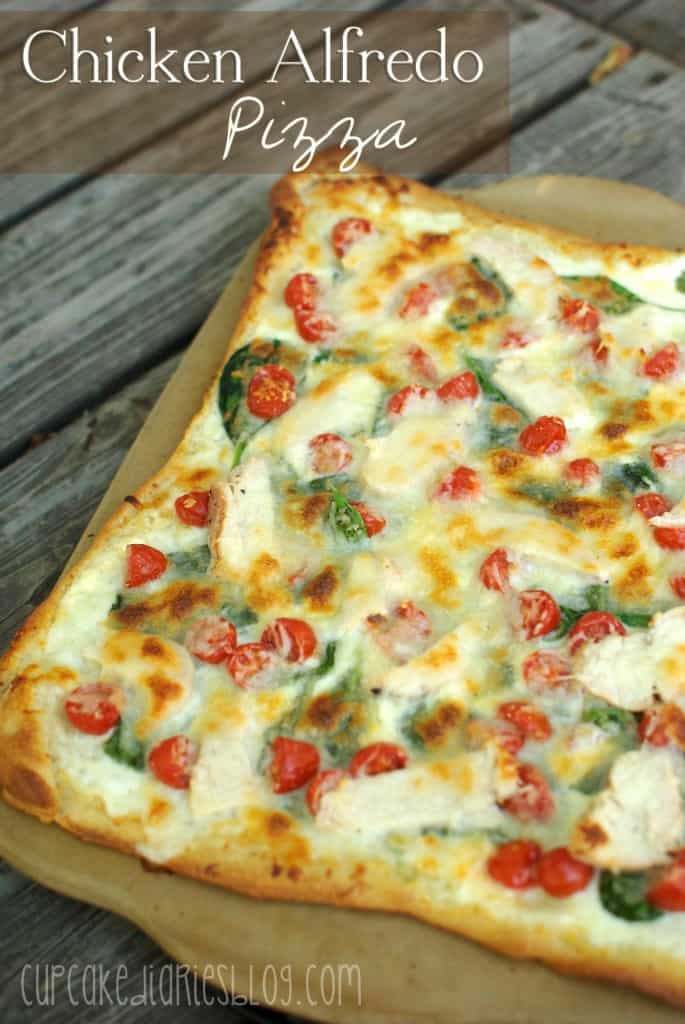 You'll want to pin this one, my friends!
I love it when I make something new for dinner and my husband says, "That's one of my favorite things you've ever made." Yay! He said that very thing when we had this Chicken Alfredo Pizza last week. I've always been a fan of alfredo sauce. And pizza and I are pretty good pals too! This was the first time I've ever made a pizza with alfredo sauce on it and I really loved it. This was also a good way to get my son to eat spinach.
Change up the toppings if you prefer something a little different on your pizza! You can also buy pre-made alfredo sauce, but there's nothing like the homemade stuff. Just sayin'. 🙂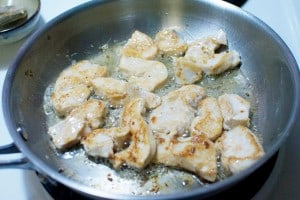 Begin by cooking the chicken. Heat a saute pan over medium heat with 2 Tbsp oil. Add 1/2 tsp. of the garlic and saute it till you can smell a nice roasted garlic smell. Add your chicken slices to the pan and cook thoroughly (about 8 minutes). Set aside. You can also use a grill pan and grill the chicken the same way, or you can put the chicken on your outdoor grill to cook.
This is a good point to preheat your oven. Preheat the oven to 425 degrees.
Preheat the oven with the pan you're using to bake the pizza inside the oven. I use my cookie sheet baking stone, but a regular cookie sheet works great too. You don't need to grease it.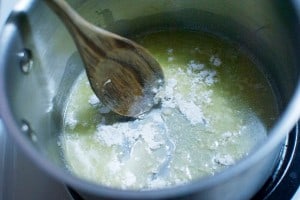 Melt the butter in a sauce pan on medium heat. Add the other 1/2 tsp. garlic and stir it around to cook for just a minute. Then add the flour. Allow that to cook for a little bit as well, just until you can smell that nice roasted garlic smell.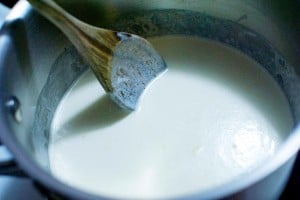 Add the cream and mix well. Change the heat setting to low and allow the sauce to cook till it thickens. This will take about five minutes. It won't get super thick, just thicker than the cream it started out as. Just don't do what I did and put a larger sauce pan on the smaller burner so it doesn't heat properly. Der. Once the sauce is thicker, take off the heat and immediately add the Parmesan cheese and a little salt and pepper. Be careful not to add too much salt because Parmesan is already a salty cheese.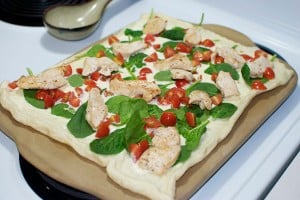 Roll the dough out onto the preheated pan or stone. Pinch the sides of the dough up if your sauce ended up being a little runny, like my first batch! Spread the sauce over the dough, then top with spinach, and tomatoes. Then place the chicken over the top.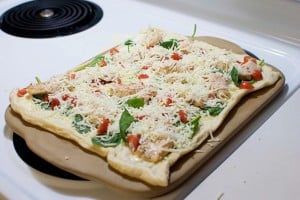 Finally, sprinkle the mozzarella cheese over the top. Bake for 10-12 minutes or until the crust is a nice golden brown.
[amd-zlrecipe-recipe:48] 
And here are more of my favorite easy pizza recipes!