My oh my, how I love clothes! I was super excited to try out a pair of No nonsense tights and pair them with an outfit. This was a fun post that I may have to try to do more regularly and change things up a bit!
Can I just tell you how much I love these tights? I love the way they fit, the texture, the feel, the color, the look…I love them! These tights make me want to go to the store and get a whole bunch more in all kinds of patterns and colors.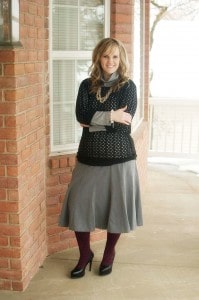 This might come as a huge shock, but I'm not a model. I know! I would be surprised too! ha ha
This particular pair of tights is the Bold Diamond Tight in Deep Burgundy. This is what I wore to church on Sunday and I got a lot of compliments on the tights. I wish I'd taken a closeup of the tights to show off the fun pattern. Take a closer look at the pattern
here
. I love these tights!
And what's totally awesome about No nonsense tights is that you can get them ANYWHERE. Target, Walmart, you name it. That means they're totally affordable! Even better.
Follow along with No nonsense on
Facebook
and
Twitter
to keep up on the latest styles and new looks!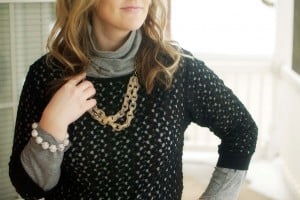 And since this happens to be a fashion post, I'll clue you in on where it all comes from!
Even though I'm not the best at modeling, I sure love clothes and I had fun with this post!
Look out for more!
Disclaimer: This post was sponsored by No nonsense. All opinions are 100% mine.