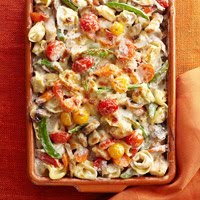 For one of our dinners last week I wanted to make something with pasta and veggies but totally different than anything I've ever made. Enter this bake. I loved the variety of veggies mixed with the chicken and tortellinis. It was a very balanced meal that we all really enjoyed. Even Brycen liked it! His favorite part was the tortellinis.
I recommend having all of your veggies chopped, sliced, and diced and in separate bowls before you start making this. It is MUCH easier when you can just start tossing everything in. This isn't a complicated meal, just a bit of multitasking is necessary. It got really interesting when I was trying to take the pasta off, stir the chicken, talk on the phone, and keep my little guy happy all at the same time. But it's a good meal that is well worth it when you're done. Just make sure you're all prepped and ready to go. You'll be glad for it!

Tortellini and Garden Vegetable Bake
Better Homes and Gardens
makes about 10-12 servings
10 oz. dried cheese-filled tortellini (about 2 1/2 c.) OR two 9-ounce packages refrigerated tortellini

(I used one package of the refrigerated tortellini and it was plenty. I also didn't use all the vegetables it called for either so it worked out evenly. You'll want to decide this depending on how many veggies you use.)

1 medium carrot, sliced
1 1/2 c. sugar snap peas

(I just bought the bag in the frozen section.)

1 Tbsp margarine or butter
1 lb boneless, skinless chicken breasts (about 2, depending on the size), cut into bite size chunks
1 c. sliced fresh mushrooms

(I didn't use these.)

1/3 c. chicken broth
1 – 1 1/2 tsp. oregano

(I don't like a powerful oregano taste so I used 1 tsp.)

2 tsp. flour
3/4 tsp. garlic salt
1/2 tsp. pepper
1 c. milk
1 package cream cheese (8 oz), cubed and softened
1 Tbsp lemon juice
1 c. cherry or grape tomatoes, quartered or halved

(Depending on the size you like. I halved 1 c. grape tomatoes.)

1 small red or green sweet pepper, coarsely chopped

(I didn't use this.)

2 Tbsp grated Parmesan cheese

(Or a little extra, if you're like me!)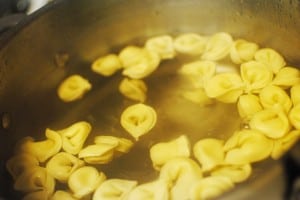 Begin by getting a pot of water boiling for your tortellinis. When the water is nice and boiling, toss in the tortellinis. Cook according to package directions.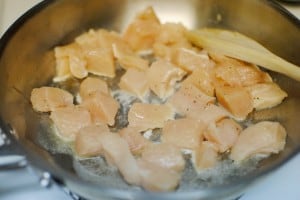 Once you get the tortellinis on ("torts", as we called them in the restaurant biz) heat the margarine or butter in a 12-inch skillet. Add the chicken and mushrooms (if you're using "mush") and cook for about 5 minutes, or until you can't see anymore pink in the middle. Remove from the skillet when the chicken is done.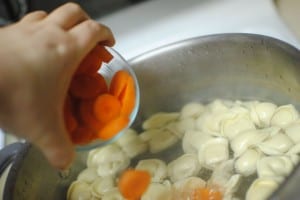 Add the carrot slices directly to the tortellini water during the last 5 minutes of cooking time so they can cook right along with.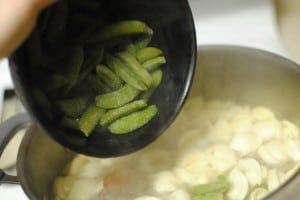 Then add the sugar snap peas during the last 1 minute of cooking, right along with the carrots and tortellinis. Remove from the heat and drain (don't rinse). Pour that lovely mixture into a large bowl.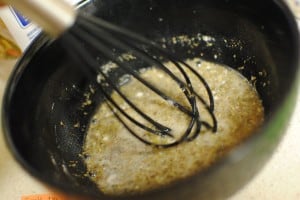 In a shaker or bowl combine chicken broth, oregano, garlic salt, flour, and pepper. Shake or whisk until smooth.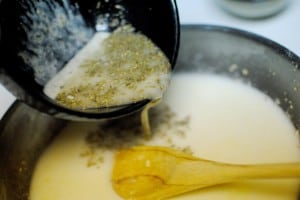 Using the same skillet you just used for the chicken, pour the liquid mixture in with the milk. Cook and stir until thickened and bubbly.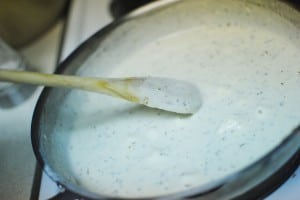 Add the cream cheese. Cook and stir until the cream cheese is smooth. Remove from the heat and add in the lemon juice.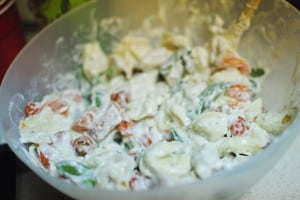 Pour the sauce along with the tomatoes and sweet pepper right over the tortellini combo in the bowl. Add the chicken and toss everything together to coat it well. (If you use a large enough skillet you can skip the bowl part entirely and combine everything in the skillet. I do not have a large enough skillet for such things.)
Place in an ungreased 9×13 baking dish and bake, covered, for 30-35 minutes at 350 degrees, or until heated through. I found on my oven that 30 minutes was great. Stir the mixture then sprinkle the Parmesan cheese over top.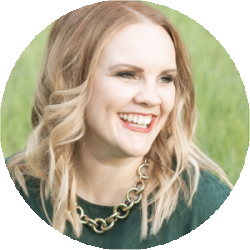 Alli is the food blogger and photographer behind Cupcake Diaries. Nestled in Northern Utah with her three young boys, hubby, and a full pantry, she loves baking all kinds of treats as well as quick and easy meals for her family. She also loves throwing parties and sharing the details on her blog. What started out as sharing a few recipes with family members here and there soon turned into a full-functioning recipe blog with readers from all around the world. Alli is a full-time mom and piano teacher who enjoys music, holidays, and spending time with her family.