Oh you guys, I appreciate how patient you've all been with me over the last few weeks! I've been so off and on with posting. And I'm posting so late today. I was all ready to get a post done last night to auto publish at midnight, but there was an incident that I have to tell you about:
We have these neighbors who like to fry (we live in an apartment). And whenever they fry, we get to smell it. The scent of whatever it is they're frying (or sometimes burning) comes through the vents in our bathrooms and it's just gross. We have Scentsy warmers in each bathroom that go on almost every night around the same time. The last couple of nights we haven't smelled the neighbor's dinner and it's been nice. Then last night we were watching the newest episode of "Parenthood" when in our living room we could smell the dreaded fried food smell. So gross. But we were shocked that we could smell it in the living room. The scent NEVER wafts into the living room. So we went down the hall and walked into the bathroom. The smell was overwhelming. Continuing back into our bedroom we could smell the food before we even entered. Our room stunk so bad, and our bathroom was even worse. It was AWFUL! It was like the neighbors were feeding 50 people and using one gigantic fryer. Gah! So gross. I had planned on finishing this post last night, but our office also smelled. I couldn't even go to bed in our bedroom because it smelled so bad. And lately I'm still super sensitive to smells at 12 weeks pregnant so it was especially bad for me. It was horrible. My husband found a Glade spray that really helped the situation. But as of this morning the smell was still pretty bad in the office. So I'm just NOW getting to posting! I can still smell it a little bit in here, but it's not as bad anymore. Anyway, so that's why I'm posting so late in the day.
With that said, onto the recipe! These smell delicious, by the way. Ha ha ha
At Christmas time I decided to try making a new treat for one of our many parties we were attending. I love red velvet cakes and cupcakes, so the thought of a red velvet cookie sounded splendid. I almost completely followed the recipe for Red Velvet Crinkle Cookies on the Duncan Hines website, then turned those bad boys into whoopie pies. It was a wonderful outcome. And now Valentine's Day is nearing and these whoopie pies would be so cute for a V-Day treat!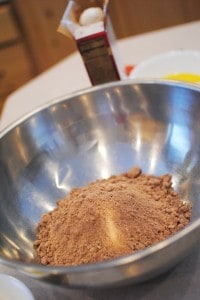 Begin by pouring the cake mix into a large bowl. Then melt your butter and let it cool down to room temperature.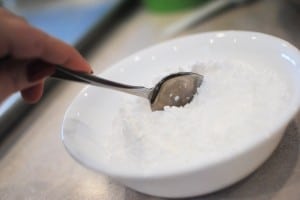 While the butter is cooling, combine the powdered sugar and cornstarch in a cereal bowl.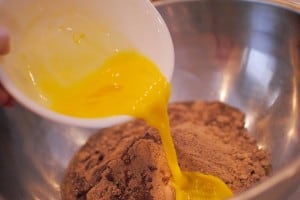 After the butter is cooled, pour it in the large bowl with the cake mix. Whisk the two eggs in a cereal bowl with a fork and add them to the cake mix as well.
Time to get messy! It's much easier mixing this dough with your hands. Mix away till the dough forms together. (Yep, I'm the hand model this time. Tyson was my photographer. Thanks, Dear!)
Hurry and wash your hands after you mix the dough together. This stuff makes your hands turn pink! (Very festive, but also a little scary looking.)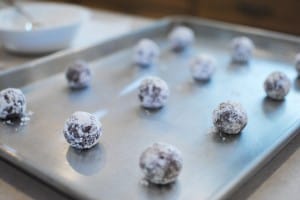 Using a cookie scoop or a spoon, form the dough into balls. You'll want to help shape the dough into balls and not just plop them from the cookie scoop. I didn't roll them in my hands because of the color it turns them. But that's up to you if you want to roll them or not! Make each ball about 1-inch balls. When the balls are formed, roll them into the powdered sugar mixture to get them nice and coated.
Place on an ungreased cookie sheet and back for 9-11 minutes at 375 degrees. (Start with 9 minutes. My first batch I did for about 10 or so and they were rock hard.) Transfer to a wire rack to cool completely.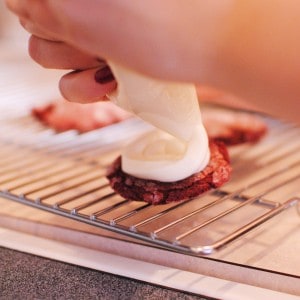 After they're cooled, it's time to frost! Put the frosting on the back of the cookie so the cute crinkly side is on top. You can either spread the frosting over each cookie or you can pipe the frosting on. I put the frosting in a Ziploc bag and cut one of the corners off to pipe it on.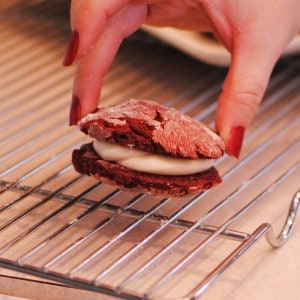 Then cover with another cookie to make into a cute little whoopie pie. I love these holiday treats!
Red Velvet Whoopie Pies
Ingredients
1

box Duncan Hines Red Velvet Cake Mix

6

Tbsp

butter

1

c.

powdered sugar

1

tsp.

cornstarch

2

eggs

whisked

1

can cream cheese frosting
Instructions
Preheat oven to 375°.

Melt the butter in the microwave and let it cool down to room temperature; set aside.

Place cake mix in a large bowl. Combine powdered sugar and cornstarch in a cereal bowl.

Add cooled butter and eggs to the cake mix.

Mix dough with hands till it comes together. Wash hands immediately to avoid staining.

Use a cookie scoop to form dough into balls, about 1 inch. Roll in powdered sugar and coat well.

Place on an ungreased cookie sheet and bake for 9-11 minutes. Transfer to a wire rack and allow to cool completely.

Frost the flat side of one cookie and cover with another with the flat side touching the frosting.