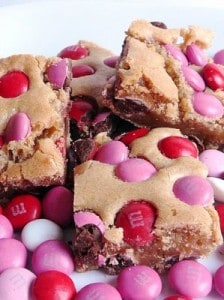 Oh, how I love holiday treats! This is such a fun time of year to make a whole bunch of treats and use them for Valentine's Day fun. These bars are especially good. They taste like a cookie bar and then M&M's are thrown into the mix. Love it!
Valentine's Day reminds me so much of my childhood. I remember being home schooled in preschool with all of my friends. We went to each person's house where our moms would teach us all of the different lessons. We had Valentine's Day at my house and it was so much fun. I remember coloring big pink hearts on the kitchen floor, as well as decorating brown paper bags to put our valentines in. My mom made us really big sugar cookies shaped like hearts with pretty pink frosting. Such good memories! I've always loved Valentine's Day. I hope my kids get to have fun experiences when they're in school like I did. Barbie valentines and all!

Valentine's Day Brown Sugar Blondies
Baked Perfection
makes a 9×9 pan
1 c. flour
1/2 tsp. baking powder
1/8 tsp. baking soda
1/2 tsp. salt
1/3 c. butter
1 c. brown sugar, packed
1 egg, beaten
1 Tbsp vanilla extract
1 – 1 1/2 c. Valentine's Day M&M's (Or however much you want. If I had it my way I'd dump the whole bag in!)
Directions
Mix together flour, baking powder, baking soda, and salt. Set aside.
Melt 1/3 c. butter. Place it in a mixing bowl then add 1 cup firmly packed brown sugar; mix well and cool slightly. Add egg and vanilla and blend well.
Add the flour mixture a little at a time, mixing well. Mix in about 2/3 c. of the M&M's.
Spread in a greased 9×9 pan. Sprinkle more M&M's on top (about 2/3 c. more, or desired amount).
Bake 20 to 25 minutes at 350 degrees. *Double the recipe if you would like to make it in a 9×13 pan.*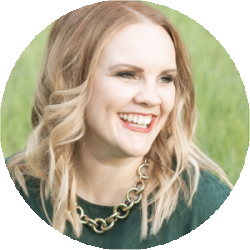 Alli is the food blogger and photographer behind Cupcake Diaries. Nestled in Northern Utah with her four young boys, hubby, and a full pantry, she loves baking all kinds of treats as well as quick and easy meals for her family. What started out as sharing a few recipes with family members here and there soon turned into a full-functioning recipe blog with readers from all around the world! Alli is a full-time mom who enjoys music, holidays, and spending time with her family.