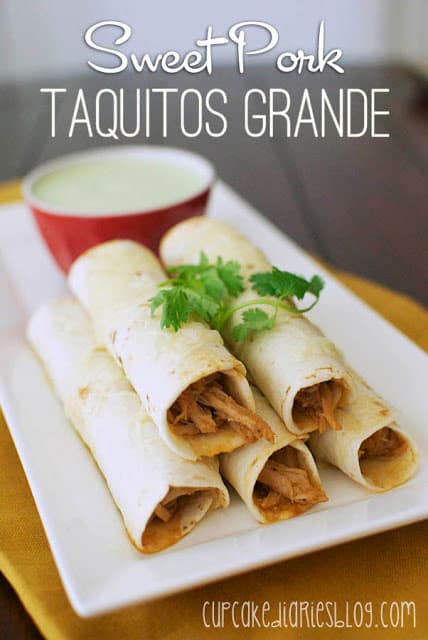 It's restaurant week here at Cupcake Diaries! To kick off the week I wanted to give you a post that has three fabulous recipes. And two of them are copycat Cafe Rio recipes! Is it your lucky day or what?
We became instant fans of this Sweet Pork Taquitos Grande dinner when we put it together. Cafe Rio is one of our favorite places to eat and it's so fun being able to make a copy cat version of a couple of our favorite menu items, then create a delicious dinner using these recipes.
This dish includes:
copycat Cafe Rio Sweet Pork
copycat Cafe Rio Creamy Tomatillo Dressing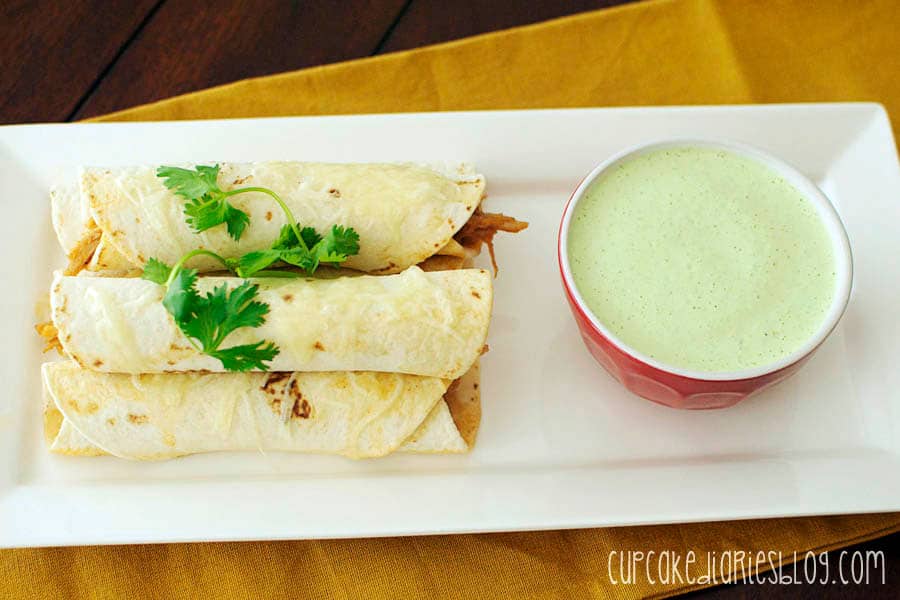 Below is listed the individual copycat Cafe Rio recipes first, then a recipe card for the Sweet Pork Taquitos Grande using the two copycat recipes.
Copycat Cafe Rio Sweet Pork
2-3 lb pork roast
1 (12oz) Coke
1 c. brown sugar
1 (10oz) can enchilada sauce
1 tsp. minced garlic
1 small can green chillies
Combine Coke and 1/4 c. brown sugar in a bowl. Place the pork roast in a ziploc bag and pour the Coke and brown sugar mixture over it. Allow to marinate for at least 3 hours. (Over night is best!)
Remove roast from plastic bag and place in the crock pot. Pour the marinade in the crock pot and sprinkle salt over the roast. Place the lid on the crock pot and cook on high 3 1/2 – 4 hours.
In a blender combine enchilada sauce, minced garlic, green chillies, and 3/4 c. brown sugar.
Remove roast from crock pot and shred. Discard of liquid. Place shredded pork back in the crock pot and add enchilada sauce mixture. Stir around to mix the meat with the liquid and cook for 30 more minutes, covered. Add more salt if more flavor is needed.
Copycat Cafe Rio Creamy Tomatillo Dressing
1 c. mayo
1 c. sour cream
1/4 bunch cilantro, cleaned and pulled from stems
1 tomatillo, cut into chunks and paper skin removed
1/4 tsp. minced garlic
1/2 jalapeno, seeds removed
juice of 1 lime
1/2 tsp. salt
1 green onion stem (all of the green part)
Mix ingredients together in a blender. Store in airtight container in the refrigerator. Dressing keeps for about 2 weeks.
Sweet Pork Taquitos Grande
makes about 20 taquitos
1 pkg small flour tortillas (about 20-22 in a pack)
1 1/2 – 2 c. grated Monterey jack cheese
prepared pork (recipe above)
prepared dressing (recipe above)
Preheat the oven to 375° and lightly grease a cookie sheet with cooking spray.
Place 1/4 c. of shredded pork down the center of the tortilla and roll up. Place on greased cookie sheet and continue till pork is gone. Sprinkle all taquitos with about 2 Tbsp cheese.
Bake for 10 minutes, or until cheese is melted. Dip in dressing to serve.