This is a Sponsored post written by me on behalf of Manwich for SocialSpark. All opinions are 100% mine.
Last week we had a very busy day that involved a lot of running around to this appointment and that appointment, going from one place to the next all day long. I was glad to be getting a lot of that stuff out of the way, but I was SO beat by the time I got home!
By the time my husband came home from work I realized that I had let the day get away from me and had nothing ready for dinner. Usually this isn't a big deal, but on this particular night he had to go back into work for the evening and wouldn't be able to take any kind of food break. I needed to make something and make it fast!
Then I looked over and saw these three lovelies sitting on the counter…
The heavens were opened and the angels started to sing. I grabbed for a pound of ground beef in the fridge, threw it in a saute pan, and before I knew it I had made dinner faster than I ever remember making it before.
Dinner was ready super fast, my husband ate without having to rush, and then he was out the door for the evening. It was great!
The kids LOVED their dinner. My three year old kept saying, "Good nyunch (lunch), Mommy! Good nyunch!" I know he really likes his food when he says that!
And the baby couldn't he his dinner fast enough. He ended up eating a whole sandwich!
That night we tried the Original flavor because I knew the kids would like it and I didn't want to risk making something they wouldn't like in the short amount of time we had. Later that week we decided to try out the Bold and Thick & Chunky flavors. And the kids inhaled both! My husband and I love the Thick & Chunky flavor the best. I love the thickness of the sauce. When I asked my three year old which one he liked the best his answer was, "All of them!" I think the baby would agree!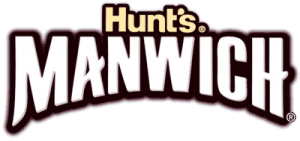 Manwich is something I'll be keeping in my pantry all the time! The whole family loves it and it's so fast to put together. Next time I'm going to get a little more adventurous and try one of these great Manwich Recipes!
And while we eat we can entertain ourselves with some Manwich TV Ads! Some of these are just too funny!