There are a rare few of us who can say they are friends with their cousins and have close relationships with them. It's not very common for people to have close ties with their extended family members. I am lucky to be part of that group of people!
I'd like to introduce you to Vandy Murri! This gal is from Idaho Falls, ID and she happens to be married to my cousin Tyrel. Tyrel has been one of those besty cousins of mine since I can remember. And just when we all thought he couldn't get any cooler he goes and marries Miss Vandy here. She has been the perfect addition to our large family and we all just love her. They've got the cutest little almost one-year-old daughter (with the prettiest little face and the cutest bottom lip in the world). When Vandy's not working, changing diapers, snuggling with her baby, or participating in other mommy activities she can be found blogging about life, family, and everything else in between! Her blog Tyrel Loves Vandy is the perfect example of how awesome she is and how much she loves her family. I'm so happy to have her here today! (And she brought a FABULOUS recipe perfect for a holiday party. Hopefully she'll make these for our family Christmas party this year…??) 🙂
. . . .
I am thrilled to be blogging here today at Cupcake Diaries! Alli is such a sweetie, and I love this little blog so much!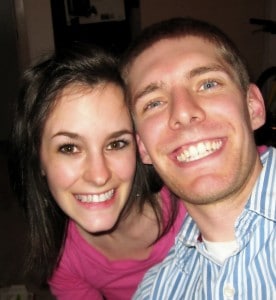 A little about me:
Hometown:

Yankton, SD

Favorite movie:

Willie Wonka and the Chocolate Factory

(Who doesn't love it? It's a classic!)

Favorite ingredient to work with:

Almond extract – I find myself putting it in everything!

Something I can't live without:

My sweet little baby and amazing husband (and probably my blog. It's like my second child).

Favorite blogs:

Oh goodness! Too many to list!

Favorite room in my house and why:

Our Master bedroom because I have a whole little spot to myself, complete with a cute little desk from Ikea and some flowers.

Favorite vacation I've been on:

Last December we drove to my grandma's house in Wyoming to surprise my parents on Christmas morning. My whole family had congregated there but we couldn't initially make it because of our work schedules. I was 8 1/2 months pregnant and told everyone that my doctor wouldn't let me go anywhere, just so we could see the looks on their faces when we got there. It was the best!

My typical day:

Although the routine changes frequently, my days are filled with both full-time work outside the home and full-time mommyhood inside the home. They usually consist of snuggling, laughing, tired feet, and the same makeup I had on from the night before.

Something I want to learn to do:

My hair. Seriously. It's always a mess.

My guilty pleasure:

Martha Stewart. I seriously don't like her, but somehow I am always reading her magazine, flipping through her books, clicking through her website…

How I like to relax:

It usually involves 20-too-many candy bars, my husband's sweatpants, and a big quilt on my bed. And some episodes of

Mad Men

, of course.

Three more things I can't live without:

mascara, my camera, and chapstick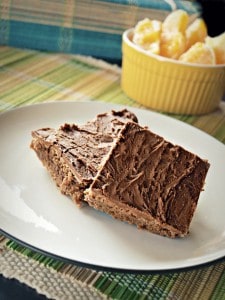 As Christmastime is creeping ever so near, I can't help but get terribly excited. It will be our first Christmas as a little family, and not much can beat that, right? My parents (er, Santa?) always snuck Chocolate Oranges into our stockings, and every year I still go pick one out for myself while I buy Christmas presents for everyone else.
I got this recipe for Orange Brownies from my dad (who, with my mom, I consider to be one of the best cooks I know). They taste just like those darn Chocolate Oranges, and, with a tall glass of cold milk, I am in heaven.

Orange Brownies
Brownies:
1 c. butter
4 Tbsp cocoa OR 4 squares bakers chocolate
2 c. sugar
4 eggs
2 tsp. grated orange rind
2 tsp. vanilla
1/2 c. flour
Melt butter and cocoa in a small saucepan. Remove from heat. Combine with remaining ingredients and spread in a greased 9×13 pan. Bake at 350 degrees for 30 minutes.
Orange Frosting:
1 1/2 c. powdered sugar
3 Tbsp. cocoa
3 Tbsp. melted butter
2 Tbsp. very hot water
1/2 tsp. grated orange rind
1/2 tsp. vanilla
Mix and spread over cooled brownies.
. . . .
If you're interested in being a guest blogger, e-mail me at
cupcakediaries1@hotmail.com.
No strings attached! It's so fun hearing from other people!