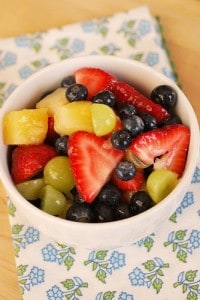 Can you believe? It's almost August and summer is going to end before we know it! I'm loving all of this fresh fruit and the different ways to eat it. Today I bring you a fruit salad with a twist, just in time for one of your final summer parties or bbq's.
There are a TON of different fruits in this salad. So if you don't want to spend the money to get all of this or your Bountiful Basket didn't quite give you everything you need, don't worry about it. You can make this salad with as little or as much of this fruit as you'd like. It will taste great no matter what!
Pina Coloda Fruit Salad
adapted from Taste of Home
1 1/2 c. green grapes
1 1/2 c. red grapes, seedless
1 1/2 c. fresh blueberries
1 1/2 c. fresh strawberries, halved
1 c. pineapple, in chunks (or 1 – 8 oz. can of pineapple chunks)
1/2 c. fresh raspberries
10 oz. non-alcoholic pina coloda mix (If you use the frozen mix in a can you'll want to thaw it out. I like to use the stuff already in the bottle. You can find it at the end of one of the alcohol aisles at the store with the margarita mixes and such.)
1/2 c. sugar
1/2 c. pineapple-orange juice
1/8 tsp. almond extract
1/8 tsp. coconut extract

Directions
Combine all your fruit in a large bowl. Choose a different bowl from the one you'll be serving the fruit salad in.
In a small bowl, whisk the pina coloda mix, sugar, juice and the extracts. Keep whisking till the sugar is nice and dissolved.
Pour the liquid mixture over the fruit and toss it all together. Pour the salad into the bowl you're serving it in and put it in the fridge. Let it chill to you're ready to serve it.