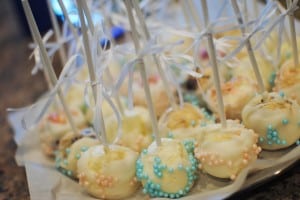 For the last few years we've seen a boom in the popularity of cupcakes. Brides and grooms all over aren't even having a wedding cake anymore, just cupcakes. Birthday cakes are often not present at the kitchen table with the family surrounding. Instead, a cupcake. As this trend is continuing to make a mark at parties and events all over the place, the latest and newest trend is putting something on a stick. Thanks to Bakerella, Cake Pops have been put on the map and are wildly popular. They've started taking over the baking/treat world.
I recently jumped onto the Cake Pop bandwagon when I was asked to make some for a baby shower. In this case it was Cheesecake Pops (seen above). The shower was for a mom of three who was expecting twins, a boy and a girl (note the pink and blue candy pearls on the pops). I was excited to try something completely different.
We'll start with what to do for Cheesecake Pops. I have to admit that these little guys were DELICIOUS but a little crazy to make. I'll explain as I go. If you want to make the cheesecake from scratch, follow the recipe here. I didn't have time to make a cheesecake so I went to the store. If you want to do what I did and skip the part of baking a cheesecake, continue reading.
I needed 25 to 30 Cheesecake Pops for the baby shower and I wasn't sure how many I could get out of a standard cheesecake from Sam's Club.
So…I tried something else: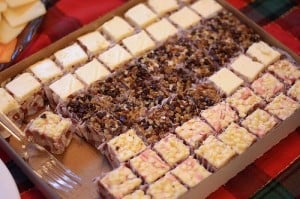 Enter Lawler's Mini Cheesecakes. There are 63 in a box, with vanilla, turtle, and raspberry white chocolate flavors (found at Sam's Club). My idea was to take two of these mini cheesecakes at a time (same flavors) and smash them together, forming them into balls. It made the perfect size of balls for the pops.
Two things that made this easier: 1) I cut the crust off the backs because they wouldn't form into balls as well with it on (Don't worry, the crust can stand on its own two feet-just pop those pieces in your mouth and enjoy. No use wasting food!), and 2) I faced the toppings of the cheesecakes together before smashing them into balls so they rolled easier. The crunchiness ended up in the middle of the ball.
You'll want to have a plate, sheet, or tray of some kind lined with wax paper ready for the next step. After rolling the cheesecakes into balls, place them on the wax paper-lined tray and put a lollipop stick in them. I recommend using the medium sized (about 6 inches) Wilton lollipop sticks. There are about 35 in a bag. Keep in mind this is cheesecake we're working with here so it's going to melt as it gets rolled into warm hands. You'll want to place the pops in the freezer as you make each one, or you'll need to put the tray in the freezer after making about four. They start melting way too fast. Keep them all in the freezer for at least an hour so they can harden up for dipping in the chocolate.
Here is where it gets a little crazier. You'll want to have a plate or tray with wax paper ready in your freezer so you can place each individual pop right in as soon as it gets dipped and decorated. Cheesecake dipped in hot chocolate starts to melt crazy fast.
Get a microwave safe bowl ready with about three squares of while or milk chocolate almond bark at a time. You can use the melting technique used in making Oreo Truffles, or you can place the chocolate in the microwave for 30 seconds and mix it up, then place it back in for another 30 seconds. Heat at 30-second increments till the chocolate is smooth. Don't overheat or it will get gross. Dip the pops in the chocolate, covering as much of the ball as you'd like, then sprinkle desired decor on the pops. You can also roll the pops in the decor. I sprinkled the pops with blue and pink candy pearls for this baby shower and they were so cute.
Place those puppies right in the freezer and let them freeze back up. Give them a few hours to freeze completely. When it comes time to serve them, keep them in the freezer till you need them. They immediately start softening up when they hit the warmer air so you'll be fine to keep them frozen till needed. After a couple hours of freezing I took the tray out of the freezer and tied a little white ribbon to each one, then put the tray back in. That added a cute little touch.
Can you see why there aren't any pictures for this? I needed someone else to take them. Except all the hands present were helping make the pops! They're a little crazy to make, but man, they're good! I received a LOT of compliments about these after that baby shower. They were used as the take-home treat and they were a hit. Definitely worth it!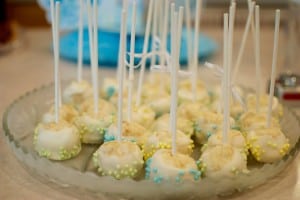 Now that we got the tough one out of the way, we'll talk about the less maintenance Cake Pops (pictured above). They're used completely out of baked cake so they don't melt so fast. I made these for my sister-in-law's baby shower last week. She's having a boy so I decorated them with blue, yellow, and green candy pearls.
For Cake Pops you will need:
1 cake mix and ingredients for baking the cake (I used white)
1 can of desired frosting (I used vanilla)
Wilton lollipop sticks, medium size (You'll use them all)
One package of vanilla Almond Bark or milk chocolate Almond Bark
Sprinkles and/or other decor to decorate the pops
The first thing you need to do is bake the kind of cake you want to use according to the box. Let it cool completely.
These also work great for holiday treats. Remember Red Velvet Cake Balls for Valentine's Day? You can also use them for Christmas, with or without a stick. You'll be the most popular kid in town.
And please feel free to comment or e-mail me with any questions you have about these! Or if you have any tips to share, please do so!