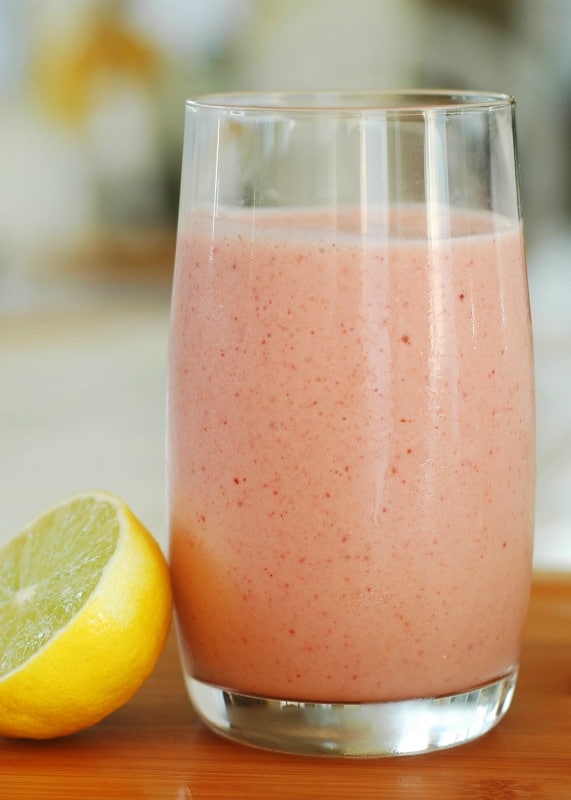 I hope everybody had a wonderful Easter weekend! We were so lucky to have had such nice weather. Both Saturday and Sunday here were sunny and perfect. We took our little guy, Brycen, to an Easter egg hunt at a local park on Saturday (his first egg hunt-so exciting!) and yesterday we had an egg hunt at my husband's parents' house. It was so fun! We woke up this morning to a rainy, dreary morning so we barely missed it. I consider that a blessing. We mowed our lawn on Saturday and did other yard work so this rain has greened our lawn right up. I feel like a normal spring is finally here!
Waking up to the rain was kind of nice. I love the rain in April. But to add to the dreariness of the rain my two boys and I woke up with stuffy noses and the sniffles. Another thing I'm grateful that we barely missed this weekend! It seems like a great day for a smoothie for breakfast. We have smoothies at our house for breakfast just about every other day, thanks to my March issue of Food Network Magazine. Inside each issue was a little book of 50 different smoothies. We've tried probably six of them so far, and this one is our favorite. We use frozen strawberries and peaches, and I end up just freezing our bananas that we didn't get eaten fast enough. But now that summer is approaching, we will be able to start making smoothies with fresher fruit. That thought excites me!
Peach-Strawberry-Banana Smoothies
Recipe adapted from Food Network
Ingredients
1

c.

fresh or frozen peaches

1

c.

fresh or frozen strawberries

1

c.

plain or vanilla yogurt

1

c.

ice

1/2

banana

1 to 2

Tbsp

sugar

to taste

a splash of orange juice
Instructions
Place ice in a blender followed by yogurt, fruit, sugar, and orange juice. Add more sugar if needed.