This recipe has been floating around the recipe blogosphere for eons. I was first introduced to this delicious feast by my sister-in-law, who also happened to post the recipe on her blog awhile back. I ended up forgetting to try it and finally came across it again on Sister's Café. I wouldn't have thought to try it if my SIL hadn't tried it first and recommended it, so thanks, Brit! These are really easy to make and super good. Definitely worth it!
Honey Lime Chicken Enchiladas
makes 8 to 10 enchiladas
1/3 c. honey
1/4 c. lime juice
1 Tbsp. chili powder
1/2 tsp. garlic powder
1 lb. chicken, cooked and shredded (I bought a rotisserie chicken again and used that. Easy and delicious!)
8 to 10 medium flour tortillas
1 lb. Monterey jack cheese, shredded (I couldn't find any pre-shredded Monterey jack so I used Colby jack in the bags at Walmart.)
2 (10 oz.) cans green enchilada sauce
1/2 c. heavy cream (I used milk instead and it worked great. I used about 1/3 c. instead of 1/2 so it wasn't so liquidy.)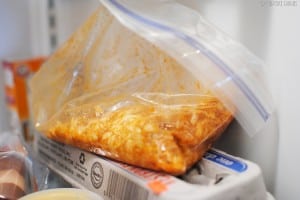 Mix the honey, lime juice, chili powder, and garlic together and toss with the shredded chicken. Let it marinate for at least 30 minutes. I tossed everything together in a Ziploc bag and let it sit in the fridge for about six hours. As long as you give it time to marry together it will be great. (Want to know a tip? Before measuring the honey, spray the measuring cup with cooking spray. It will come out MUCH easier.)
Spray a 9×13 baking dish and a 9×9 baking dish with cooking spray. Pour enough enchilada sauce on the bottom of each dish to create a thin layer on the bottom. Fill the flour tortillas with the chicken mixture and some of the cheese, saving about 1 cup of the cheese to sprinkle on top of the enchiladas.
Mix the remaining enchilada sauce with cream or milk and with the leftover marinade. Pour the sauce on top of the enchiladas and sprinkle with cheese.
Cover with foil and bake at 350 degrees for 30 minutes or until brown and crispy on top. Serve with sour cream, pico de gallo, and/or rice and beans.