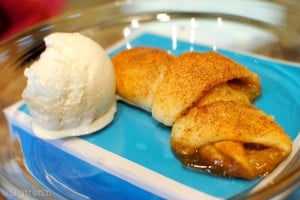 A couple days ago I was at home with Brycen when I felt like making a treat. I thought of what I had in my fridge and cupboards when I came up with a little idea. And that idea turned out super tasty! And really easy. These Caramel Apple Crescent Rolls are like mini apple pies and they're perfect size. The only problem was that I had seven leftover after trying one! That was one tempting afternoon.
Ingredients (for 8 crescent rolls)
1 can of crescent roll dough
6 Tbsp. sugar, plus 1 1/2 Tbsp. for topping
1/4 c. brown sugar
1/2 tsp. cinnamon, plus 1/2 tsp. for topping
caramel ice cream topping
1 medium apple, peeled
1 egg
1/3 c. milk
Directions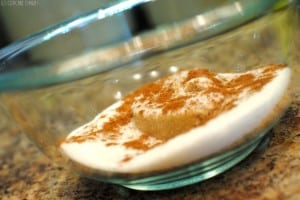 Begin by mixing sugar, brown sugar, and cinnamon in a bowl. Blend everything together well.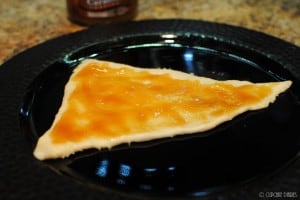 Start with one crescent roll and stretch it out on a plate. Then spread some caramel over it.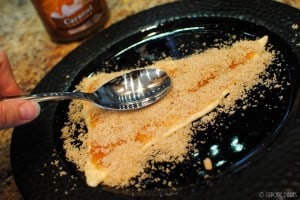 Next, sprinkle some of the cinnamon and sugar mixture over the caramel. Pat it with a spoon to make sure it all sticks to the caramel.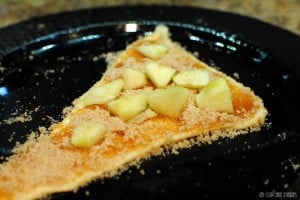 Now is the time to add apple pieces if you're putting apples in the rolls. Cut the apple in half from top to bottom, then cut one of those halves in half, and in half again. You will have cut the entire apple into 8 slices. Cut up one of those slices into little chunks and place them over the cinnamon and sugar on the crescent roll.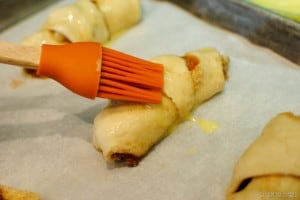 Roll up the crescent roll from the larger side down to the tip and place it on a cookie sheet lined with parchment paper. Combine the milk and egg in a small bowl, mixing together well, and brush the egg wash over each crescent roll.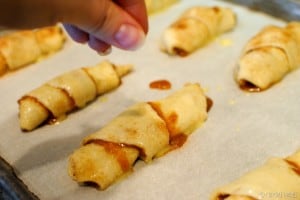 In a small bowl combine the last 1 1/2 Tbsp. of sugar and 1/2 tsp. cinnamon. Sprinkle the cinnamon and sugar mixture over the crescent rolls for that extra flare. It reminds me of cinnamon toast growing up.
Place in the oven at 375 degrees and bake for 15 minutes. They'll come out a little gooey, but it makes them so good! Serve with vanilla ice cream. Or let them stand alone, either way they're super delicious!