My family has found a new favorite bread.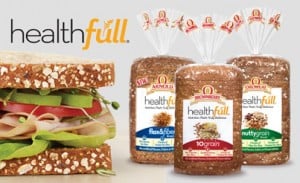 One of the best parts of being a BzzAgent is being introduced to all sorts of new products. For this campaign I was asked to try a free loaf of any kind of Oroweat
Health-full® bread
that my family might like and then share my thoughts on it. (Thanks, Oroweat!) Out of the three options available (flax & fiber, nutty grain, and 10 grain) we decided that the 10 grain would be the best option for our family. And we were not disappointed! Not only is this bread 80 calories a slice (I know, right?) it is super soft and tastes SO good. When eating healthy bread I normally expect it to have a certain "healthy" taste. You know the taste I'm referring to. This bread is so NOT that way. It tastes healthy but in a delicious way, if that makes sense. We just love it!
My almost 2-year-old son really loves this bread too. I make him half of a peanut butter and jelly sandwich with it then cut it into squares. It's amazing how soft this bread is, and I can tell he likes the softness too. It's tempting not to steal a bite from him!
My husband and I ventured over to the Oroweat website and looked up the list of sandwich recipes for this delicious bread. What looked like the perfect sandwich was listed there so I decided to try it. And it's my new favorite! And of course I was too excited to eat it so I forgot to take a picture of it. Gah! Oh well. Here it is! (Click here for more recipe ideas!)
Autumn Turkey Sandwich
2 slices Oroweat® Health-full® Nutty Grain bread (or your favorite Health-full® bread)
1 tsp. cranberry sauce
2 slices of bacon, cooked and cooled (option: turkey bacon or reduced-fat bacon)
2 oz. deli turkey breast
1/2 serving Spiced Sweet Potatoes*
1/2 c. spinach leaves
Serving size: 1 sandwich
*Spiced Sweet Potatoes Ingredients
3 medium sweet potatoes, peeled and cut into 1/4″ cubes
1 tablespoon honey
1 tablespoon fresh grated ginger
2 teaspoon walnut oil
1/2 teaspoon ground cardamom
1/8 teaspoon ground black pepper
Directions
Prep time: 5 minutes
Toast two slices of bread and spread a thick layer of cranberry sauce on one slice. Layer turkey, sweet potatoes, bacon and spinach on the bread slice; top with the other slice. Cut in half and serve.
Nutritional Value (per serving)
370 calories
11g fiber
30g protein
46g carbs
10g fat
*Spiced Sweet Potatoes Directions (10 servings)
Prep time: 30 minutes
Preheat oven to 375 degrees. Combine all ingredients in a roasting pan; stir well to coat. Bake for 10 minutes; stir and bake until potatoes are tender, about 10 minutes more.
While I made my sandwich, my husband decided to get creative and make a sandwich of his own. Here's what he came up with: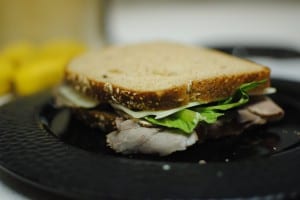 He made a roast beef sandwich and it was delish. Here's what he put on it:
swiss cheese
Romaine lettuce
tomatoes
mayo
deli roast beef
As you can see, we had a good dinner that night.
I highly recommend this bread! It's decently priced but would be well worth spending a little extra to get such a good bread. It's healthy and oh so good! Give it a try!