Be sure to enter the current giveaway for your own sample of Miracle-Gro® Expand 'n Gro™ potting soil! Click
here
to enter.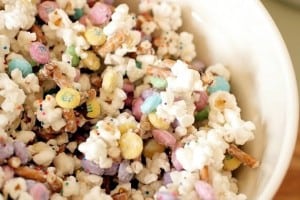 Easter will be here before we know it. Time to start finding the perfect goodies for Easter weekend! I love Easter candy, and I think the more that Easter candy is utilized during spring time the better. I'm amazed at how many fun Easter ideas are flying around Pinterest right now. And so many of these ideas involve some kind of Easter candy. I can't wait to start trying some of them! (Remember the recipe for Mini Cadbury Egg Cookies I shared last year? Divine!)
I wanted to share this recipe for Bunny Bait because for one, the name is just too darn cute. And two, it reminds me a lot of my recipe for White Chocolate Crispies that I love so much. Especially when I put M&M's in them! I can't seem to make those without the M&M's now. And the first time I tried them with M&M's it happened to be Easter ones that went in. I haven't made this Bunny Bait yet, but I couldn't help but share this recipe anyway! I'm so excited to try it and I wanted to spread the word. This seems like a fun treat for the kids to help with and maybe even a potential Easter tradition. I can't wait to try this one!
Bunny Bait
image and recipe via Sing for Your Supper
1 bag of popcorn, popped
6 oz. white chocolate candy coating (I'm sure white chocolate chips would work great too. I plan on using white chocolate chips!)
1 bag Easter M&M's
pretzel sticks, broken into small pieces (However many pretzels you would like. I'm guessing about a cup.)
colorful sprinkles (optional)
Directions
Place the popped popcorn in a large bowl with the broken up pretzels and M&M's. Heat the candy coating (or white chocolate chips) in the microwave for 30 seconds (in a microwave safe bowl, of course). Stir, then place back in the microwave for 30 more seconds. Stir again. It should be pretty smooth by this time but if it's not, place the bowl back in the microwave for about 20 more seconds.
Drizzle the white chocolate over the popcorn mixture and stir to coat. The pretzels and M&M's will sink to the bottom, so make sure to get those stirred in and coated with the popcorn and white chocolate.
Spread the popcorn out onto a large piece of wax paper. Top with some sprinkles (if desired) and allow to cool. (I have a feeling this will be hard not to pick at as it cools!) Break into pieces and serve in a large bowl.