I am a chocolate girl and a pasta girl. I love going to Olive Garden and ordering my favorite entree, the Chicken Alfredo, then ordering something with chocolate for dessert. (Otherwise I just want to go home and make an entire batch of brownies.) They have so many other delicious menu items, but I just can't seem to keep away from the Chicken Alfredo!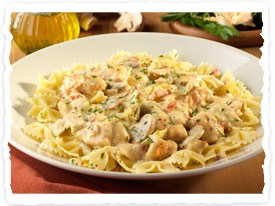 Copycat recipes are some of my very favorite recipes to make and share. And it's even better when it's an original recipe like this one! We've made the Bruschetta al Pomodoro and it was delicious. It was also my very first blog post here! (That seems like such a long time ago!) And I was so excited to see this chicken dish listed among the other great Olive Garden recipes. It's one that I've been wanting to try. Thank you, Olive Garden, for sharing some of your amazing recipes with us so we can make them at home. This Chicken Castellina doesn't disappoint!
Olive Garden Chicken Castellina
Olive Garden
serves 4
Sauce:
1/4 c. pancetta or bacon, diced
6 Tbsp butter, cubed
1 tsp. garlic, chopped
1/4 c. sun-dried tomatoes, diced
1 1/2 c. heavy cream
1 1/2 c. milk
1 oz cornstarch
1/4 c. Parmesan cheese, grated
1/2 c. smoked Gouda cheese, grated
1/4 tsp. salt
1 Tbsp fresh rosemary, chopped
8.5 oz can sliced artichokes, drained
1/4 tsp. pepper
1/4 c. mushrooms, sliced
1 1/2 lb bowtie pasta (or pasta of choice) cooked according to package directions
Chicken:
1 1/2 lb boneless skinless chicken breasts, cut in 1 1/2 inch pieces
3/4 c. flour
1/2 tsp. salt
1/4 tsp. pepper
3 Tbsp olive oil
1/4 c. white wine (can use non-alcoholic white wine or chicken broth instead)
fresh parsley, chopped (for garnish)

First, make the sauce:
Saute' pancetta or bacon in a sauce pan or large pot over medium-high heat until crisp and golden brown. Reduce the heat and add the butter. Allow it to melt. Add garlic and sun-dried tomatoes. Saute' for approximately one minute, stirring frequently. Do not brown.
Whisk in the cream, milk, and cornstarch. Raise the heat to medium-high and whisk in the Parmesan and Gouda cheeses. Once the cheese melts, add remaining ingredients and bring to a boil, stirring continuously.
Remove from heat and let stand, uncovered.
Time for the chicken!
Mix flour with salt and pepper. Coat the chicken in the seasoned flour, shaking off any excess flour.
Heat the olive oil in a large saute pan. Add chicken in a single layer and cook until golden brown on both sides (about 7 minutes).
Add the wine to the chicken in the pan. (There will be a low flame in the pan if you're using real white wine so be careful!) Toss gently till the wine is evaporated. Add sauce and bring to a boil on medium-high heat.
Transfer drained and cooked pasta to a large platter. Evenly distribute chicken and sauce over pasta. Garnish with chopped parsley and serve.