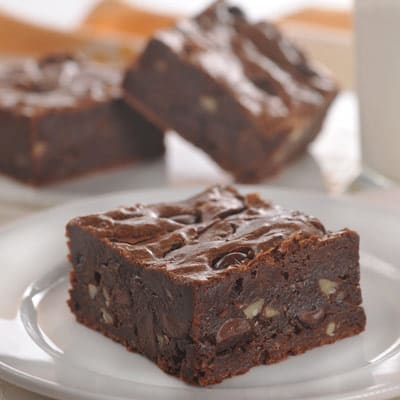 Yesterday my husband and I celebrated our 4-year anniversary. It was such a warm day, then out of nowhere a big snow storm hit. We had other plans for the evening, but instead opted to grab a pizza at the corner Pizza Hut and spend it at home with the kids. For my anniversary gift my hubby got me something so wonderful I could hardly stand it: the entire series of "Friends" on blu-ray. Oh happy day! That was the perfect gift for this "Friends" fanatic.
Of course while he was at work I had to bust out the new blu-rays and watch an episode or two. With two little kids, watching even one episode was pushing it. So I chose to watch the episode with Phoebe's grandma's secret cookie recipe that ends up to be the recipe on the back of the Nestle Toll House chocolate chip bag. ha ha ha ha
After watching that episode I naturally had to bake something from Nestle Toll House. I saw this recipe for Dark Chocolate Brownies on their website and decided to give them a try. These brownies are so chewy and moist, packed full of chocolatey goodness. Make sure you have the milk on hand when you're eating one of these babies! This recipe has a five oven mitt rating on the website so you know it's a good one!
(Image credit goes to Nestle Toll House! This picture was just too amazing not to use for this post!)
Dark Chocolate Brownies
Nestle Toll House
makes 12-16 brownies (depending on how you cut them)
1 (10 oz) package Nestle Toll House Dark Chocolate Morsels, divided
1 c. sugar
1/3 c. butter, cut into pieces
2 Tbsp water
2 large eggs
1 tsp. vanilla extract
3/4 c. flour
1/4 tsp. salt
1/2 c. chopped walnuts or pecans (optional)
Preheat the oven to 325º. Grease an 8-inch baking pan. Set aside 1/3 c. morsels.
Heat 1 1/3 c. morsels, sugar, butter, and water in a small saucepan over low heat, stirring constantly until chocolate and butter are melted. Pour into a medium bowl and stir in eggs one at a time with a wire whisk. Stir in the vanilla extract. Add flour and salt; stir well. Stir in the remaining 1/3 c. morsels and the nuts. Pour into the pan and spread evenly.
Bake 38-40 minutes or until a toothpick inserted into the middle comes out slightly sticky. Cool in the pan on a wire rack. (This will allow the brownies to finish their baking process without over-baking.) Cut into bars to serve. Enjoy!