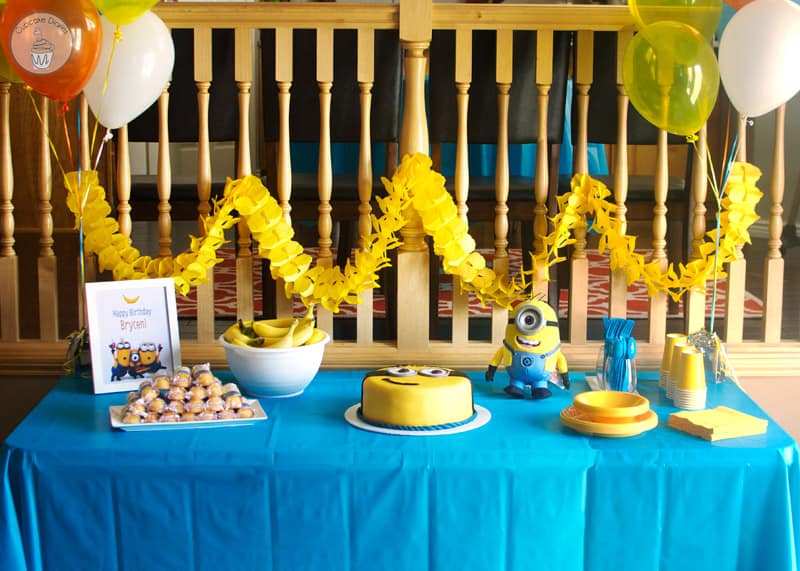 My son turned five this year and got to have his very first friend party. He was so excited and immediately requested a minion theme for his party. And perfect timing with the movie Minions coming out next month! Minions are pretty much the best.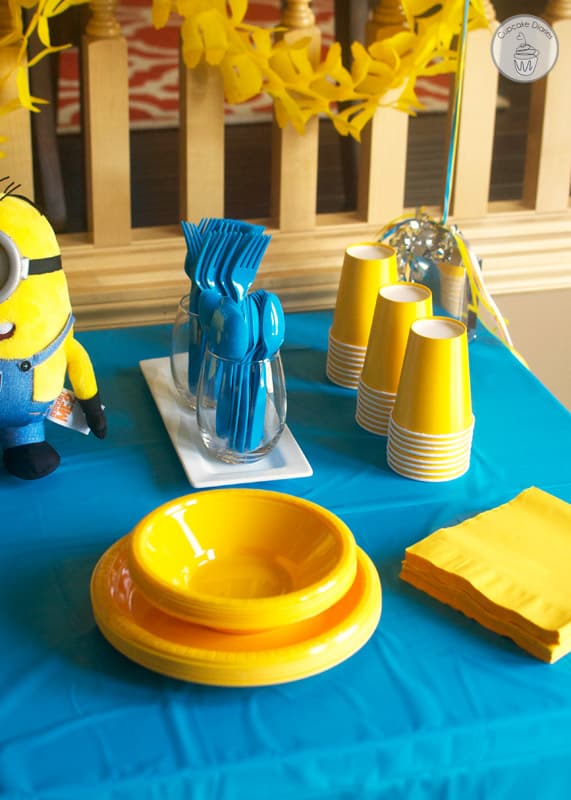 The party supplies all came from PartyPail.com and they were PERFECT. I couldn't have chosen better colors for this party. I wanted to get a couple of different colors to have a contrasting look on the table that also screamed minion party. I went with turquoise for the cutlery and table cloth and chose school bus yellow for the plates, bowls, napkins, and cups. I was so happy with how they all looked together on the table. Thanks so much to Party Pail for these awesome supplies!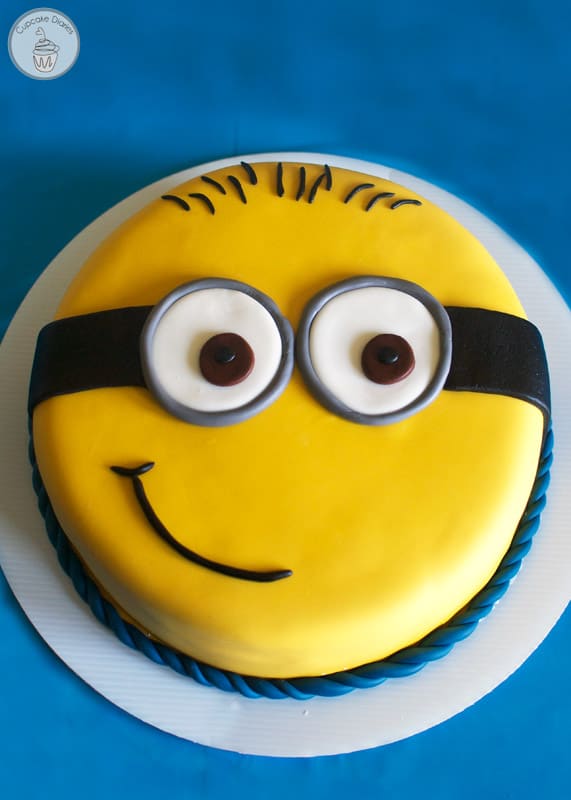 Let's talk about this amazing cake for a minute. I mean, holy cow! Isn't this the most perfect cake for a minion party? An extremely talented friend in the neighborhood made this cake for my son's party and it was such a show stopper. I didn't even want to cut into it! And not only was it so darling, it was crazy delicious. Locals, as soon as she has her Facebook page up and running I will let you know so you can order one of her adorable cakes for your next party!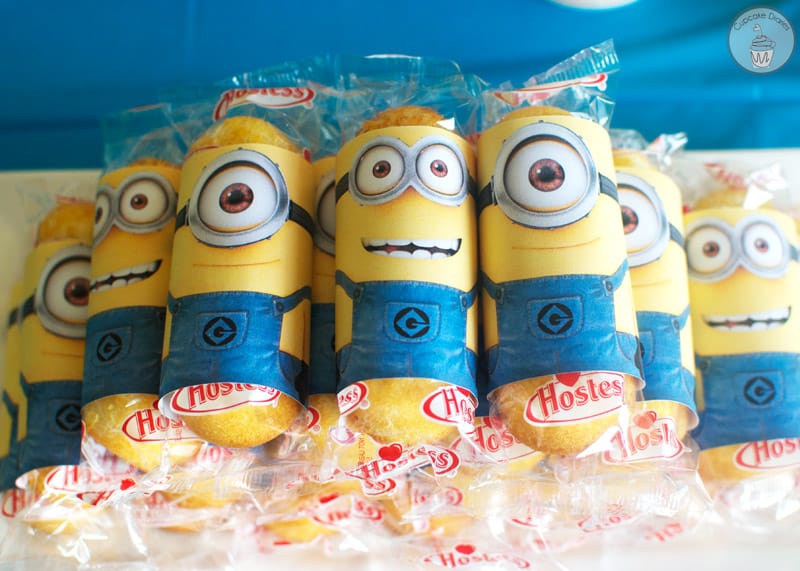 I loved having these cute minion Twinkies for the kids to take home in their goody bags. I got the printable HERE and just printed them off, cut them out, and wrapped them around each Twinkie with a piece of tape. I love how they turned out!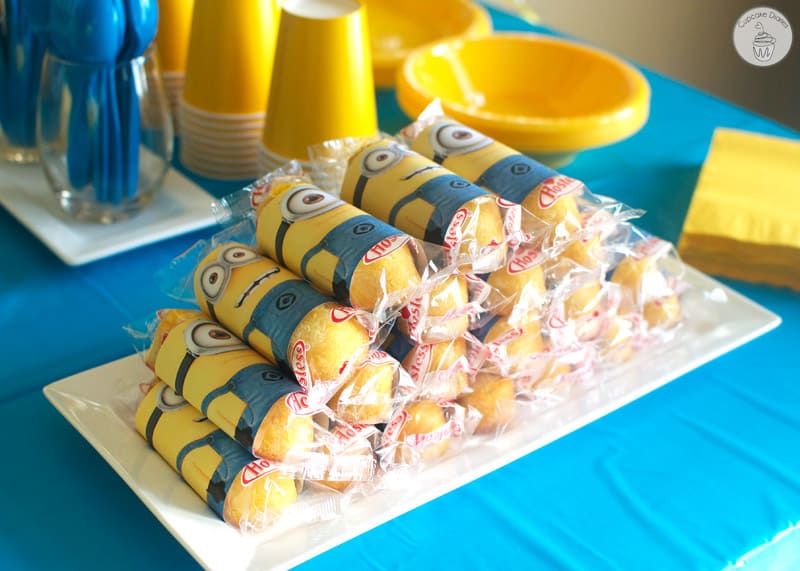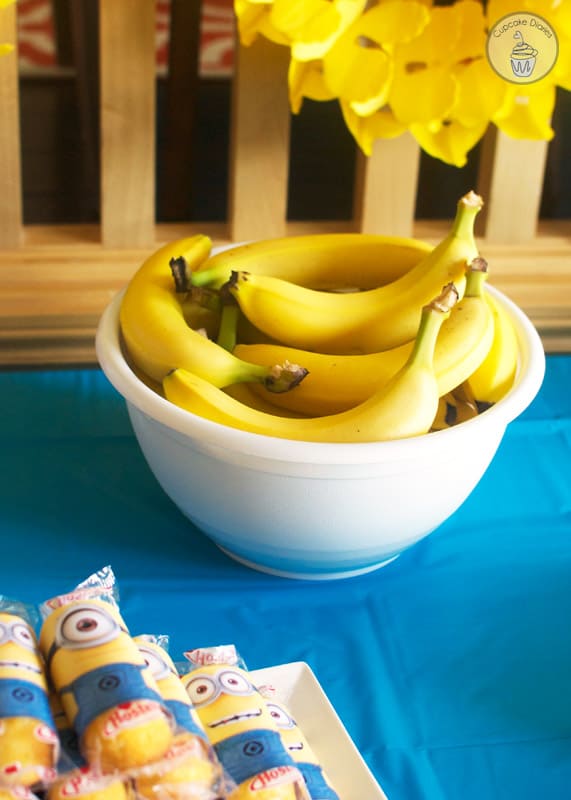 Bananas are an inexpensive and easy way to add to the table at a minion party. And they worked great for a treat in the kids' goody bags! They thought it was pretty hilarious because of how much minions love bananas.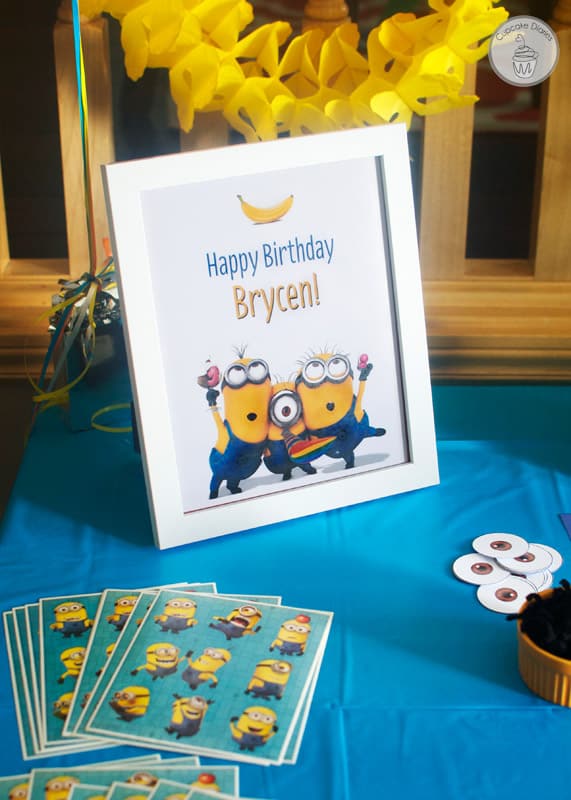 I made this printable in Photoshop and printed it off in an 8×10 to put in a frame. It was a really easy way to add a touch of decor to the table. The stuffed minion was another easy way to add decor. My son got it for his fourth birthday and it was perfect for the table. Balloons are a cheap and easy way to add color and decor to a party.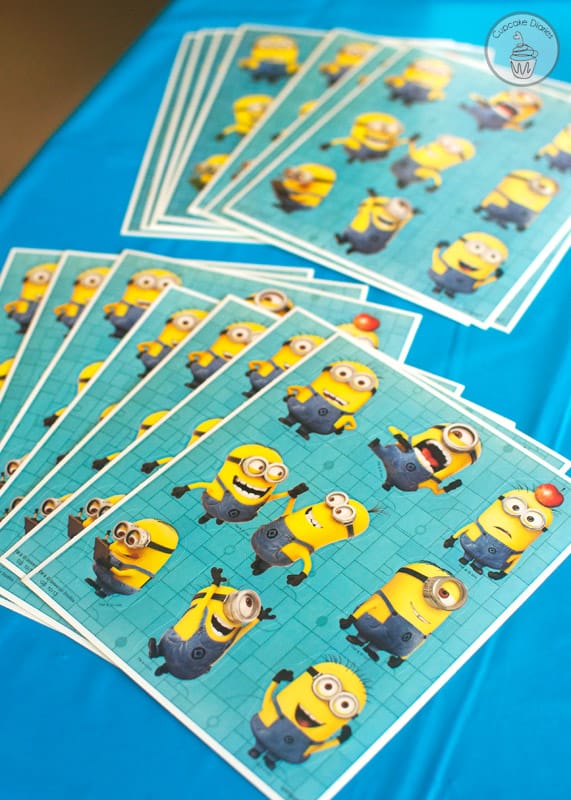 These adorable minion stickers also came from Party Pail. They were perfect for the kids to take home in their goody bags.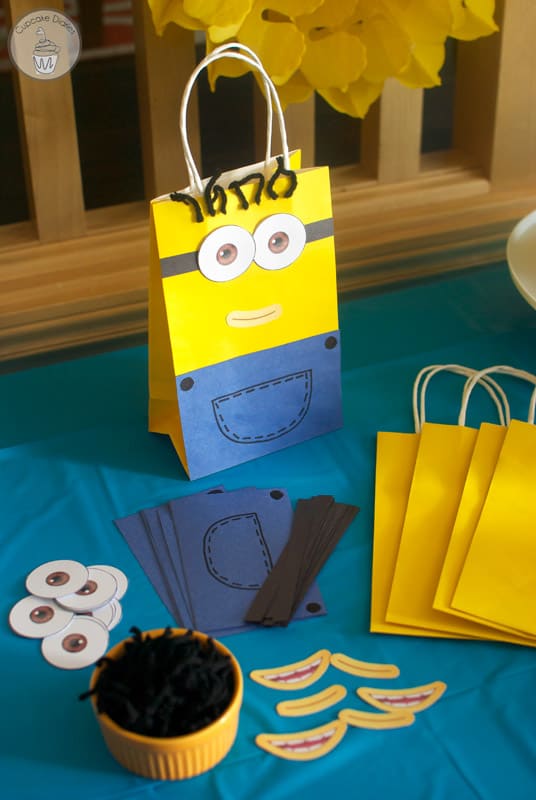 We had the kids make their treat bags at the very beginning. I bought yellow gift bags and printed off eyes and mouths. I used blue construction paper and drew on a pocket and buttons for each one. I also cut out black strips of construction paper for the goggles. The cute hair strands are pieces of black yarn. We set up two tables in the backyard and the kids put their little minion bags together using glue and glue sticks. They all turned out so different and cute! TIP: I recommend writing the kids' names on the bottom of their bags before they put them together.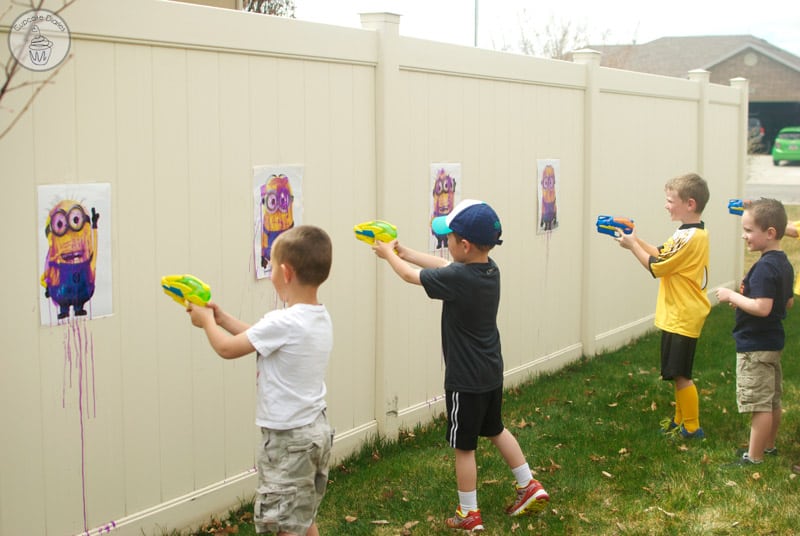 The kids absolutely loved this game. And I can't take the credit for it! I got the idea HERE. I found high resolution minions online and printed them at Sam's Club. Then I got them laminated for this super fun game. We used washable Crayola purple finger paint and watered it down really well so it would drip. My husband painted over each minion with the purple paint to turn them into purple minions then the kids got the paint off with water guns. They loved it! After each kid had a turn we sprayed the fence off and painted over the pictures again.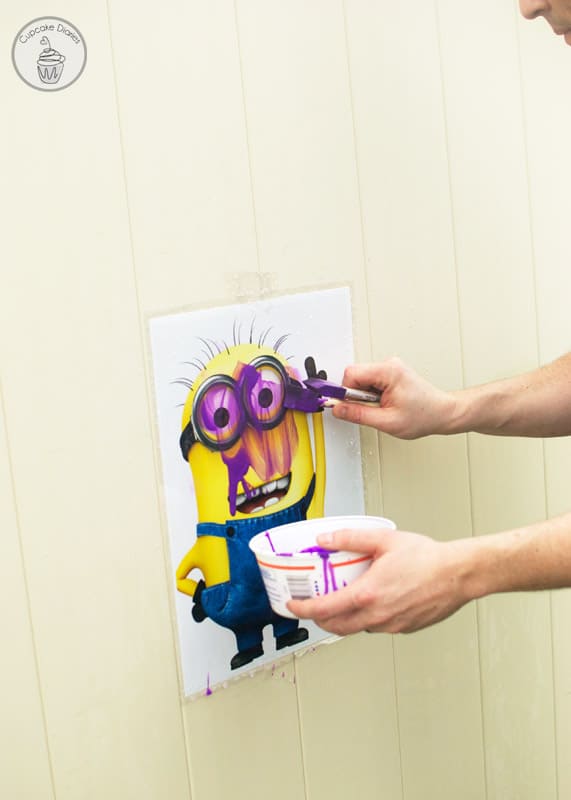 TIP: Use decent water guns for this activity. Otherwise the kids will be standing right up against the pictures working really really hard to get that purple paint off. It's possible that our water guns were weak sauce and didn't do as good a job as we had hoped. 🙂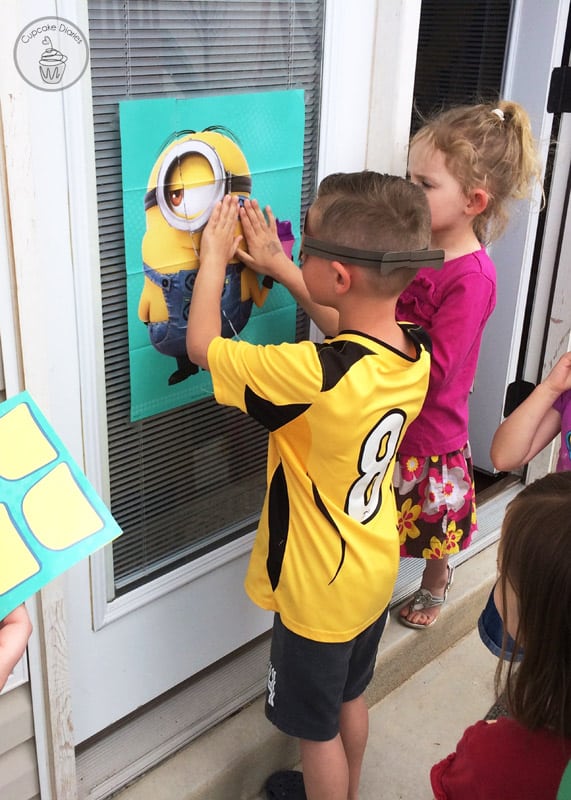 This super cute minion poster game also comes from Party Pail. The poster comes with 18 stickers for each kid to "pin" on the minion. It also comes with super cute minion goggles as the blind fold. So fun!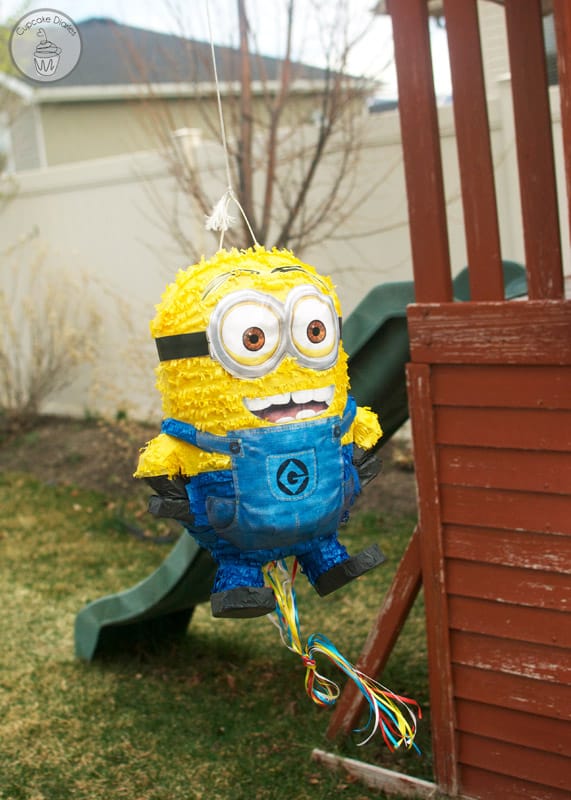 I wasn't kidding when I said Party Pail is the place for party supplies! This awesome minion pinata is also from Party Pail and the kids LOVED it.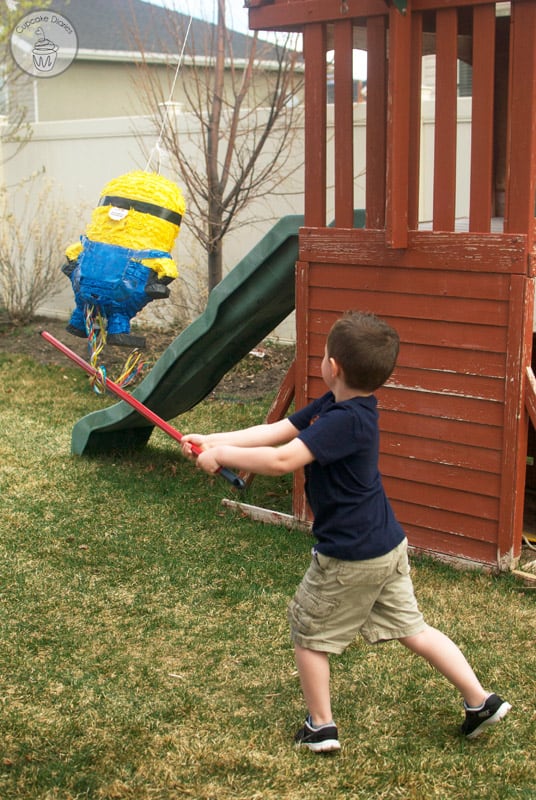 This pinata comes with the strings on the bottom the kids can pull. We used the strings for the kids who didn't want to hit the pinata.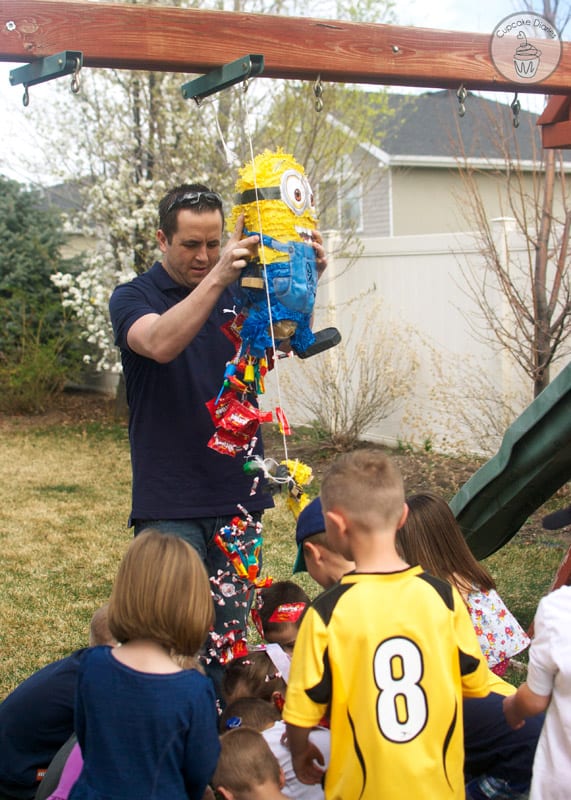 What kid doesn't love a broken pinata with candy spilling from it? There was an epic amount of candy and toys in that thing.
While the kids ate cake and ice cream, my hubby and I divvied up all the candy and toys into each bag evenly. We also added a sheet of stickers, a banana, and a twinkie. By the time we were finished and the kids were done eating cake and playing in the backyard, it was time to go home. They were so proud of their cute bags! I loved how excited they were to show their parents.

And because free stuff pretty much rocks, I've put together sheets of the minion eyes and mouths for you to download and print for free to make goody bags for your minion party!
Click HERE to download a sheet of 20 minion eyes
Click HERE to download a sheet of 18 minion mouths

Plates, napkins, cups, cutlery: c/o PartyPail.com
Minion pinata, poster game, stickers: c/o PartyPail.com
Minion cake: Liz Abercrombie
Printable minion eyes and mouths: me
Printable Twinkie wrappers: Create-Celebrate-Explore
You can find more minion party inspiration at Zulily from their minion party round up! Head over and check it out!
Looking for more fun and easy party ideas? Here are some of my favorites…