I've always been a big fan of marinating meat. And it's even better when the marinade isn't bad for you! Which brings us to another dish to add to the "Lighten Up" category, so it's going to be low in calories and low in fat. Perfect for those of us trying to watch what we put in our mouths! This dish comes from Elsie in Ohio, a contributor to "Fix it and Forget it Lightly" cookbook. From the looks of the picture below it seems that I made a third of the recipe instead of halfing it. But what we ended up with was perfect for one meal.
Ingredients

3 lbs. chicken tenders

(or chicken breasts – you will be cutting the chicken up in pieces anyway)

15-oz bottle fat-free Italian salad dressing
1 Tbsp vegetable oil
2 1/2 c. flour
1/2 tsp salt
1/2 tsp Lawry's Seasoned Salt
Directions

After getting the chicken thawed (if frozen), rinse the chicken and pat dry with a paper towel.
Cut chicken into 1 inch square pieces and place them in a container that can be covered with a lid or plastic wrap.
Pour Italian dressing over meat and marinate for at least 3 hours (see picture below).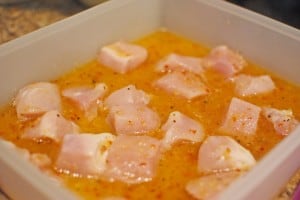 4. Place flour and seasonings in sturdy plastic bag. Add one-third of the cubed chicken. Toss until all pieces are well coated.
5. Remove the chicken, but keep the flour mixture in the bag. Cook the chicken in the vegetable oil in a good skillet. Remove chicken with a slotted spoon when cooked.
6. Repeat steps 4 and 5 until all chicken is cooked.
If you don't want to put the flour coating on the chicken that is also an excellent option! We also make that, and sometimes we put the chicken over spinach leaves and make a yummy salad.