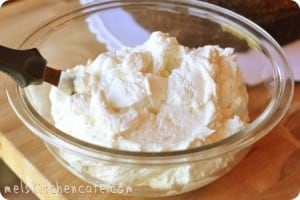 We finally have internet again after moving on Saturday!! We've felt like pioneers for the last three days with no cable or internet. It's sad how much we rely on the two!
I have to tell you what I did last week right before we moved. I was in the pantry moving stuff around when I knocked over an open box of cornstarch. Cornstarch went all over EVERYTHING. We had our crockpot, toaster, and other appliances in there so cornstarch got all over those as well. I bent over to pick up the dropped box when I knocked a bottle of yellow pearl sprinkles over, and for some reason it didn't have a lid. Sprinkles EVERYWHERE. And those suckers bounce. I stood back up, looked around, and just left the pantry. I didn't even know where to start with the mess so I just left it. I ended up going back later that day to clean it up after I had a nice, long break from it.
There are few things in life that have made me stop everything I'm doing and say right out loud, "Shut. Up." This frosting made me do just that. It is stop everything, "no one talk to me so I can savor this moment" good. It is seriously the best frosting I have ever had. And that, my friends, is what makes it so magical. It is simply the best!
When I saw this recipe for the first time I read on to see that there is a chocolate version. Heaven above.
This fluffy and creamy goodness can work on anything from sugar cookies to cakes and bars. Who am I kidding, you can put this stuff on a steak and I'd eat it.
Magical Frosting
Mel's Kitchen Cafe
makes 4 cups (perfect for 2 nine-inch cake layers)
This frosting takes advanced planning because it has to reach room temperature throughout the process. Plan ahead for this one! This frosting is best made and used fresh. Chill the frosting for an hour if you plan on piping it.
1 1/2 c. sugar
1/4 c. flour
3 Tbsp cornstarch (Gah!! Darn cornstarch! ha ha)
1/4 tsp. salt
1 1/2 c. milk
2 tsp. vanilla extract
3 sticks butter, cut into 24 pieces and softened at room temperature
In a medium bowl, combine the sugar, flour, cornstarch, and salt. Slowly whisk in the milk until the mixture is smooth. Place a fine-mesh strainer over a medium saucepan and pour the milk mixture through the strainer into the saucepan. Cook the mixture over medium heat, whisking constantly until the mixture boils and is thick enough that it starts to become difficult to easily whisk. Depending on your stove, this could take 5-10 minutes. It will bubble at the end and thicken a lot.
Place this mixture in a clean bowl and cool to room temperature. (EXTREMELY important!!) The frosting won't beat up properly if it is even a tiny bit warm. Once it is completely cooled to room temperature, beat the vanilla into it on low speed until it is well combined (about 30 secoonds). Add the butter, one piece at a time, and beat the frosting till all the butter has been fully incorporated (about 2 minutes). Incerease the speed to medium-high and let your mixer go to work. Beat the frosting for five minutes until it is light and fluffy. Let it sit at room temperature for about an hour so it can get nice and stiff.
Chocolate Version: Add 1/4 c. cocoa powder to the sugar, cornstarch, salt, and flour mixture in the very first step. Once it has been mixed for 5 minutes and is light and fluffy closer to the end, mix in 3 oz. of melted semisweet chocolate and completely cool to room temperature.
*Note: The author of this recipe said the chocolate version is a lighter color than what she expected but tastes delicious. She plans to increase the chocolate to 4 or 5 oz next time.