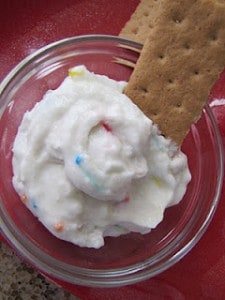 I love a good dip at a party! With all of the options out there, I never thought of making something sweet and desserty like this Funfetti Cake Batter Dip. I love this dip and how easy it is to make. You can dip all kinds of delicious goodies in this dip: fruit, graham crackers, animal crackers, etc. And it really does taste like Funfetti cake batter! This dip is wonderful. It's good for a party, but it's also really easy to make individual portions if you don't want to make a big bowl of it. But why wouldn't you want to make the whole bowl? That's just crazy.
Funfetti Cake Batter Dip
Adventures in Food
To make a full bowl:
1 box Funfetti cake mix
1 tub lite Cool Whip
2 c. low fat vanilla yogurt
Fold the ingredients together. Serve immediately or keep it in the fridge until you need it.
To make an individual portion:
3 Tbsp Funfetti cake mix powder
2 Tbsp vanilla yogurt
1 Tbsp lite Cool Whip