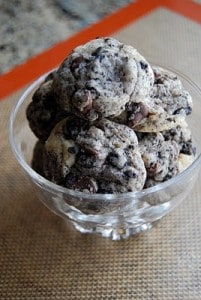 Sometimes two kinds of cookies are better than one. That's why I'm super stoked about these Chocolate Chip Oreo Cookies! I can have two of my favorite cookies rolled into one and only eat one cookie, not that anything has stopped me from eating one of each kind at the same time before. But you get what I mean! This concept of a cookie within a cookie is pure genius. These cookies taste like cookies and cream ice cream and the texture is just awesome. Nice and chewy. Good luck having leftovers of these! You'll want to eat them all!
Chocolate Chip Oreo Cookies
1 stick butter, softened

6 Tbsp sugar

6 Tbsp brown sugar

1 egg

1 tsp. vanilla

1 1/4 c. flour

1/2 tsp. baking soda (Use baking powder instead if you want puffier cookies like those seen above.)

1/2 tsp. salt

11 Oreo cookies, broken into pieces (I know, why 11? I thought this was the perfect amount. But you can do less and add more if you want more Oreo. Who doesn't want more Oreo?)

1 c. semisweet chocolate chips
Cream together the butter and both sugars until well combined. Add the egg and vanilla.
Place the flour, baking soda, and salt in a mixing bowl and whisk together. Slowly add this mixture to the sugar and butter mixture, then stir in the Oreos and chocolate chips with a wooden spoon.
Use a medium size cookie scoop or a spoon to scoop cookie dough onto a baking sheet. Bake for 10 minutes at 350 degrees or until you can they turn a light golden brown on the chocolate chip cookie dough part. Allow to cool on the baking sheet before transferring to a cooling rack or you'll have a mess. A delicious mess, but a mess indeed!