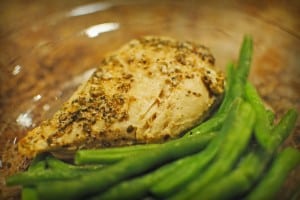 It's time for another light dish that we love. We're talking 150 calories per serving. This is lemon chicken made in the crockpot. The crockpot makes the chicken so juicy and tender. Yum! I heated up some garden green beans to go along with our chicken. The whole meal was very refreshing and delicious. I cut the recipe in half for just Tyson and I. We had one piece leftover and Tyson took it to work for lunch the next day. PS This recipe comes from the cookbook Fix It and Forget It Lightly. Also, I used the same amount of liquid that the recipe calls for regularly, even though I cut the recipe in half. Otherwise there wouldn't be enough liquid in the crockpot for the chicken to keep from drying out.
Ingredients (makes 6 servings)
6 boneless skinless chicken breast halves
1 tsp dried oregano
1/2 tsp seasoned salt
1/4 tsp black pepper
1/4 c. water
3 Tbsp lemon juice
2 garlic cloves, minced

(or 1/4 tsp garlic powder)

2 tsp chicken buillon granules

(paste or granules, or 2 cubes)

2 tsp fresh parsley, minced

(optional)
Directions
Pat thawed chicken with paper towels to dry it off. Combine oregano, seasoned salt, and pepper. Rub over the chicken.
Brown the chicken in a nonstick skillet over medium heat, then place the chicken in the crockpot.
Combine water, lemon juice, garlic, and buillon in skillet. Bring to a boil, stirring to loosen the browned bits. Pour over the chicken.
Cover the chicken and cook on low for 3-4 hours.
Baste the chicken and add the parsley, if desired. Remove the lid and cook for another 15-30 minutes, allowing the juices to thicken slightly.
Serve the chicken and juices over rice or with sides such as veggies, rolls, or whatever sounds good to you!