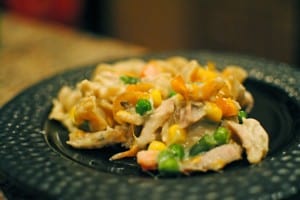 I love casseroles because they are so darn easy. There are some nights where it's just really hard to stay in the kitchen for awhile preparing dinner. My husband and I tried this casserole from Campbell's soup recently and it turned out great! It takes about 15 minutes to prepare, and less than a half hour to bake. Not only is it easy to make but it's packed full of protein and all those veggies we all need. Everybody will be happy with this one!
Ingredients
1 can cream of mushroom soup
1/2 c. milk
1 c. frozen mixed veggies
2 c. cubed cooked chicken
Here's the thing with the chicken: I used shredded chicken from a rotisserie chicken I bought at Walmart. Why, you ask? I bought that chicken to use in a light chicken potpie dish that I will be posting the recipe for next and I had the perfect amount of rotisserie chicken left for this casserole. So I recommend buying a large rotisserie chicken to make this casserole, then save the rest for the chicken potpie recipe I'll be posting or for sandwiches or another dish! But it's up to you, of course. 🙂
A lot of readers have asked for ways these dishes can be cut down in calories. For this dish we used Ronzoni healthy harvest whole grain egg noodles instead of white egg noodles. Your family will get the extra whole grain they need and you cut down on fat and calories at the same time. And we couldn't even taste the difference!
1/4 c. grated parmesan cheese
1/4 tsp black ground pepper
1/2 c. shredded cheddar cheese

(

You can also cut the cheese down to cut calories.)



Directions
Begin by cooking the egg noodles. (Check out the directions on the back of the bag, but they only need to cook about 6 minutes.) Preheat the oven to 400 degrees in the mean time.
While the noodles are cooking, get a medium sized bowl and stir together the soup, milk, vegetables, chicken, pepper, and parmesan cheese. When the noodles are done cooking, strain and rinse them then add them to the soup mixture in the bowl. Stir together.
Place the mixture in a 1 1/2-quart or a 2-quart casserole dish. Bake for 25 minutes or until everything is hot and bubbly. Then take it out of the oven and sprinkle the cheddar cheese over the top. Allow the cheese to melt a little before serving.