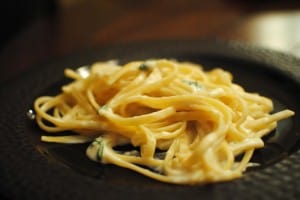 Food Network has once again slimmed down an indulgent favorite. I worked at an Italian restaurant for almost 10 years, and out of all the different pasta options a lot of guests couldn't seem to get away from their favorite fettuccine alfredo. (Am I right, fellow Carino's staffers?) It seems to be the safe haven of pasta dishes.
Food Network managed to cut 318 calories and 33 grams of fat from the classic bowl of fettuccine alfredo. Wondering how in the world fettuccine alfredo could possibly have fat and calories cut from it? Here's the secret:

Neufchatel or low-fat cream cheese: used to make the sauce thick and rich
Parmesan cheese: It's a strong cheese that packs a lot of flavor, so less cheese can be used.
Low-fat milk: Instead of cream the sauce is thickened with low-fat milk and flour, cutting 150 calories per serving with that alone.
Let's get to it! Here's what you'll need (for 4 servings):
1 Tbsp unsalted butter
1 clove garlic, minced

(or 1/8 tsp garlic powder)

1 tsp grated lemon zest
2 tsp flour
1 cup low-fat milk
3/4 tsp salt
2 Tbsp Neufchatel or low-fat cream cheese
3/4 c. grated Parmesan cheese, plus a little more for topping if desired
3 Tbsp fresh chopped parsley
12 oz fettuccine
freshly ground pepper
Directions
Bring a large pot of salted water to a boil. Add the fettuccine and cook two minutes less than what the box says to cook it. (The pasta will continue to cook when the sauce is added to it.) Meanwhile, make the sauce: Melt the butter in a skillet over medium heat. Add the garlic and lemon zest and cook until the minced garlic is slightly soft, about 1 minute. Add in the flour and cook, stirring with a wooden spoon, about 1 minute. Whisk in the milk and 3/4 tsp salt and cook, whisking constantly, until just thickened, about 3 minutes. Add the Neufchatel or cream cheese and the Parmesan cheese; whisk until melted, about 1minute. Stir in the chopped parsley.
When the pasta is cooked, save 1 cup of the cooking water then drain the pasta and return it to the pot. Add the sauce and 1/2 cup of the saved cooking water to the pasta and gently toss to combine. Add more cooking water as needed to loosen the pasta. Season with salt. Divide among bowls and top with Parmesan and pepper.
Nutrition Information (per serving)
Calories: 490 Fat: 15 g Cholesterol: 48 mg Sodium: 734 mg Carbohydrates: 66 g Fiber: 3 g Protein: 20 g