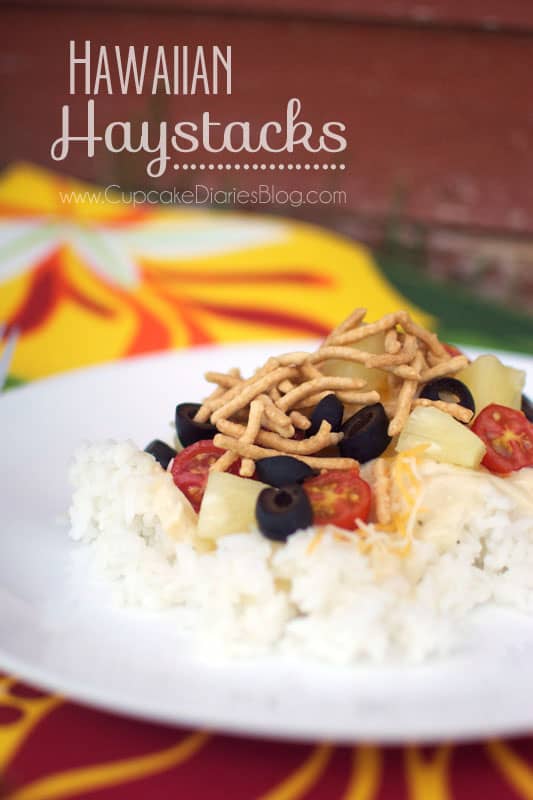 I'm a little embarrassed to admit that Monday night was the first time I'd ever eaten Hawaiian Haystacks. My husband was shocked when I told him. It seems like everyone has eaten these before except for me! And probably my siblings. We never had them growing up so it's not something I've ever made for myself. I was on Pinterest the other day when I came by this recipe and thought I'd give it a try for dinner Monday night. My husband and son both loved it. My little guy can be a little picky so I was especially excited when he couldn't get enough of this. And my husband said that he liked the sauce on these better than what he had growing up. Yay! Another winning recipe discovered. I love that I can make a different Hawaiian Haystack every time with all of the different toppings options out there. This would make a great dish to feed a crowd.
Hawaiian Haystacks
Ingredients
1/2

c.

butter

1/2

c.

flour

1

tsp.

salt

1/2

c.

sour cream

1/4

tsp.

fresh ground pepper

32

oz.

reduced sodium chicken broth

2

tsp.

dry Ranch Dressing seasoning packet

1/4

tsp.

garlic salt

2

c.

chicken breast

cooked and shredded

steamed rice

enough for your family

TOPPING OPTIONS:

Chow Mein crispy noodles

diced green onions

black olives

pineapple

cranberries

almonds

tomatoes

shredded cheese
Instructions
Place the butter in a large saucepan over medium heat, stirring to melt. Slowly whisk in the flour, salt, and pepper and stir till smooth and thick (about 1-2 minutes).

Slowly whisk in the chicken broth until smooth. Increase the heat to high, whisking until thick (about 2 minutes). Add the sour cream, Ranch seasoning, garlic salt, and cooked chicken. Stir together well.

Place a nice pile of rice in the middle of your plate and pour some of the gravy over the rice. Top with all kinds of delicious toppings and enjoy!
recipe via Picky Palate