An indulgent chocolate cake filled with the delightful flavors of cookies and cream. This cake tastes like it takes a lot of time to make, but it's so easy!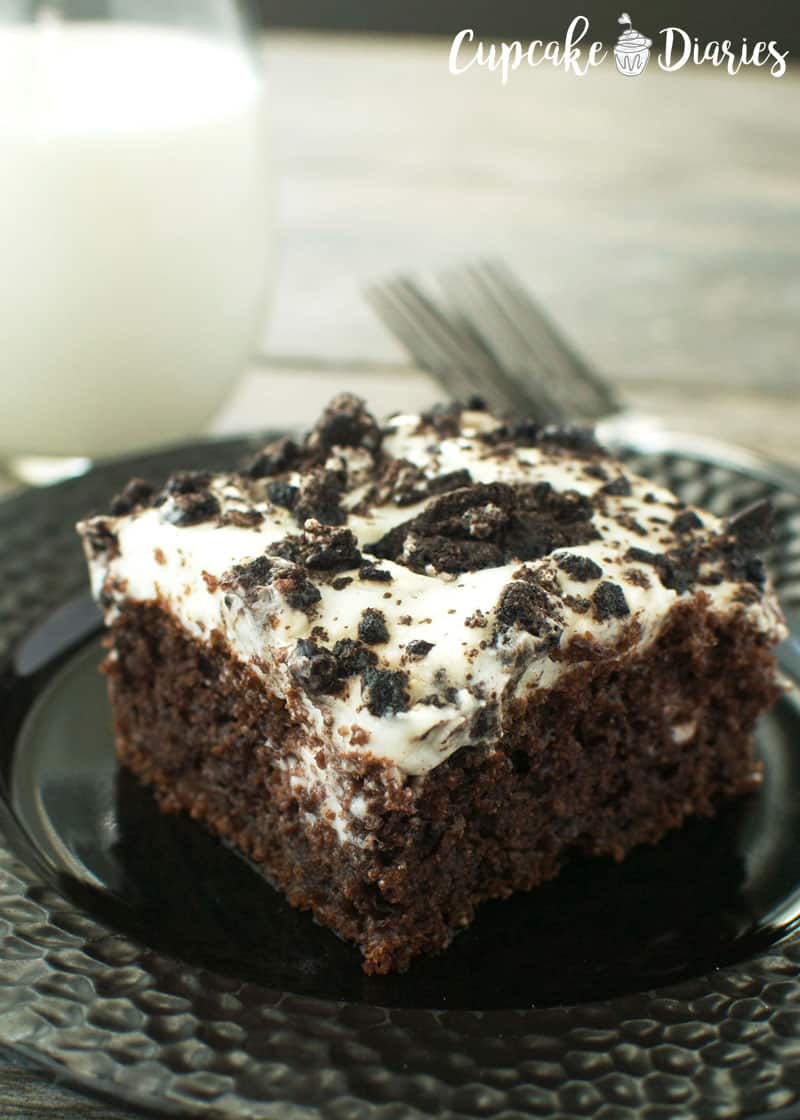 On Saturday night we celebrated Mother's Day as well as our brother-in-law's birthday with my husband's family. We had a fun bbq with grilled burgers and hotdogs, and loads of yummy salads. I was in charge of making the dessert. I wanted to make a cake because there was a birthday, but I also wanted to do something different that no one had ever eaten. Enter this cake!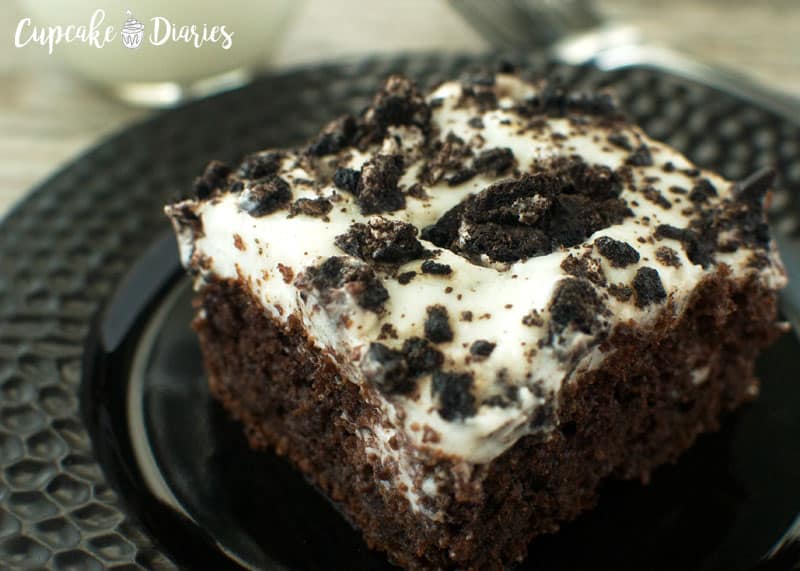 It is so easy to make and everyone LOVED it, including all of the little kids. And who wouldn't? The cake combined with the pudding turns into a smooth and creamy bite of heaven. And the crushed up Oreos on the top add a little bit of extra crunch and texture. Everyone kept saying over and over how much they loved this cake. Even our little four-year-old niece inhaled it and she's hard to please! This is a crowd pleaser for sure.
Cookies and Cream Cake
Ingredients
1

chocolate cake mix

3

eggs

1/2

c.

vegetable oil

1

c.

buttermilk

2

4 oz pkg Instant Oreo Cookies 'n Cream pudding

4

c.

milk

It's best if you use 2% or higher. But that's up to you!

about 8 crushed up Oreos
Instructions
Combine chocolate cake mix, eggs, vegetable oil, and buttermilk with a stand mixer on low speed. Once combined, up the speed to medium and let the machine go for two minutes. Pour batter into a greased 9x13 pan and bake according to time and temperature on the box.

Remove cake from the oven and begin to prepare pudding by putting both boxes of pudding powder in a medium sized mixing bowl; add the milk. Whisk together just until the lumps are removed, being careful not to over mix. Let mixture sit for 2 minutes to allow it to slightly thicken.

While pudding is setting, poke holes in the cake with the end of a wooden or plastic spoon about an inch apart all over the cake.

Once pudding is ready, spread it directly and evenly over the cake. Gently press it over the holes to help it get down inside of the cake. Allow cake to sit out, uncovered, to cool down. Cover and chill in the fridge till ready to serve. Sprinkle the crushed up Oreo pieces over the entire cake just before serving. Serve chilled.
Kitchen tools and gadgets needed for this recipe: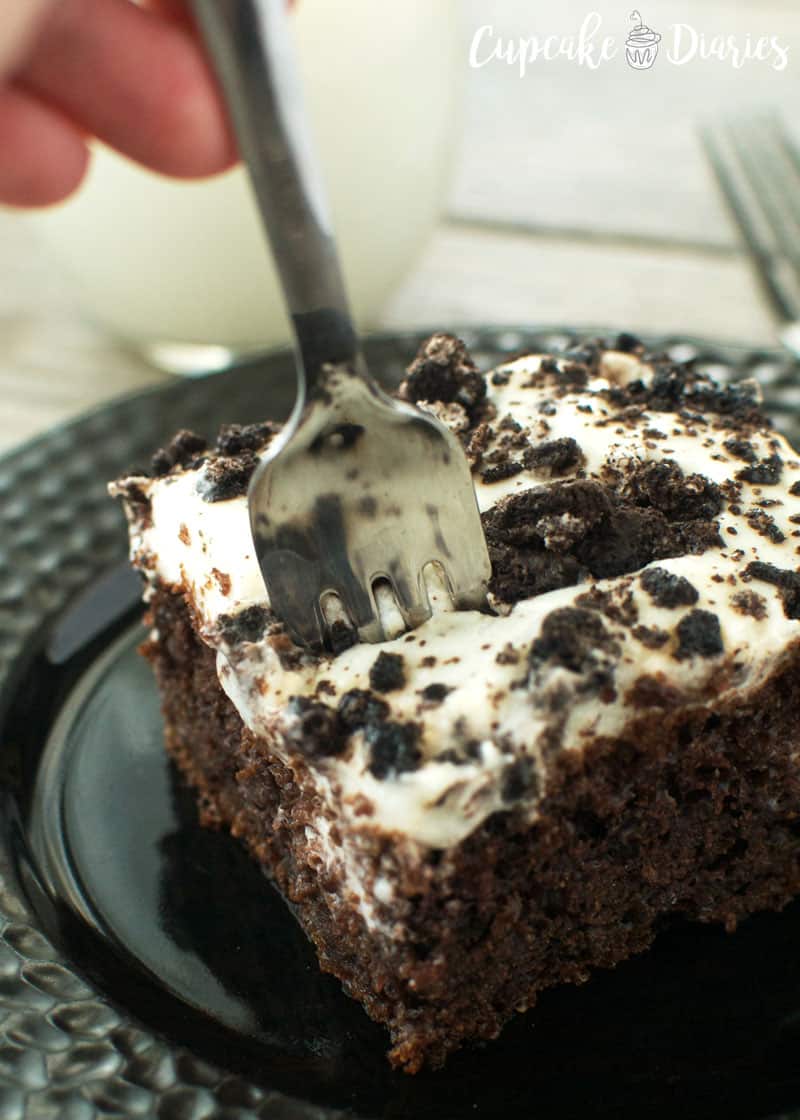 This cake is guaranteed to be a crowd pleaser! The pudding on top tastes more like a creamy frosting instead of pudding. I'm drooling just thinking about it.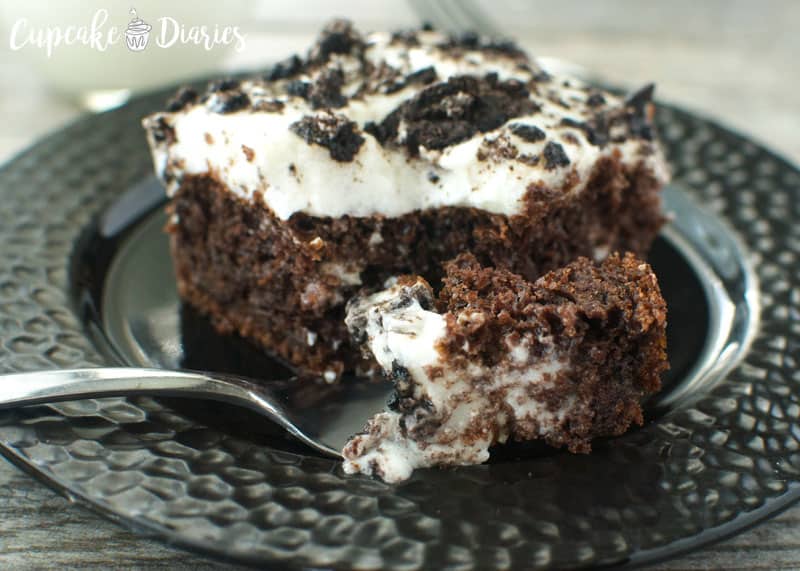 To answer your question, I was the one who got to enjoy this slice. That bite was all mine.
If you like this recipe, give this other poke cake favorite a try!