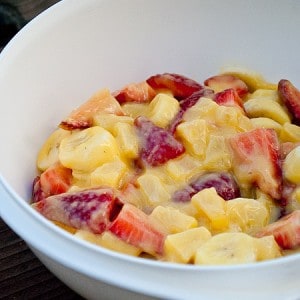 I hope you all had a wonderful Mother's Day weekend! We had such a blast with both of our families and it was nonstop. One of these days we'll get to see some friends while we're in town. It was yet another busy weekend! We spent yesterday with my family. We had a nice Mother's Day lunch and then we got to talk to my little brother via Skype, who is serving a full time mission in Australia for our church. We got to talk to him for an hour and a half! It was so fun! He's been out for two months now.
We spent all day Saturday with my husband's family-lots of fun in the sun and a trip to the zoo. Saturday night marked our first bbq of the season. I love barbecuing! It is my favorite thing to do in the summer. We had grilled burgers and hot dogs and all kinds of yummy salads, including a fruit salad. I think a good fruit salad is one of my favorite things about summer in general. But sometimes they can take a lot of time to put together, cutting up fruit after fruit after fruit. They're so worth it, but it helps to have another set of hands or two to get it done faster! The recipe for this fruit salad is especially easy and quick. There is very little cutting required and can be put together in no time.
Quick Summer Fruit Salad
image and recipe via Real Mom Kitchen
1 (5.1 oz) package vanilla instant pudding
1 (20 oz) can pineapple tidbits with juice
1 lb. fresh strawberries, quartered
3 bananas, sliced
1 c. blueberries (optional)
1 c. marshmallows (optional)
Combine the pudding and canned pineapple in a bowl (preferably not the bowl you'll be serving the salad in) and mix the pudding in with the juice. Stir until well blended and all of the pudding powder is dissolved. Fold in the strawberries and blueberries then refrigerate for at least an hour. Fold in the sliced bananas just before serving.
Told you it was quick! Enjoy!